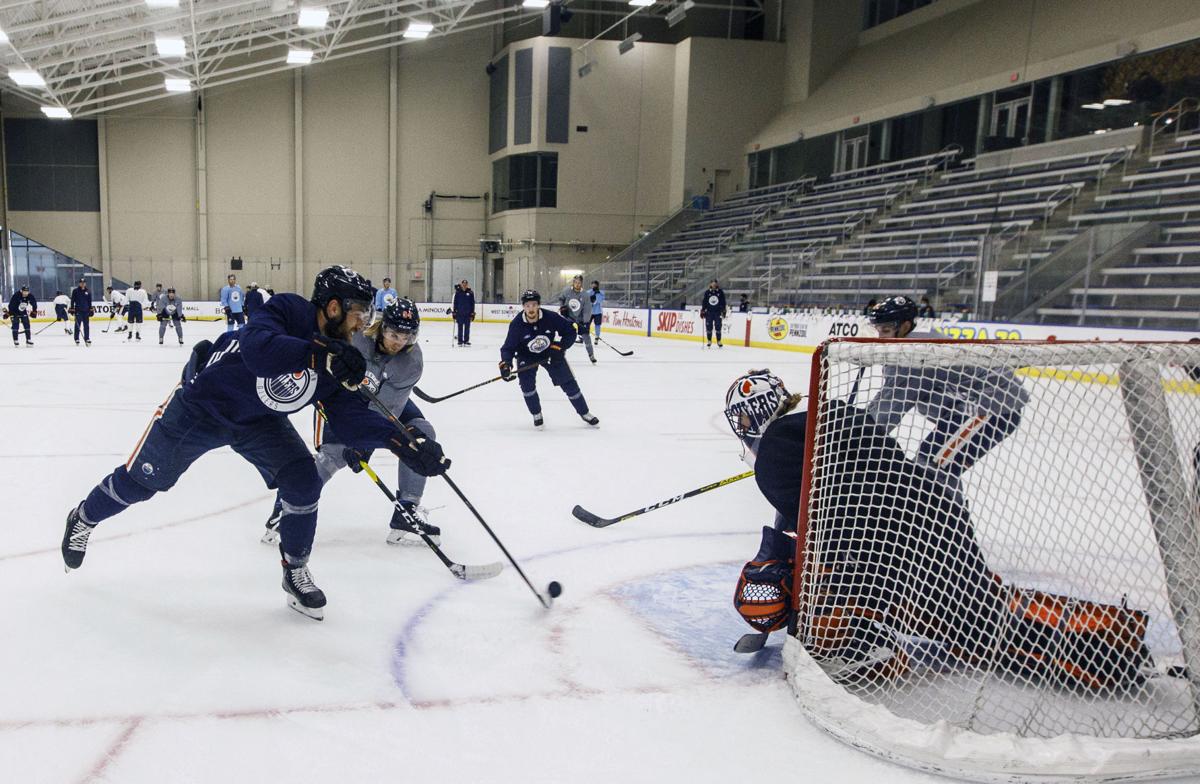 EDMONTON, Alberta — The NHL has gone to great effort and expense to set up hub cities in Edmonton and Toronto for its 24-team postseason extravaganza, all done in response to the ongoing coronavirus pandemic.
The "bubble" areas are fenced off in each city to keep outsiders from getting in. And prevent "insiders" from getting out. In Edmonton alone, the NHL has 125 security and "health ambassadors" to make sure there are no breaches in the bubble.
As commissioner Gary Bettman put it: "Leaving the bubble is just not something that we can tolerate."
There will be daily testing for those living in the bubble, with a 24-hour turnaround on results. There are 1,000 cases of Gatorade at the ready; 1,000 practice pucks. Not to mention 12,000 towels — a number large enough to keep them from being re-used (and facilitate laundry needs).
There are myriad other protocols in place when it comes to team meeting and lounge areas, locker rooms (there are six in Rogers Place), practice facilities. All with an eye to the health and safety of everyone involved.
But the NHL knows going in that their system isn't foolproof. Nothing can be when it comes to this pandemic.
"Obviously, we're hoping that once we move into the bubble environment, it's constructed in a way, and we've designed it to be constructed in a way, that does two things," Dr. Willem Meeuwisse said. "It protects the public in the first instance, and then it protects the people inside the bubble in the second case."
The teams are arriving Sunday, so the time is almost at hand. Ready or not, here they come.
"We don't expect it to be perfect," Meeuwisse said. "We expect with the number of people (involved), that we're going to have some positive tests. And we have a method and a process designed in advance to deal with that. And we'll continue to consult with the local health authorities as that unfolds."
As the NHL's chief medical officer, Meeuwisse is the Anthony Fauci of the league's pandemic playoffs. During this long process, he and other league officials have consulted with the appropriate governmental and medical authorities at the local, provincial and national levels in Canada.
Bettman said the NHL has even consulted with Fauci — director of the (U.S.) National Institute of Allergy and Infectious Diseases — on a few occasions.
So what happens when a player tests positive? Who has the ultimate authority on whether he plays, stays, when he returns? Or not?
"Well, I guess in the final analysis it may be me," Bettman said. "But I'm going to defer to the medical people, both from the governmental authorities and our own medical people in conjunction with the (NHL) Players' Association.
"I am not going to be making the medical decisions. I'll be taking the guidance, but I suppose it's my authority that determines ultimately who plays in our games and who doesn't."
Bettman, Meeuwisse and several other league officials made their comments on a Friday Zoom call with media members as the NHL continued its rollout of hub city details late this week.
Normally, when someone tests positive for COVID-19 there is contact tracing, and those who are in close contact with the person testing positive can be forced to self-isolate. With that in mind, consider there are few things in life that are closer than the contact between hockey players along the board.
But this seems to be a bit of a gray area for the league in terms of self-isolation of those in contact with a positive test. You can't have everyone on that team, or everyone in that game, self-isolate in that instance and still have a tournament.
"There's a lot of thought that's gone into this question of what do we do with a positive test and what is the exposure to other people within the bubble environment," Meeuwisse said. "Obviously some of it unique. We've had a lot of discussion with the health authorities and landed on a strategy that's quite similar to healthcare workers where you assume that there's a degree of exposure.
"In the healthcare setting there's a number of protective measures that can be taken like we're taking in the bubble. The one thing we cannot do with players is put masks on them when they play, but we're mitigating that risk by doing testing on a daily basis.
"We still will do contact tracing because there's degrees of exposure, and if we feel a degree of exposure is unusually high, they still may be quarantined. But at the end of the day this is a protocol that has a lot of involvement and input and signoff from the Players' Association, so as a group the players are comfortable with it."
Even so, if players are uncomfortable with a specific circumstance, they have the option not to participate in a game or games.
Deputy commissioner Bill Daly pointed out that only two players tested positive during the first week of Phase 3 (training camp), and that so far this week there had been no confirmed positive tests.
Meanwhile, the teams, players and staff will soon be immersed in the bubble. In Edmonton, that involves three hotels and six rinks. There will be 14 restaurant options in the bubble area, some already in existence, some of the popup variety. They will be offering everything from sushi to steak, tacos to Tim Horton's, and vegan fare.
There will be indoor and outdoor activity areas. Inside Rogers Place, the arena that serves as home of the Edmonton Oilers, each team will have its own suite and player lounge. Multiple fitness areas/weight rooms will be available.
A concierge system is set up if players and staff want groceries, food or pharmacy items, etc., from outside the bubble.
Overall, the players have had all sorts of information thrown at them, seen photos and slides. But so far it's just a concept in the mind's eye for the Blues and the rest of the 12 Western Conference teams heading to Edmonton.
"Lot of info coming out right now, with how it's gonna look and all that," Blues defenseman Carl Gunnarssson said. "But I think we'll just have to take it day by day. A lot of questions still with how things are gonna work out, and all that.
"But once we get there, we'll have a few days to settle in and get used to the schedule and where everything is at and how are we gonna get through this. I think we'll be fine but for the first part I just think it's gonna be a little bit of an adjustment."
The latest STL Blues hockey news, NHL headlines, scores, standings and rosters.