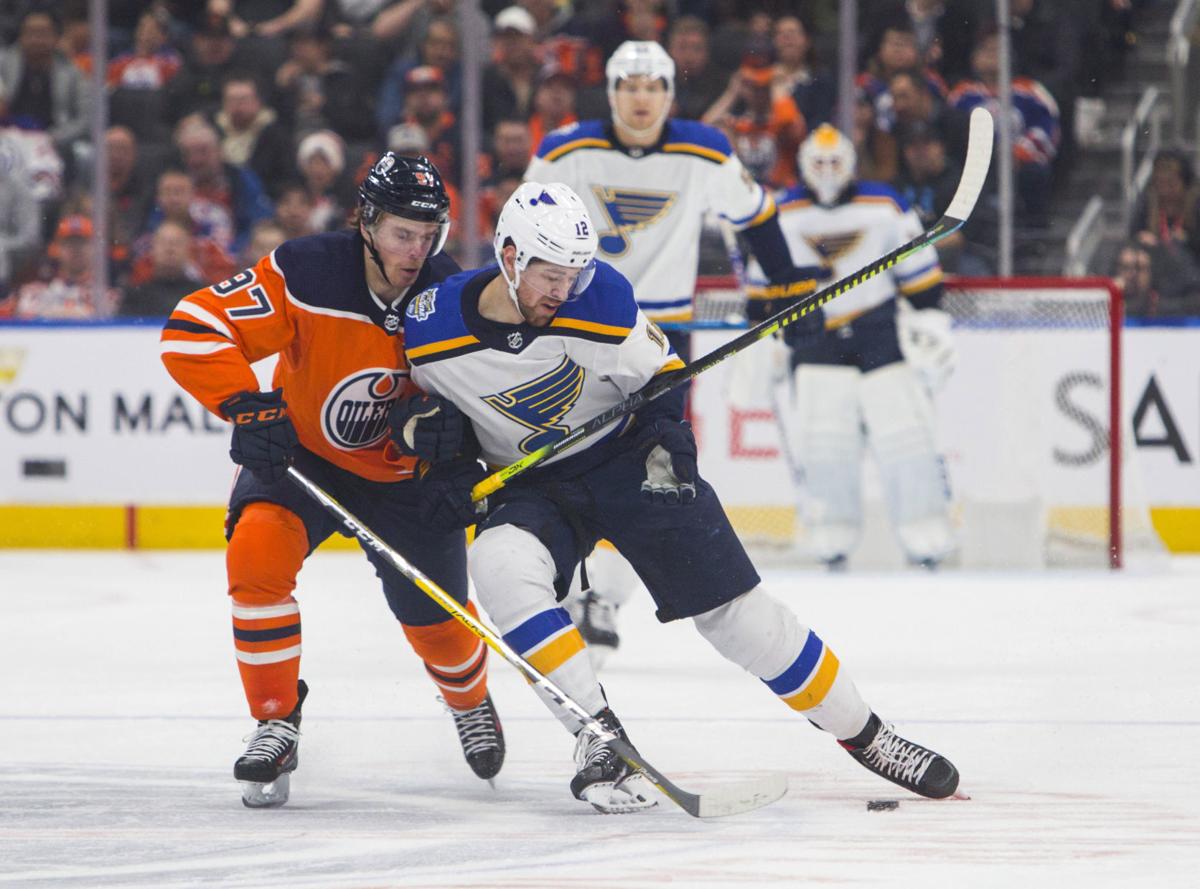 CALGARY, Alberta — Remember those blown two-goal leads against Washington, the New York Islanders and Vancouver in the opening two weeks of the season — each of which resulted in an overtime or shootout loss by the Blues?
Well, with each Blues comeback victory, those disappointments are becoming a dimmer memory. The 5-2 victory in Edmonton was the team's eighth come-from-behind triumph this season, a league high through Wednesday's games. The Blues trailed 1-0 in the early going against the Oilers.
The victory was the sixth straight for St. Louis, making the Blues the seventh consecutive reigning Stanley Cup champion to win at least six in a row in its title defense season.
One other thing: Since Jan. 1, 2019, or right around the time the Blues were in last place in the entire NHL, they are 41-13-9, the best record in the league during this calendar year.
"The six-game win streak, yeah, it's great," goalie Jake Allen said. "It doesn't mean a whole lot right now. We'll take the points, but like I said before, we're finding ways to win games. I think last year at the start of the year, we were finding ways to lose games. Right now we're just trying to find ways to win."
Allen's eventful night
There were a few exceptions, but the Blues did a good job of slowing the pace of Wednesday night's game, and thus keeping the Oilers out of the transition game with speedy stars Connor McDavid and Leon Draisaitl.
"They're two of the best players in the league, if not the best," Allen said. "That's a helluva line. They're faster than anyone in the league. Obviously McDavid can beat anyone wide, (and) we have a pretty good D-corps.
"You've just got to be aware that he's on the ice. He's a tough guy to slow down, but you've got to do your best to get in the way and take as many whistles as you can. I think they thrive on momentum. I thought we did a fairly good job."
The best of Allen's 32 saves came in the third period, when already on his knees anticipating a shot from Alex Chiasson that Carl Gunnarsson blocked, Chiasson rocketed a rebound his way. Allen gloved it, basically sight unseen, as he explained.
"That was obviously a little bit of luck and desperation," Allen said. "I got over and our D-man (Gunnarsson) made a great block. I honestly couldn't see the puck.
"I think I was directly in front of (Gunnarsson). Last second I sort of saw him and I was already down and just had to try and (reach) something over there and got a glove up."
Schenn line still rolling
At least one member of the Brayden Schenn line has produced a goal in 15 of the Blues' 17 games this season. After two consecutive games on that line — and three overall this season — Robert Thomas is helping to maintain that consistent production.
Thomas notched his third goal of the season Wednesday night, staking the Blues to a 3-1 lead late in the second period.
"The last two games I've noticed (the Blues') puck possession's better in the offensive zone and making better plays," coach Craig Berube said. "They look like they're getting some chemistry, so hopefully they can keep building off that."
Blue notes
Playing for Team OHL, Blues prospect Tyler Tucker — a defenseman — had an assist and was plus-2 in a 4-1 victory Thursday over Team Russia in the Canada-Russia junior hockey series. A seventh-round draft pick in 2018, Tucker plays for the Barrie Colts in the Ontario Hockey League.
• Against Edmonton, Jay Bouwmeester led the Blues in ice time for the first time all season (22:20). He's plus-4 in his last four games.
• Ryan O'Reilly has nine points (three goals, six assists) in his last six games; David Perron has eight points (two goals, six assists) in his last six games.
• The Blues had 21 of their shots blocked Wednesday night by the Oilers — a season high.