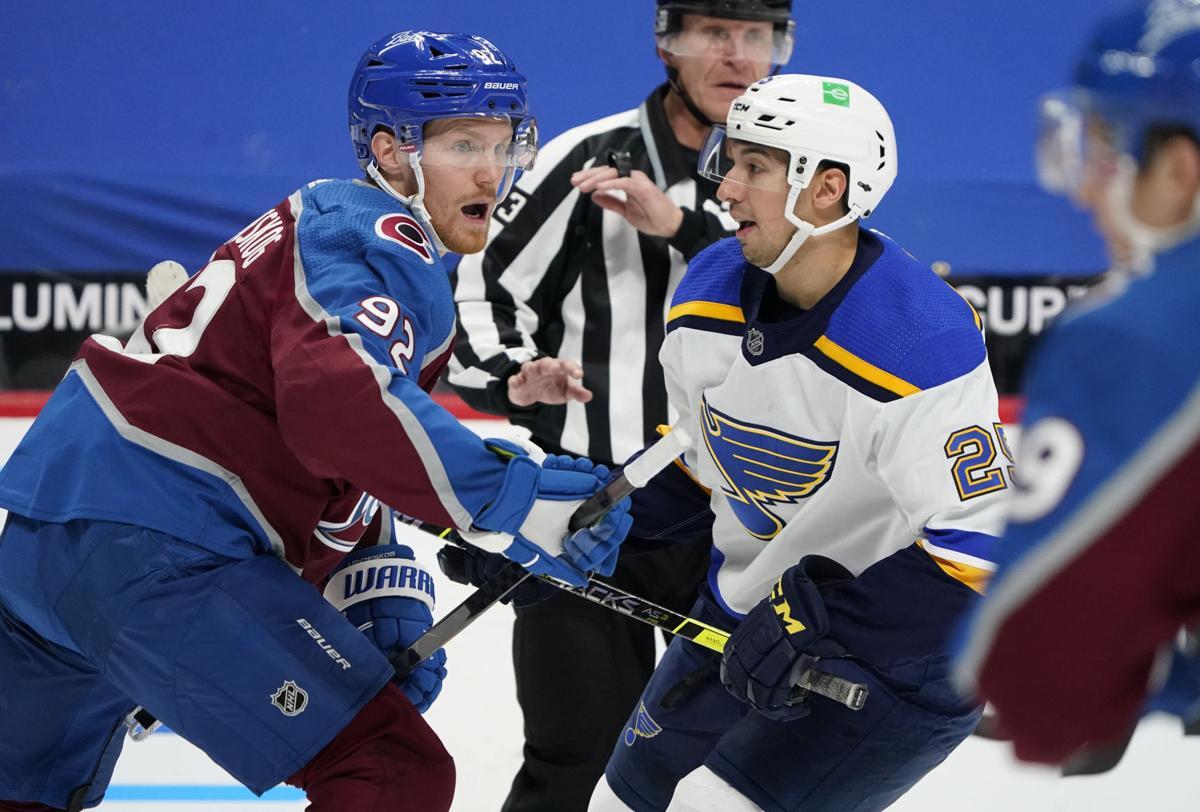 When a hockey team has been around for more than half a century, it takes a lot to set a franchise record. With that in mind, the St. Louis Blues (est. 1967) came perilously close in Friday's 8-0 loss to the Colorado Avalanche.
"Perilously" because it's not the kind of record you want to brag about. The eight-goal defeat is tied for the second-most lopsided loss in franchise history.
One must go back all the way to the 1977-78 season — Nov. 16, 1977, to be exact — to find the record-setter, a 10-1 loss in Detroit to the Red Wings. Reed Larson and Dale McCourt each scored twice in the contest, with Eddie Johnston starting and Ed Staniowski coming on in relief in goal for the Blues.
The lone St. Louis goal that night came from Inge Hammarstrom, remember him?
"We didn't skate and we didn't check," Blues coach Leo Boivin said after the game. "Detroit was playing that funny game with us — you know, they wouldn't let us have the puck."
According to sportswriter Gary Mueller's account in the next day's Post-Dispatch, two fans behind the St. Louis bench threw beer on Blues trainer Tommy Woodcock during the contest. Some of Blues players turned around and, uh, one of the fans was hit by a stick.
There were no fans Friday at Ball Arena in Denver due to the coronavirus pandemic, so nothing like that happened to the Blues' athletic training staff headed by Ray Barile.
But substitute "Colorado" for "Detroit" and you can almost hear coach Craig Berube's voice in those Boivin comments. OK, Berube probably would have been more blunt.
Just behind that 10-1 loss, the Blues have now suffered six losses by eight goals in franchise history — three coming by scores of 9-1 and three coming in 8-0 contests.
Ryan O'Reilly undoubtedly is unaware of such facts. He's the team captain, after all, not team historian. But he does know a clunker when he sees one, and in that vein, one of his postgame comments in particular spoke volumes.
"It's my fault," O'Reilly said. "It's some other guys, too."
Accountable to a fault, O'Reilly routinely blames himself after losses. But this is the first time he has said anything like "some other guys, too." So you know it had to be bad.
"It's not fun losing, especially like that," defenseman Colton Parayko said after the game. "It's on us to just flip the page now. It's a split here in Colorado and it's our turn to go back home and win some games and start fresh.
"Making sure we go to practice Sunday and we focus on the details … and be ready for the next game. That's all we can focus on now. That game is in the past. I think we gotta learn from our mistakes, what went wrong and don't let that happen again."
After a day off Saturday, the Blues return to practice Sunday morning at Centene Community Ice Center. They begin a four-game homestand, consisting of two games against San Jose and two games against Los Angeles, on Monday night against the Sharks.
The Blues are a veteran group, and even with several new faces, a culture of hard work, competitiveness, and expectations of success runs strong through the team. So as bad as Friday was, it only counts as one loss.
The Blues imposed their will, their style of play on Colorado, in Wednesday's 4-1 victory.
The Avalanche did the same to the Blues in Friday's 8-0 contest.
If the Blues draw some lessons from Friday's farce, and their recent history says they will, then there should be no lingering effects.
But making sure that's the case marks an early test for the new leadership group of captain O'Reilly and alternate captains Parayko and Brayden Schenn.
"After the first game, we got some good bounces, we win," O'Reilly said. "We think it's gonna be easier (Friday) and we lose sight of the detail. It's a wakeup call for us, we have to find a way to respond. And find a way to put more attention to detail, I guess."
According to Parayko, those details were lacking, "all over the ice."
He continued: "I don't think we generated things like we usually do as Blues hockey. Get pucks down low, make it hard for their defensemen to get it up ice. … Yeah, it's just the little things all around the ice. It's not just one or two different things."
But the little things can add up to big problems, like allowing five power-play goals. (For Colorado, the five power-play goals scored matched a franchise record.)
Meanwhile, the Blues' power-play unit, which looked so crisp in practice and scrimmage situations during training camp, looked discombobulated Friday — particularly the first unit of O'Reilly, Schenn, David Perron, Mike Hoffman and Torey Krug.
In 5-on-5 play, the first line of Schenn-O'Reilly-Perron did not register a goal or an assist in the two Colorado contests, and beyond that didn't generate many chances. Perhaps Berube will look at some line changes in Sunday's practice.
Whether he does or not, Berube expects his team to respond to Friday's near-historic loss.
"It's a tough league," he said Friday. "You gotta show up every night. You gotta compete every night. You gotta play the right way.
"We're a structured hockey team, we play good defense. And we didn't do any of that (Friday). And that's what happens."
There will be no player safety hearing on the hit by Colorado's Valeri Nichushkin that knocked Bortuzzo out of Friday's game.