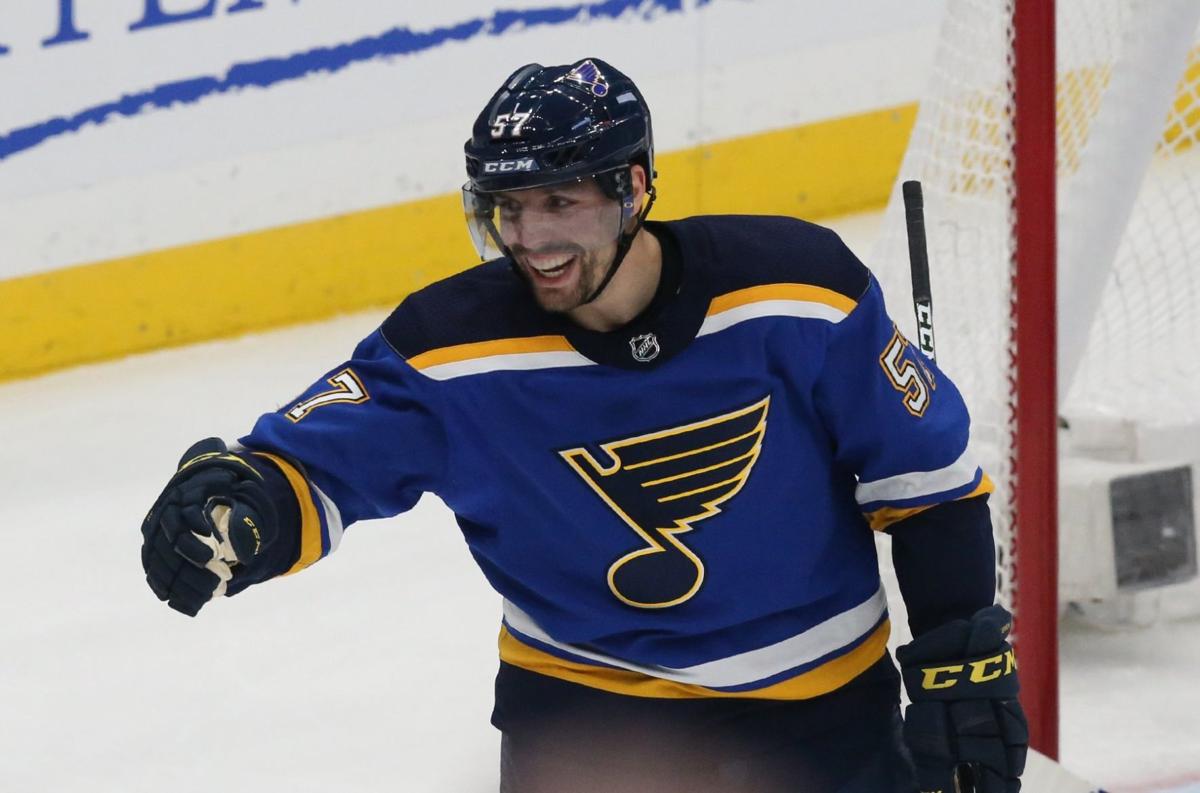 David Perron has a new lease on his hockey life. And judging by his performance since returning from a concussion, he's enjoying himself.
After being sidelined for 24 games, the veteran forward has five points in three games on three goals and two assists. He scored twice and assisted on another goal in Tuesday's 7-2 victory over Edmonton.
In the process, he has extended his personal points streak to 16 games, which is tied for fourth best in Blues franchise history.
Brett Hull had a 25-game point streak in 1991-92 and a 20-game point streak in 1989-90. Blake Dunlop had a 19-game streak in 1981-82. Perron is tied with Phil Goyette (1969-70) for fourth.
Interim coach Craig Berube said he's not surprised by Perron's play this season.
"Well, no," Berube said. "What I've seen from him this year, it's tough to get the puck off of him. He hangs on to it. He's strong. He's a real good one-on-one player."
But the real surprise is that Perron has been so productive after missing two months of the season. He has shown no signs of rust since returning.
"He hasn't missed a beat," defenseman Alex Pietrangelo said. "He's been pretty impressive."
Perron has 20 goals and 20 assists in just 48 games, which would translate to about 33 goals and 33 assists over a full 82-game season. That would set a career high in goals — his high is 28 with Edmonton during the 2013-14 season. And it would match his career high in points at 66, set last season with the Vegas Golden Knights.
But Perron's latest concussion has robbed him of any chance to have a career year. At age 30, he's getting closer to the end than the beginning of his career, and perhaps that contributed to the emotions of his return to action Saturday in Pittsburgh.
"It's harder and harder every time," Perron said. "It's so hard on the mental side of it to go through. Basically you have some situations that heal up quicker, and some that linger and there's no reason why.
"And that's why it gets harder on you, it gets harder on your family. You start to wonder about other things and you get in your head a lot. It's just good to be back. I think when you play, you think less, and everything kind of settles. It's awesome to be back with the guys."
Perron made these comments speaking to a couple of reporters Tuesday morning, the day of the Edmonton game. While providing some insight into what it's like to deal with a concussion, he went only so far.
"Last year I had one and I was out 10 days," Perron said. "It's pretty good, because you start feeling pretty good right away. Other situations like this year. ...
"It's never fun to go through and I really, really hope — knock on wood — that it never happens again just because I don't know how many more times I can go through this."
Just before Perron returned to action, Berube was asked for the umpteenth time about Perron's status.
"When he decides he wants to play, we've got a spot for him," Berube said.
In other words, when Perron felt he was ready to play, he'll play. Berube had made almost identical comments several times while Perron was sidelined. But this time, some interpreted them as criticism by the coach. Perron addressed that topic Tuesday night after the Edmonton game.
"I know there was a quote out there, it didn't sound good at the time," Perron said. "Just had a conversation the next day with Chief, and what's going on with this.
"Obviously, the way he talks, he's pretty honest. I don't think he meant it, the way he supported me, and that's kind of where I'll leave it."
From the outside, Perron and Berube have had an interesting relationship this season, starting with the surprise benching of Perron on Dec. 9 against Vancouver. Perron responded with a two-goal performance his next time out, two days later against Florida.
Some in the media interpreted — or more accurately, misinterpreted — the benching as a case of coach puts foot down, player falls in line. But that's not really what happened.
Yes, Berube had some things he wanted Perron to work on, including limiting the number of unwise penalties he was taking. For Perron's part, he felt he had more to give to a then-struggling Blues team and wanted a bigger role.
Perron provided some details of that conversation in a Post-Dispatch interview Jan. 16 in Boston, the day before his last game before being sidelined with the concussion.
"I felt like I proved a little bit of something last year with having a bigger role (for Vegas)," Perron said at the time. "A role that I never had pretty much in my career, and did good with that. And we had success as a team, too."
The Golden Knights reached the Stanley Cup Finals.
"So I wanted to bring that here, obviously," Perron said. "I didn't get that right away."
Perron got that bigger role after that December conversation, averaging nearly three minutes more ice time a game than he was getting before the Vancouver scratch.
"Even though he scratched me, we all love him in here," Perron said at the time. "There's no hard feelings. We want to go through a wall for him."
And there are still no hard feelings.
"He's been awesome," Perron said Tuesday. "I feel like he's been my biggest supporter, through the injury, through a lot of things."