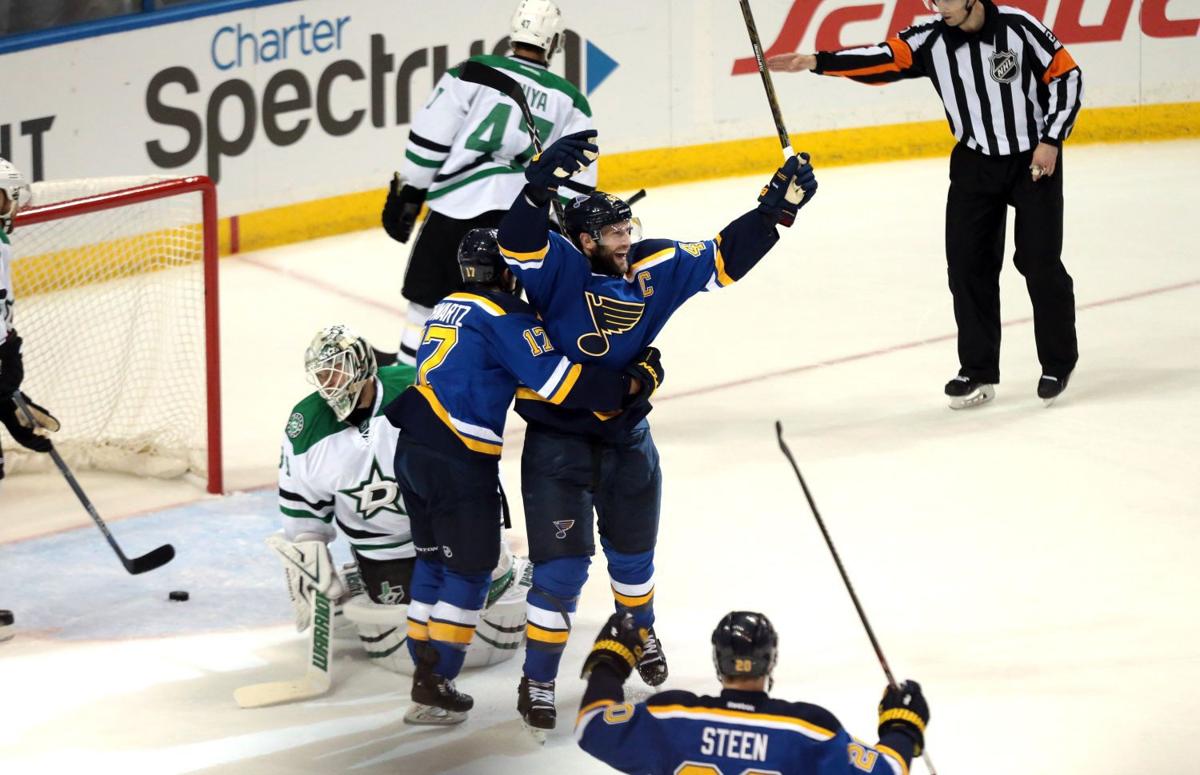 Blues captain David Backes had three game-winning goals during the 2015-16 regular season. He now has three in 10 playoff games this year.
The first of Backes' two goals in Game 3 against Dallas Tuesday night stood as the difference in the Blues' 6-1 win over the Stars. It helped the club take a 2-1 lead in the best-of-seven series, which resumes Thursday at Scottrade Center.
Backes' three game-winners — including two overtime goals — have put him in good company. He became just the third player in Blues history to score three in one postseason, joining Brett Hull (who did it twice) and Scott Young.
"He's stepping up to the plate right now," defenseman Alex Pietrangelo said. "I think that's three game-winning goals for us, that's what we need from our leader. He's obviously a big influence in the dressing room every single day, but he's really stepping up to the plate right now. ... He's playing at both ends of the ice, he's playing a big role at both ends of the ice. We're going to need more of that. He's a big part of this team."
Backes is tied with Vladimir Tarasenko for the team lead in goals in the playoffs with five. For comparison, Backes combined for five goals in the past five postseasons.
"All he's doing is working and playing his heart out," Blues coach Ken Hitchcock said. "He's just trying hard every shift. He just wants to leave it all out on the ice. ... I've said this before, David doesn't get enough credit for the greasy stuff he does. He's the spokesman for the team but he's also the image and style that we believe in, and that is that we're willing to go into the hard areas offensively and defensively. He's scored some big goals for us, but he's doing all the hard stuff that a lot of times coaches notice."
MORE ON THE MIND
As good as he felt after the win in Game 3, it was a rough night for Blues forward Scottie Upshall.
Upshall is from the western Canada city of Fort McMurray, north of Edmonton, Alberta, which is being devastated by wildfires. More than 1,600 structures have been destroyed and the entire city, about 80,000 people, has been evacuated. Upshall's brother and his brother's fianceé had come to St. Louis to watch the Blues, but their three children, Upshall's nieces, were still in Fort McMurray.
"There was a lot of things going through my head yesterday when I woke up from my (afternoon) nap," Upshall said Wednesday. "Most of my family was trying not to overplay it at all, but there was nothing to really overplay when something like that happens. I'm just worried about the safety of friends and family, more so at the time, my nieces who were still in Fort McMurray while my brother and his fianceé are here watching us play. It was a difficult time for a lot of people yesterday. I know there's a lot of help that they've been getting and a lot of people (are) sacrificing time and energy to help the city of Fort McMurray."
Upshall said he has about 15 close family members who still live in Fort McMurray, and he gets back every summer to visit. He said watching the news footage on television has been tough to take.
"(It's like) a movie that I don't really want to watch," he said. "I saw the freeway that I used to usually drive in from the airport and both sides of the roads were kind of just 100-foot flames. I saw a couple restaurants that I used to go eat at and those were gone. And it's crazy. You know, thankful for all the supporters there that are doing their thing and everyone who's still there who's trying to get out or looking for places to stay, we hope everyone has a helping hand and we'll be able to support them and do what we can from here. I'm sure we'll all get together here nationally and help them out."
The Blues will donate the proceeds from the 50/50 and the silent auction at Game 4 to families who have been displaced by the fires.
BLUENOTES
Hitchcock said forward Steve Ott could be back in the lineup at some point but they wanted to give him a breather after he hit a wall the staff expected him to hit. "He's going to be a factor in this season yet," Hitchcock said. "We need him to get back to where he was able to keep up to speed. You can only play on emotion so long in this business. Then you have to play on conditioning, fitness and ability." ... Stars coach Lindy Ruff said that both Tyler Seguin and Patrick Eaves were skating in Dallas and wouldn't be available for Game 4. Ruff said before Game 3 that Eaves, who was hit by a puck in Game 1, would be back no later than Game 5. There's been no date given to Seguin's return.