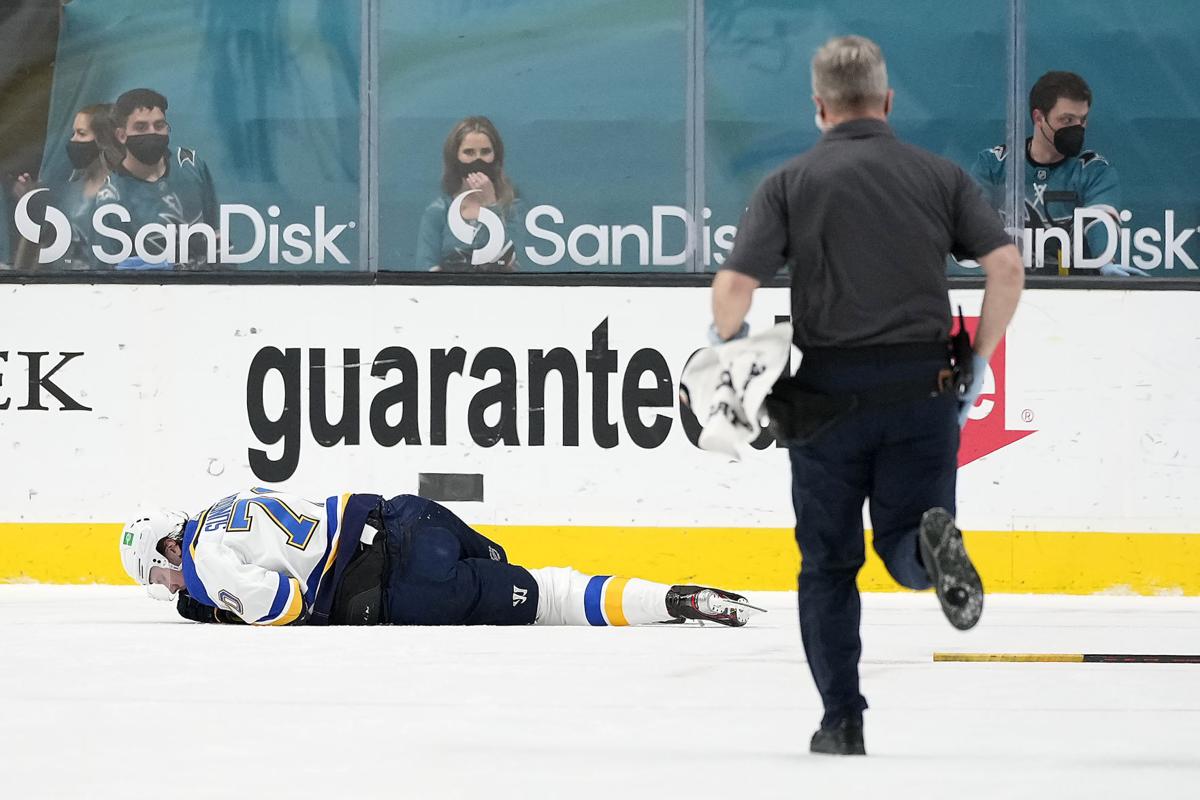 SAN JOSE — If it's not one thing. …
Forward Zach Sanford showed up on the NHL's COVID list Saturday, meaning he was out of the lineup against the San Jose Sharks at SAP Center.
And that wasn't even the worst news of the day for the Blues. Jack-of-all-trades Oskar Sundqvist has a torn ACL in his left knee and is out for the season. He will undergo surgery once the team returns to St. Louis and will be re-evaluated at the start of training camp for the 2021-22 season per general manager Doug Armstrong.
If that wasn't enough, there was a late curveball. Although he took part in pregame warmups, Tyler Bozak was a late scratch with what the team said was an upper-body injury. (He had just returned to the lineup Wednesday after missing 21 games with a concussion.)
"That's just this year in general, just kind of sums it up," captain Ryan O'Reilly said. "You never know what's going to happen. We wake up in the morning, we hear Sanny's not playing,.
"Then at the rink we find out about Sunny. Just terrible news. Then Bozy. It's unfortunate, but I thought we did a great job, guys coming into the lineup played outstanding.
"Physical, brought energy. We've got great depth and it showed tonight with the way those guys played. It's this season. You've got to be on your toes, you never know what's going to happen and you've just got to be ready to come and compete."
Compete they did, sweeping a weekend set of back-to-back games with a 5-2 victory Saturday over the San Jose Sharks at SAP Center.
Those developments during the day meant the Blues, just as they were getting several players back from their lengthy injury list, were down three forwards for Saturday's game.
"It's been bad for us this year, I'm not gonna lie about that," coach Craig Berube said. "We all know that. But you gotta just push on. We've got guys that have come in and done a good job.
"Everbody's just gotta keep going and you gotta keep working as a team — that's the key. It's all about the team. There's good depth within our organization and it's showing 'cause we use 'em. A lot of young guys, first-year guys in the league that have come in and are playing pretty well."
Berube said Bozak's issue Saturday is unrelated to the concussion.
"Nothing to do with the old injury," Berube said. "It's new, like he's just banged up a little bit. It's day-to-day right now.
"He wanted to try it in warmup. So it didn't work out. He wasn't able to perform, so that was it."
Nathan Walker, Jacob de la Rose and Dakota Joshua were called up from the taxi squad and drew into the lineup Saturday in place of Sanford, Sundqvist and Bozak.
De la Rose returned to the active roster Wednesday after missing seven games with a lower-body injury, then was subsequently sent to the taxi squad. Walker played six games from Feb. 27 through March 8, with a goal March 6 against the Los Angeles Kings.
Prior to sitting out Friday's game to make room for the return of Jaden Schwartz, Joshua had played in eight straight games and drawn praise from Berube.
Joshua replaced Bozak as the team's third-line center, flanked by Mike Hoffman and Sammy Blais. Who could've imagined that at the start of the season - Dakota Joshua, third-line center?
"A lot of guys playing in different areas," defenseman Vince Dunn said. "Unfortunately a lot of injuries for us. You never want to see a teammate go down, but on the other side of things there's always guys ready to try and fill in their shoes or take on another role."
Sundqvist, who centered the fourth line at the start of Friday's 2-1 shootout victory over San Jose, suffered the knee injury late in the first period of that game. He collided with teammate Kyle Clifford in front of the San Jose net, with Clifford's right knee slamming into the back of Sundqvist's left knee.
Sundqvist lay on the ice for a while in pain and then had to be helped off the ice and subsequently underwent an MRI exam.
"The doctor mentioned last night that he thought it could be something serious with the knee," Berube said Saturday. "You don't know until you get an MRI, but (the doctor) indicated that last night."
Sundqvist becomes the 10th Blue to spend time this season on injured reserve, a total that doesn't include Schwartz, who never went on IR despite missing 15 games.
A versatile player capable of moving up and down the lineup, Sundqvist is one of the team's top penalty killers, is a strong defender and has been effective in spot duty on the power play. In 28 games this season, he had four goals, five assists and averaged 15 minutes 9 seconds of ice time.
"Our team feeds off him," Berube said. "It's a tough loss for sure."
Sanford played on the Blues' third line Friday with Tyler Bozak and Mike Hoffman, logging just 12:35 of ice time — his second-lowest total of the season.
Although he had no points in his last three games, Sanford's production had picked up lately, with seven goals and three assists over his past 16 games.
Sanford is the second Blues player on the league's COVID list this season. Blais was on the list one month ago, missing the Blues' Feb. 20 home game with San Jose. But it turned out to be a false positive and Blais returned to the lineup two days later against Los Angeles.