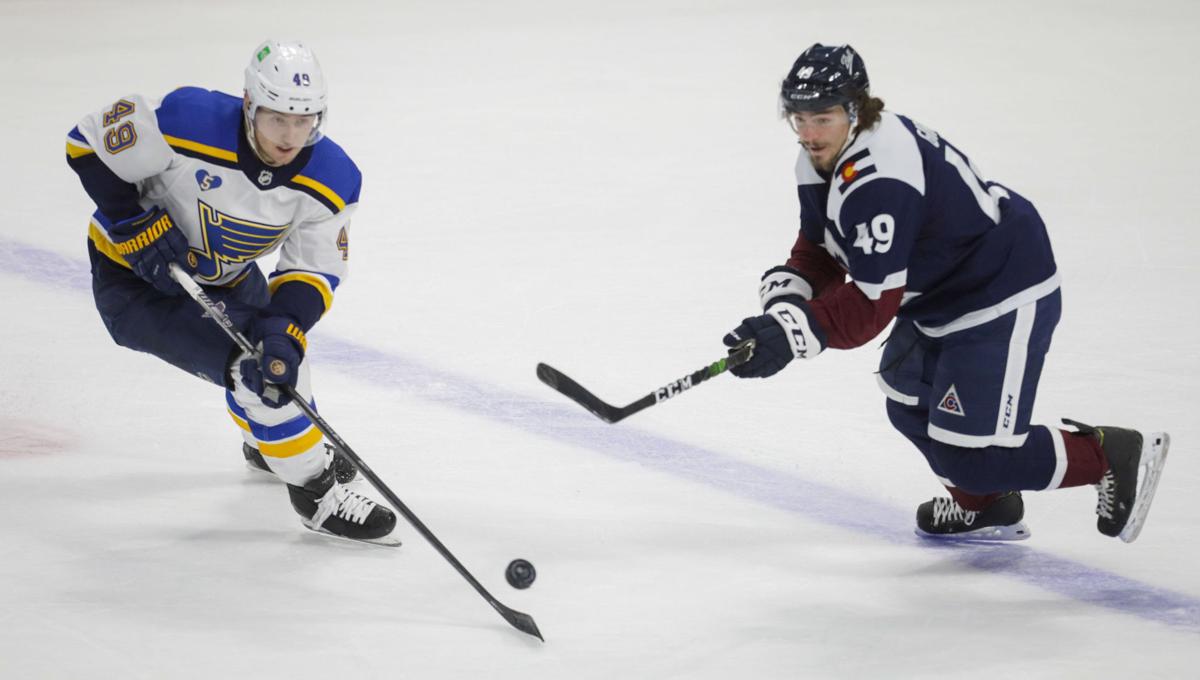 Post-Dispatch Blues beat reporters Jim Thomas and Tom Timmermann joined columnist Jeff Gordon to discuss the Blues' signing of winger Brandon …
Forward Ivan Barbashev, one of five restricted free agents the Blues want to re-sign, has agreed to a two-year, $4.5 million contract. The average annual value of $2.25 million is a nice pay raise from the $1.475 million a year he made on his previous contract.
The deal leaves the Blues with $6.3 million in salary cap space and four restricted free agents left to sign: Dakota Joshua, Jordan Kyrou, Zach Sanford and Robert Thomas.
Barbashev had been eligible for arbitration, but that won't be necessary as of Friday.
A young veteran at age 25, Barbashev has played 270 games over five seasons with the Blues and carved out a niche with the team as a steady, dependable performer.
Although usually playing on the fourth line, Barbashev has the versatility to move up and down the lineup when warranted. He did some good work last season when injuries elsewhere moved him up temporarily to the Ryan O'Reilly-David Perron line.
Barbashev played only 38 games last season, missing 18 contests after getting hit in the left ankle by a Perron shot in a Feb. 18 home game against San Jose. His season totals were four goals and five assists.
Barbashev averaged 13 minutes 21 seconds of ice time and was plus-5. A strong defender and good skater, Barbashev is one of the team's top penalty killers. But he'll score the occasional goal, scoring 11 times in 2019-20 and a career-high 14 goals during the Stanley Cup season.
More AHL helpThe Blues signed defensemen Calle Rosen and Tommy Jones to one-year, two-way contracts Friday, as they continue to build the roster for their American Hockey League affiliate this coming season in Springfield, Massachusetts.
Rosen, 27, has 20 games of NHL experience with Toronto and Colorado, with one goal and four assists in those contests. He played exclusively in the AHL last season, with five goals and eight assists for the Toronto Marlies in 30 games. He's 6-0, 187, and a native of Vaxjo, Sweden.
Jones, 31, was a second-round draft pick of the Boston Bruins in 2007. Over the years, he has spent time in the Boston, Columbus and Florida organizations, but has played only three NHL games — all in the 2015-16 season for the Bruins, registering one assist in those games. The native of Simsbury, Conn., actually played for the Springfield Thunderbirds in 2019-20, when they were a Florida Panthers affiliate.
The Blues now have 39 players under contract, plus the rights to four additional players who are restricted free agents. That still leaves them seven players shy of the NHL organizational limit of 50, and in particular, they need to add a few more defensemen to their Springfield roster.
Right now, Tyler Tucker, Scott Perunovich, Cross and Rosen are the only D-men likely to open the season with the Thunderbirds. Steven Santini also is a Springfield possibility if he fails to make the Blues' "varsity" roster coming out of camp and then clears waivers.
Another possibiliy is Mitch Reinke, who's an unrestricted free agent.
Prospects in PlymouthFollowing the COVID-shortened 2020-21 season, four Blues prospects are getting much-needed playing time at the World Junior Summer Showcase this week in Plymouth, Mich. The event is literally a who's who of NHL draft picks from 2020 and 2021 from the United States, Finland and Sweden.
Forwards Tanner Dickinson and Dylan Peterson, both 2020 Blues draft picks, are playing with a group of American prospects divided into two teams: USA Blue and USA White. Dickinson and Peterson actually have played games for both squads in the tournament.
Peterson, a third-round draft pick from Roseville, Calif., who's scheduled to play again for Boston University this season, has no goals and two assists in four games.
Dickinson, a fourth-round pick from Perrysburg, Ohio, who's expected to play in the Ontario Hockey League, had two goals and one assist through three games.
Defenseman Leo Loof, a third-round pick in 2020, and forward Simon Robertsson, a third-round pick by the Blues in the 2021 draft last Saturday, are playing for Sweden.
The weeklong tournament concludes Saturday.