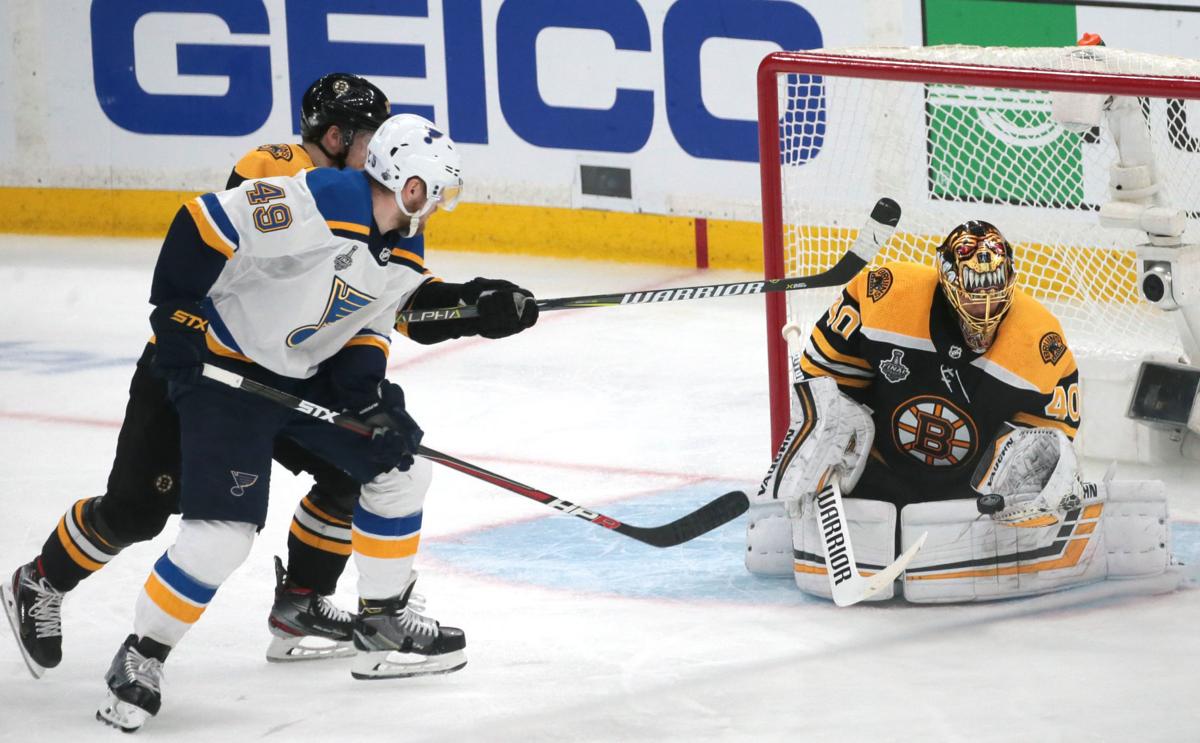 With training camp just around the corner, the gang's all here for the Blues — or at least the gang's all under contract. That became so Sunday night when the team announced that forward Ivan Barbashev had agreed to terms on a two-year contract worth $1.475 million per year.
With Barbashev in the fold, that means 22 of the 23 Blues who appeared in the Stanley Cup playoffs for the team this past season will be under contract for the 2019-20 campaign. And for a Stanley Cup championship team in the NHL's salary cap era that's unheard of.
The only defection was Oakville High's Pat Maroon, who signed with the Tampa Bay Lightning last week.
"We are pleased to have Ivan signed prior to our camp," Blues general manager Doug Armstrong told the Post-Dispatch on Sunday evening. "This signing will allow the team to have a singular focus on preparing for the season."
Barbashev, 23, is coming off a career year for the Blues with career bests in goals (14) and assists (12) during the regular season. Included in that goal total was his first NHL hat trick in a 5-2 Blues victory over Detroit on March 12.
Among his three playoff goals was an unassisted score 36 seconds into Game 4 of the Western Conference final against San Jose, a 2-1 Blues victory that tied the series at two games apiece.
Barbashev becomes the last of nine restricted free agents to re-sign with the Blues, seven of whom appeared in the playoffs. Barbashev, however, was not arbitration eligible, meaning he did not have much leverage in terms of contract negotiations.
But according to his agent, Dan Milstein, Barbashev was considering playing in the Kontinental Hockey League before re-upping with the Blues.
"Ivan is very happy to sign an extension with the Blues," Milstein told the Post-Dispatch. "While he had lucrative offers overseas, his priority was always to stay in the NHL.
"He loves the city and his teammates. He looks forward to defending the championship."
Barbashev had an extended role for the Blues during their Stanley Cup run. In addition to his usual spot on the fourth line, Barbashev saw extensive duty on the penalty kill unit for the first time in his three NHL seasons. Early in the season he explained that his new PK duties were simply a way to get on the ice more often.
Barbashev also stepped up his physical play in the postseason, leading the Blues with 87 hits.
With Barbashev's signing, the Blues are expected to have about $1.2 million in salary cap space when all is said and done, giving them a bit of a cushion to replace injured players during the season.
---
Quick Hits: Timmermann on the Blues
MAROON PROVED TO BE A BARGAIN — WHERE WERE THE BLUES?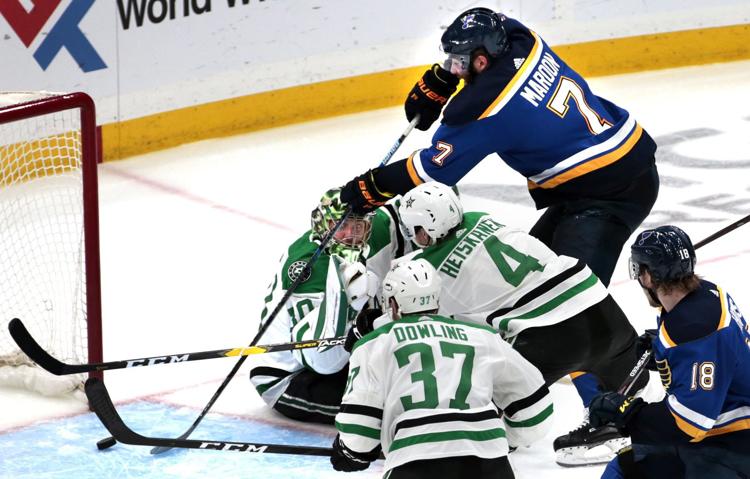 QUESTION: How is it that the Blues couldn't find a way to bring back Pat Maroon for one more run when the price turned out to be $900,000?
TOM T.: That Maroon signed for $900,000 in Tampa tells you what the market was like for him, though I for one would be willing to take a little less to play in Tampa than I would to play in, say, Ottawa. (But that's just me. Some people like Ottawa.)
As much of a bargain as Maroon may have been, the bigger issue was going to be that he was just going to get in the way of the young forwards that the team wants to play and who look to be factors beyond this season. And it's not just a spot in the lineup he takes, but a spot on the roster. The Blues are pretty much at the time where guys like Blais and Sanford and Kyrou don't have any more to learn at the AHL level. So they need to have them with the big club.
... Ultimately, I think Armstrong and the Blues thought that they had better options going forward than Maroon. Time will tell if that's right or not, but the team is high on Kyrou and this is his chance. 
WHO FILLS THE TOUGH-GUY ROLE?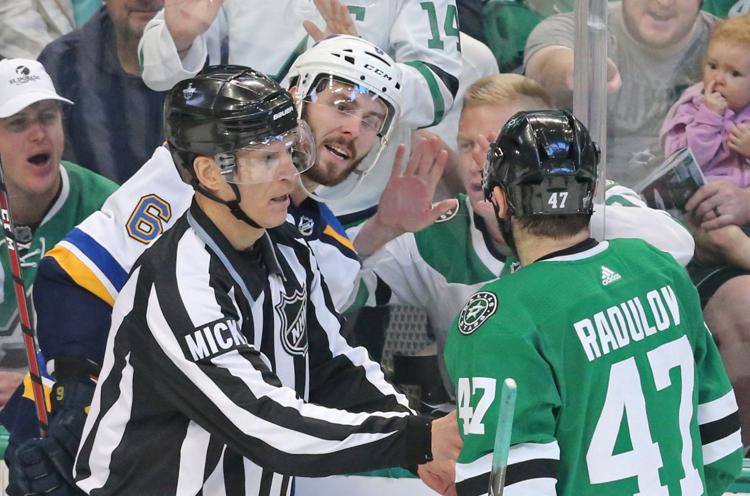 QUESTION: Don't know why people keep saying it was a salary cap issue for not re-signing Maroon. The Blues easily could have fit in $900,000. They just didn't want him back, period. So, who is going to fill the tough-guy role? Sanford or Blais can't do that.
TOM T.: I don't know that I'd say they easily could have fit him in, since signing him would have made it hard to fit in Barbashev and give themselves some cap space. But, yes, the roster space was clearly the biggest factor. Kyrou has to play this season, or at least get the chance to show he can do it. That's a whole lot easier to do with Maroon somewhere else.
As for filling Maroon's tough-guy role, Edmundson and Bortuzzo are the top fighters still on the team. Blais is the team's top hitter, though, yes, I don't foresee him getting in a lot of fights. (Well, maybe guys will be going after him.) If MacEachern's in the lineup, he can do it. It may be a brawler-by-committee issue.
BARBASHEV BACK TO RUSSIA?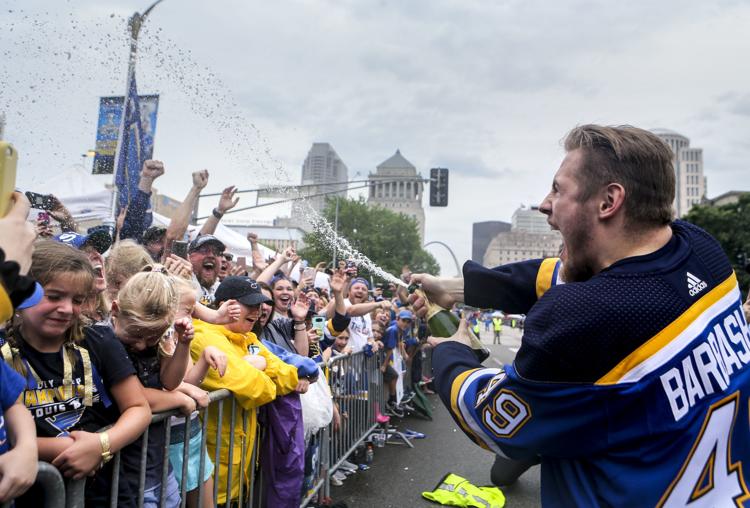 QUESTION: Is Ivan Barbashev going to the KHL really in play?
TOM T.: The KHL season starts on Sunday, so there's a bit of a deadline there, though I'm sure a team there would take him without training camp. If a player like Maroon was dangling that option, a team would call him on it because North Americans going to the KHL isn't a common move, but for a Russian, it's a bit more of a threat. Barbashev, though, wouldn't have to look much past Vladimir Sobotka to know that getting a few more dollars in the KHL for a season or two doesn't always pay off down the road.
With Maroon's situation out of the way, it's pretty clear what the Blues can offer. They've got about $2.6 million under the cap, plus they want to give themselves a little cushion if they can. The fact that Barbashev was at the race at World Wide Technology Raceway over the weekend, and not in Moscow, suggests he wants to be here.
(By the way, Dmitrij Jaskin has signed a one-year deal with Dynamo Moscow.)
---
Follow-up: Does three years at $2 million per get it done for Barby?
TOM T.: I would think that would work on his side. It's not Sundqvist money (he's making $2.75 million), but it's more than Sanford. Question would be how comfortable the Blues are with being that close to the cap. Though they've had years where they've been right up against it at the start of the season.
YOUTH MOVEMENT IN 2019-20?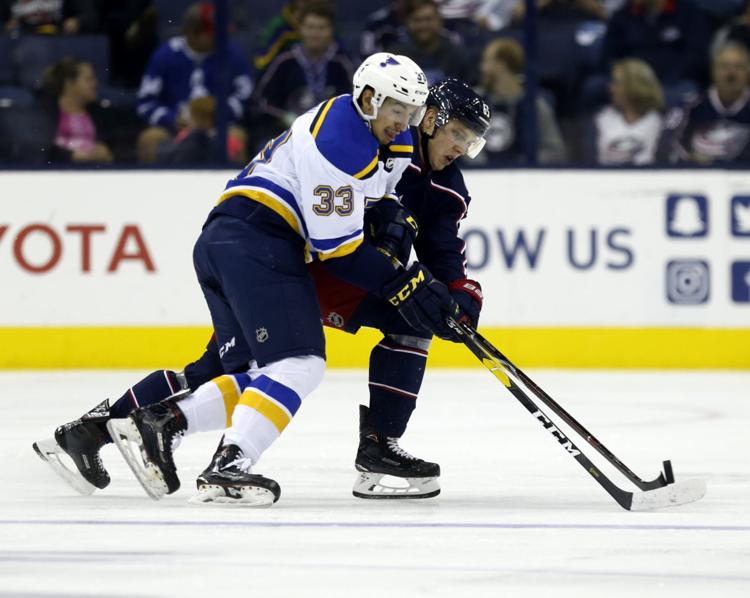 QUESTIONS: What are the prospects for young forwards Blais, Sanford, Kostin and Kyrou for 2019? Which defensemen have a chance to break the lineup? How about Reinke and Mikkola?
TOM T.: Blais and Sanford have shown what they can do when at their best. Both now need to do it consistently, as both have shown a tendency to trail off. Kyrou will get a real chance this season, more than that handful of minutes he got on his occasional call-ups last season. If he can do the defensive work, he'll get a chance to show what he can do on offense. The organization looks at this as a season where Kostin really gets going in San Antonio and gets ready for the NHL. If that happens, he'll get some looks as the season goes on. I wouldn't expect to see him making the team out of camp.
On defense, Derrick Pouliot is the heir to the Chris Butler role of experienced guy you call up if you need someone but are probably going to scratch him. With the depth they have in the defensive unit, I would think Mitch Reinke and Niko Mikkola will get more seasoning in the AHL but will probably get some playing time when the inevitable injuries come along.
Breaking into the lineup will be tough, since it means climbing over Edmundson, Bortuzzo and Gunnarsson to get there, but who knows? When Parayko and Edmundson broke in, no one saw that coming.
WHERE DOES BINNINGTON RANK?
QUESTION: A very unscientific NHL Network show had Jordan Binnington as the No. 8 goalie in the league right now. What's your take?
TOM T.: Nothing helps your resumé like winning the Stanley Cup. After his initial red-hot start, Binnington cooled down and mixed really great games with fairly routine games. One thing he had going for him was he seldom, if ever, had a real bad game. The number of soft goals he let in was small. And, as seen in the playoffs, he had some exceptional games that got the Blues the Cup. (Hence, why I voted for him for the Conn Smythe.)
One of my favorite parts of the Final series was after the game where Binnington got pulled, a Boston writer wrote that the Blues now had a goalie dilemma. I dare say no one reading this chat felt there was any chance Binnington would not go back out there.
Based on how he played last season, eight is a reasonable spot for him; he won the Cup, after all. It's hard to say he's not in the top 10. If he's the eighth-best goalie again this season, the Blues will be very happy.
EXPECTATIONS FOR FABBRI?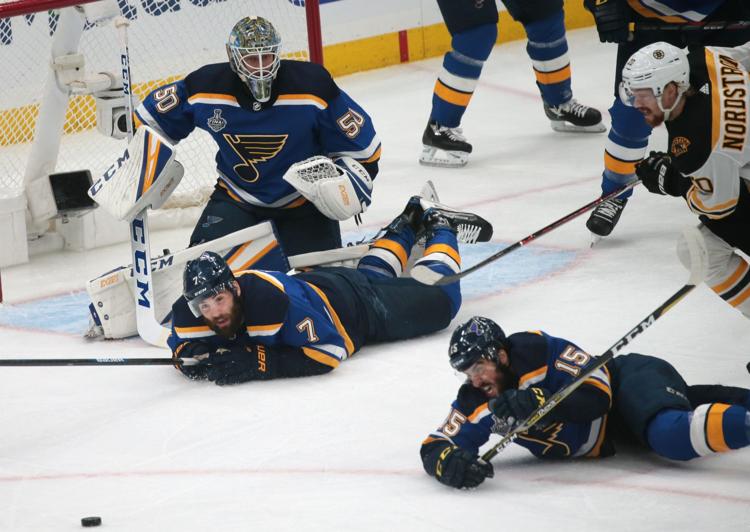 QUESTION: What are realistic expectations for Robby Fabbri this year? Do you think he hit the expectations of the Blues internally last season?
TOM T.: I think the Blues internally would have liked to have seen more from him last season. They knew going in it was going to be tough for him after the two knee surgeries, but you can't blame them for hoping for the best. There were occasional moments of promise, but not nearly enough.
As for what is realistic for this season, boy, that is hard for me to say. If he got to double figures in goals, that would be good. His first season with the Blues, he had 18 goals and 19 assists. If he could do that, that would exceed my expectations. But it's also going to be more than goals. Is he making things happen, skating fast, making hits, winning pucks? If he can do that, even if the goals don't come, he'll be making contributions.
After he got hurt midseason last year, his hits pretty much went to zero. Even though he said that's not his game, the fact he went from one or two per game to zero was, to me, noticeable and indicative of something.
WILL YEO BE A HEAD COACH AGAIN?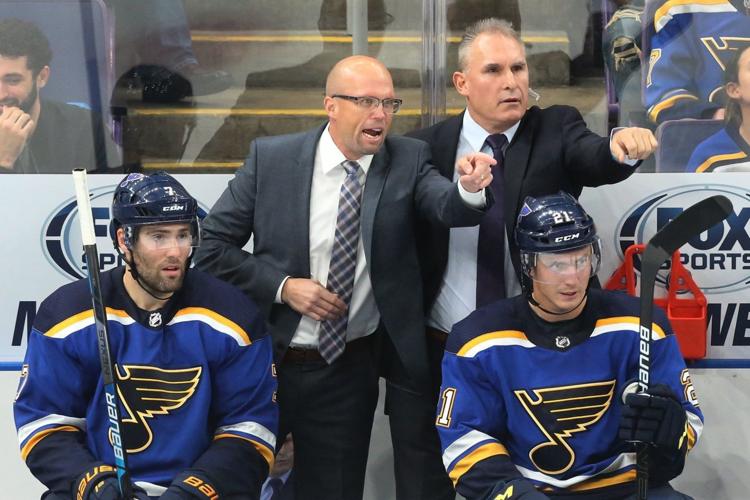 QUESTION: Is there any way Mike Yeo ever gets another head-coaching job?
TOM T.: When Dallas Eakins was fired in Edmonton in 2014, I thought there was no way he would coach in the NHL again. This summer, he was hired as coach of Anaheim. Nothing is impossible in the NHL.
Three or four years as an assistant in Philadelphia, some good results for the team there (or with some other team) and all of a sudden, Mike Yeo's name pops up on lists. I don't think it will happen soon, but it could easily happen. The best way to get an NHL head coaching job is to have already been an NHL head coach.
HOW MANY CUPS SHOULD THE BLUES HAVE WON BY NOW?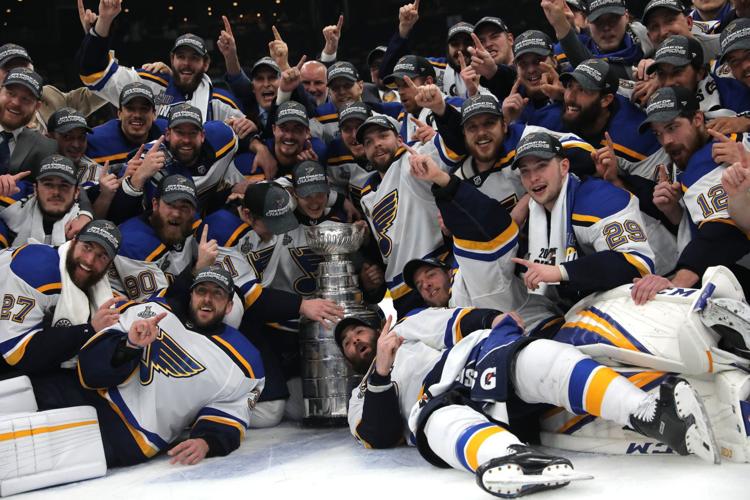 COMMENT: Looking back, the Blues should have already won at least one or two Stanley Cups before this past season. For example, in Curtis Joseph's book "Cujo," the case is made that the Blues had a potential Cup-winning team if "Iron Mike" Keenan hadn't traded away several blue-chippers because of his ego.
TOM T.: I asked an analytics guy last year if there was any way to figure how many Stanley Cups the Blues should have won over the years, kind of a big picture version of Expected Goals. He said, no, he hadn't tried to figure that, but he would have thought they should have had a couple by now.
It's all such a crapshoot. All teams have windows of opportunity to win the Cup, like the Blues are in right now. If when that chance comes around something happens -- for instance, Roman Turek is in goal -- then that chance passes and you have to get back in line.
WILL THE TEAM RETURN IN GOOD HEALTH?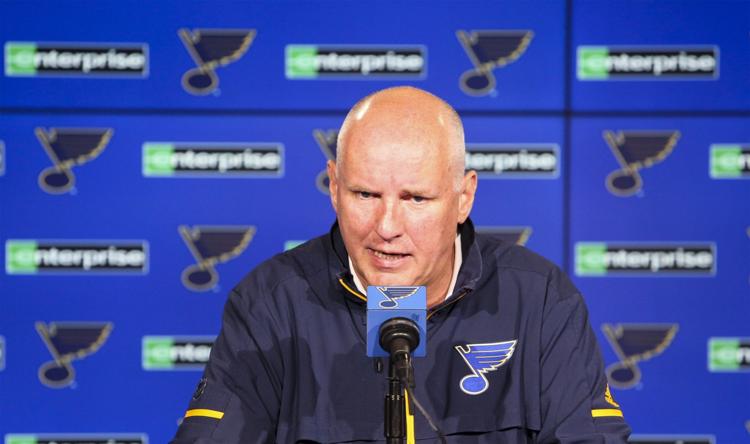 QUESTION: Will everyone be back from the short summer in good health, recovered from surgeries and other maladies from the long Cup-winning season? Any lingering hip or shoulder concerns?
TOM T.: The last word from Doug Armstrong on this was that everyone should be back and be ready to go by camp. But even with that, I would expect the regulars to see less action during the preseason than they normally might. That was a long season. I wouldn't think we'd see Pietrangelo playing 27 minutes in a game in October.
The tricky part to that, of course, is that the Central Division is so tightly packed, you can't go giving away many points. It will be a fine line to walk.
UNSUNG HEROES IN THE RUN TO THE CUP?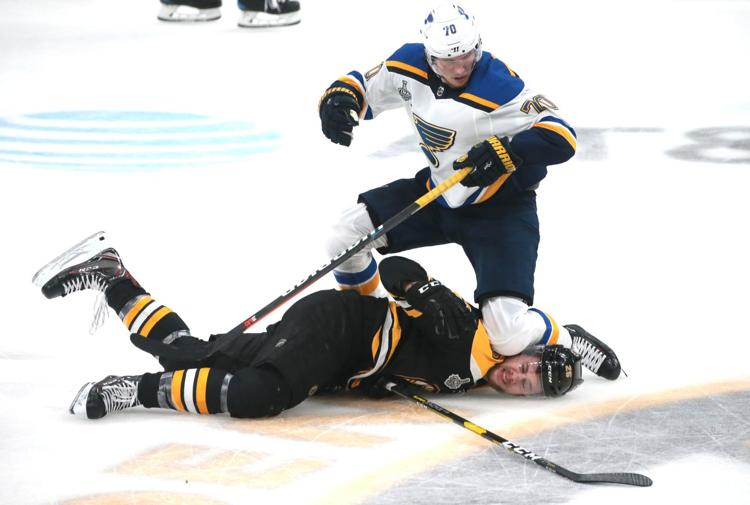 To a comment about identifying the Blues' unsung heroes in the playoffs, Tom T. replied:
Tough question because the playoffs run so long, and guys who play great for the whole two months become "sung" heroes rather than "unsung." If you rule out stars on the theory that there's no way for someone like Tarasenko or Schwartz to be an unsung hero, then Carl Gunnarsson certainly had some moments. For all the credit Maroon gets for the goal against Dallas, Robert Thomas certainly made that play happen. He was less of a factor in the Boston series because of his wrist injury. Oskar Sundqvist had some good moments.
As a group, you had to like the fourth line. They're more than one person, but they might get my vote.
Anyone else have a vote on an unsung hero? I think the way the playoffs went, unless you chose someone like Jake Allen who didn't play much, I don't know that there's a wrong answer. Almost everyone contributed at some point.
---
Follow-up comment: Unsung heroes = every single person that got benched at any point in the playoffs. No complaining, no distracting stories, just what's best for the team. I think it was a big part of the resiliency and focus that they talked about all playoffs long. That includes Jake Allen.
TOM T.: Distractions were at a minimum for this team, and yes, you could point to Allen as an unsung hero for his role in supporting Binnington and not being a distraction or a drag on the team. Allen could see what was happening with Binnington and let him run with it.
PROSPECT WATCH: NIKO MIKKOLA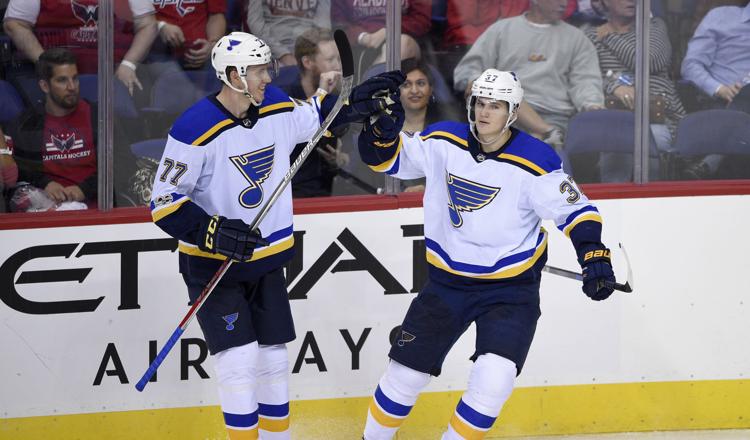 QUESTION: From what I've read about our Finnish defenseman Niko Mikkola, he's Parayko's size, but more of a defensive defenseman with a physical side. Can you shed a little more light on his skill set and his overall potential?
TOM T.: Niko Mikkola is 6-4 and actually was on the opening day roster last season because of suspensions and injuries, but he was sent down without playing a game. He had two goals and seven assists in pretty much a full season for San Antonio, so he's not a Parayko guy who's going to be firing blistering slap shots. But he fits in with the Blues as a big guy with long arms who can cover a lot of the rink.
Last year was his first year in North America after playing at home in Finland, so he's still getting used to the smaller North American rink.
WILL THE BLUES BE A 100-POINT TEAM?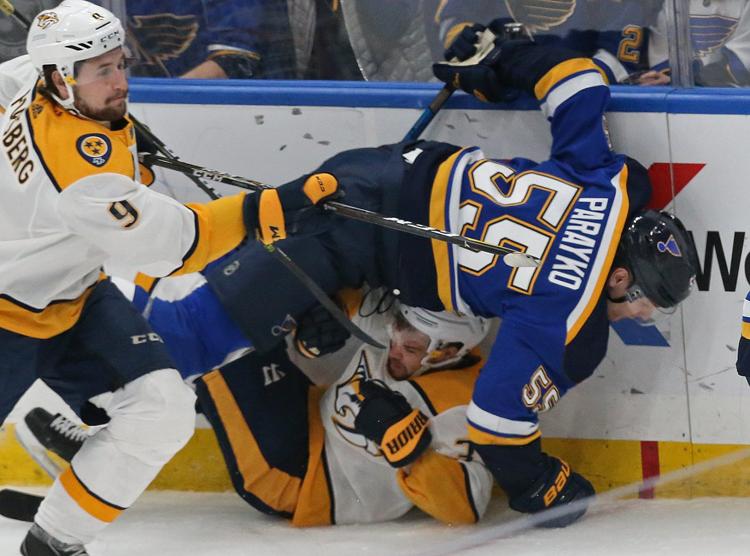 QUESTION: 100-point season: Will the Blues be over or under?
TOM T.: I'm going to say under. The Central Division is tight, and the Blues may struggle at times early after the long season. I think 100 points would win it.
---
Follow-up: How will the NHL re-align the Western Conference when Seattle enters the league?
TOM T.: Seattle to the Pacific, Arizona to the Central. That way everyone has eight teams. I can't complain about an extra trip to the Phoenix area every year.
WHAT'S UP WITH BACKES?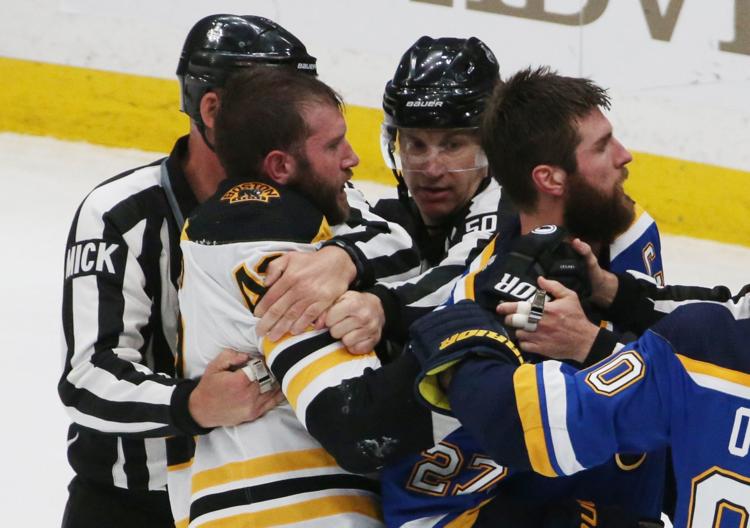 QUESTION: Has anyone caught up with David Backes since the Final series took a such a weird turn for him?
TOM T.: I haven't seen anything, though in the days immediately after the season ended, I was a bit distracted by parades and all. Color me surprised that he didn't get a buyout from the Bruins after the season. He's still got two years to go at $6 million per.