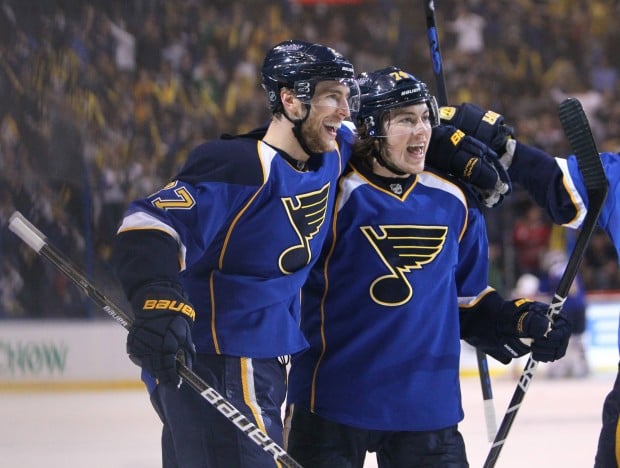 How was your weekend? Better than No. 27's I would imagine.
Pardon my short attention span, but I'm going to buzz around like a fly. Here is only a partial rundown of many thoughts, some coherent, on this Monday morning...
* If Blues defenseman Alex Pietrangelo can play in Game 2, which now seems possible, it will be a terrific triumph for the Blues, and an uplifting development in this series. And it will be a positive development for hockey, too. If Petro can play, the LA Kings would have failed in the attempt to take him down. And the Blues will have regained the services of their best all-around player.
More than that, this is a matter of right and wrong. The NHL has lost its moral compass, allowing predators to pick off the sports' most skilled players -- with only the occasional, meaningful and harsh punishment. And that's so wrong on so many levels, it makes you sick.
Well, if Pietrangelo can make it back, it's a small victory for the good guys. The kids like Petro who are the youngest, brightest and best that this sport has to offer. They don't deserve special treatment. If a Pietrangelo suffers an injury after absorbing a clean, tough, hard hit -- too bad, bit that's hockey. But to shove a defenseless player, head first into the boards? Why would that be acceptable under any circumstances? 
* Think about this, however: with the NHL looking the other way and allowing Dwight King to get away with the sneaky and dangerous attempt to take Pietrangelo out, you can only wonder what the Kings have planned if Pietrangelo returns? You don't think they're talking about that on the LA side today? Please.
* So Kings coach Darryl Sutter implied that Pietrangelo somehow was at fault or otherwise culpable for getting shoved into the boards, face-first, by King? That's hysterical. Sutter must be sniffing ammonia. But let's think about this for a moment. In this increasingly barbaric NHL culture, what would you expect from this man? This is Malice in Wonderland. It's a bizarro world. Before you conclude that Sutter took one too many elbows to the head during his playing career, think again: He is the NHL. And so follow the logic accordingly. Do not expect common sense. What's up is down; and what's down is up.
* So with that in mind, here is a sarcastic serving of caveman NHLthink: What was Pietrangelo doing, giving himself a head injury like that? And the next time Petro wants to cut himself and bleed, hey, do it in the freaking bathroom while shaving. Don't slice open your chin in Game 2 of an NHL playoff series. What Pietrangelo did to King was terrible. You have some misinformed people out there thinking they saw King plow a vulnerable Petro into the end boards, but King was the real victim here. Pietrangelo owes him an apology.
* The confused Sutter engaged in some baffling double-speak Sunday. On one hand he defended King's actions by saying it was just an arm (a shove) and not even a hit. Then Sudsy pivoted and suggested the the media was campaigning to take hitting out of the game. Huh? Sutter says King didn't hit Pietrangelo, so why the reference to hitting? Was it a hit or not, coach? 
* If Pietrangelo misses Game 2 -- and he may not -- the Blues are going to need a lot more from defenseman Kevin Shattenkirk, who hasn't made much of an impact offensively so far this postseason. But even if Petro plays, Shattenkirk has to step it up and contribute more. He was one of the Blues' top players during the regular season.
* Since the beginning of the 2011 season, Jon Jay is batting .308 with a .354 onbase percentage and a .437 slugging pct. in 563 plate appearances. In 612 plate appearances over the same time frame, Colby Rasmus is batting .225 with a .295 OBP and .396 SLG.
* A positive takeaway from the Rams' draft: whether you like the choices or not, no one can dispute that the Rams went for players who are bigger, faster, stronger and more athletic. That's in comparison to much of what they have on the roster; this team desperately needed to become more athletic.
* Another takeaway from the Rams draft, and I wrote something along these lines Saturday: the Rams rolled the dice. They're banking on guys that had first-round grades based on talent level -- but were taken later because of concerns over character, inexperience, etc. I can't predict the careers of CBs Janoris Jenkins and Trumaine Johnson (arrests in college), or the small-school wideout Brian Quick. Their pure talent is very real. The question is whether the Rams will be able to maximize the players' potential. Or even have the chance to maximize the potential; Jenkins in particular has to become a solid citizen or he won't last long.
* The truth: when I heard that the Rams had drafted a kicker in the sixth round, I thought that maybe GM Les Snead and coach Jeff Fisher were having some sort of toxic-shock reaction to drinking too much coffee, or whatever. But I must say, the kicker, Greg Zuerlein, had remarkable success at Missouri Western. And there zero questions over his leg strength. He missed one field goal last season and made nine FGs of 50+ yards. Accuracy and distance? That's appealing. However: lots of college kickers have powerful legs. The mental challenge of handling NFL pressure is what usually makes or cracks them. It is no different with Zuerlein.
* When Brendan Shanahan played for the Blues, he was a highly intelligent man. He was thoughtful. He stood up for the right things. I don't know what's happened to that man. In his role as the NHL's director of player safety, Shanahan has lost his way. I don't know why this is. When you go to work for the league office, and you are breathing the same air as commissioner Gary Bettman and his assorted lackeys and stooges, does it immediately kill brain cells and make you dumber?
* I like Ken Hitchcock's reaction to the hit job on Pietrangelo. I know that for many of you it would be satisfying to hear the Blues coach ranting and raving and assailing the idiots that run the NHL ... but that does nothing for his team. Hitchcock doesn't want to peddle in excuses or weakness. He doesn't want his team to develop a woe-is-us victim complex and give into the adversity. His message is simple and necessary: no matter who lines up for the Blues, the team's objective is to play much better than they did in Game 1. All of the focus should be on that. This team overcame injuries all season, and this is no time to be carping about officials or sniffling over Petro's injury. The Stanley Cup playoff are all about survival. You have to be mentally strong.
* Coach Sutter wants to know: which Blues player plans on injuring himself tonight in Game 2?
* Albert Pujols is batting .216, and people are starting to make excuses for him. One of the things I read and hear is this: well, Albert has switched leagues. He needs to adjust to pitchers he hasn't seen before. It takes time ... Oh, really? No sale. As a Cardinal, Pujols had 541 at-bats against American League teams in Interleague play. And this is what he did: .348 batting average, 39 homers, 121 RBIs, and a 1.070 onbase-slugging pct. He crushed AL pitchers for 11 years, and now he's helpless because he hasn't seen much of them before? Ridiculous. Before Sunday's game at Cleveland, Pujols had a career batting average of .357 against Indians starter Derek Lowe, who had been in the NL for a long time. Pujols went 0 for 3 against Lowe yesterday. Why? Because Lowe was wearing the uniform of an AL team? Nah.
* Memo to Kings fans: if you think I'm a Blues homer, try to locate the column I wrote during the 1998 NHL playoffs, when Blues' forward Geoff Courtnall ran LA goalie Jamie Storr in Game 3. It was a gutless, dangerous play and I called Courtnall out for it. I wasn't real popular in The Lou after writing that.