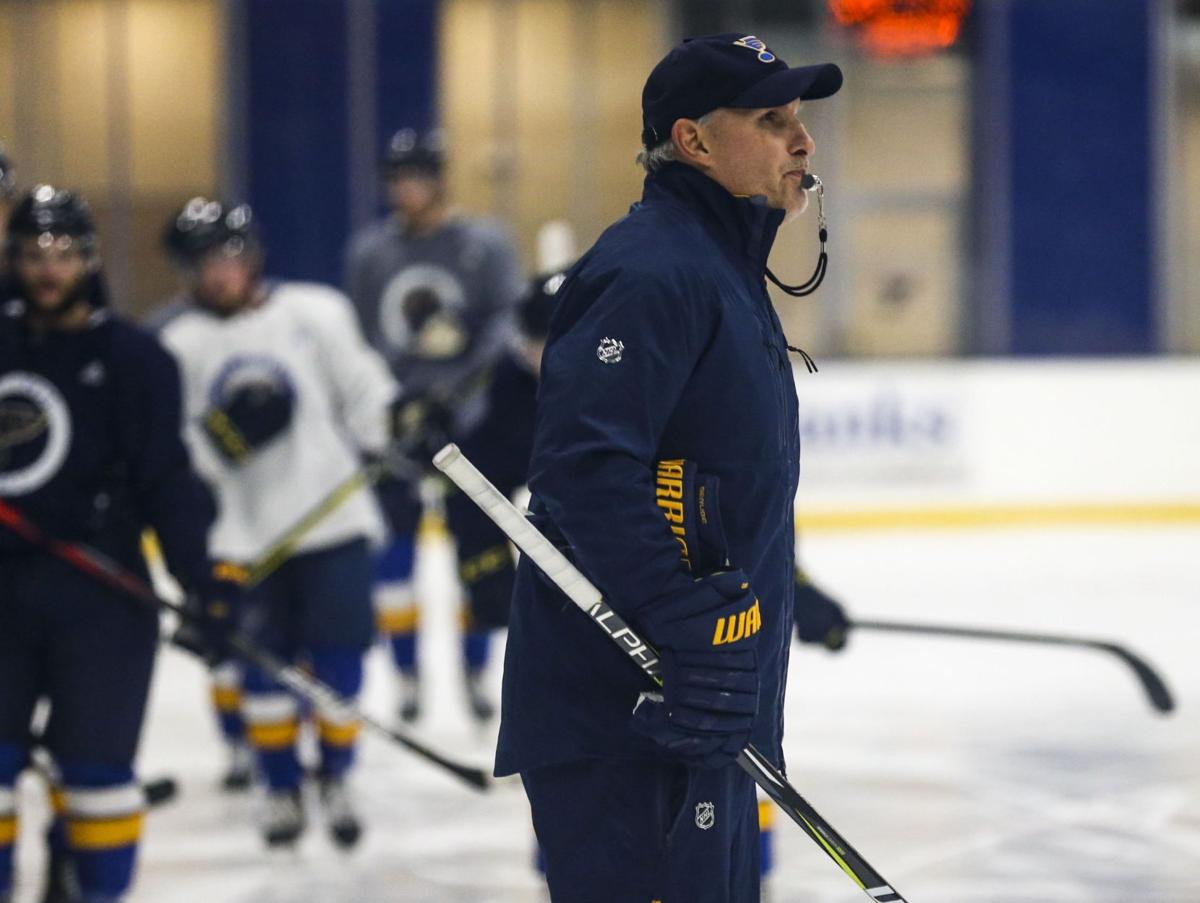 By the tone and intensity of Friday's practice at Centene Community Ice Center, you'd swear the Blues were coming off a 4-1 loss to the San Jose Sharks instead of the other way around.
There were battle drills, 5-on-5 work, and more barking than usual from Craig Berube. The Blues got after it pretty good. And Berube got after them from time to time.
"It's all about skating for me, work," Berube said, prior to the team's departure for Dallas and Saturday's game against the Stars. "I know a lot of times it's hard. You played a game the night before, but you've got to push yourself. It's my job to push the players and then hopefully they respond to that."
Berube said the team's practice approach was businesslike after Tuesday's 3-2 embarrassment against the Arizona Coyotes and he wants to keep that mindset going.
"I thought the details of practice were good today," Berube said. "They're not going to have the same energy as they would have if there wasn't a game last night. It's not going to happen, but the details were good."
For his part, defenseman Marco Scandella had no problem with the intensity level of practice.
"Well that's what we're trying to bring," he said. "We're trying to get out of a rut. We can't just hold our heads high after one win. We're trying to string a few together. We have a really good team here, and we have to get back to dominating teams like we were earlier in the year."
Star gazing
The Blues were an angry, frustrated team in a funk entering Thursday's game against San Jose – and took it out on the Sharks.
On Saturday at American Airlines Center, the Blues will be facing an angry, frustrated Dallas team that has been in a rut.
"You've got to understand what you're going into tomorrow, a team that got beat 7-2, a desperate team," Berube said.
The Stars are 6-7-2 overall but have won only three of their last 10 contests, including Thursday's 7-2 thumping in Minnesota.
"They'll be mad, obviously," Berube said. "We've got to go in there and we've got to understand what we need to do as a team to make that other team play uncomfortable.
"We're going to have to play on the goal line on them, and play a north game like we talk about all the time. And do a lot of the same things we did last night in the game."
Schenn's status
For the first time since exiting the lineup with an upper-body injury, alternate captain Brayden Schenn was on the ice with the full team for Friday's practice. That's a step forward, but even so, Schenn's work with the entire team was very limited.
He was either a spectator during the battle drills and 5-on-5 work, or spent time on the other end of the rink working on his own. Schenn has missed seven games with what's believed to be a hand/wrist injury. He took a fair amount of shots, but they didn't seem to be at full velocity.
In any event, Schenn's return is drawing closer, and when that happens Berube will have some tough decisions on where to slot Schenn in the lineup and who comes out of it.
"I think it's good that we have depth," Berube said. "We've got a lot of guys that can play big roles for us. I think you need that in an 82-game season and they are tough decisions sometimes, but that's part of my job and you've got to go with what's best for the team."
Kostin chat
While the rest of the team was trickling out onto the ice and getting loose, Berube spent a decent amount of time talking to Klim Kostin along the boards. Kostin has spent most of the season playing on the fourth line, which at times has resulted in very limited ice time.
But Berube wants him to make the most of those opportunities.
"It's about managing things and making sure that you do the right things every shift with the puck -- putting it in deep and going to work, creating energy for the team," Berube said.
"I was talking to him about puck protection in the offensive zone, being strong on it, keeping pucks and hanging onto it because he's a big guy and he can do that.
"And just about maybe taking pucks to the net more and getting himself to the net. Just disrupt the other team a little bit more, make the other team notice him and make it uncomfortable for the other team."