A new Blues hockey coach won't be joining the team this season.
General manager Doug Armstrong said Thursday that interim coach Craig Berube will remain coach of the Blues through the remainder of this season. He also said Berube remains a candidate to have the "interim" tag removed from his job title at the end of the season.
"We're tied in with Craig now for the rest of the year, and we're looking forward to working with him and maximizing the most we can out of this group," Armstrong told the Post-Dispatch.
"I really enjoy working with Craig and his staff. I don't want to say they're understaffed right now, but they're one (coach) less than they were and they're putting in the long hours."
The Blues are 15-13-2 overall since Berube replaced Mike Yeo on Nov. 19, and 12-8-1 since a 6-1 home loss to Vancouver on Dec. 9. Although the Blues remain three points out of playoff position in the Western Conference entering the All-Star break and bye period, analytics and the eye test both say the team is playing better lately.
Overall, the Blues are 22-22-5 following Wednesday's 5-1 victory in Anaheim with 33 games remaining in the regular season.
As for being one man short on the coaching staff, the Blues never added an assistant after Yeo was fired and Berube moved up from associate coach. Larry Robinson helped the coaching staff from the time of Yeo's dismissal until Christmas but has since returned to his senior consultant duties for the team.
"I enjoy listening to them talk and debate our performance and our game plan," Armstrong said of Berube and his staff. "(Berube's) direct. He doesn't waste words, but you know where he stands.
"At least with me, it's not like he's reserved and quiet where you're prodding for information or prodding to find out what he's thinking. He just does it with fewer words than most."
When asked if Berube was still in the mix to remain as Blues coach next season, Armstrong replied in the affirmative but said the evaluation process is ongoing.
"Yeah," Armstrong said. "I think in pro sports at any level, whether you're a coach or a trainer or a (general) manager, every day's an evaluation by somebody. And we're all going through it together."
Armstrong declined to comment further on the coach search.
---
1. FIVE THINGS THAT HAVE TO CHANGE FOR THE BLUES?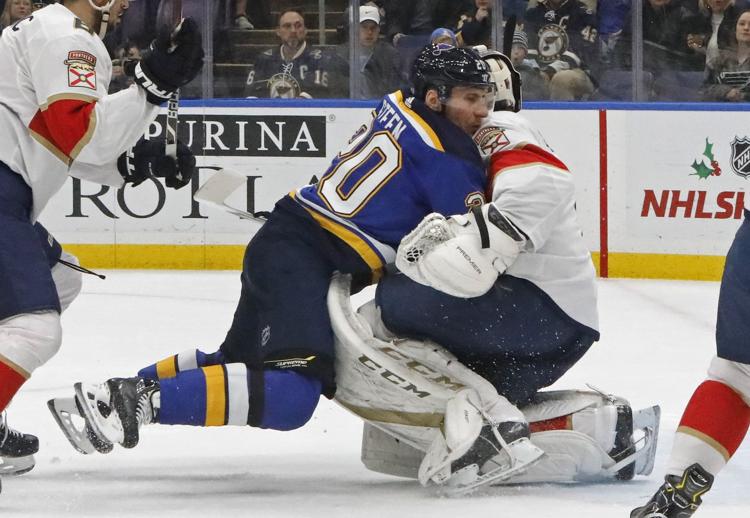 QUESTION: Can you give us a list of five things that would need to change after the break for the Blues to make it into the playoffs?
JT: In no particular order:
1. Goaltending. Binnington has provided a spark, the LA Kings game notwithstanding. That has to keep up. Concentrate most of the Jake Allen starts on the road, where he has played very well.
2. Some of the Blues top players have to get going. Schwartz has gone 16 games without a goal; Steen has gone 16 games without a goal; Schenn has no goals in his last 8 games; Pietrangelo needs to get going, as much on the defensive side as the offensive side. Tarasenko has picked it up lately, but needs to keep going.
3. Beat the teams you're supposed to beat. (At least most of the time.) The Blues are 7-9-3 against teams currently out of playoff position this season. Last season they were 25-11-1 against those teams.
4. Why can't the Blues come back in games? Is there an NHL bylaw against this that we're unaware of? They are 1-18-3 when trailing after two periods, and 4-8-5 in one-goal games.
5. Special teams: Quit taking stupid penalties. Pick up the production on the power play.
2. TRADE WINGS BLOWING?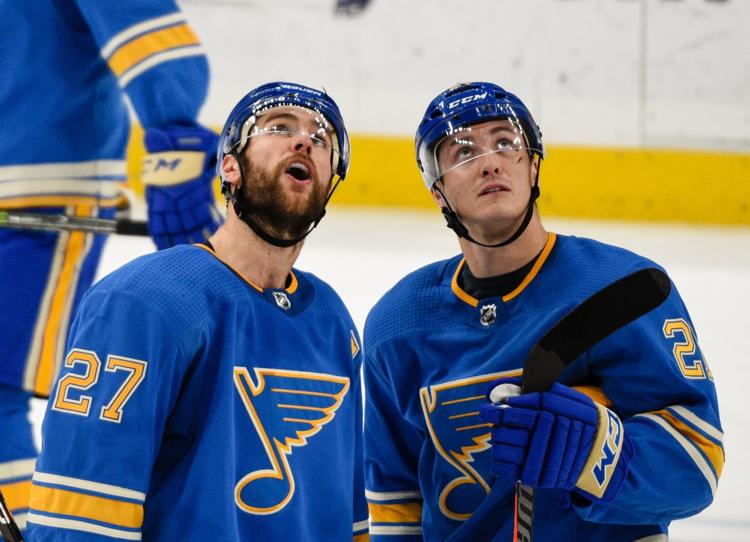 QUESTION: Who might be interested enough to trade for Steen? For Bozak?
JT: I don't think Steen has much trade value given his age — he turns 35 on March 1 — and his contract status — two more years after this at $5.75 million per season. Also, Steen has a no-trade clause. As for Bozak, I don't think he's played poorly. His production before his concussion was pretty much normal for him. And again, you've got contract considerations — $5 million per year, for two more seasons after this. Plus Bozak has a modified no-trade clause (10 teams).
QUESTION:L Pietrangelo for Mitch Marner — what does each side have to add for this trade to become possible?
JT: Am I wrong on this? I would think the Blues would have to give more than Pietrangelo (who has a no-trade clause). Marner (who's scheduled to be a restricted free agent after this season) is only 21. Perhaps the Blues would have to kick in a prospect. 
3. ANYBODY SEEN TOM STILLMAN?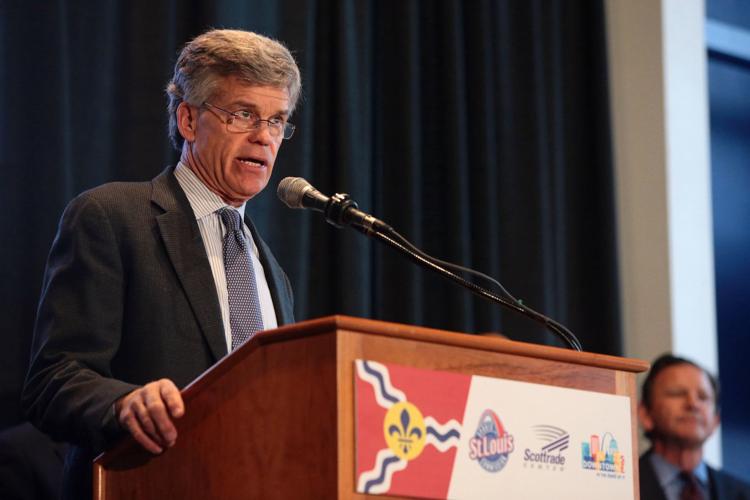 QUESTION: Both DeWitts showed up at the Cardinals Winter Warm-Up and engaged the fan base, which made me think of Silent Tom Stillman. Sure, the DeWitts were at a staged event, but DeWitt Jr. usually is available when things get sideways with the Cardinals and Derrick Goold goes looking for answers to the questions that everybody's asking. Last summer was a prime example. Would it be too much for Stillman to publicly appear just once during this mess of a season and speak to the issues? Does he or his office even bother to call you back to say "No, thank you"?
JT: He hasn't been around practice nearly as much this season compared to last. I requested an interview with him after last season and was turned down. I think Benjamin Hochman has gone 1 for 2 on interview requests with him since then. Yes, I think the owner of a major sports team should be more available to the media.
---
Follow-up: How present is Tom Stillman with the Blues? Just making an assumption here, but we all know absentee ownership breeds losing. Is he just giving Army the keys and walking away?
JT: Just because I mentioned that Stillman isn't around at practice as much, doesn't mean he's not around the team. I've seen him in the locker room after several games. I think he's very engaged, and cares a lot about the team.
4. PLAYOFFS OR BUST FOR BERUBE?
QUESTION: If the Blues make the playoffs, is that enough to give Berube the head coaching job?
JT: If they limp into the playoffs due to a weakened Western Conference, it's debatable. If they get hot down the stretch and have some momentum going in, I'd have to say he's a legit candidate.
---
Follow-up: At this point, is it a problem with the coaching staff? You've already fired the head coach.
JT: I think that's a fair question. But a couple of things. Sooner or later, you have to blame the players, don't you? Also, a new coach — at least any one of stature — brings in his own staff.
5. STILL TRYING TO FIGURE OUT ALLEN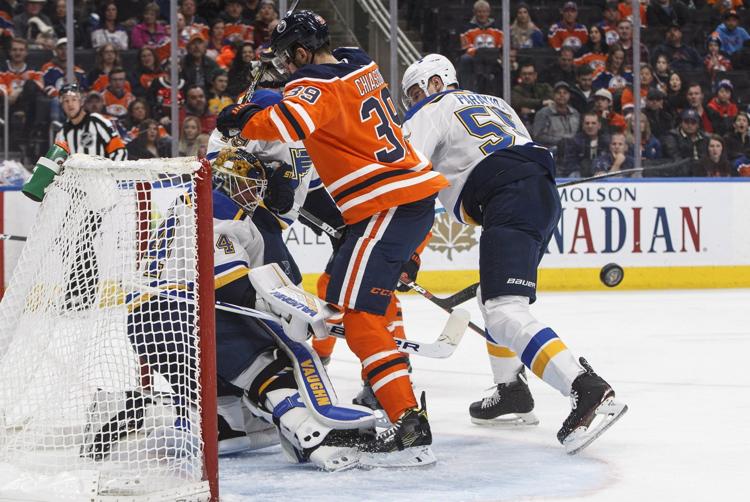 QUESTION: Seems like a lot of goalies are closer to .900 save percentage than normal, and while Jake Allen is one of them, if you exclude a few of the early season games when the team didn't play well, he's not off the pace. He also has a strong road history, including big wins in tough places like Winnipeg. How much of Allen's woes are just home and the team?
JT: The Blues were playing next-to-no defense early in the season. So Allen fell victim to that to a degree. I don't know what it is about his home numbers this season, although it does seem that the home crowd is quick to turn against him. That being said, as a professional who has been in the league a while, he should be able to block that out and play through it. As you mentioned, his road numbers are among the best in the league, the Boston game notwithstanding.
6. CLUES IN THE JADEN SCHWARTZ MYSTERY?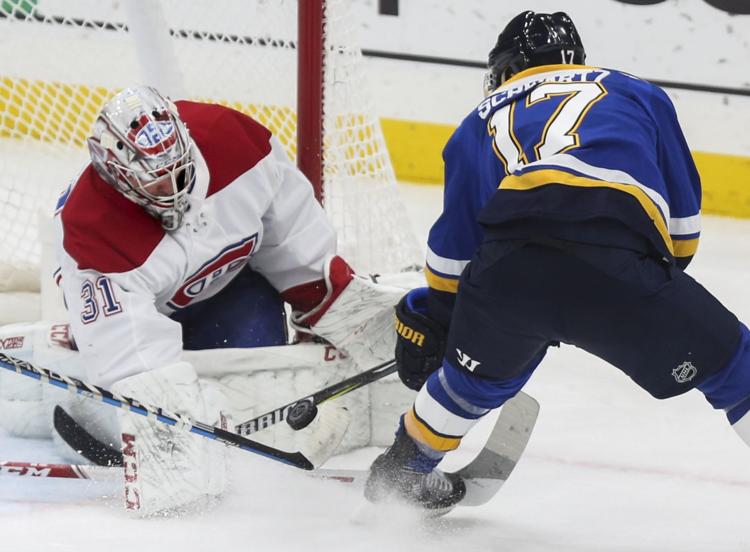 QUESTION: Is there an injury to Jaden Schwartz that is not being talked about? He was on the way to being one of the best two-way forwards in all of the NHL, but his play has really regressed. Not sure why, and I realize he is still young and has an opportunity to right the ship.
JT: Not aware of any injury. Obviously, he has lost a lot of confidence in his shot/scoring ability. His strange, spinning drop pass to Tarasenko on that 2-on-1 in Boston is telling proof of that. When he's on his game, he is so much fun to watch. This is a guy who averaged nearly a point per game last season. One of this season's greatest mysteries.
7. POINT / COUNTERPOINT ON KYROU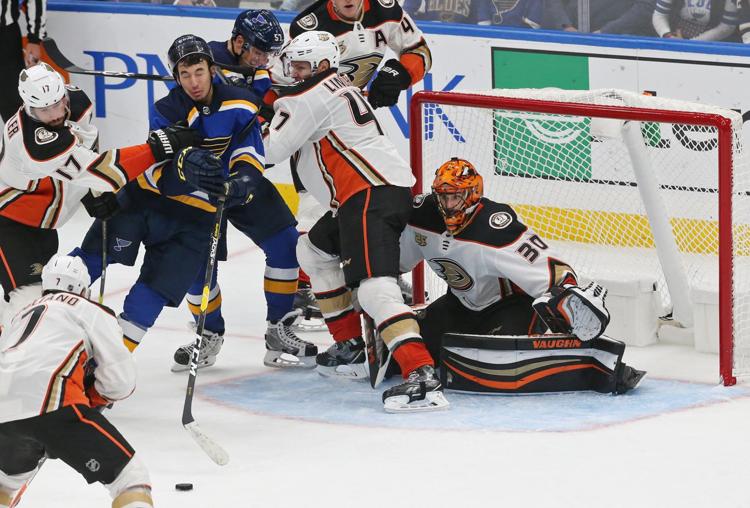 POINT: It was a mistake to handle Kyrou the way he was. He played one game up in the lineup and didn't even take every shift on that line. He made mistakes but players need to be allowed to play through those; otherwise, the Blues wouldn't have any players left, because everyone is making mistakes. He's not a third-line grinder brought in to get pucks deep, he's a playmaker and needs to be deployed accordingly. We have so many people not performing they need to give someone like him an actual chance.
JT: I'm not going to disagree with you on this one. Kyrou frequently gets knocked off the puck too easily. And sometimes his razzle-dazzle moves don't work in the NHL, because in general there's less open ice. But I don't see how playing 5, 6, 7 minutes a game helps him much up here. In fact, it might chip away at his confidence some.
COUNTERPOINT: Dear Kyrou-fluffers: Kyrou is a promising young player on a below- average team. Just because fans want him to be the second coming of Johnny Hockey doesn't mean he is there yet. Berube has said multiple times guys are earning their playing time. If he isn't playing, must mean he isn't earning the playing time. Most fans aren't at practice everyday like the coaches are. Maybe they are seeing things you aren't.
JT: Interesting Kyou debate going on today in the chat. He is still considered a prized prospect, especially for a team where team speed seems to be an issue. My only point is that, if you're not going to give him meaningful minutes here, he should be in San Antonio. Which is where he is.
8. WHY BENCH BORTUZZO?
COMMENT: Benching Bortuzzo makes no sense. The guy at least hits and stays in position. Pietrangelo was a minus 3 in the last game. Dunn likewise weak on D. I simply do not understand what Berube is thinking most nights.
JT: Pietrangelo was minus-2, but I get your point. It was one of his worst games. Dunn was plus-1, is your highest-scoring defenseman and is plus-6 for the season. With 7 healthy defensemen, it's a tough decision every night.
---
Follow-up: Watching Monday's game was painful. Quite possibly one of the worst games ever for Petro, out of position and begging the ref for calls. Its time to move on, while other teams value him. It just seems there are too many miles on the tires.
JT: Pietrangelo, in general, has looked much more like himself since he returned from the hand injury. But Monday wasn't one of those games. He was on the ice for all four Kings goals. He got hammered by the physical Kings on more than one occasion.
9. NO HITS? NO SUCCESS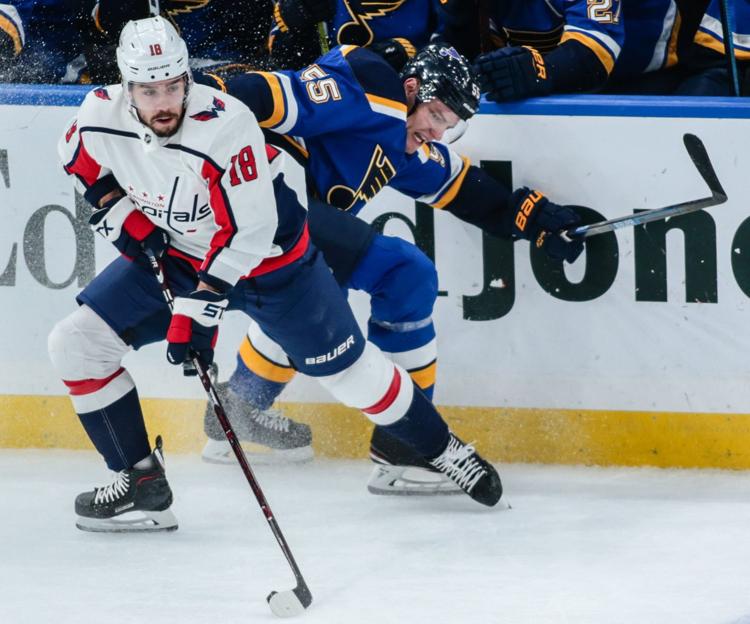 COMMENT: Here's why the Blues aren't gaining traction: There is no grit, no toughness. Armstrong let Ryan Reaves go along with the muckers on the fourth line. No team is scared to play the Blues. Your big guys like Parayko and Petro won't hit anyone.
JT: I thought they got outmuscled by the Kings to a degree. The Blues seemed to play with more of a physical edge in the earlier games under Berube. You make some good points, but it seems speed and skill is the ticket to success in the NHL these days, not necessarily the ability to hit someone.
10. DO THE MATH: ALMOST AT .500? OR 6 GAMES UNDER?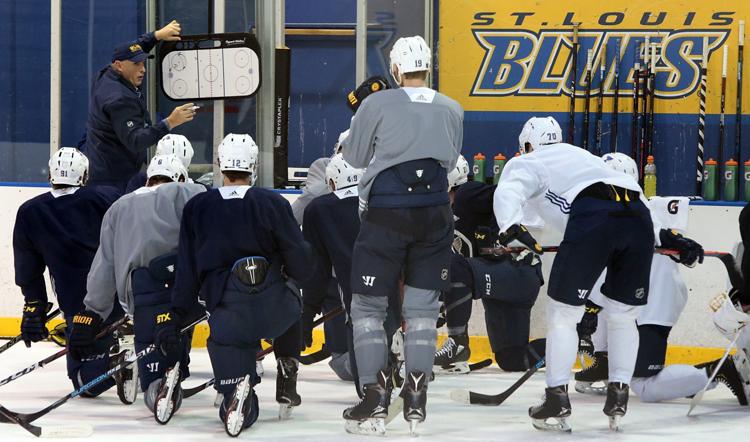 QUESTION: How about being the first sportswriter at the P-D to step up and buck the trend? Stop perpetuating the lie that the Blues are "nearly" a .500 team. They've played 48 games and won 21 of them so they're 6 games under .500. It's really a very simple calculation and suggesting that they're nearly a .500 team is intentionally misleading.
JT: I beg to differ. Under the NHL's point system, you get one point for an overtime/shootout loss. So in 48 games, they have 47 points. That's just under one-half of the maximum attainable point total. Half of the maximum attainable point value is .500. So the are playing just under .500 hockey.
---
Follow-up: Really disappointed to see that you're going to perpetuate this myth. I'm sure Doug Armstrong is pleased. Listen to the NHL network once in a while -- their analysts derisively refer to it as "NHL .500."
JT: I appreciate your frustration. I'm not saying I agree with how they allocate points. But math is math.
BONUS QUESTION: MISSING FOOTBALL YET?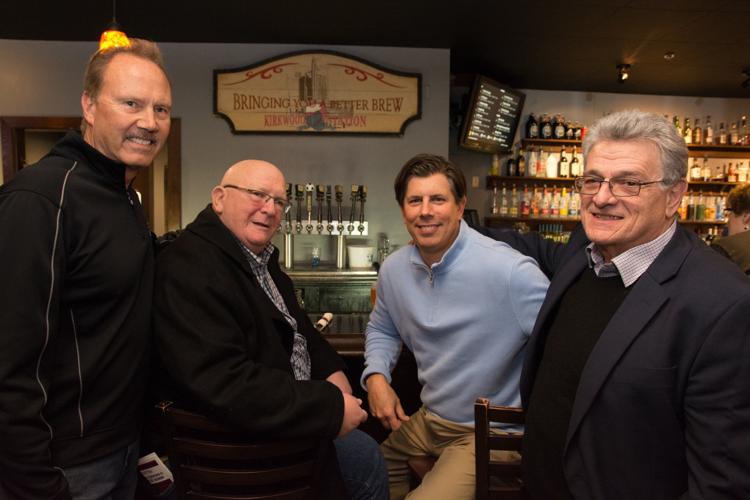 COMMENT: JT, it looks like you should have moved to LA to continue covering the Rams. You would be covering another Super Bowl instead of this pack of losers.
JT: I had a chance to move to LA and cover the Rams. I did not pursue it. I love St. Louis. I've covered 25 Super Bowls — so, been there, done that many times over. I covered two Super Bowls involving the St. Louis Rams. Covered one of the most exciting teams in NFL history, the Greatest Show on Turf. I'm really enjoying what I'm doing now. Hockey is a great sport. Very fast. As I've said many times, I'm liking hockey much more than I'm missing football.