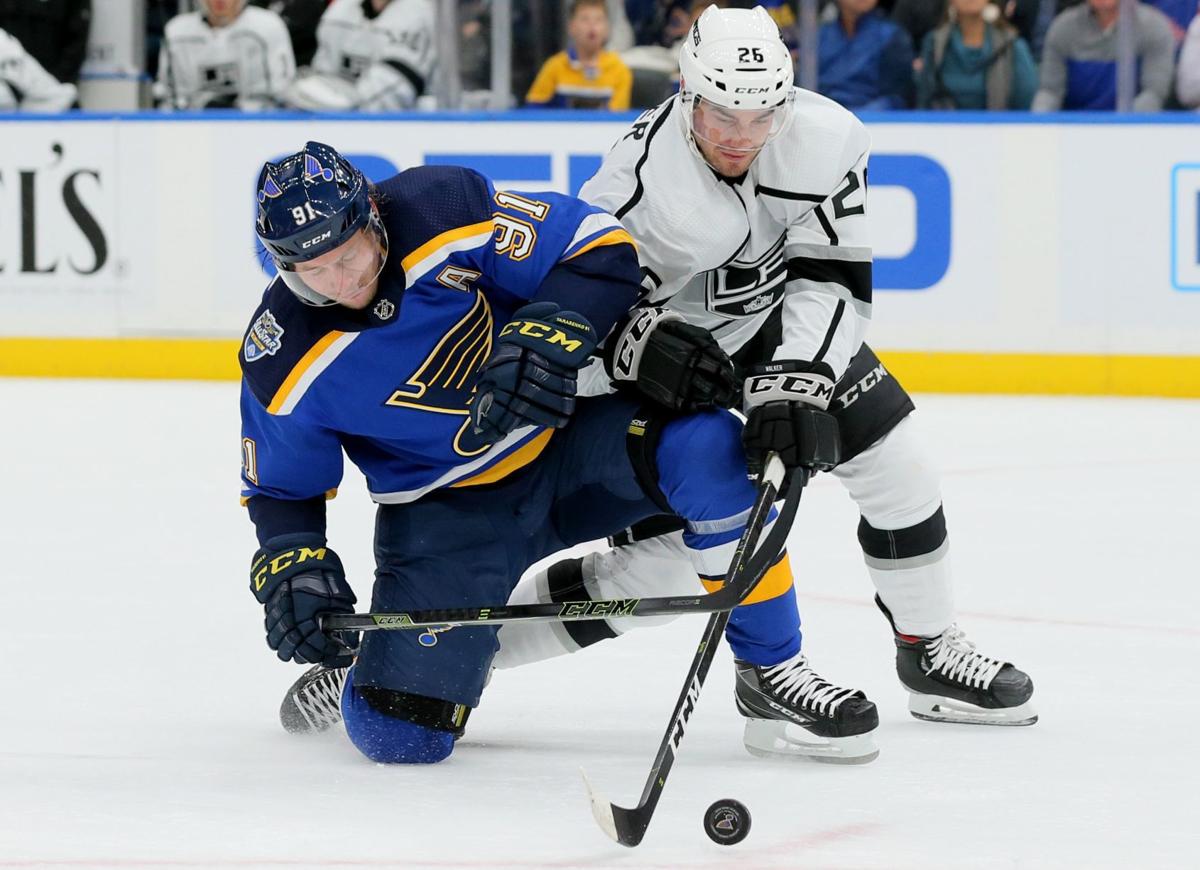 There was a banner-raising ceremony, a trip to the White House and the first game back against Boston, the team the Blues vanquished to win the Stanley Cup. Each has been one hurdle to get past on the way to the Blues putting last season behind them and giving their sole focus to this season.
Now, the party really is over.
The Blues announced on Monday that forward Vladimir Tarasenko, who has led the team in goals in each of the past five seasons, will need surgery on his left shoulder and will be re-evaluated in five months. That would put his possible return around the beginning of April, which is the final week of the regular season.
Monday was an off day for the Blues after back-to-back games over the weekend and players and coach Craig Berube were not available for comment. General manager Doug Armstrong has scheduled a session with the media on Tuesday.
Tarasenko was hurt in the game with the Kings on Thursday. He split two defenders for a partial breakaway but in an effort to slow him, defenseman Sean Walker used his elbow to lift Tarasenko's left arm, which apparently is when the injury occurred. Tarasenko got a shot off and then held his left arm against his side as he skated to the bench. He didn't immediately go to the dressing room, but did so before the period ended. He did not return to the game or make the weekend trip to Boston and Detroit.
Tarasenko is one of only two NHL players with a streak of five consecutive 30-plus-goal seasons. Last season, he had 33 goals and 35 assists in the regular season and another 11 goals and six assists in the playoffs. He was off to a slow start this season, with three goals and seven assists in 10 games. But he seemed to have found his form, with three goals coming in the four games before the one in which he was hurt. His ability to score from anywhere — in close, outside and from odd angles — makes him a dangerous attacking player.
"It's tough," Blues center Ryan O'Reilly said after Sunday's game in Detroit. "He's a huge part of our team. It's a tough loss and you can see tonight it obviously impacts us. We all have to be better when we're missing him."
Playing without Tarasenko will be a new experience for the Blues. He has missed only 15 games over the previous five seasons, though he has had two offseason surgeries in that time. He had an operation for a dislocated shoulder — the same shoulder that was injured this season — after being injured in the final game of the 2017-18 season. He had an arthroscopic procedure on his knee after the 2018-19 season.
Armstrong said after last season that Tarasenko played through the end of the year with a sore shoulder, but the team never said any surgery was done.
Berube said before the game in Boston that the offense would be doing the same things with Tarasenko out.
"No different than when he's playing," he said. "Same thing. Somebody else will go in his spot, that's it. There's nothing else we can do."
Because 30-goal scorers are not readily available on the waiver wire or by trade, at least not in October, the answer for the Blues will have to come from within.
On Saturday, in the team's first game sans Tarasenko, Oskar Sundqvist started in that spot. But not much came of it against Boston. On Sunday in Detroit, Robert Thomas was put in Tarasenko's spot alongside Brayden Schenn and Jaden Schwartz. The results were better, though there also was a difference in the class of opponent. Thomas, a 20-year-old in his second NHL season, had just one shot on goal in 15:29 of ice time. He scored his first goal of the season in the game with the Kings, the contest in which Tarasenko got hurt.
"They weren't bad," Berube said of those on that line Sunday. "They had some good puck movement in the offensive zone. 'Thommer' (Thomas) can make plays; those guys need a guy to get them the puck."
While players such as Schenn (who with his nine goals already could be on his way to a career season), Schwartz, O'Reilly and David Perron are established veterans, the expectations will be raised on the team's young crops of forwards: Thomas, Sammy Blais, Zach Sanford and Robby Fabbri. All have the potential to be goal-scorers in the NHL, but haven't shown it yet. (Or, in the case of Fabbri, haven't shown it since having two knee surgeries.)
"We're going to need guys to keep stepping up," Perron said. "And it's a great opportunity for young guys that will probably have better looks, better chances, and that's what you crave for as a young guy, to have more ice time, better players to play with. We're looking forward to see what's going to happen and the guys that will step up in those roles."
That was a position Perron was in at the start of his career.
"For me, I wasn't always playing every game my first couple of years," Perron said, "and then you become a regular player and you start craving more ice time, power-play time, things like that. Sometimes it's frustrating because you think you should deserve more. But it's not the situation and here we are, we have the situation where there's going to be some time. Vladi's arguably our best player so there's going to be some offensive chances for a lot of those guys."
The top prospect in the system, forward Jordan Kyrou, is recovering from surgery of his own, an offseason repair of a kneecap injury. Kyrou is about a week away from returning to practicing with the Blues' San Antonio farm team, and then will need some time after that to get back to game speed. While the Blues figure to fast track him now, it's hard to see him being NHL ready before mid-November.
The top scorer at the moment in San Antonio is Nathan Walker, with seven goals and five assists. He's had two consecutive three-point games and on Monday was named the American Hockey League player of the week. But Walker is a 25-year-old left winger who has played in 12 NHL games (with Edmonton and Washington) and whose high goal-scoring total in the AHL for one season is 17.
With Kyrou not ready, that will shift attention to Klim Kostin, who has played well in San Antonio though his goal-scoring numbers haven't shown it. Kostin has one goal and four assists in eight games for the Rampage after making a good showing in training camp, with three goals and three assists in five games. But all those points came in the first three games and he leveled off as camp wound down. The Blues think Kostin's game is better suited to the structure of the NHL than the more wide-open AHL, though they also think his game would benefit from more time in the AHL.
For the weekend, the Blues put Colton Parayko into Tarasenko's spot on the power play. Parayko and his big shot give that unit a different look.
"It does for sure," Berube said. "He's a shooter over there and it's a right-hand shot, so it's a one-timer. It's a little bit of a different look, plus we've got a righty in the slot too so it changes the dynamic a little bit."
Because of the length of Tarasenko's absence, the Blues have put him on long-term injured reserve, which will free up the amount of his salary — $7.5 million — of cap space. That will give the Blues space to call up someone that they wouldn't have had otherwise, though no one they will consider makes anywhere close to that.
The Blues face a significant test playing without top goal-scoring winger Vladimir Tarasenko until spring at the earliest. Filling his void won't be easy for the surviving forwards.
The latest STL Blues hockey news, NHL headlines, scores, standings and rosters.