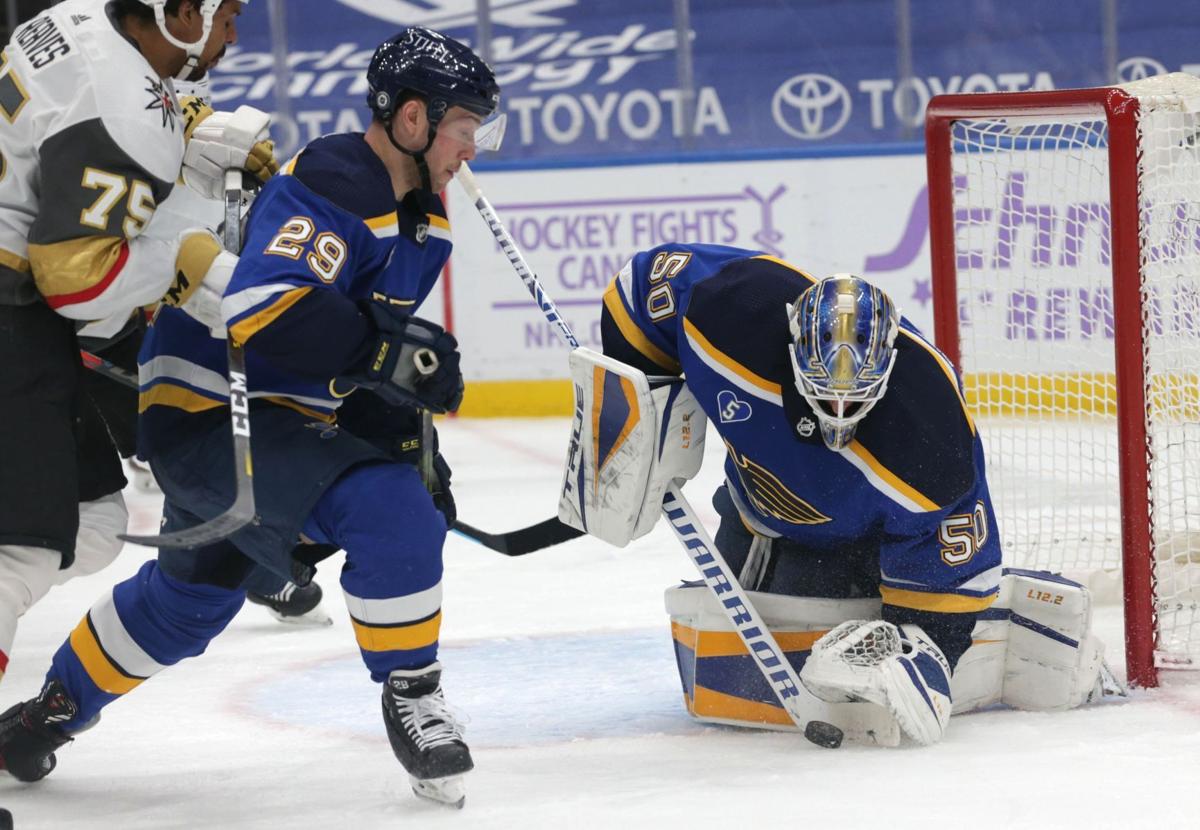 On the subject of swagger, Jordan Binnington stopped a career-high 50 shots, matching the number on his jersey.
Following a 3-1 victory over the Vegas Golden Knights — that's right, the Blues won a hockey game Wednesday — Binnington told Darren Pang during a the postgame television interview: "We're coming."
In what has been an unspectacular season, he was spectacular Wednesday. The Blues don't snap their seven-game losing streak (0-6-1) without him against a Vegas team that never stops sending pucks to the net.
On this night at least, the swagger was back.
Post-Dispatch beat reporters Jim Thomas and Tom Timmermann joined columnist Jeff Gordon to discuss the end of the Blues' losing streak and sig…
"Swagger is a great way to talk about Binner," said defenseman Jake Walman, who helped clinch the win with his first NHL goal. "He always carries himself with swag. All throughout the dressing room he gets the boys going, he's a rock back there. He played great tonight and I think he's one of the best goalies in the league."
The numbers weren't pretty entering Wednesday's contest. Since a 3-2 overtime win Feb. 18 over San Jose, Binnington was 2-8-3 with a 3.17 goals-against average and .889 save percentage. Things reached the point where Ville Husso took a start away from Binnington Monday against Vegas. On Tuesday, coach Craig Berube said Binnington needed to get his edge back, his confidence, his swagger.
"It's not always going to be perfect," Binnington said. "It's how you respond to adversity, or just find more digging deep inside. We needed a little more."
He was talking partly about the team as a whole, but it specifically applied to his game Wednesday. Only a Nicolas Roy goal through traffic with 4 minutes 16 seconds left prevented this from being Binnington's first shutout since Feb. 20 of last season (a 1-0 victory against Arizona).
"Just play free and compete," Binnington said, when asked about the game. "There were a couple second-chance opportunities, and just the battle team-wide. I would say the battle, having that fire and that will to win as a group. It was good."
It was especially good to — finally — score first in a game. At the top of Berube's pregame to-do list against the Vegas Golden Knights was a quick start.
"I think the start of the game is critical," Berube said following the day's morning skate.
Apparently, the Blues — especially Vladimir Tarasenko — were listening. Steaming down the slot, Tarasenko beat Vegas goalie Marc-Andre Fleury glove side for his third goal of the season just 48 seconds into the contest.
"I think in every game it's important to score first. Especially against Vegas. They always start hard ..." Tarasenko said. "Yeah, it's a pretty good feeling."
Tarasenko's goal marked the fourth time this season the Blues had scored in the opening minute of a game. More importantly, it was only the second time in their last 13 games the Blues had scored first.
Not only did the Blues score first Wednesday, they scored second as well.
Sammy Blais went from the Berube doghouse to the scoresheet, notching his fourth goal of the season at the 7:21 mark of the first period. Blais, who had been a healthy scratch in four of the past five games, scored from a similar area on the ice as Tarasenko, and on a similar shot, beating Fleury glove side for a 2-0 lead.
With the rare lead, the Blues weathered a second-period storm, getting outshot 21-4 but maintaining their 2-0 lead. They killed off three penalties in that period, and four all told in the game.
The return of Tyler Bozak, Ivan Barbashev, and now, Colton Parayko from injuries has restored three of their top penalty killers to the lineup.
"Huge," Binnington said. "Those are big role guys. They're selfless and they do what they need to do to help the team. Really high hockey IQ. They're important pieces for us."
Walman, who was terrific defensively most of the game, then gave the Blues some much-needed breathing room when he scored with 6:29 to play.
With the game winding down, Jordan Kyrou used his speed to reach a loose puck in the neutral zone. He raced down the ice but couldn't quite get a breakaway going. So he circled in his zone, then sent a wrist shot at Fleury.
The rebound bounced out to Walman, who jumped up into the play for a one-timer and his first goal in the big leagues. Truth be told, Walman doesn't remember much about the play — or at least the aftermath of the play.
"I kind of blacked out a little bit but it was a great play by our forwards to get the puck deep in the zone and Kyrou made a good pass off the pad, I guess, and it came right to me and I was fortunate enough to put it in the net.
"I mean the whole things is kind of a blur looking back on it. So many emotions. Especially on this day. Great feeling."
In honor of his uncle Doug Wilkie, who died of cancer last April, Walman wrote "Uncle Doug" on his stick for Wednesday's game.
"This month is all about cancer awareness and I wrote his name on my stick before the game," Walman said. "It's the first ever game I've done it, so sent me some good luck."
Rest assured, the name will stay on the stick from here on out.
"It will be a ritual for sure," Walman said.
Winning only for the fifth time at home all season, the fifth-place Blues improved to 17-16-6 overall, for 40 points. They pulled within three points of fourth-place Arizona, which squandered a 3-1 lead in the third period of a 4-3 loss Wednesday to Los Angeles.
Photos: Blues beat Golden Knights
St. Louis Blues V Vegas Golden Knights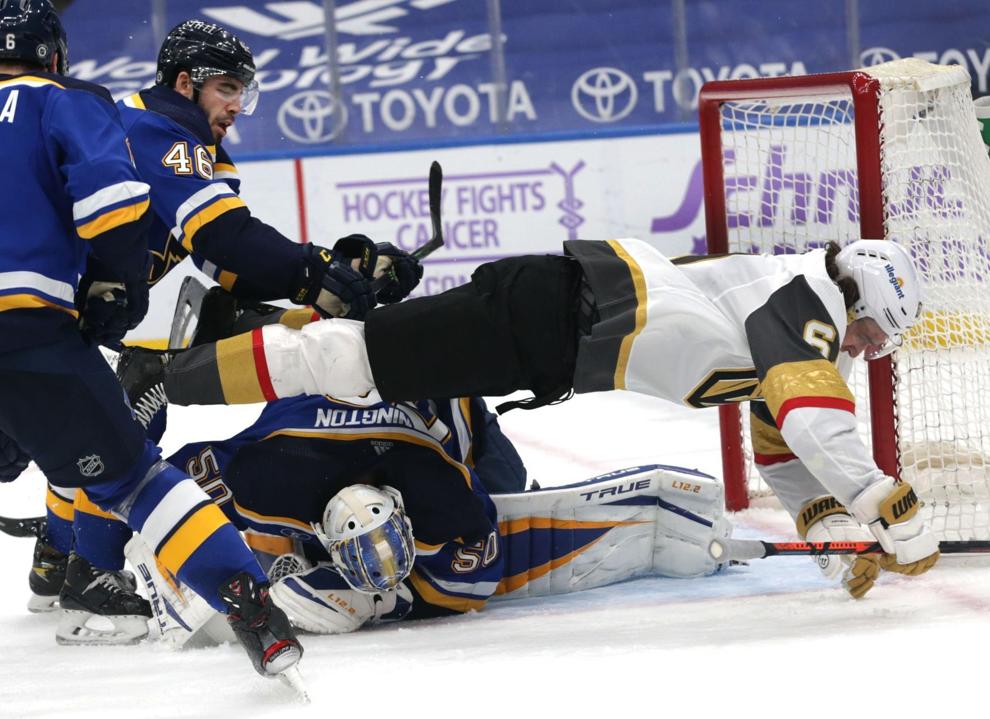 St. Louis Blues V Vegas Golden Knights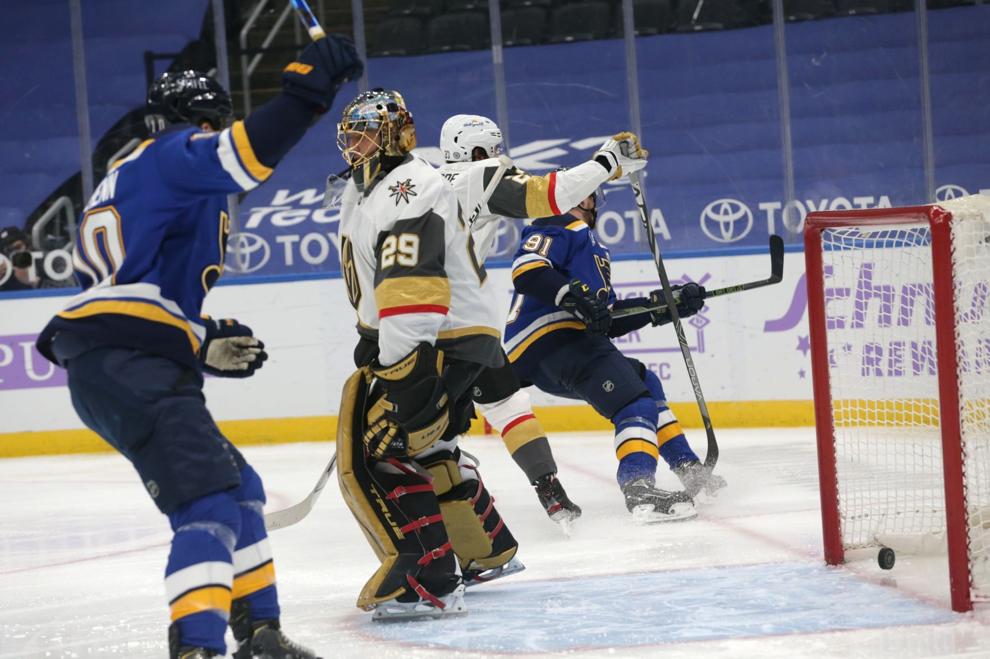 St. Louis Blues V Vegas Golden Knights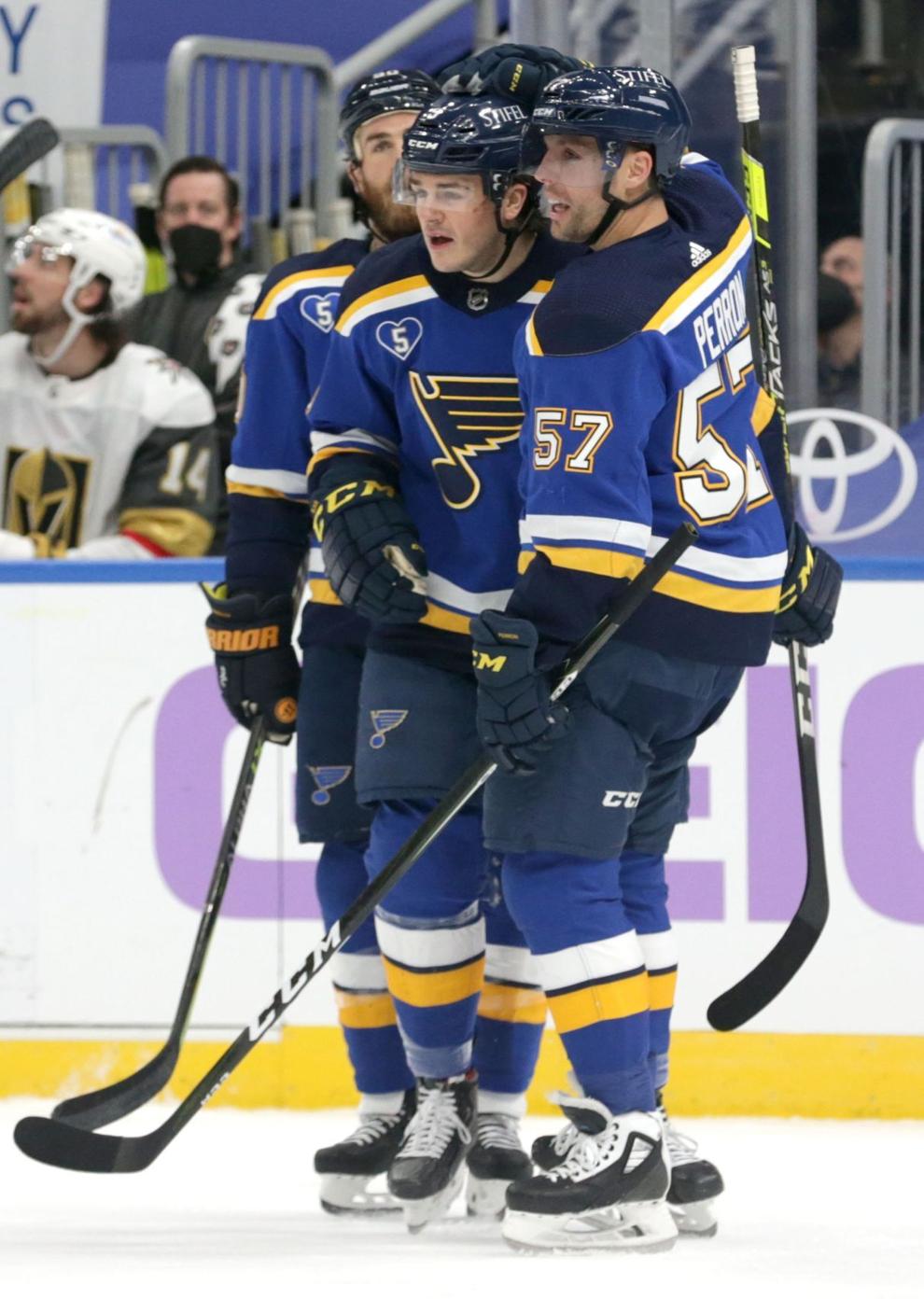 St. Louis Blues V Vegas Golden Knights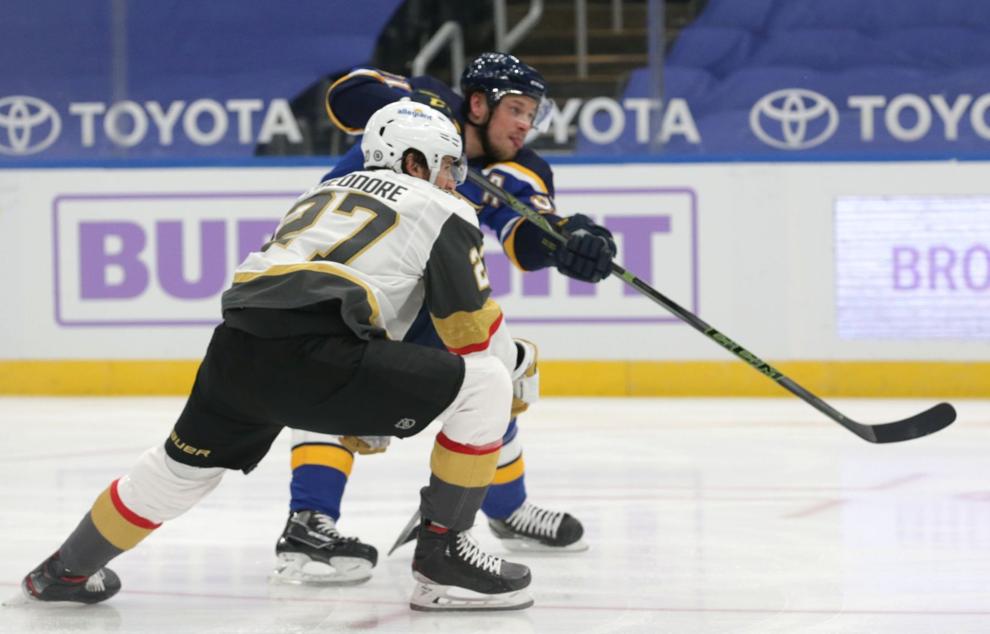 St. Louis Blues V Vegas Golden Knights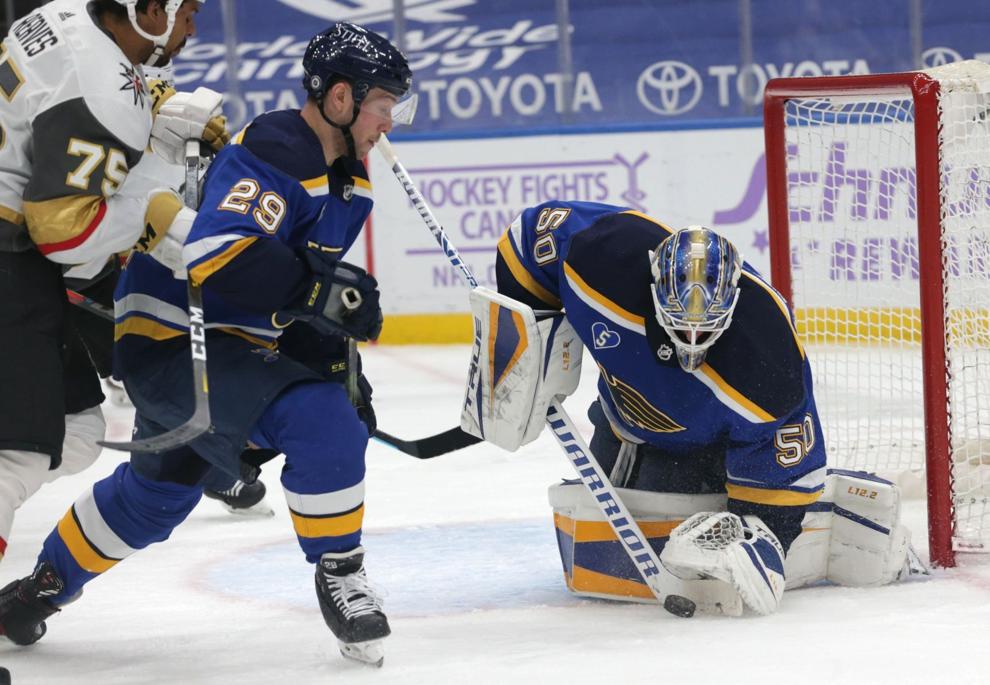 St. Louis Blues V Vegas Golden Knights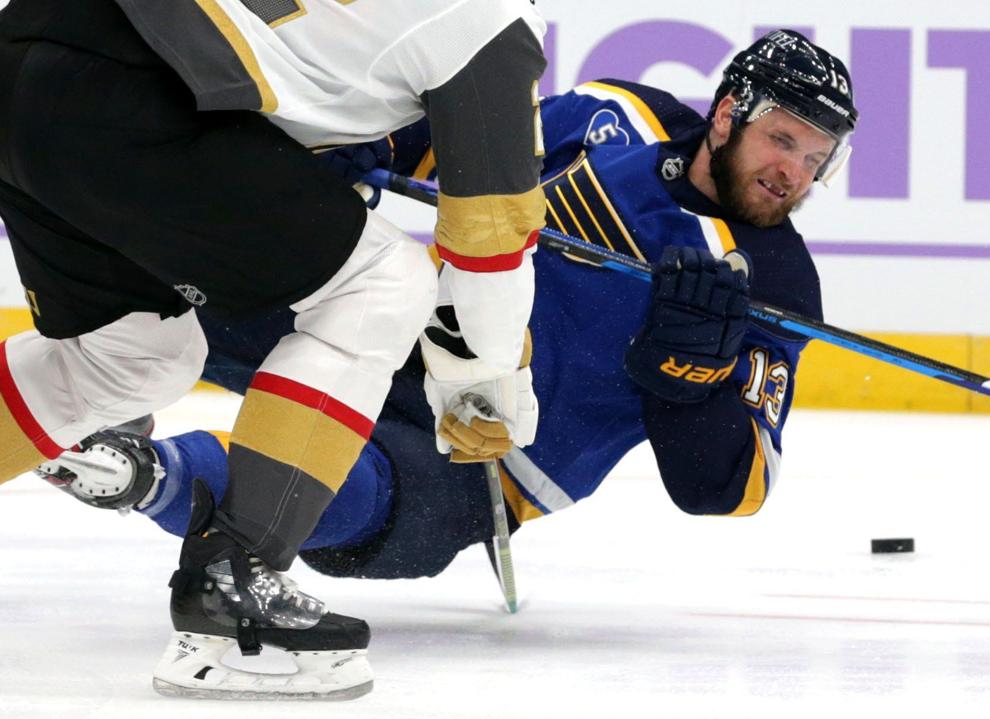 St. Louis Blues V Vegas Golden Knights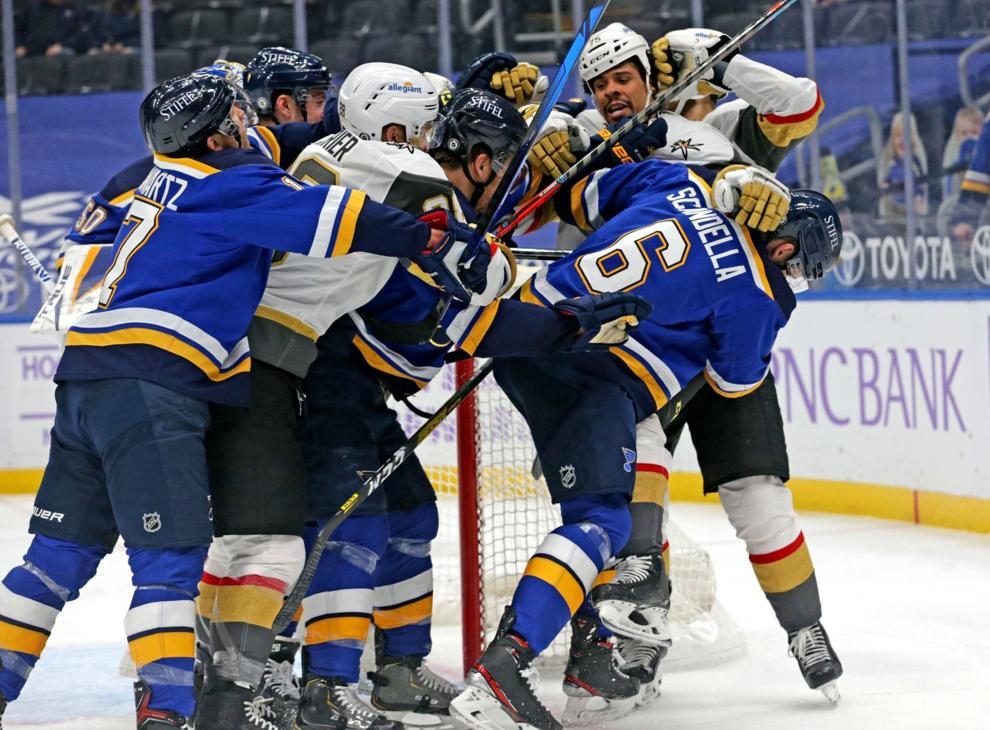 St. Louis Blues V Vegas Golden Knights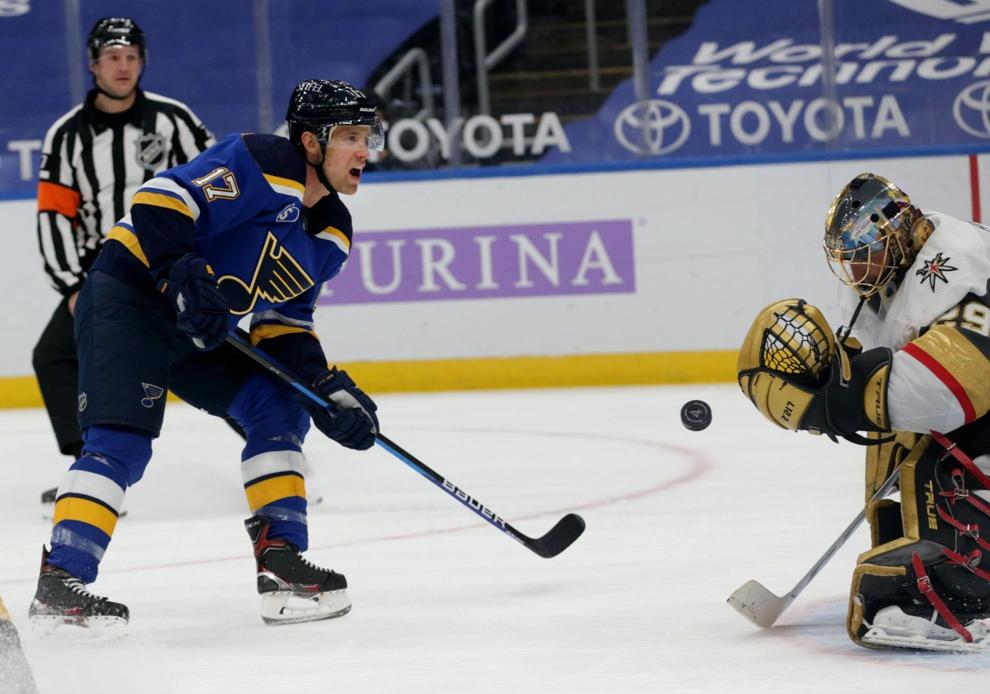 St. Louis Blues V Vegas Golden Knights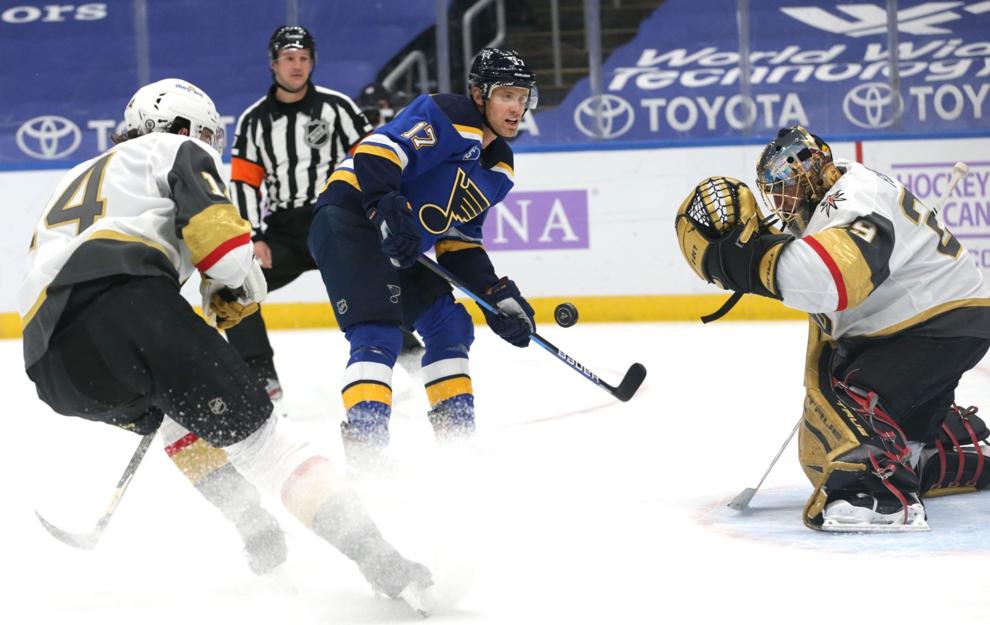 St. Louis Blues V Vegas Golden Knights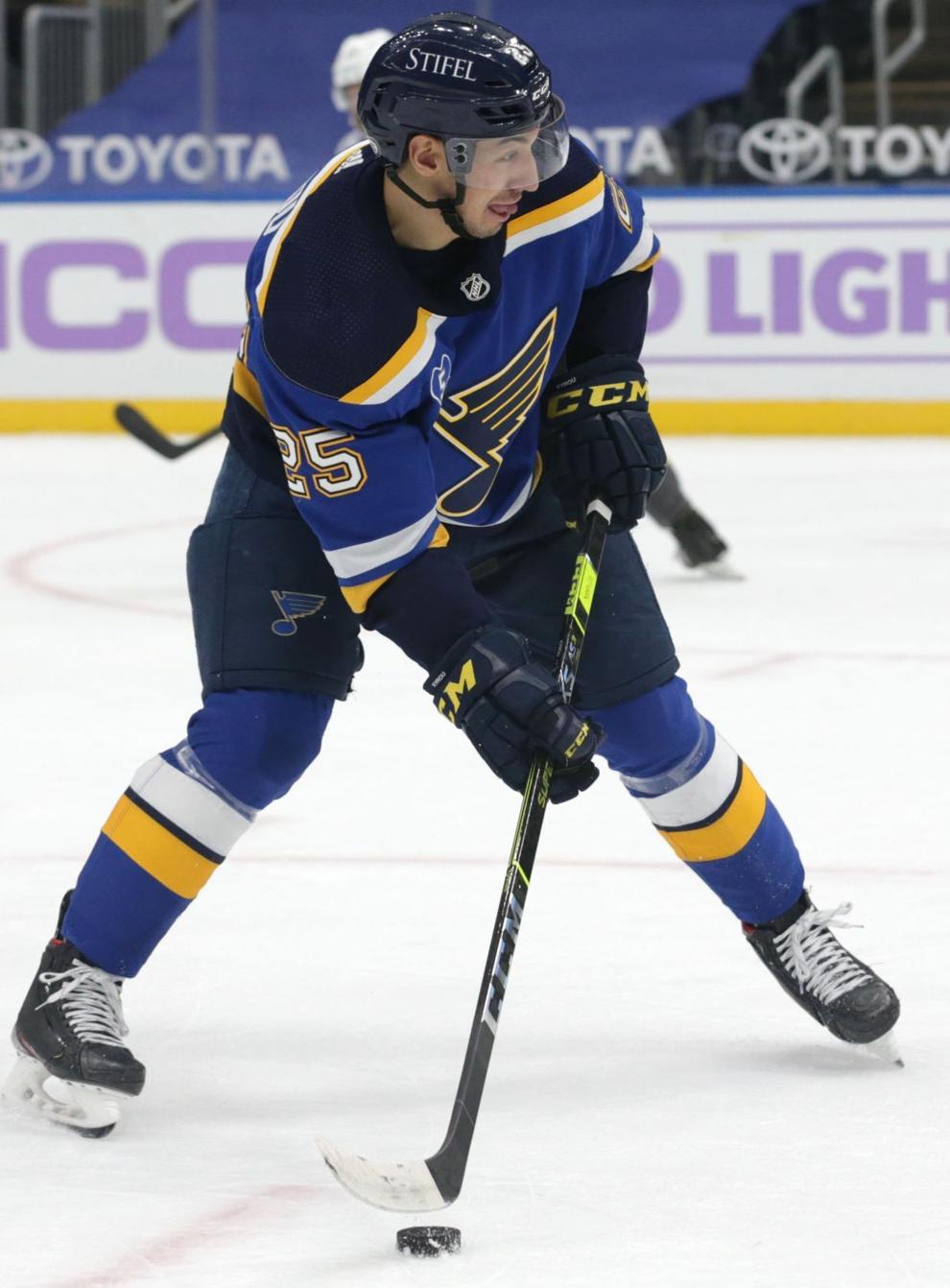 St. Louis Blues V Vegas Golden Knights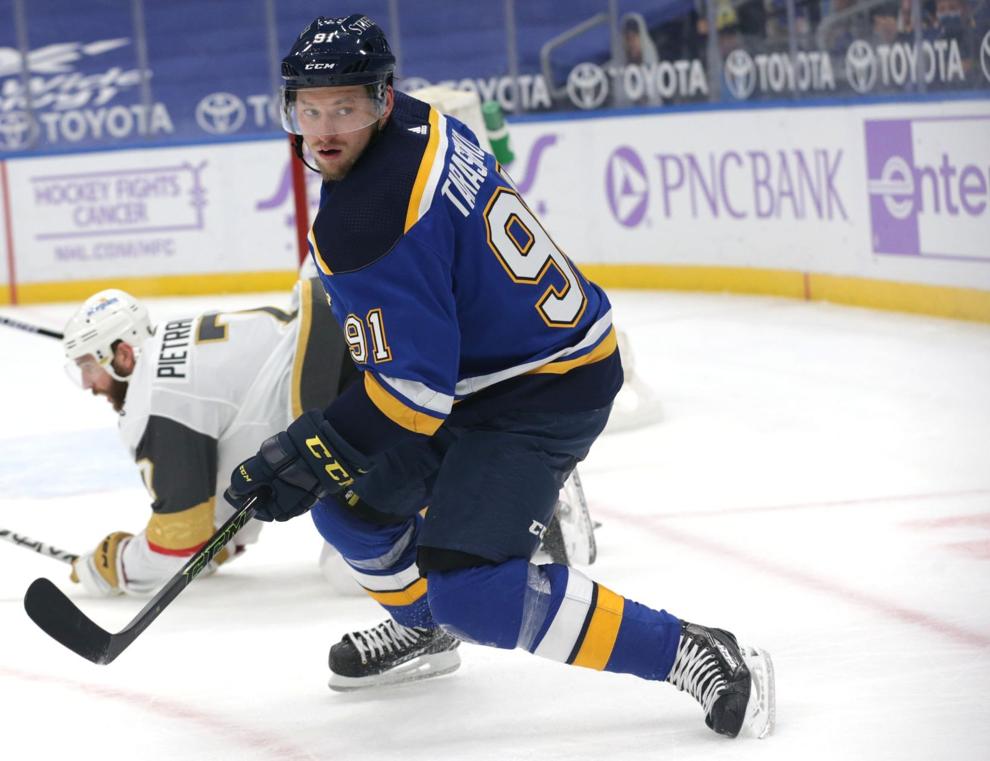 St. Louis Blues V Vegas Golden Knights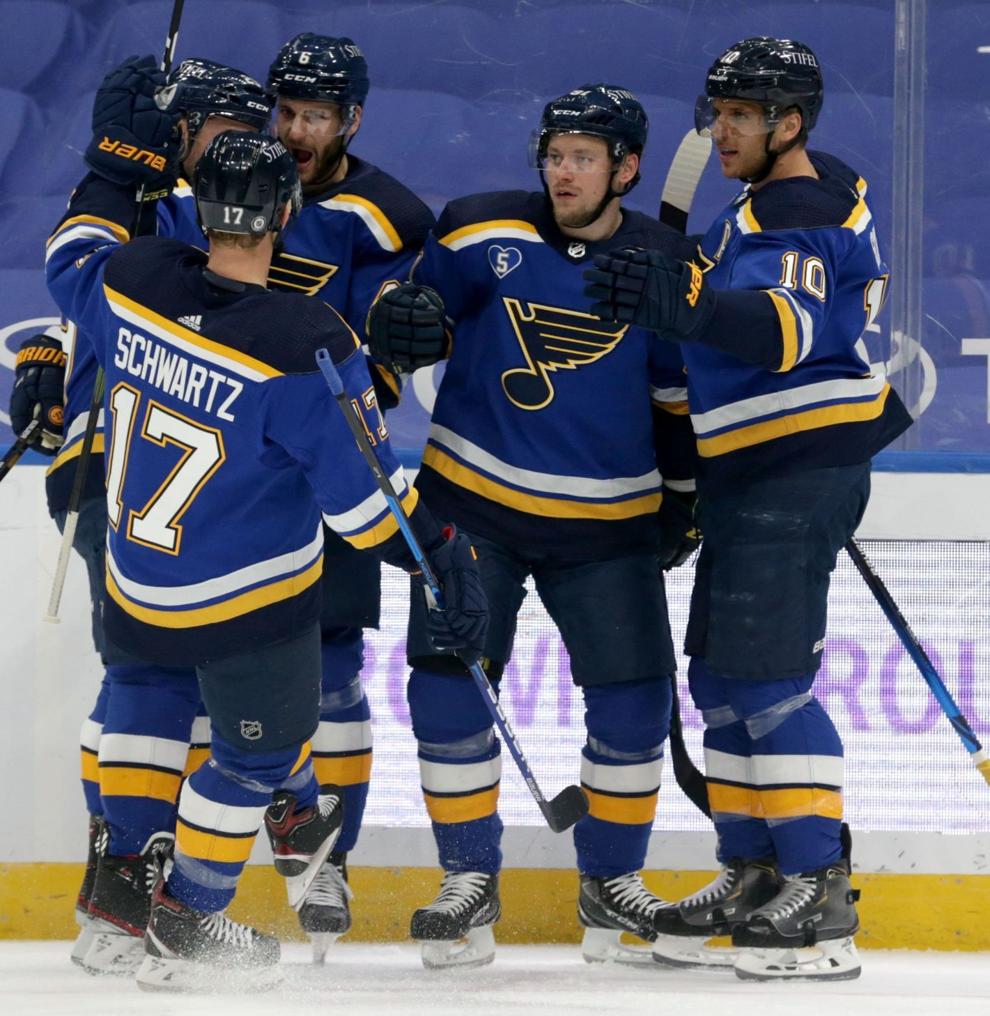 St. Louis Blues V Vegas Golden Knights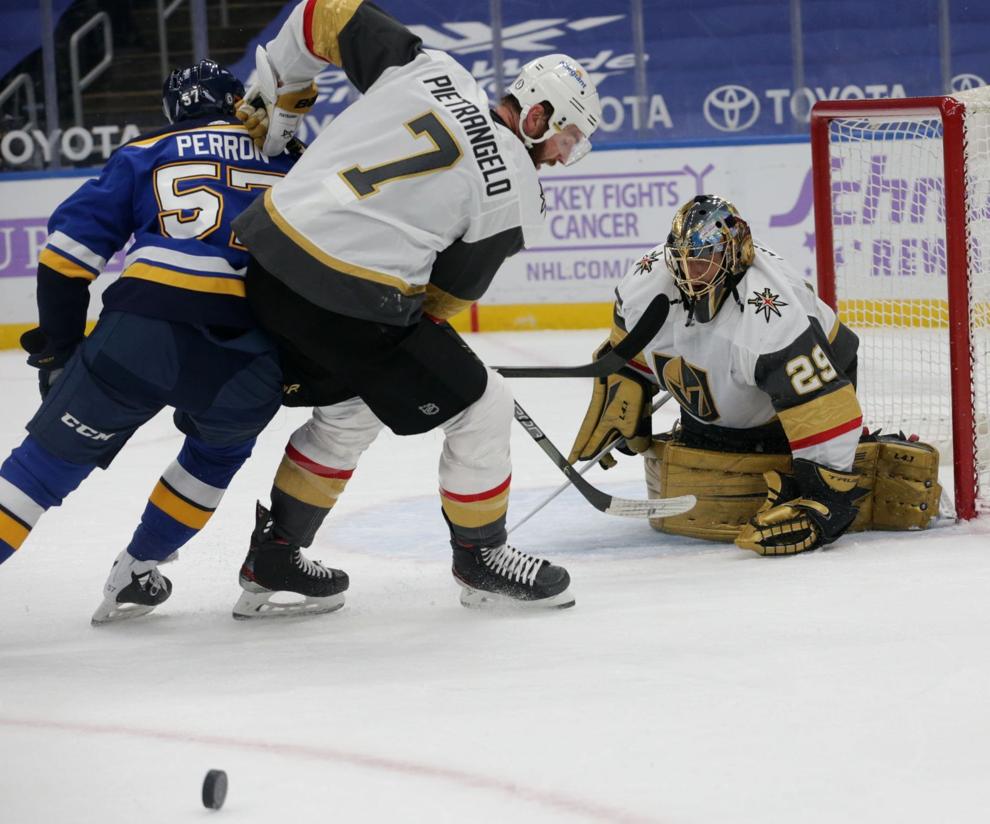 St. Louis Blues V Vegas Golden Knights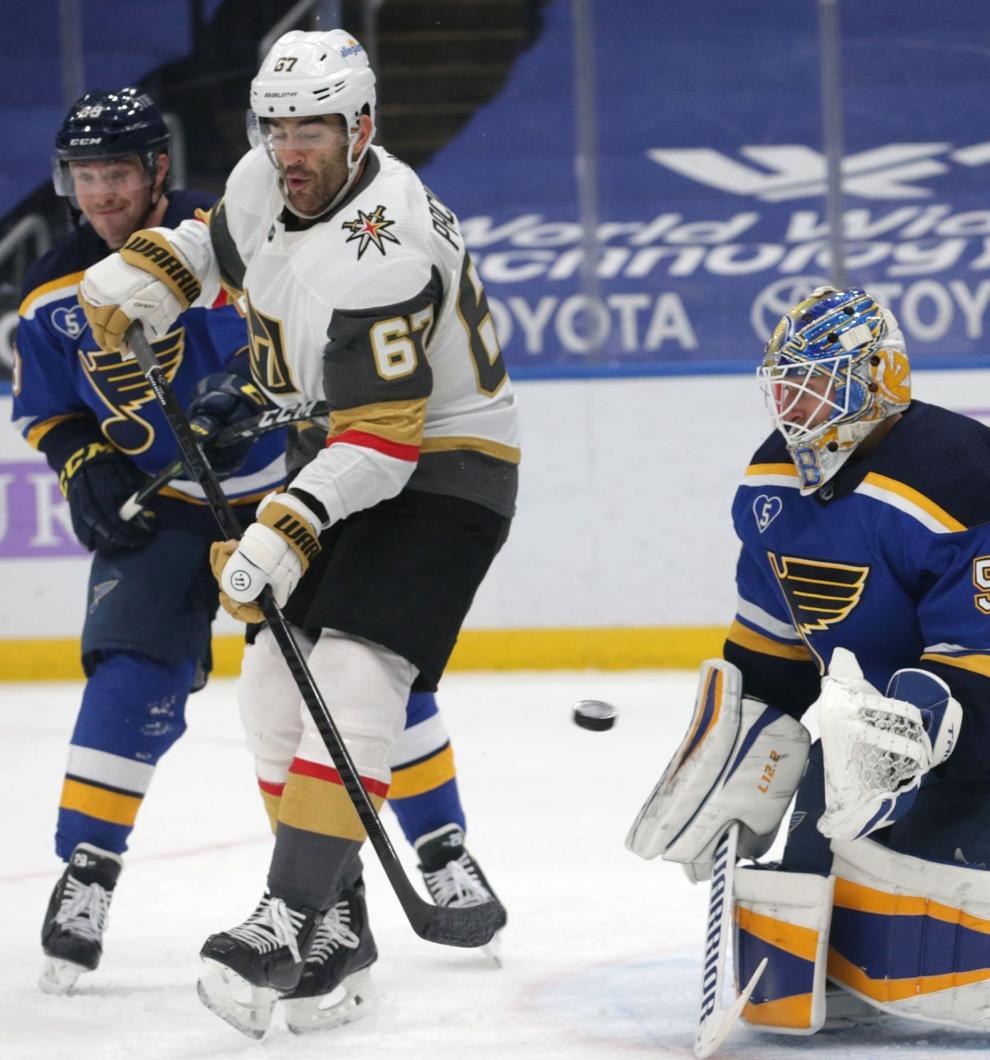 St. Louis Blues V Vegas Golden Knights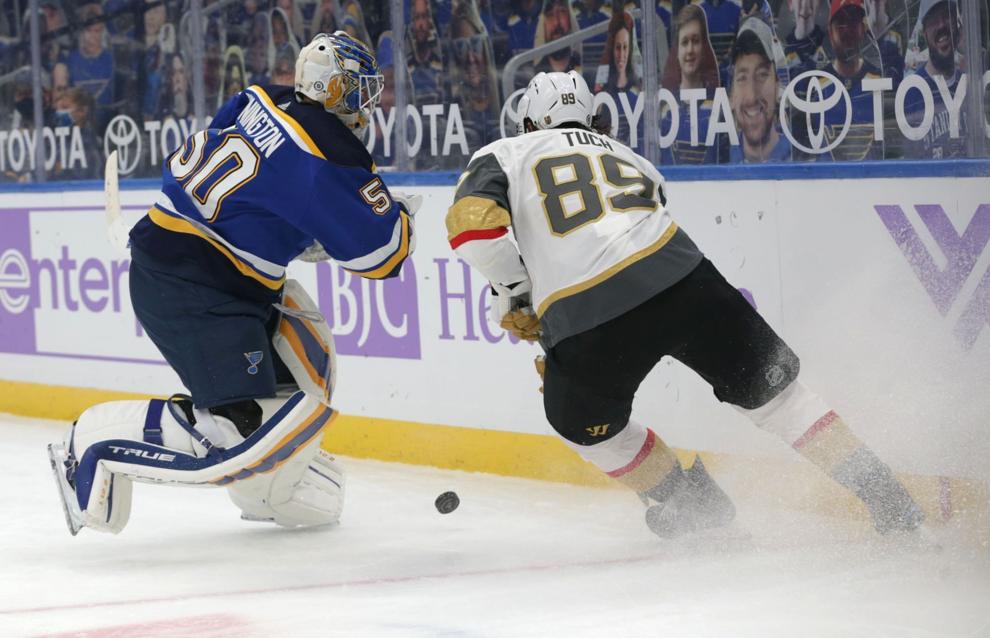 St. Louis Blues V Vegas Golden Knights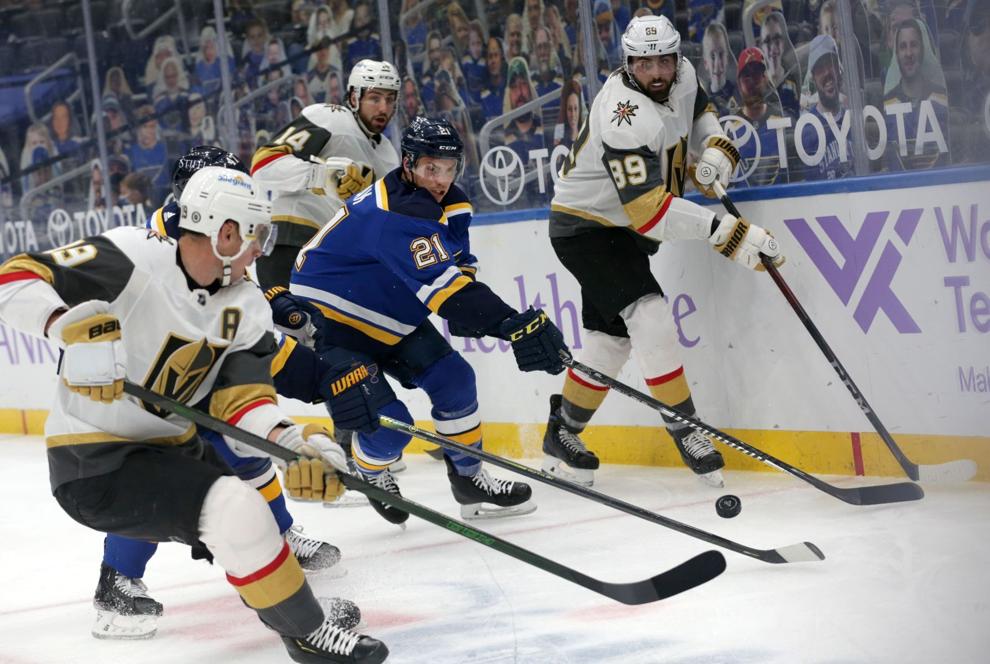 St. Louis Blues V Vegas Golden Knights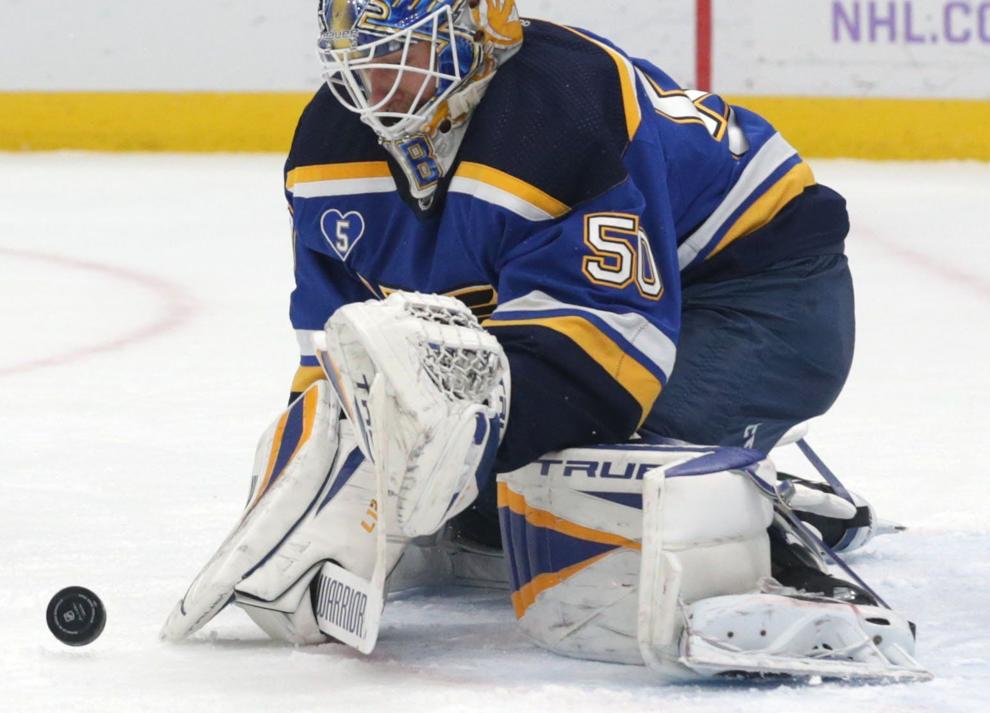 St. Louis Blues V Vegas Golden Knights