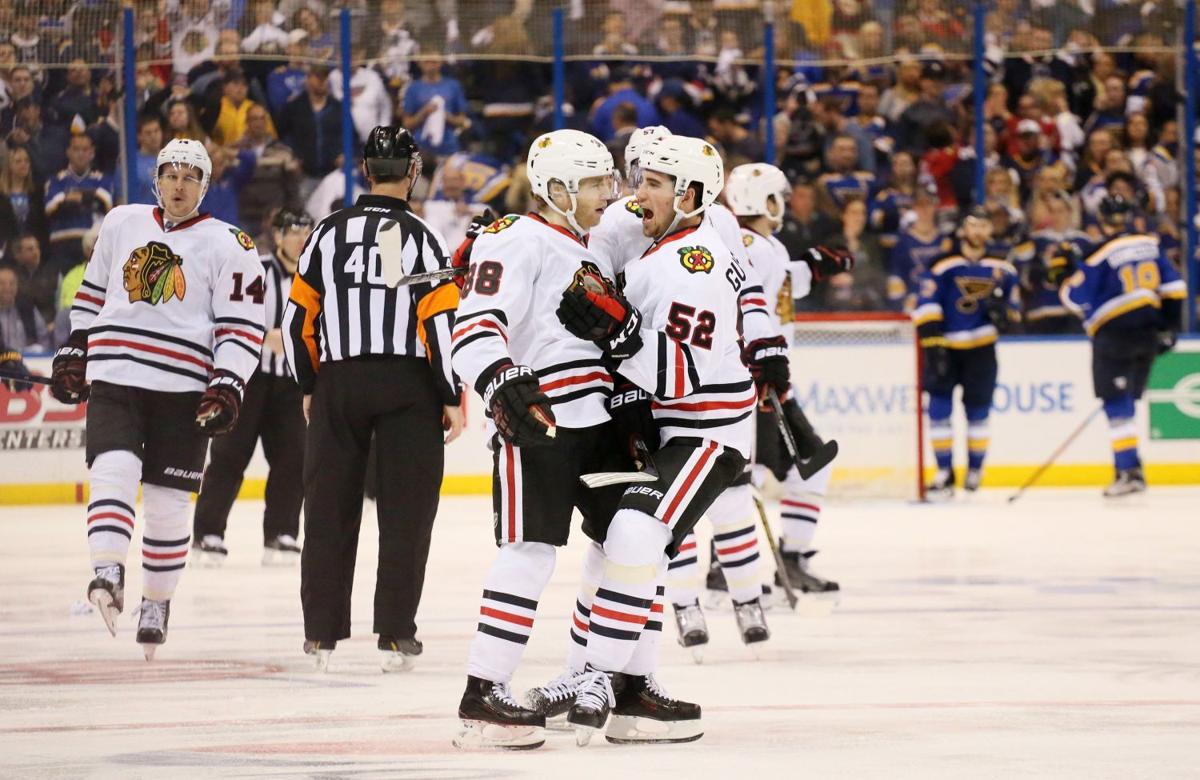 CHICAGO • The atmosphere in the Blackhawks' dressing room at Scottrade Center after the madness that was Game 5 was subdued. Maybe the team had already got the jubilation, or relief, of staying alive in their first-round playoff series out of their system, but there was no whooping and hollering, no loud music. Defenseman Duncan Keith sat in his stall, answering questions from waves of reporters, probably because after playing more than 40 minutes, he was too tired to get up.
No team may know better about how to survive than the Blackhawks. The 4-3 overtime victory in Game 5 improved their record to 8-1 when facing elimination over the past four seasons, and the numbers get only more convincing. Since 2009, the Blackhawks are 14-1 in Game 6 of a series. They've won Game 6s at home, on the road, to stay alive or to wrap up a series. The only one they haven't won was Game 6 of the 2012 first-round series against the Arizona Coyotes. That loss, exactly four years before this season's Game 6, was at the United Center and gave the Coyotes the series.
So it can be done, and it can be done on the Blackhawks' home ice. It just doesn't happen very often. The Blackhawks see it as an acquired skill.
"I think we've been in a lot of different situations over the years," forward Patrick Kane said Friday afternoon. "So it obviously helps to have that experience. Knowledge of maybe what's going to happen. We've been in these situations before, whether we've been down in a series or we have to win that one game to get ourselves back into it. We just try to focus on that one game and I think it's the same thing for Game 6. We haven't won at home yet here in the playoffs, so we've got to take advantage of that and try to win one game and see what happens after that."
"Our experience comes in huge in those situations," center Jonathan Toews said. "You want to go out there and throw everything you've got at 'em, but sometimes you've just got to relax and stay calm and do your job."
"We've had some situations in a playoff series or a playoff run," Blackhawks coach Joel Quenneville said, "the highs and lows are tremendous, the swings are you can't get a bigger discrepancy from high to low and you want to keep that middle ground and keep grounded going into days like today, catch your break and go in tomorrow and get excited again. ... We find that process of trying to get through a round and trying to come out on top at the end of the day, it's a lot of fun knowing you've had some great experiences and some unbelievable moments. You've got some critical times that could be turning points and at the end of the day tomorrow's game is only going to be bigger than our last one and we try to get better."
At a critical time in Game 5, the Blackhawks almost blew it. They took a 3-1 lead into the third period and allowed the Blues to dominate the period and score twice to send the game to overtime.
"It is what it is," Keith said after the game. "We can't be happy with it. But you can't do anything about it. It's in the past."
"It's tough to give up another lead like that but we didn't crack," Quenneville said.
There's a time-honored system from coming back from being down 3-1 and playing Game 5 in the other team's building. The first game is the toughest, but once you've got that one, the theory goes, it's easier to win Game 6 on your home ice and then the team that was up 3-1 is feeling pretty nervous playing Game 7 after dropping two chances to close it out.
That's the approach the Blackhawks are taking. By losing Game 5, the Blues may still have the lead, but the pressure may be building on them.
"Just looking at the past, I think the team had a lot of pressure to make it past the first round," defenseman Niklas Hjalmarsson said. "We're still very hungry to go on a deep playoff run here. We're not satisfied in any way with what we've accomplished in the past. It's all about now and it's all about what we're going to do about this year and not what we've done in the past. I think they're feeling the pressure, but we just have to take one game at a time here and we've got to bring a better game than we've done here at home. We have to get a win. We love to play these kind of games, we have a lot of players that have been a part of it before and it's very comfortable playing these types of games."