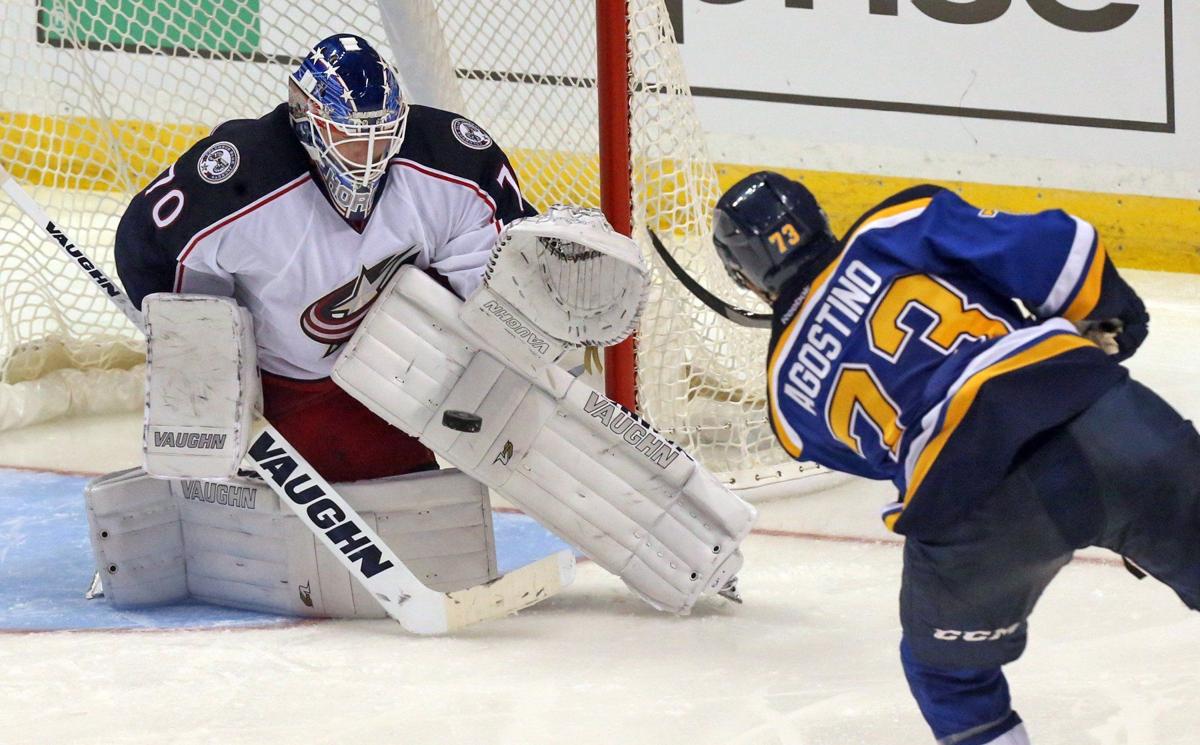 Preseason hockey can make unexpected heroes, and on Sunday, the Blues won their first game 7-3 over Columbus thanks to a five-point game from forward Kenny Agostino.
Agostino, who you probably have never heard of, has played 10 NHL games over two seasons and spent most of last season with Stockton of the AHL. He signed with the Blues as a free agent on July 2 and is not to be confused with another free agent signing, Andrew Agozzino.
"We've got to figure out the nickname situation," Agostino said. "It works out, I'm usually Ag-o and he's Ag-ee."
On Sunday, he had two goals and three assists for his first five-point game since he was in college at Yale, and he did it at a new position. Agostino has been a left wing so far in his hockey career, but the Blues used him at center on Sunday.
"It was an adjustment for me, playing down the middle," he said. "I feel like I improved at it as the game went along. There's still a long way to go for me."
Agostino played at Yale, under one-time Blues assistant coach Keith Allain, winning the NCAA title in 2013. He got in 10 games with Calgary over two seasons. Last season, he played in two while spending most of the season in the AHL with Stockton, where he had 23 goals and 34 assists in 65 games. He became a free agent in the offseason and signed with the Blues. He knows that making the team won't be easy, which is why he's changing his game.
"If you look at this team, they're extremely deep up front, so it's important to me to show I can be versatile and play down the middle and play on the D-side because at you look at some of these forwards, they're pretty deep in their top nine," Agostino said. "It's going to take me to learn how to play a good third, fourth line style and that's what I'm working on now."
"He's a smart player, he knows how to play the game properly," Blues coach Ken Hitchcock said. "Obviously this is a big start for him."
In addition to Agostino, linemate Samuel Blais had a goal and three assists. Kevin Shattenkirk had two goals and Robby Fabbri had a goal and two assists.
"It was a little bit confusing at the start because it's two days into camp and you're playing a noon game," Hitchcock said. "I thought once the second half of the game was on, we really dialed it up and played with a lot of composure and a lot of tempo. Some of the things we worked on in the second half really showed. We created turnovers because of it, we did a lot of really good things you like. We're trying to play with more tempo and I think we saw that."
The Blues completed a sweep with a 5-0 win over the Blue Jackets in the second game of the split-squad action Sunday night at Nationwide Arena. Kyle Brodziak, Ty Rattie, T.J. Galiardi, Eric Nystrom and Jordan Kyrou scored for the Blues, who got a combined shutout from goalies Jordon Binnington and Pheonix Copley on 23 shots. The club is now 2-0 in the preseason and will travel to Dallas on Monday.
Perron cheered
Since leaving St. Louis in a 2013 trade with Edmonton, David Perron has played at Scottrade Center four times — three with the Oilers and once with the Anaheim Ducks.
Sunday's preseason game was his first game in St. Louis as a member of the Blues since a 3-2 loss to LA in Game 5 of the 2013 playoffs.
Fans applauded when Perron's name was announced. He finished with one assist in 16:37 of ice time.
"It's definitely nice to get some cheers," Perron said. "The first time I came back, it was a little different. I'm looking forward to play for them."
Brodeur torn
In a span of a week, Blues assistant general manager Martin Brodeur has had the challenge of watching his club face his son, Jeremy, a 19-year-old goalie prospect who is in camp with Columbus.
A week ago, Jeremy made 27 saves in a 4-1 victory over the Blues at the NHL Prospects Tournament in Traverse City, Mich.
"I went away from the (Blues) scouts and watched by myself," Martin Brodeur said. "I didn't want to react one way or the other in front of these guys. It's hard definitely, but it's your son."
On Sunday, Jeremy entered the exhibition game in the third period and allowed one goal on nine shots.