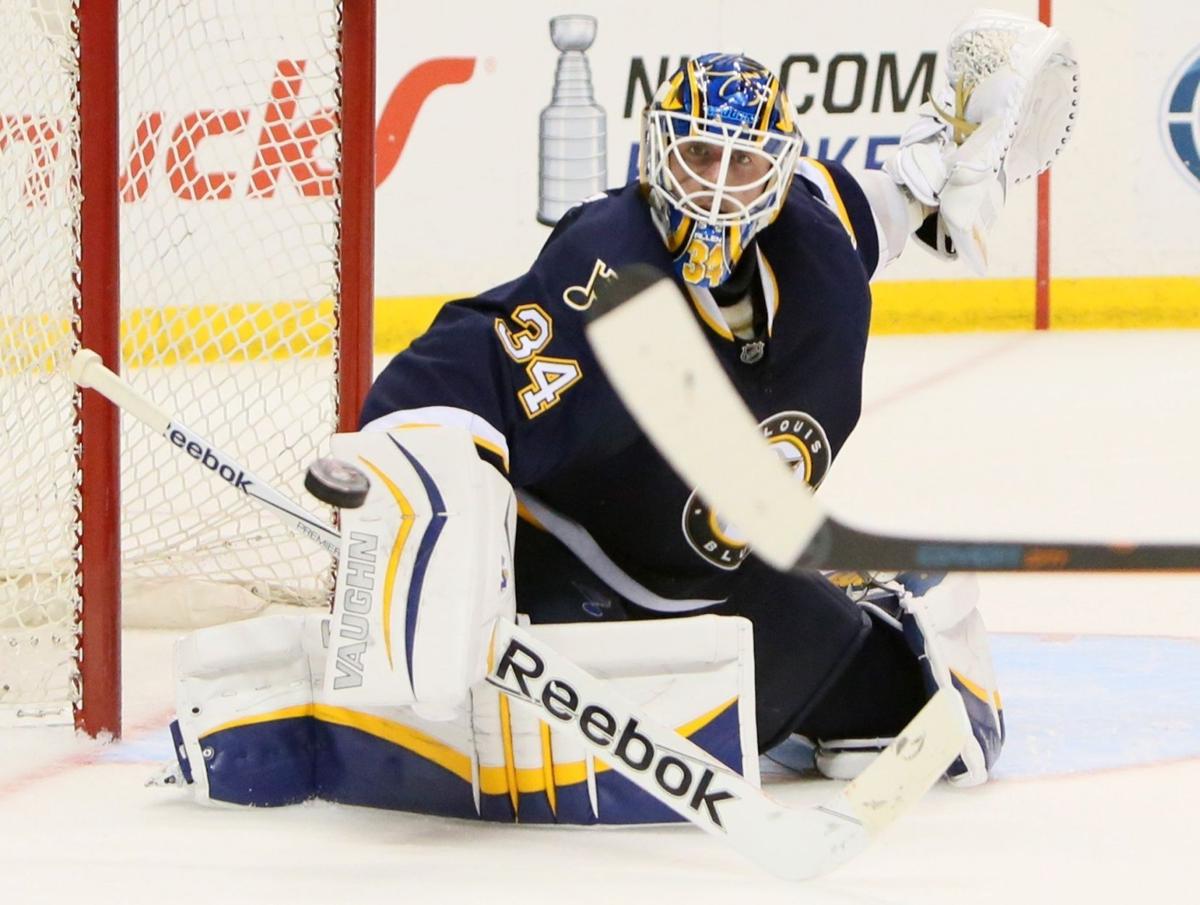 When his season is done, Blues goalie Jake Allen gets in his truck and drives home, from St. Louis to Fredricton, New Brunswick, which is like Maine only farther east. The drive takes about 27½ hours, which gives a man, especially a goalie whose team just made an unexpectedly early exit from the NHL playoffs, a lot of time to think and a lot to think about.
"It kept in your mind quite a bit," Allen said Friday. "There was time to think about it, the rights and wrongs, the goods and bads.
"I got back (home) earlier than I wanted. I'm looking forward to the drive back."
Not that there was much doubt, but Allen's trip west was confirmed Friday when the restricted free agent signed a two-year, $4.7 million deal with the Blues. When Allen pulls into his parking spot here, he will find himself in a competition with Brian Elliott for the No. 1 job in goal with the Blues. Elliott had the job for most of last season, only to see Allen claim it for the playoffs, and the team has declared the race wide open, to be decided in camp and the early weeks of the season.
Allen's 2014-15, which found him making the NHL's all-rookie team for a second time, earned him a substantial raise, from $800,000 to $2.2 million for 2015-16 and to $2.5 million for 2016-17. That's almost the same amount as Elliott, whose contract also runs through 2016-17. He will make $2.5 million in 2015-16 and $2.7 million in 2016-17.
Allen's signing, and the one later in the day of forward Dmitri Jaskin to a one-year, one-way deal for $775,000, effectively wraps up the Blues' contract situation for the 2015-16 season, with the minor exception of forward Vladimir Tarasenko. OK, maybe not so minor. Tarasenko, the team's top goal-scorer and one of the league's most dynamic players, tweeted a wedding photo of himself and his new bride Friday in a forest by a lake, presumably somewhere in Russia (they look quite happy). He has a big payday coming, and now it's clear just how much the Blues have to work with.
The Blues' payroll, with Allen's $2.35 million average annual value figured in, is about $61.4 million for 20 players, giving the team about $10 million to work with for three more spots on the varsity. The vast majority of that money will go to Tarasenko. With seven defensemen and two goalies now under contract, what's left for general manager Doug Armstrong is Tarasenko and maybe some depth forwards (restricted free agent Magnus Paajarvi is still unsigned), unless an unexpectedly attractive trade offer pops up.
The upcoming season will be the fourth in which Allen has appeared in a game and the first in which he won't, under NHL rules, be considered a rookie. He had a 22-7-4 record, the most wins for a rookie goalie last season, with a 2.28 goals-against average and a .913 save percentage. He started well, hit a bump at midseason when Elliott got hurt, and then finished extremely strongly. Starting Jan. 1, 2015, he went 11-2-2 with a 1.78 GAA. He allowed two goals or less in each of his final eight games and one in each of his final four.
He started strongly in the playoffs, but the last two were a bit of an adventure as the Blues went out in six games to Minnesota.
Allen squeezed signing his contract in between a morning workout in the gym and an afternoon on the golf course.
"It's a weight off my shoulders," he said. "I can concentrate on the main objective, which is getting back into the swing of things and back on the ice and in hockey mode. I couldn't be happier. Two more years. I love St. Louis. It's where I want to be."
It will be a different situation for Allen this season, who before came into camp as the definite No. 2 (or No. 3). He said that won't change his summer approach.
"I haven't changed a thing," he said. "I'm doing the same routine I've been doing since I turned pro. I feel great. I want to stick with what's working, look at last year, take some experience from that, put it into my game and take it to the next level."
Jaskin didn't make the team out of camp last season but was an in-season call-up and played 54 games with 13 goals, four of them game-winners.
The Blues signed another goalie, fifth-round draft pick Luke Opilka from Effingham, Ill., to a three-year entry level deal. Opilka, who moved to St. Louis but has spent the past two seasons in the U.S. national team development program, had committed to play college hockey at Wisconsin, but instead will be joining the Kitchener Rangers of the Ontario Hockey League. He will also take part in the Blues prospects camp, which starts Monday at 2 p.m. at the team's training facility at the St. Louis Outlet Mall in Hazelwood. Admission is free.
The Blues also announced the signings of three players to one-year, two-way contracts: forward Jordan Caron, 24, who split last season among Boston, Colorado and Providence of the AHL; defenseman Peter Harrold, 32, who played 43 games with New Jersey last season; and forward Danny Kristo, 25, who spent the past three seasons in the AHL, most recently with Hartford, the Rangers' top farm team.