Hockey season is near. Very near. As such, the Blues announced details for the first two days of camp practices at the new Centene Community Center in Maryland Heights on Sept. 14-15.
As an added attraction before the Sept. 14 practice, the Blues will unveil a commemorative jersey to be worn for three home games this season.
Fans can get reserved seating for the Sept. 14-15 practices with a $10 donation to the Blues for Kids Foundation starting at noon this Thursday on MetroTix.com. Blues season ticket holders get first dibs on camp tickets with a presale at 10 a.m.
Here's the schedule for both days:
9 a.m., doors open
9:45 a.m., commemorative jersey reveal
10 a.m., 1st practice session
11 a.m., 2nd practice session
Noon, 3rd practice session
12:30 p.m., Try Hockey for Free session
9 a.m., doors open
10 a.m., 1st practice session
11 a.m., 2nd practice session
Noon, 3rd practice session
The Try Hockey for Free session is for children ages 4-12 and will take place on the Plager Rink. A parent/legal guardian must be present to sign a waiver for their child to participate.
BLUES CAMP ROSTER
A total of 58 players are on the team roster to start camp. Among them is forward Erik Foley, who other than the Blues' prospects tournament in Traverse City, Mich., missed the entire 2018-19 season because of a concussion. Not on the Blues camp roster is forward Dominik Bokk, the team's first-round draft pick in 2018. Per general manager Doug Armstrong, the Blues did not want to interrupt his season playing for Rogle BK in the Swedish Hockey League.
Nikita Alexandrov, Ivan Barbashev, Sammy Blais, Tyler Bozak, Cameron Darcy, Robby Fabbri, Erik Foley, Robby Jackson, Dakota Joshua, Tanner Kaspick, Klim Kostin, Jordan Kyrou, Mathias LaFerriere, Nick Lappin, Mackenzie MacEachearn, Jeremy Michel, Zach Nastasiuk, Jordan Nolan, Ryan Olsen, Ryan O'Reilly, David Perron, Austin Poganski, Evan Polei, Zach Sanford, Brayden Schenn, Jaden Schwartz, Alexander Steen, Nolan Stevens, Oskar Sundqvist, Vladimir Tarasenko, Robert Thomas, Alexey Toropchenko, Michael Vecchione, Nathan Walker, Keean Washkurak.
Andreas Borgman, Robert Bortuzzo, Jay Bouwmeester, Jake Dotchin, Vince Dunn, Joel Edmundson, Carl Gunnarsson, Joey Laleggia, Niko Mikkola, Rob O'Gara, Colton Parayko, Alex Pietrangelo, Derrick Pouliot, Mitch Reinke, Tyler Tucker, Jake Walman.
Jake Allen, Jordan Binnington, Colten Ellis, Evan Fitzpatrick, Joel Hofer, Ville Husso, Adam Wilcox.
---
Quick Hits: Jim Thomas on the Blues
BRINGING THE BAND BACK TOGETHER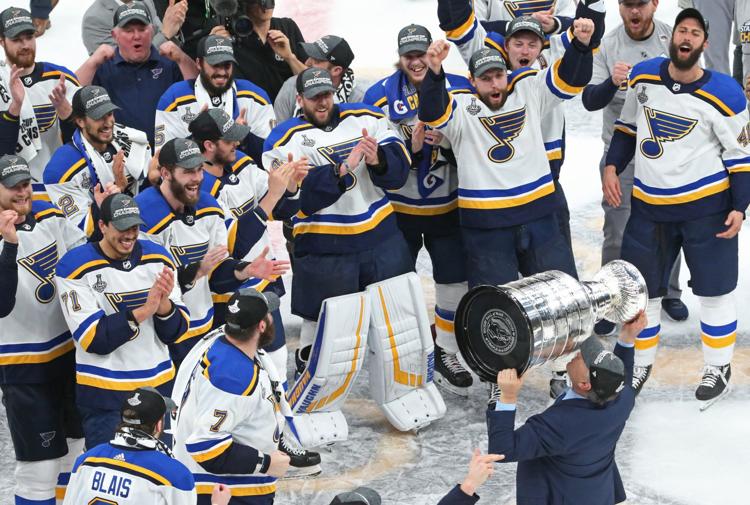 QUESTION: I'm jacked about the fact that most of the team is returning. Maybe it's recent Stanley Cup bias, and there is a bit of a risk being so close to the cap, but I love this team's tenacity and most of the top players should have a few good years left in the tank. Good move, in your opinion?
JIM THOMAS: I think it's a plus to basically have a defending Stanley Cup championship team return intact. There's a lot of character on the team, and even if that wasn't the case, Craig Berube has shown he will keep them motivated.
The team will miss Maroon's tenacity and physical play, plus his locker room and on-ice presence. But I think that means players such as Blais, Sanford, Fabbri and MacEachern have the opportunity for larger roles.
And certainly Kyrou is expected to make a push for a roster spot.
NEVER TOO EARLY TO TALK ABOUT THE LINES!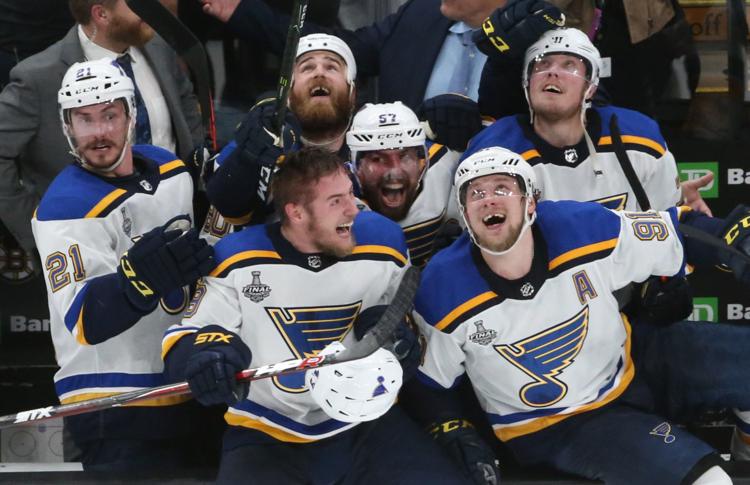 QUESTION: With Barbashev and Maroon figured out, what is your guess on the opening night roster and who are the two extra skaters?
JT: Potential lines:
Schwartz-Schenn-Tarasenko
Sanford-O'Reilly-Perron
Blais-Bozak-Thomas
Steen-Barbashev-Sundqvist
Extras: Fabbri, MacEachern. (Under this scenario Kyrou does not make opening-day roster.)
On defense:
Gunnarsson-Pietrangelo
Bouwmeester-Parayko
Dunn-Bortuzzo
Extra: Edmundson (Yes, it seems odd to have Edmundson as an opening-day scratch, but somebody has to sit, barring injury.)
Goalies: Binnington ... Allen
BOTTOM LINE ON THE MAROON DECISION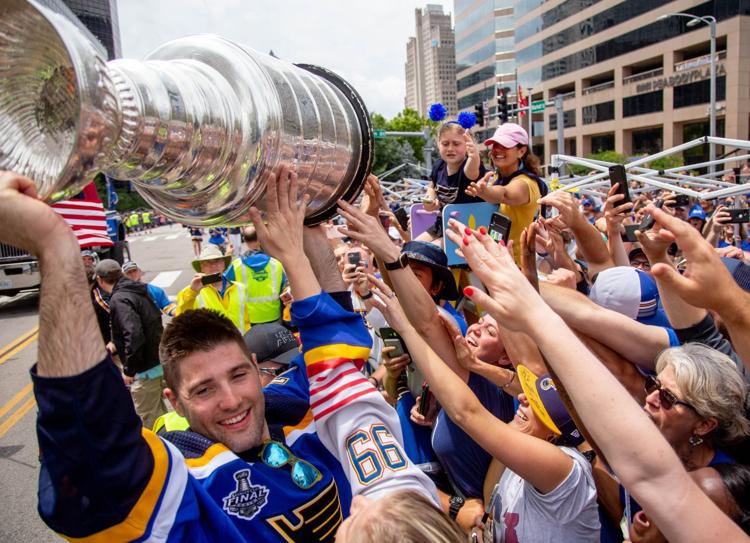 COMMENT: Loved the Barbishev re-signing, and had to agree on the Maroon decision. Your take?
JT: Barbashev is only 23 and has plenty of upside. Maroon is 30, and pretty much what you see in him now is what you get. So I can understand the decision-making, although in no way do I want to demean Maroon's contribution in 2018-19 and what he brought to the team in terms of intangibles.
It was clear that signing all the RFAs was the priority for Armstrong this offseason. A few of them, in my opinion, may have come in a little higher than expected. And that ended any chance of there being enough money to bring back Maroon.
WHO FILLS THE MAROON ROLE?
COMMENT: Seems like M MacEachern should be able to fill the Maroon role quite well, maybe better in the regular season, than Maroon did. He got regular ice time until late in the season.
JT: MacEachern was a forgotten man down the stretch. He was a healthy scratch in the last 10 regular-season games as well as all 26 playoff games. But he has some size to him (6-3, 197) and isn't afraid to hit somebody. Hasn't displayed great offensive prowess, but once in a while he will surprise. So I can see what you're saying to a degree.
Another candidate could be Sammy Blais on the third line. Blais hasn't shown himself to be one that drops the gloves, and hasn't really been a net-front presence. But obviously he will throw his body around. Also, Klim Kostin has shown himself to be very physical in San Antonio, will drop the gloves, but still may need some AHL seasoning.
SURPRISED BY TERMS OF BARBY'S DEAL?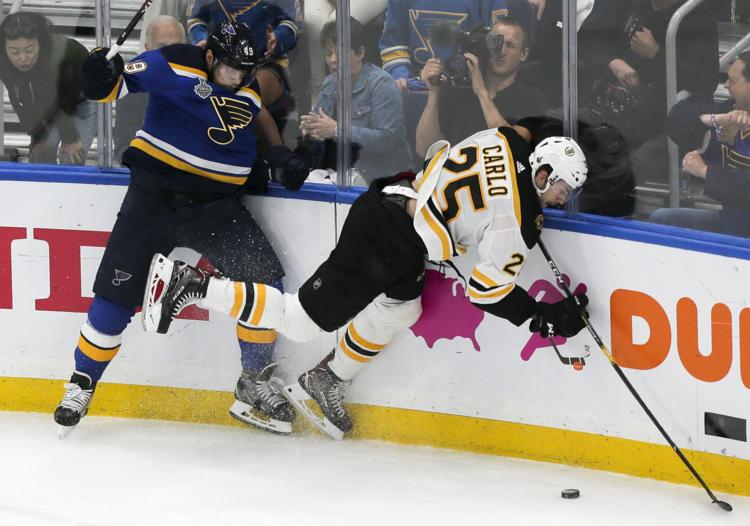 COMMENT: I was surprised by the contract terms for Ivan Barbashev. I thought he would have gotten more $$$ and perhaps another year.
JT: Agreed. I thought he'd get closer to $2 million, but $1.475 million a year is still a nice boost from the $863,000 he was making. Keep in mind, he's still not arbitration eligible after this two-year deal ends, so that hurts his leverage.
As for the contract length, if you're Barbashev, you get more money and a little security with the 2-year deal, but you don't want to box yourself in for longer if you continue to progress like you did last year.
EXPECTATIONS FOR A REPEAT?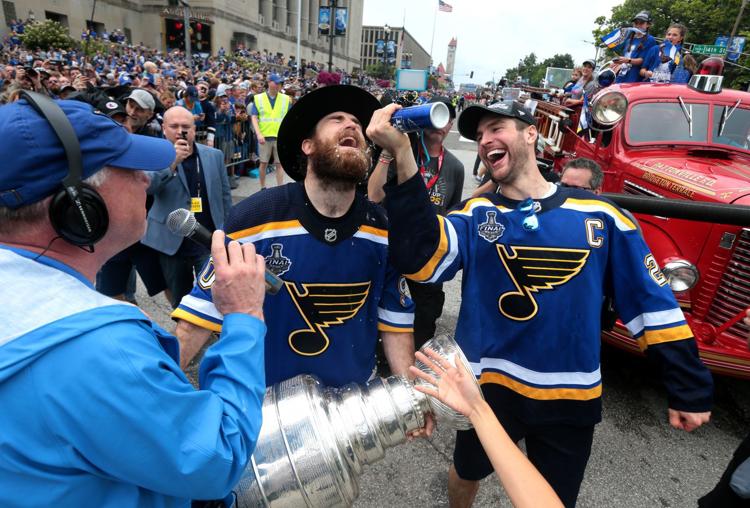 QUESTION: Can (will?) the Blues repeat as Cup champions? Or should we brace ourselves for the boys to fall victim to a massive hangover this season?
JT: History says no repeat, and I don't expect a repeat.
I think some kind of hangover is possible — a slow start wouldn't shock me in the least. But I don't expect a "massive hangover." I think the massive hangovers took place in late June.
TRADE TALK INVOLVING SCHENN?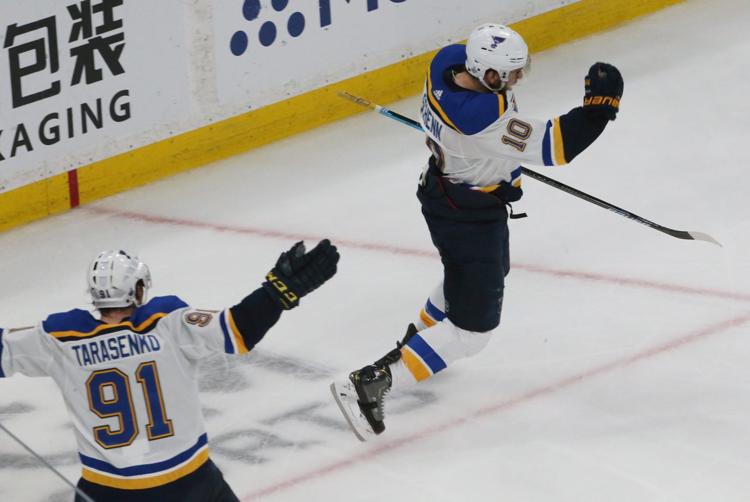 QUESTION: Why is there discussion about Schenn being traded? What's going on there?
JT: I haven't really heard much chatter on that front, but I guess I understand it given the Blues' cap situation, the fact that Schenn's production was down last season, and the fact that he's entering his walk year.
I'm sure the Blues would like to make room on the roster for Kyrou and Kostin at some point in the near future — this year or next.
---
Follow-up: What players one from the Blues varsity rooster and the other a prospect within the organization you suppose currently have the highest trade value?
JT: I guess I'd have to say Kryou and Schenn. And that's with the assumption that Parayko and Thomas aren't going anywhere.
---
Follow-up: How would you feel of a trade of Gunnarsson (maybe to Calgary) for a draft pick, to free up more cap space? Maybe Fabbri as well.
JT: Well, it wouldn't free up much. Combined Gunnarsson and Fabbri count only $2.65 million against the cap
ALL EYES ARE ON . . .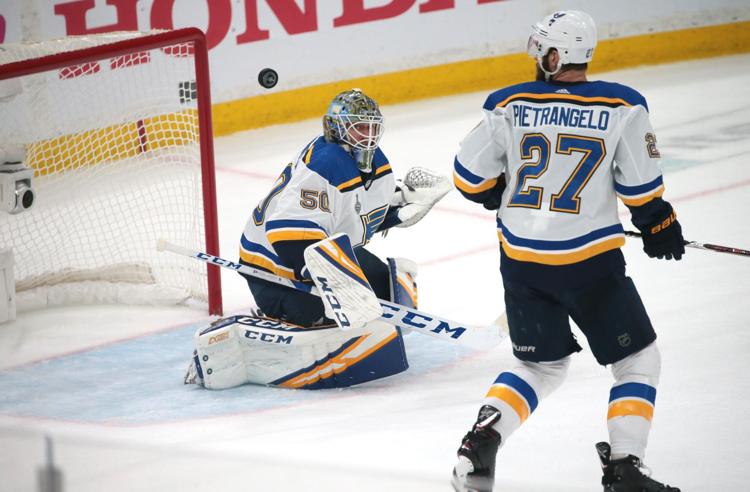 QUESTION: What one player on the team has the most pressure to perform better than ever before?
JT: Interesting question. Not that it's fair to expect him to be better, but I'd say all eyes will be on Jordan Binnington again this season. He won't sneak up on anyone this season.
---
Follow-up: How likely is Allen to be trade bait for a contending team at midseason, should their primary goalie go down before then?
JT: I'ts certainly in the realm of possibility, depending on how Binnington plays, how Allen plays, and just as importantly, how Husso plays in San Antonio.
DOES THAT AMOUNT OF CAP SPACE REALLY HELP?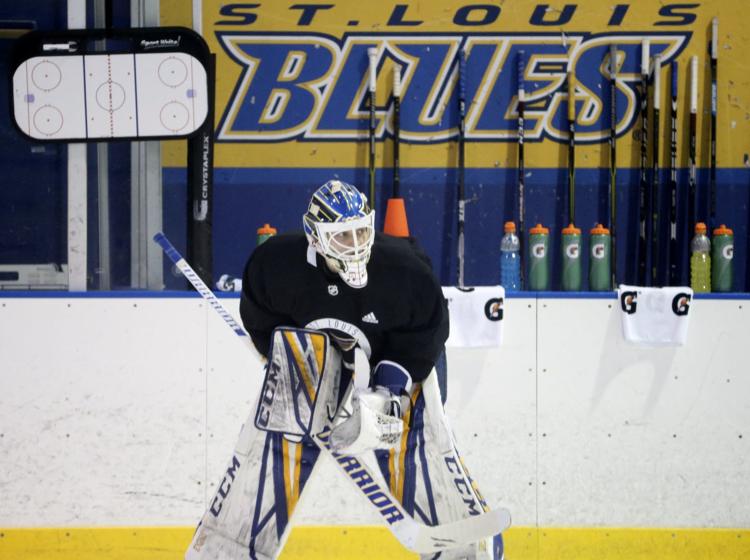 QUESTION: Please explain how the $1.2 million left under the cap would be used to solve an injury shortage.
JT: Simply stated, say Jordan Binnington gets hurt, Ville Husso is called up, Husso's salary counts against the Blues cap if he's at the NHL level. He would make $700K at the NHL, pro-rated of course.
So if he's up for one-10th of the season, it would be $70K. And so on.
LOOKING AHEAD TO YEAR 3 ON THE BEAT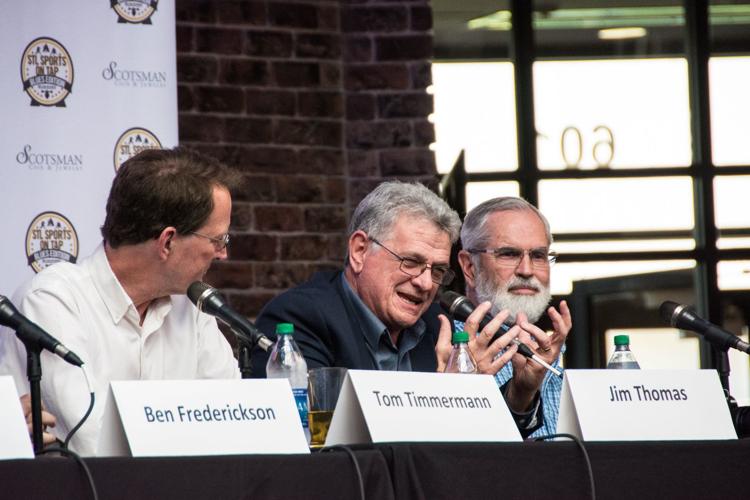 QUESTION: As you start Year 3 with the Blues, are there any aspects of the hockey beat that stand out as your favorite or least favorite? Is there anything you know now that you wish you had known on Day One?
JT: I love the speed of the game. I like the fact that the game basically is all in front of you — unlike football where you really can't get a great feel for line play unless you watch game tape. The access is good. Love the Canadian travel, specifically the western Canada trips. Writers, PR staffs around the league are good to deal with.
Playoff intensity was more than I anticipated.
On the minus side, the deadlines for night games can be nerve-wracking. There are occasions when I wish it was an open locker room instead of a few select players available postgame — although Blues PR does a good job of getting us who we need. Those are just a few things off the top of my head.
WHERE'S GARRY UNGER?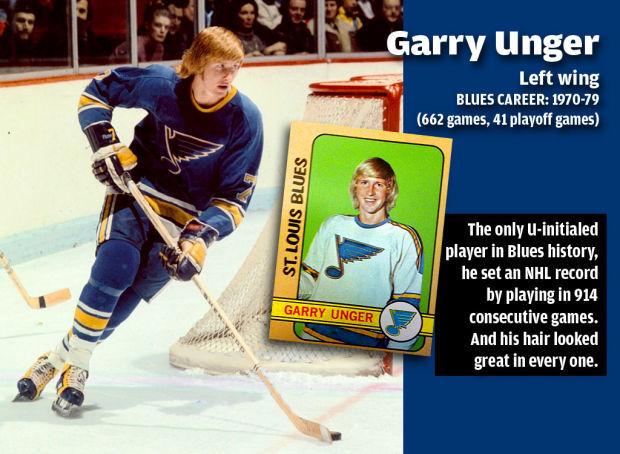 QUESTION: Has anyone checked in with my boyhood idol Garry Unger, either during or after the Blues' epic run to winning the Cup?
JT: Not to my knowledge. I can remember going to a Blues game with some friends during Unger's time here. After the game, we waited at the players' entrance and out came Unger with a blonde on his arm, stepping into a sports car and driving off into the night. Just as you'd imagine it, right?
Photos: Blues' new practice site