There has been no official word from the Blues or the NHL, but St. Louis will be awarded the league's 2020 All-Star Game at Enterprise Center.
During an early October visit to St. Louis for a Blues game and a tour of Enterprise renovations, NHL Commissioner Gary Bettman indicated that an All-Star Game wouldn't take place here next season.
"I wouldn't anticipate an All-Star Game here next (season)," Bettman said at the time.
But that's no longer the case. The Post-Dispatch confirmed Thursday that St. Louis will play host to the All-Star Game in January of 2020, as first reported by The Athletic.
By then, the third and final phase of Enterprise Center renovations will be completed — with new seats and renovations in the lower bowl being the key piece of that renovation.
The Blues bid to host either the 2020 or 2021 All-Star Game back in September 2017.
In recent years, the announcement of future All-Star Game venues has taken place during NHL All-Star Weekend, set for Jan. 25-26 this season in San Jose. Bettman indicated in the fall that the announcement could come earlier this season, and indeed the announcement will be made at this season's Winter Classic game, scheduled Tuesday Jan. 1 at the University of Notre Dame.
St. Louis previously played host to the NHL All-Star Game in 1970 and 1988.
WELCOME BACK CARTER
Carter Hutton, who spent two seasons with the Blues as the backup to Jake Allen in goal, was back on Thursday as a regular starter, but now he's with Buffalo. He signed there as a free agent in the offseason. If it hadn't been for Allen's struggles last season, Hutton may not have gotten the chance to show he could be a No. 1.
"I think when I left Nashville to come here," Hutton said, "Jake was just kind of starting out younger and I was hoping for a chance to play more and it kind of worked out in my favor to play some more games and then I thought it was time for the next step to give myself a chance to play some more minutes. It's worked out, fortunately for me. It took a lot longer, but I didn't come out of college until I was 24, so I kind of had to pay my dues."
Hutton said he has stayed in touch with a lot of the Blues and though he doesn't get a chance to see many games, he remains supportive.
"I think they're a better team than the standings show right now," he said.
Also back on the ice for Buffalo on Thursday were former Blues Vladimir Sobotka and Tage Thompson. Patrik Berglund, as has been chronicled, agreed to terminate his contract with the Sabres.
NOT YET FOR INJURIES
Despite some pretty strong suggestions that one or more of the Blues' injured players would be back in the lineup soon, interim coach Craig Berube stuck with the lineup he used in each of the team's three games in western Canada before Christmas.
Berube said that Robby Fabbri was available, but that he was sticking with the 20 players who won two of three games on the trip. (Fabbri technically is still on injured reserve, though the Blues, with 22 active players at the moment and the NHL roster freeze running through midnight Thursday, didn't need to make a move to return him to active status.) Berube said Carl Gunnarsson and Alex Pietrangelo were getting close but were not quite ready.
GOODBYE LARRY
Larry Robinson, the nine-time Stanley Cup winner and Blues consultant who has been behind the bench and on the ice as an assistant coach during the transition period after Mike Yeo was fired, has returned to consultant status.
Berube said the plan all along was for Robinson to be with the team until Christmas.
"He brought a lot of insight on the game for us, he was very good for us," Berube said. "As coaches — and players — we really enjoyed him. We'll miss him for sure."
JUNIOR ACHIEVEMENT
Blues prospect Klim Kostin had two assists as Russia beat Denmark 4-0 in their first match at the world junior tournament in British Columbia.
---
BLOW UP THE BLUES' ROSTER?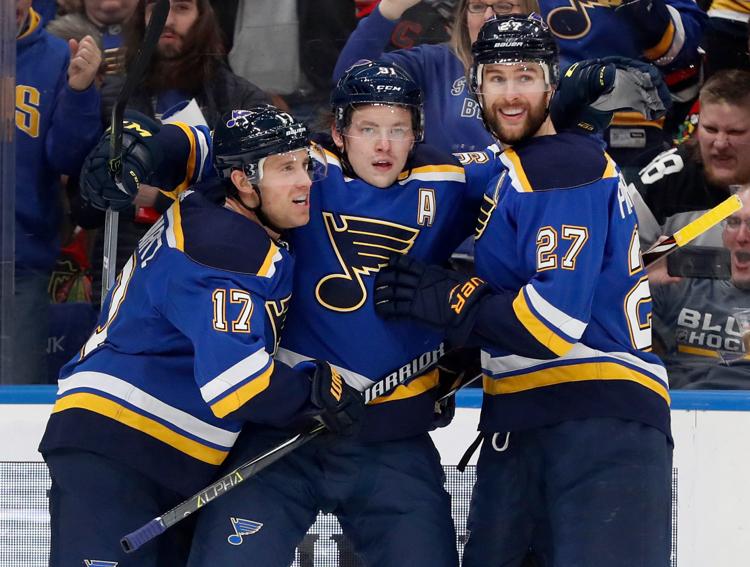 COMMENTS: About the possibility of trading Tarasenko: One side says "wait and see how he is next year after his shoulder is healthy," and the other says "let's see how much we can get." Same with Petro. Maybe Parayko should go, but you still need someone on the blue line with some skills. The Blues don't have to blow it up, but maybe they could jettison a few key players in hopes of getting either high draft picks or good young talent. Even if they get a playoff spot, it's a one-and-done team. What are your thoughts?
JT: I say if you can get in the playoffs, you get in the playoffs. How many No. 1 overall seeds have actually won the Stanley Cup in recent years? Like a 9-7 NFL wild-card team, I think once you get in the dance who knows what can happen.
If things continue the way they've been going so far this season, I think you have to do something about the leadership core. But as Jeff Gordon mentioned in his Wednesday column, you can't trade just for the sake of trading. You need a good return. And with so many Blues having something that would classify as well-below career years, you're not dealing from a position of strength. I believe you need players that can contribute now, rather than prospects in any trade.
And it would have to be a heck of a deal to pry Tarasenko away. You may have seen the stat — only Ovechkin has more goals in the entire NHL than Tarasenko over the past four-plus years. Goals don't grow on trees.
SWEEPING CHANGES NEEDED?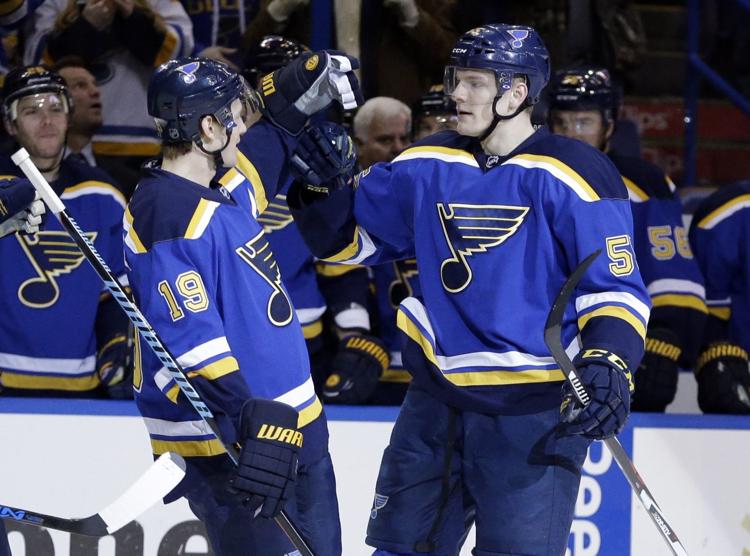 COMMENT: For weeks now this Jekyll & Hyde team has taken us on an emotional roller coaster. A couple more weeks of this and sweeping changes will need to be made. Find new homes for Steen, Tarasenko, Parayko and Bouwmeester. See how much good young talent and draft picks the Blues can acquire that we could possibly use this summer for good established talent. We also need a permanent coach in place by the trading deadline.
JT: So if I understand you correctly, you want to pile up young talent/draft picks via trades before/at the trade deadline and then use those picks July 1 to get established players. Interesting. But that does make it a two-step process and thus a more complicated process. You could face the danger of having all these prospects, but no trade partners in July.
Bouwmeester's contract is up after this season, so I don't think you have to concern yourself about him being back next year anyway. Even though he has been playing better, I don't think he'd fetch much at his age before the trade deadline. I'd expect some of the other core players to be moved at some point if things don't improve.
And yes, it has been an amazing roller-coaster so far. Amazing, as in hard to fathom. Not amazing, as in wonderful. 
WHY TRADE PARAYKO?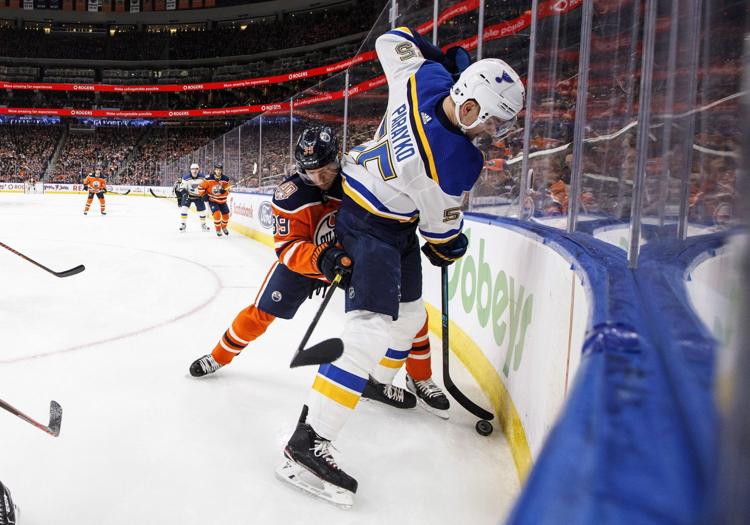 COMMENT: If there is serious talk about trading Parayko, the Blues should remember some of the talent they traded off in the past.
JT: Well, it sure seems to be popping up on the Internet to a fair degree lately. I personally thought there was more talk on Parayko last offseason. But given the Blues' underachieving ways this season, it's understandable to hear his name — and others — mentioned. I don't know yet if there's any fire behind this smoke in terms of the Blues seriously contemplating moving him.
WHO'S ON THE BLUES' RADAR FOR THE DRAFT?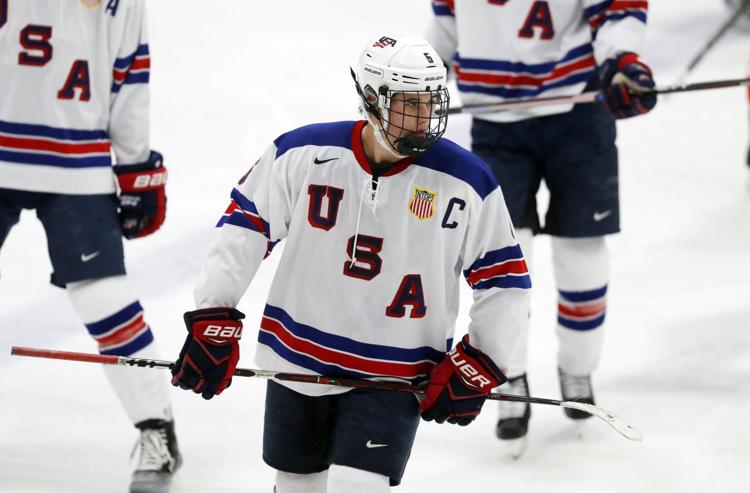 QUESTION: Aside from Jack Hughes, if the Blues get a top 5 pick, are there any other exciting talents to look out for?
JT: Looks like Finland's Kaapo Kakko (6-4, 207), a right winger, is being projected as the No. 2 overall pick right now behind Hughes. He's playing in the World Juniors (which started Wednesday) along with Hughes.  By the way, Sweden has a defenseman to watch in Philip Broberg, though I don't think he's a top 5 guy.
I'm hardly a draft guru when it comes to the NHL, but other top prospects include Vasily Dodkolzin, Dylan Cozens and Kirby Dach — all forwards.
SCHENN STIRRING INTEREST?
COMMENT: Read a report that the Knights are eyeing Schenn. It would be horrible to trade him — he's one of the few players on this team actually performing well. Armstrong should sacrifice Pietrangelo and Steen if he's got to make moves. I'd also trade Bozak and bring back Berglund.
JT: I'd think a lot of teams would be interested in Schenn. Although he's not having the kind of year he had last year, I too, think it would be a mistake to deal him. Bozak's contract would make him difficult to deal ($5 million a year for each of the next two seasons). That's a lot of money for a third-line center. And finally, I don't think you're going to see Berglund back in a Blues uniform.
PAIRINGS WHEN PIETRANGELO RETURNS?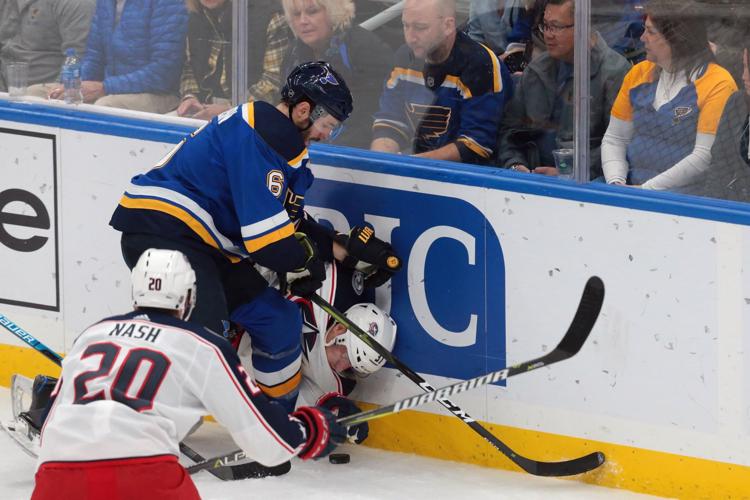 QUESTION: Is Edmundson/Parayko the new No. 1 defensive pairing even when "Petro" comes back? Any chance their bring Niko Mikkola up from San Antonio to partner with Petro?
JT: No, I'd think Pietrangelo goes back to the No. 1 pairing. As for Mikkola, don't think that happens this year.
---
Follow-up: Has JayBo played himself back into the role of riding shotgun across from Petro after the latter comes back? It seems like Petro needs a steady defensive partner.
JT: If it were me, I'd have Bouwmeester on the second or third pairing and killing penalties, and pair Edmundson with Pietrangelo on the top unit.
PUZZLED BY VLADDY AND PETRO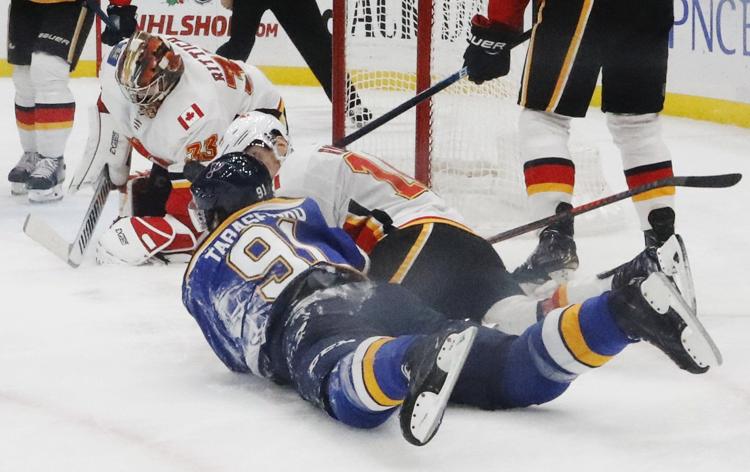 To a long question about Tarasenko's shoulder issues and his fade as a goal-scorer being indicators that he might already be on the downside of his career, JT replied:
Tarasenko turned 27 on Dec. 13. Are you sure he's past his prime? You better be sure (if you're considering moving him). With just one more goal last season, he's in the top 20. I know enough about shoulder surgeries to know that five months is a pretty quick recovery time. I mentioned on the chat earlier this season that I saw Tarasenko talking to someone after a game (outside the locker room), with the shoulder wrapped (and I believe in ice). Just throwing this out for consideration.
As a follow-up, the reader threw Pietrangelo into the mix, cited analytics and said, "You don't want to pay for past production, as Mo always says about the Cardinals." JT replied:
Analytics obviously can provide a tool. But I think it's more complicated than that with these two players. I don't know if analytics can give a definitive answer into declining production after shoulder surgery -- especially in a case where there was a relatively quick rehab/return time. Again, Tarasenko just turned 27. I don't think you need a deep dive into analytics to tell you that someone shouldn't begin a noticeable decline at that age.
As for Pietrangelo, how do you factor in being the father of triplets and how that might affect your life? Petro is 28. It's hard to fathom why his game would fall off so noticeably -- at least at the start of this year -- after being so consistent for years prior. Very puzzling.
BINNINGTON READY TO BACK UP ALLEN?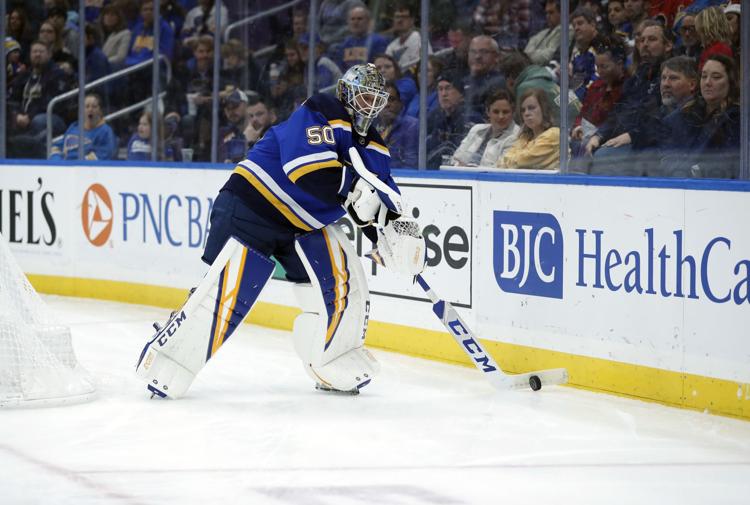 QUESTION: The Blues play 5 games in 11 days coming up, including 3 games in 4 days. Is their backup goalie up to the task? Many teams have played 3 to 5 more games than the Blues. If they could get 7 points out of those 5 games, they could possibly save the season.
JT: Actually, it's six over the next 11 days starting Thursday night. And the first four of those six are at home. The Blues simply have to play better at home. Much better.
I would think we'd see Binnington in one of the back-to-backs Jan. 7 (Phil.) and Jan. 8 (Dallas), and again Jan. 14 (Wash.) and Jan. 15 (NY Islanders). Sooner or later, you've got to give your goalie prospects a shot or go in a different direction. Binnington has played 201 minor league games. That should be more than enough seasoning to get him ready for an NHL start. In case you missed it, here's a Binnington story we wrote a couple of days ago.
IS HUSSO THE BETTER PROSPECT IN GOAL?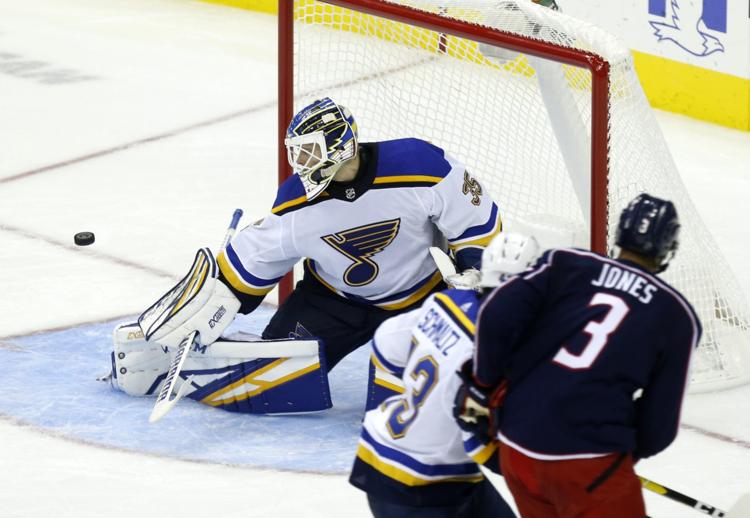 QUESTION: Is Ville Husso considered the better long-term prospect than Binnington? When would he be ready to join the big club?
JT: Husso certainly was considered the better long-term prospect entering this season. The thought was maybe a year of seasoning at San Antonio and he'd be ready for the Blues as a backup next season. But he struggled out of the gate this year in San Antonio, Binnington started getting more starts, and then got the call-up after the departure of Chad Johnson. If Husso continues to develop, and I think he's been playing better lately, I wouldn't be surprised to see him called up before the end of this season. Unless Binnington plays well up here.
EMPTY SEATS AT ENTERPRISE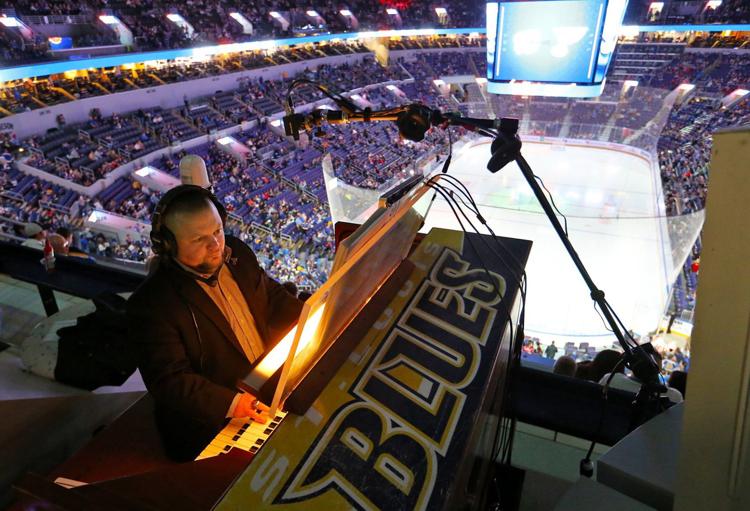 QUESTION: If the horn goes off at Enterprise Center but there's no one there to hear it, will it make a noise?
JT: Four-game homestand coming up and three of the four should be good draws. Buffalo and Carter Hutton; Sidney Crosby and the Penguins; defending Stanley Cup champ Washington. It'll be interesting to see how many empty seats there are for these games.
BLUES SUPERLATIVES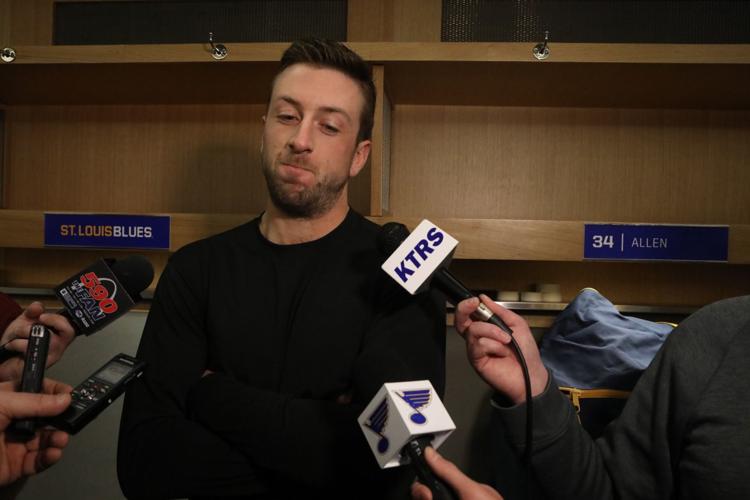 A reader asked JT for answers to 10 quick questions about the players: 
(Most improved forward?) Sunny Sundqvist, hands down.
(Most improved defenseman?) Don't think I have a most improved defenseman right now, not on a team that ranks 26th in goals-against average.
(Biggest leader?) Not exactly the answer you're looking for, but I'd like to see Edmundson wearing an A.
(Most likely to be traded before deadline?) Bouwmeester, as a rental, the way he's playing now could help a team that thinks it can make a deep playoff run.
(Most vital piece to the lineup?) I think logic says O'Reilly here, but I'm still going to go with Schwartz.
(Biggest personality on the team?) In terms of what the media sees in the locker room, I'll say David Perron.
(Toughest player?) Think I'm gonna go with Edmundson, with Nolan as first runner-up.
(Best player to interview?) Jake Allen, honest.
(Most likely to coach after retirement?) I don't know if this is in his career plans, but I'll say Chris Butler.
(Most likely to return once he retires?) Ken Hitchcock ... no, I think with players today, once they're out, they're out.
WHAT IT WOULD TAKE FOR A RUN AT THE CUP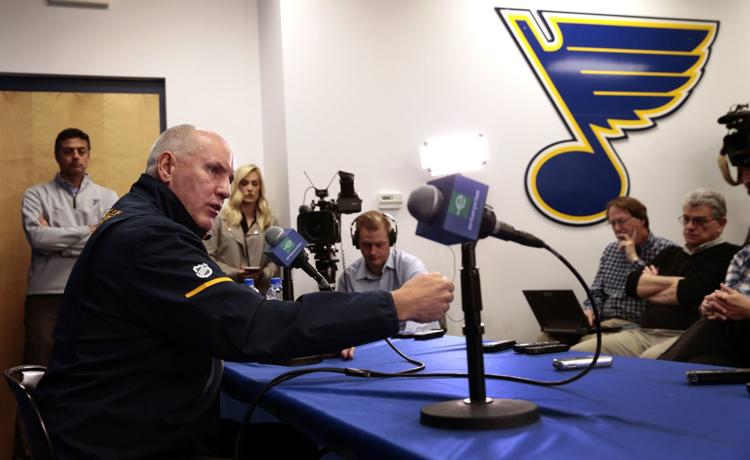 COMMENT: The best path to the Cup is to pick a franchise-defining player or two, and those players are almost always one of the first 1-3 players chosen by the losingest teams. Almost all of the teams that have won since the 2004 lockout have followed this path. Do you believe the players on this team, with a few adjustments, can get to the Cup in the next few years without the years in the wilderness that prior Cup teams experienced?
JT: I'll go on what I heard from Doug Armstrong in September at the NHL Prospects Tournament in Traverse City, Mich. We were sitting on a bench in a lobby-type area between the complex's two rinks. Armstrong said he thought the window was opening on this team to make a legitimate run at the Stanley Cup. I think he was basing that on a number of factors including: 1. Returning talent on the team; 2. Offseason additions both via trade and free agency; 3. Incoming prospects, such as Thomas and Kyrou; 4. Number of core players still in the prime of their careers, age-wise.
Obviously, it hasn't worked out that way.
Did Armstrong seriously misjudge this? Or are the elements still there to make this a contending club in the new future? I'm puzzled by -- aren't we all? -- the overall defensive play of this club. I think this club needs more team speed. Not sure about the goaltending. Saying all this, I don't think this team needs an extended stay in the wilderness, although it sure looks lost at times this season.
PARALLELS BETWEEN THE BLUES AND RAMS' LOSING TEAMS?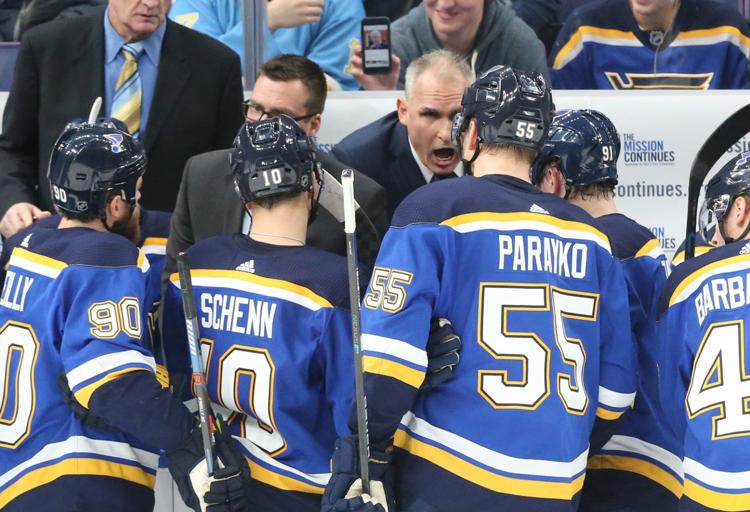 QUESTION: Any trends or keys you can take from football coverage and apply to hockey that helps to understand the trends for the Blues? Seems like there should be some "tells" in both sports that indicate if the coach is being followed, if the players are putting in the effort, or if they have the skill to succeed.
JT: Well, I know what a losing locker room looks and sounds like, that's for sure. And the opposite as well (at least during the Greatest Show era). I think to a degree, at least, you can tell if the players are sincere in their remarks. I haven't yet seen a Blues player swinging a golf club in the locker room, as was the case with a Rams tight end years ago late in the season. That was a pretty good tell, that he was already thinking about the offseason.
There are a lot of things that can carry over, that have absolutely nothing to do with strategy, tactics, and intricacies of the sport.