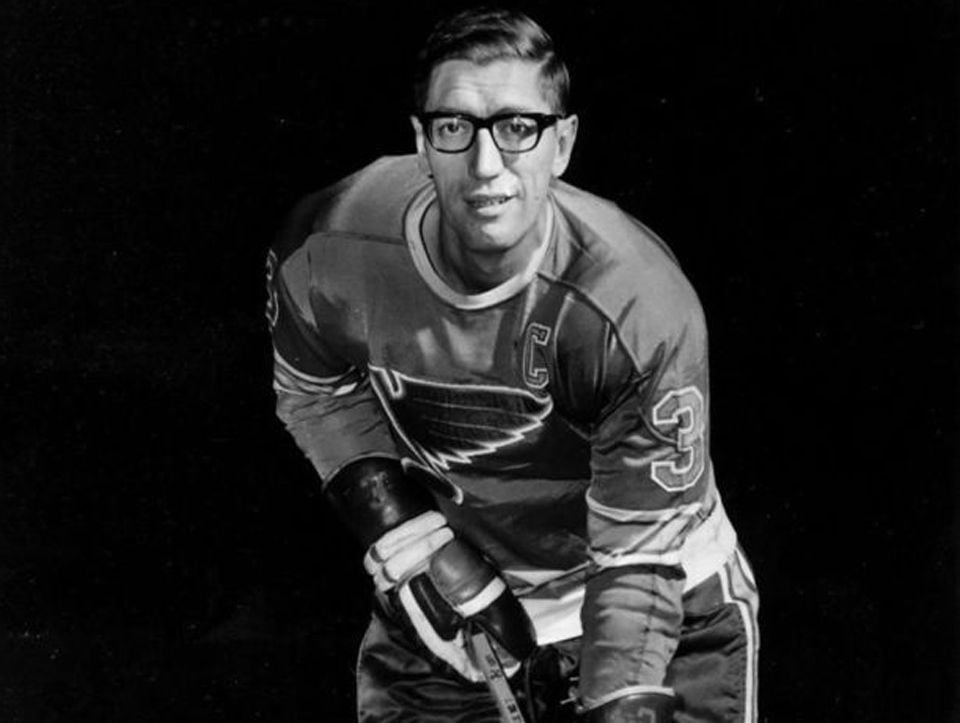 On Nov. 9, 1972, the day after the St. Louis Blues fired Al Arbour, hockey writer Gary Mueller wrote this column questioning the team's motives. Arbour would become the fifth-winningest coach in NHL history, winning four Stanley Cups with the New York Islanders.
Surely a coach who takes a floundering, spiritless hockey team on Christmas morning and turns it into a contending team within three months deserves more than 13 games to pull a team out of a slump at the start of the next season. But don't try to tell that to Al Arbour.
The reward he received for his outstanding coaching job in the 1971-72 season was his walking papers after the Blues limped off to a 2-6-5. start this season.
"I've always co-operated with the press," said Arbour, "and now I'm going to have to ask your co-operation. Just quote me as having nothing to say."
What is it that Arbour isn't talking about? Was he really fired merely in the hopes of shaking up the team. Has sport indeed become such a big business that the individual, no matter what his previous accomplishments, is a sacrificial lamb? Or was there something else behind the scenes?
It has been no secret around the Blues this season that there have been differences of opinions among management on the future of Noel Picard. Picard, injured last season, has made a gallant comeback from his tragic accident. Picard, never the National Hockey League's best defenseman, has been having some troubles this season. In one game Arbour used him not at all. In others, he used Picard only on an odd shift or two. And in still other games, Arbour had Picard taking a full shift.
"To say that how Al was using Picard had anything to do with his firing is totally inaccurate," said Sid Salomon III, the executive vice president of the Blues. "There have been definite disagreements about a lot of things between Al Arbour, Sid Abel and myself, but to say that there was one specific conflict that was the germ or seed that led to the firing is not one bit true.
"I'm not even going to pretend that there weren't some arguments, but I think that's a sign of a healthy organization when management can sit down and work things out together."
Thus, the Blues on one hand are saying that Arbour's dismissal was merely a move made to shake up the team. No one can step forward and question his coaching ability.
A change merely for the sake of change is deplorable at best. Something else must be involved. But no one can expect the Blues to hang their dirty wash out in the public air. If Arbour, Abel and Salomon had their differences, and Arbour's view got outvoted, that's their business. No one can question the club's right to fire Arbour, but one certainly can question the reasons given publicly.
"Something's missing on this club, something that we had at the end of last year," said Salomon. "
The Blues decided against trades apparently because they felt the team's slump Was not the result of poor personnel, but rather poor performances, by players who weren't playing up to their abilities.
"You can't go out on a wholesale trading binge," said Salomon, "because then you wind up giving away quality hockey players for nothing. And we feel we have quality hockey players.
"But we did feel some change had to be made. The easiest thing in the world would have been to sit back and do nothing. Any idiot could do that.
"Listen, we're not one bit happy that Al Arbour has been fired, If you want to say we get a kick out of firing coaches, that's your business, but we don't enjoy it at all.
"We want to do what's best for this hockey team and you have to give us a little credit, we've done a pretty good job of giving our fans a winning hockey team over the years."
From Arbour to Pietrangelo, a look at the top 10 St. Louis Blues captains
From Arbour to Pietrangelo, a look at the top 10 St. Louis Blues captains
Recent history says the Blues will name their new captain — the successor to Alex Pietrangelo as the titular leader of the team — right before the start of training camp, whenever that might be.
There are several options: Promote one of the current alternate captains, Alexander Steen or Vladimir Tarasenko, though it seems a good chance neither will be on the opening day roster because of injuries, which might complicate things. Ryan O'Reilly is popular, a top two-way player and a leader who sets a good example with his tenacious practice habits. Brayden Schenn is a battler, unafraid to drop the gloves to motivate the team, as well as one of the team's best and someone who, with an eight-year contract about to kick in, is going to be around for a long time.
Whoever it is will be stepping into a distinguished line that includes seven Hockey Hall of Famers, 10 players whose name appears on the Stanley Cup (though all of the most likely candidates already have their name there as well) and two of the top four goal scorers in NHL history.
The job of the captain, according to the NHL rule book, is simple. Says Rule 6.1: "He alone shall have the privilege of discussing with the Referee any questions relating to interpretation of rules which may arise during the progress of a game."
After that, the job of the captain depends on what you want to make of it. The captain is the liaison between the coaching staff and the players, delivering messages both ways on relevant matters. Does the team need a break from training? Does the coach need to yell at them about something or can it be handled internally? They are motivators in the dressing room, the head of the welcoming committee off the ice, spokesmen for the team when times are tough.
"No. 1, you have to put the team in front of yourself," Brian Sutter said in 1988, when he handed his "C" on to Bernie Federko after retiring to become the Blues' coach. "No. 2, there's a lot of responsibility off the ice, and that can take away from the performance on the ice. … It's not easy. A lot of times you go home crying inside, but you can't let anyone know about it."
Captains usually fall into a few categories. Some get the job because they're the Best Player on the Team. (In the Blues' case, see Wayne Gretzky and Brett Hull.) There's the Scrappy Battler (David Backes, Sutter), the Wise Veteran Presence (Al MacInnis, Dallas Drake) and the Young Guy You Want to Learn to Be a Leader (Chris Pronger, who eventually moved into Best Player status). Attitude apparently helps: Sutter, Barclay Plager, Backes and Pronger are among the top six in franchise history in penalty minutes.
The best of the Blues' captains come from all of those categories. Here's 10 who made a mark on the franchise, starting from the very first and ending at the most recent wearer of the letter "C" (which per Rule 6.1, should be approximately three inches in height and of a contrasting color to the uniform).
1. Al Arbour, 1967-70, 1971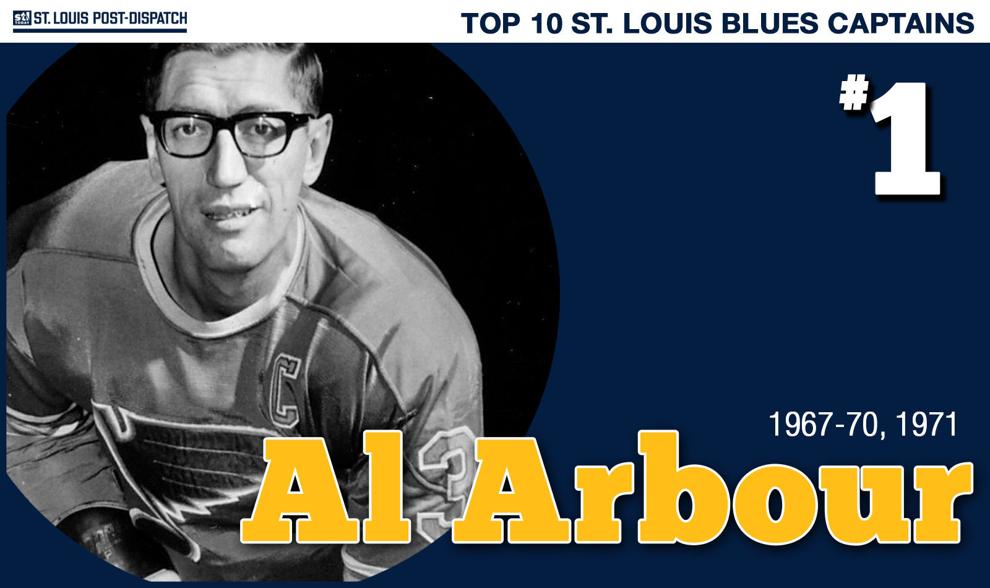 2. Red Berenson 1970-71, 1976, 1977-78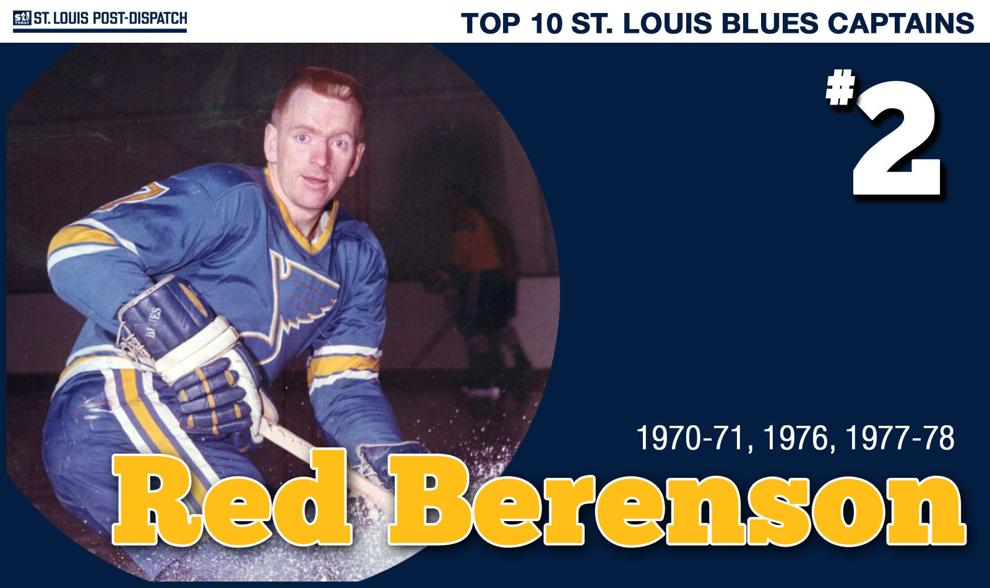 3. Barclay Plager, 1972-1976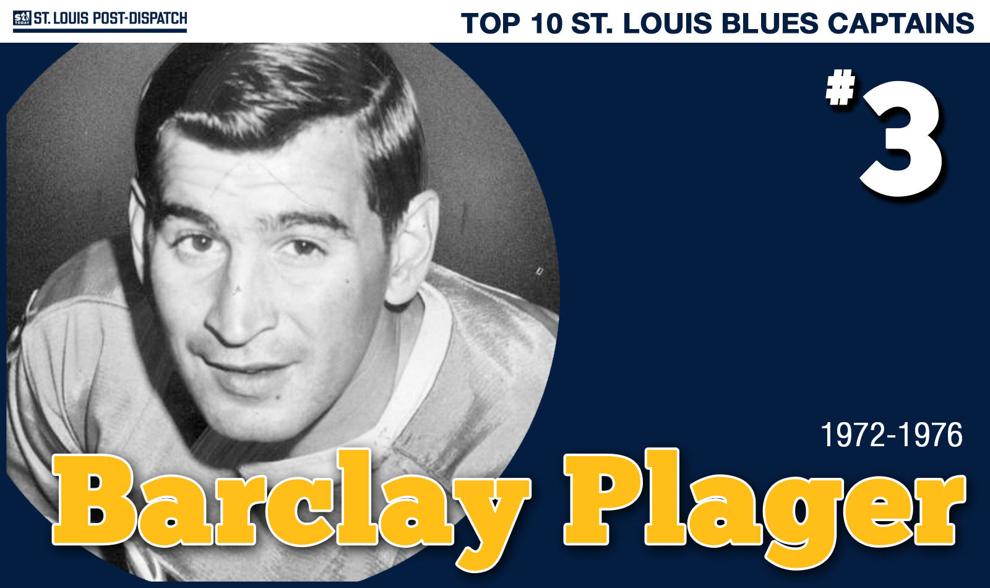 4. Brian Sutter, 1979-1988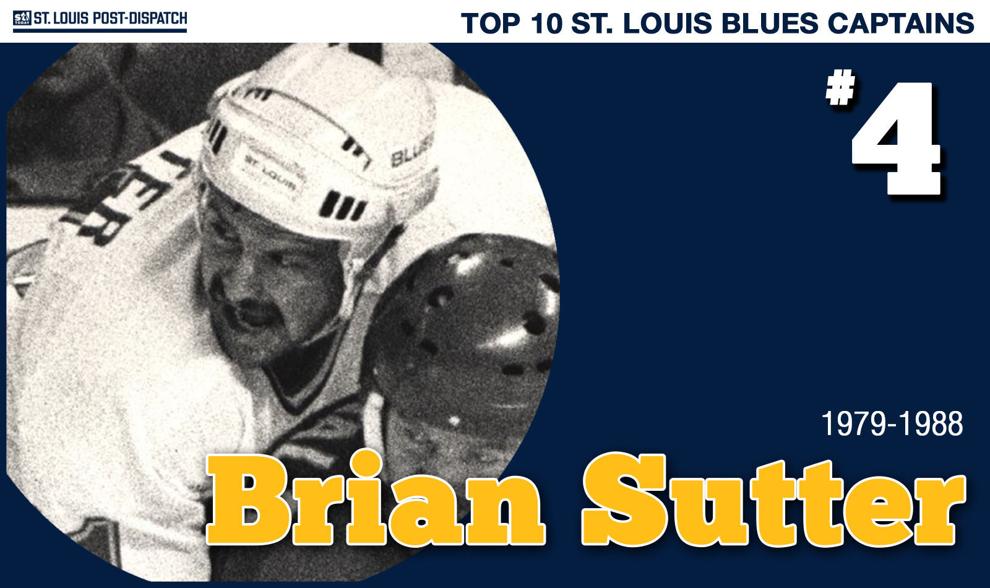 5. Scott Stevens, 1990-91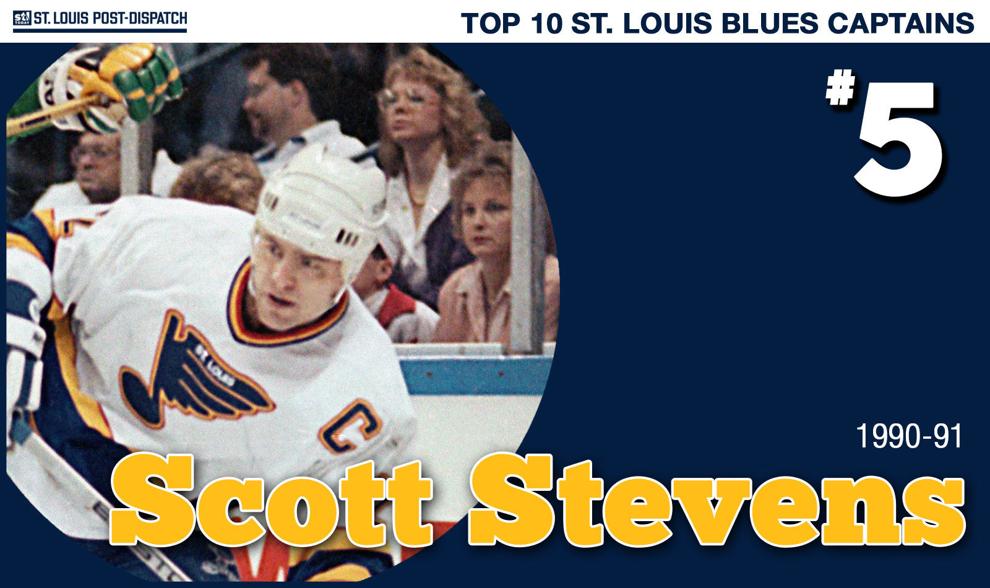 6. Chris Pronger 1997-2002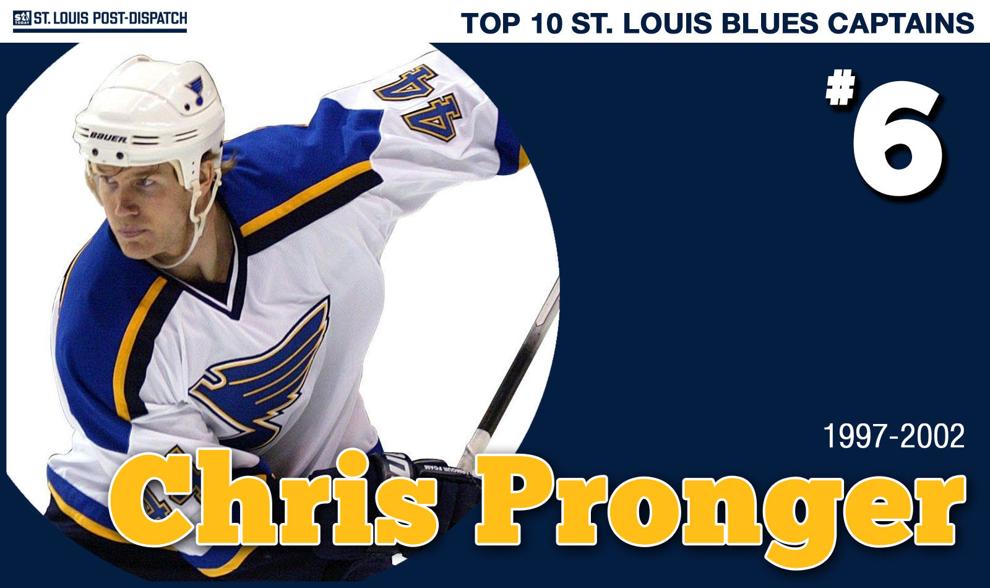 7. Al MacInnis, 2002-04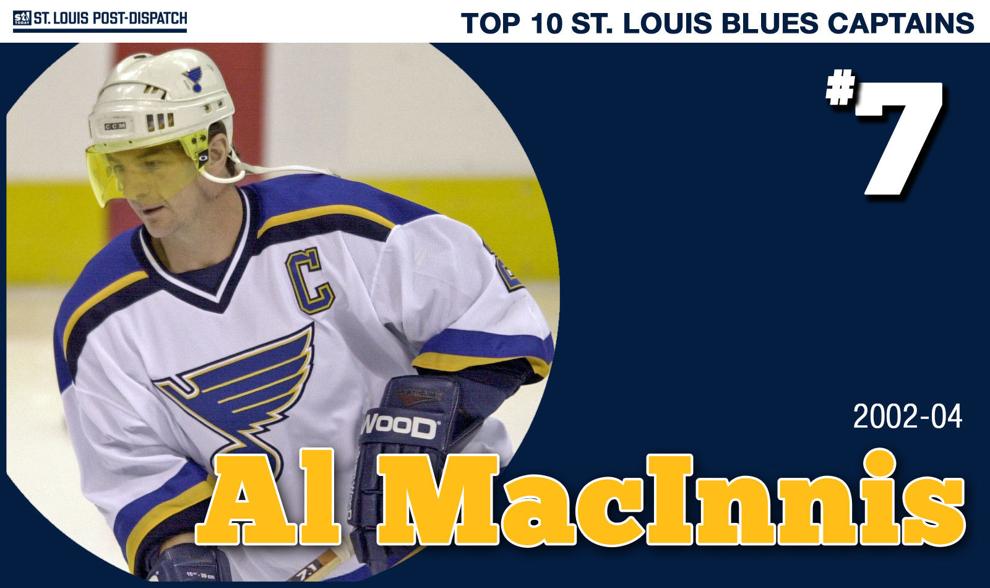 8. Dallas Drake, 2005-07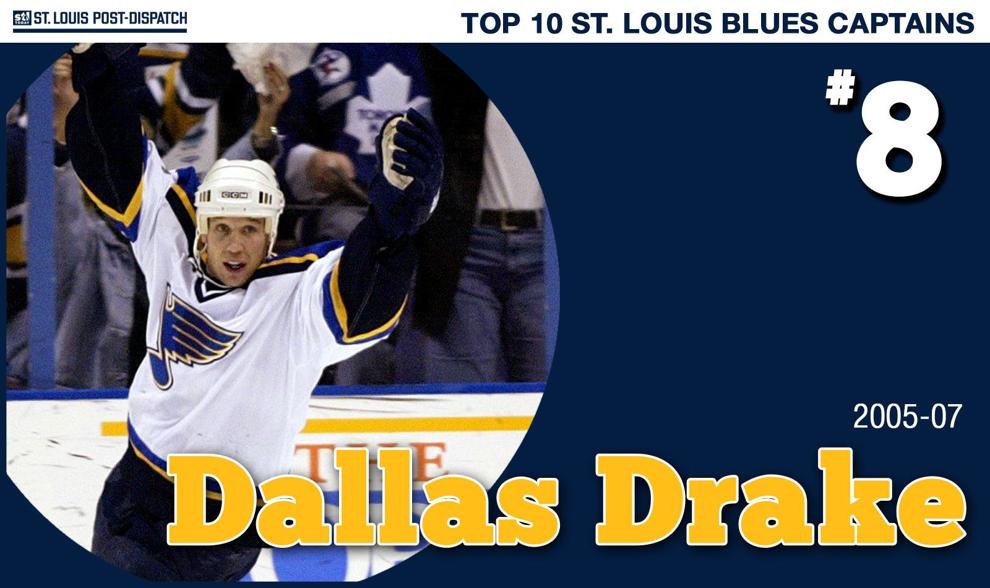 9. David Backes, 2011-2016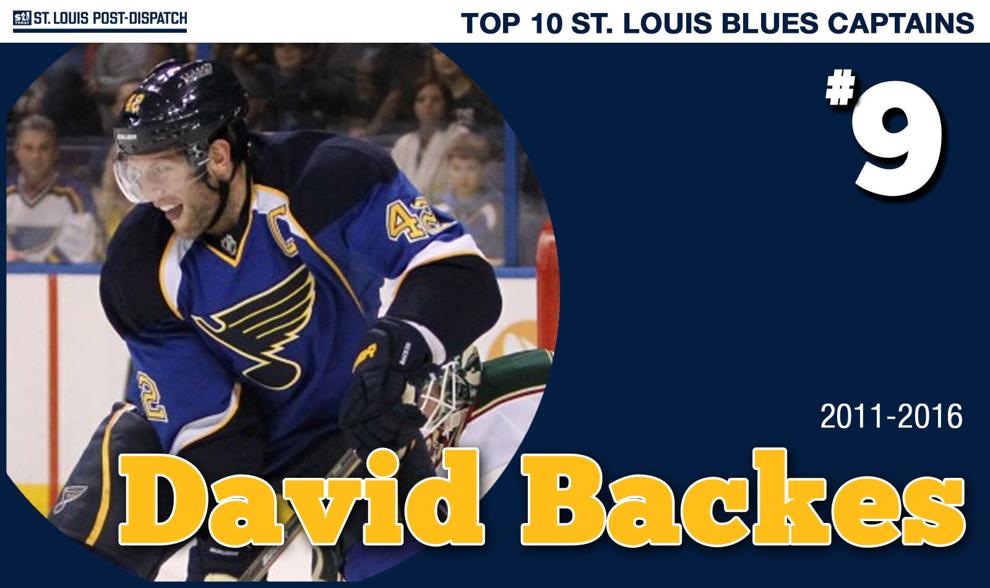 10. Alex Pietrangelo, 2016-2020