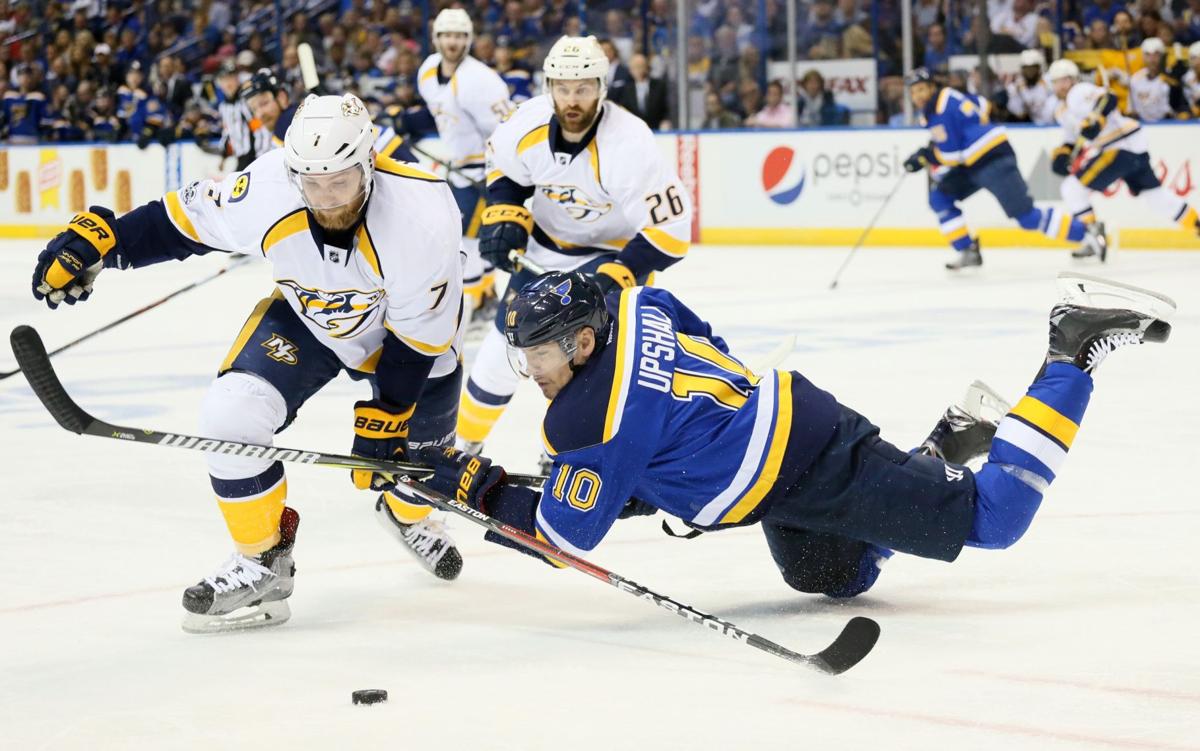 SUNDAY UPDATE: The Blues signed Scottie Upshall on Sunday to a one-year, one-way contract. 
Scottie Upshall got his first look at the refurbished Blues locker room Saturday at Scottrade Center. He has a new jersey number (No. 9), and a new stall — he's next to Vladimir Tarasenko.
"Maybe he'll give me some of his scoring touch," Upshall joked.
Otherwise, not much has changed since May, when Upshall last donned the Bluenote.
"It's nice to be back," Upshall said.
He had a busy Saturday morning, taking a physical, signing a tryout contract, and then practicing with the team. After he spoke with reporters, he was scheduled to meet with general manager Doug Armstrong and the coaches. The tryout contract, known in hockey parlance as a PTO, was a quick fix to get Upshall on the ice in time for practice.
The expectation is that he will sign a year-long contract before the weekend's out.
"I'm expecting to, but until it happens ..." Upshall said, smiling. "I've seen a lot of crazy things happen."
Upshall has spent this preseason in Vancouver, in Canucks camp on a tryout contract. He was preparing to play Thursday night against Calgary when his agent called saying that the Blues had reached out and were interested in talking. Things unfolded from there.
Upshall said the Canucks were "pretty optimistic" about his play in Vancouver.
"They just at the time couldn't really guarantee anything," he said. "It looked more positive on this end. So being familiar with this group of guys, the transition back would've been really easy."
And here he is. A veteran of 14 NHL seasons, Upshall spent the last two with the Blues including a 10-goal, eight-assist campaign in 2016-17. His preference was to stay in St. Louis all along, but as an unrestricted free agent this offseason nothing materialized with the Blues.
"We had spoke over the summer early, before the expansion draft, and it didn't seem like it was gonna work," Upshall said. "So I was kinda preparing mentally to go somewhere else."
But the rash of Blues injuries during training camp and the preseason changed everything.
"When we came into the (preseason) obviously we talked about our depth," coach Mike Yeo said. "And part of that depth is out for the year, close to it anyways with two guys that are gone now."
That would be forwards Robby Fabbri and Zach Sanford. As Yeo sees it, adding a veteran like Upshall doesn't reflect poorly on the younger talent trying to make the squad. Management and the coaching staff had no problem going into this season with two or three untested players; four or five is a different matter.
"That's tough," Yeo said. "You're not gonna see too many playoff teams with four or five guys who have never played in the league before. ... And the fact of the matter is the league is gonna get better. Things are gonna pick up next week when we go into Pittsburgh. It's gonna be a new level that most of these players haven't seen."
When it comes to keeping Upshall, Yeo said he will have a different role than many of the younger, more skilled prospects.
"He's gonna bring physicality, he's gonna bring speed, and he's gonna bring obviously penalty killing," Yeo said. "If you believe that things are gonna be called the way that they have in preseason, then special teams is gonna be a very, very important part to the start of the season."
PRESEASON FINALE
Before opening the regular season Wednesday in Pittsburgh against the two-time defending Stanley Cup champions, the Blues close preseason play with a 2 p.m. contest Sunday at Scottrade against Washington.
Yeo said he plans to rest some veterans against the Capitals, giving many of the younger players one last look before making the final roster cuts.
The addition of Upshall would give the Blues 27 players. They will take 23 into the regular season.
Upshall told reporters he doesn't expect to play Sunday. Yeo said Jake Allen would start in goal against Washington and the plan is to play him the entire game.