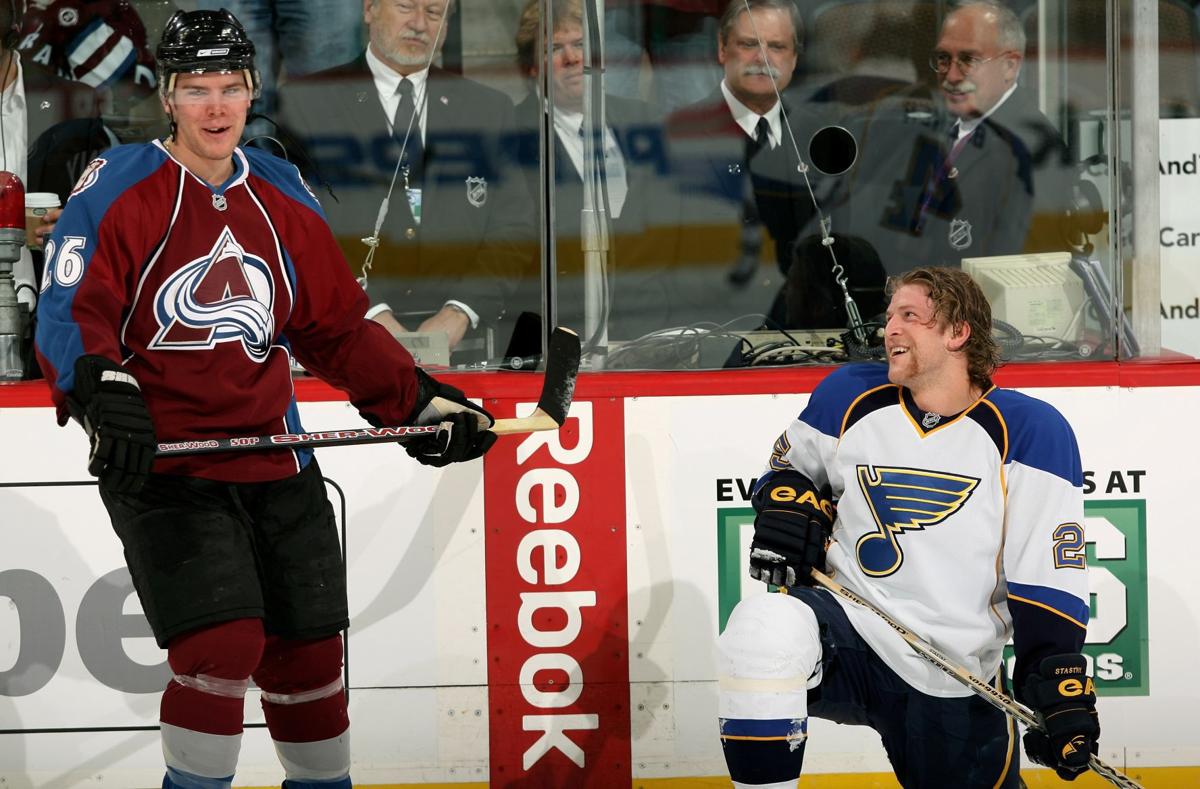 Scott Gomez, who played 21 games for the Blues last season, has concluded his hockey career is over. He announced as much by penning a "Goodbye, Mrs. Hockey" poem for the Players' Tribune website.
Yan Stastny saw it and appreciated the sentiment. Since playing for the St. Louis Sting in 1999-2000, Stastny has been in professional hockey with 14 different teams in eight different leagues and five different countries.
He grew up in the game, born in Quebec City, son of international star and former Blues center Peter Stastny, nephew to hockey-playing uncles Anton and Marian, older brother to current Blues center Paul Stastny. Hockey runs through the Stastny veins.
Yan knows it like his password, knows the rewards of competing at the highest levels, knows the harsh realities of the business. Several Blues are participating in the World Cup and will be missing when NHL training camps open. At the same time, Alexander Steen will be limited as he recovers from shoulder surgery. To that end, the team has invited Yan Stastny to camp on a tryout basis.
Stastny has not stepped on NHL ice since playing 50 games for the Blues over three seasons, 2007 to 2010. During the past six years, he has skated in Russia, Germany and Sweden. He also has overcome a torn patellar tendon injury in 2014, which took more than a year to fully heal.
He turns 34 at the end of the month. He and his wife, Marguerite, have been blessed with twin daughters, Reagan and Mila, eight months old and one minute apart. The end of his playing career is much closer than the start. Stastny knows that.
"I've been very fortunate, the game has given me a lot," Yan Stastny said. "It's taken me to a lot of different places and different experiences. And I was lucky enough to play with the Blues up and down for about three years. I've been away from home since I was 18, when I first moved out. I come back for summers three or four months, then I'm off to somewhere else.
"So, if it's the end of the road, it's not the end of the world. I've got a great wife, great kids, it's not like we're scuffling, or whatever. We'll land on our feet. If the next chapter of life is ready to start now, it starts now."
But he's not ready to write poetry. Not just yet.
"Am I tired of the game? No," he added. "Do I want to stop playing? No. I feel I still have some hockey left in me, so we'll just see what happens."
No one's kidding anyone here. The Blues' fantasy camp was this weekend, not next. They didn't call Stastny to fill a glaring hole in their lineup. For their part, they need bodies in the early days of camp. For his part, Stastny needs the work to explore the possibility of extending his career.
Can he go from playing alongside his father in alumni games, which he has done on occasion, to playing alongside his brother on a regular-season roster? Maybe, maybe not. But as long as he's playing, as long as his hockey blood is flowing, there's a chance he'll keep playing — if not in St. Louis then somewhere.
"Realistically, I'm going to go have fun," said Stastny, who makes his home in St. Louis. "I got a phone call out of the blue from (Blues general manager) Doug Armstrong and I asked him if I could take a little time to think about it … But it gives me a chance to skate and stay in shape, if something comes up, in Europe or wherever.
"Right now, I think I'm the oldest guy going to camp, so I take a little pride in that — the fact that I'm still playing. I'm just going in to compete and have some fun. I know the game has changed quite a bit since I last played in North America. But you never know what can happen. There have been longer shots."
Stastny's game isn't built on slick moves and attention-grabbing goals. His time spent in the NHL has been in a checking capacity. In 91 games, which includes stops in Boston and Edmonton, he has six goals and 10 assists.
Back in 2004-05, he had 24 goals, 30 assists and 54 points in 51 games for the Nuremberg Ice Tigers of Germany's Deutsche Eishockey League. He had 14 goals and 40 points in 50 AHL games in 2006-07, numbers that precipitated his promotions with the Blues. After returning to full health from his injury, Stastny collected 10 goals and 10 assists in 38 games last season for the DEL's Schwenningen Wild Wings.
Hockey isn't all toe-drag dips and horn-blowing highlights. The nuts and bolts of the game are equally important. For every bit of ballet there are small battles to be won, essential gears to grind.
"The NHL is the best league in the world," Stastny said. "Let's face it, at my age, there might be a lot of kids out there who are a lot faster than me. But I've been around long enough where I feel like my savviness and my mind for the game will help me in that regard.
"There will definitely be an adjustment period there. But I feel like I will adjust fairly quickly. Or to put it another way, I'll have to adjust fairly quickly."
There is nothing to lose and at least one incentive bonus, no matter what happens. "I get to hang out with my little brother a little longer," Stastny added.
As noted, Yan has had the treat of skating on a line with his famous father in exhibitions. After defecting from the former Czechoslovakia, Peter Stastny scored 450 goals and 1,239 points during a Hall of Fame NHL career. In Quebec, he played alongside his brothers, Marian and Anton, forming one of the most productive and famous lines in hockey history.
Yan and Paul Stastny have never been on the same professional team, or in the same professional camp. Both are looking forward to the experience. Perhaps there will be a chance, be it in an exhibition game or otherwise, to resurrect that cohesive piece of family history.
"It's exciting," Paul Stastny acknowledged. "The only time we played together was when we were in summer leagues. My dad made sure we were on the same team so that, A) we could play together and, B) he wouldn't have to take two cars or go two different places several times a week."
Paul, 30, refers to his older brother as his "best friend," a role model whose trail he followed through the various stages of his hockey career. To have him in camp, to possibly compete alongside him, would be special.
"It was always a thought that sometime we might play together, whether it's a training camp or a professional game, or when we're done playing," Paul Stastny said. "It's very unique, something you kind of dream about but not something you ever expected.
"It's something I'm sure my dad's thought about, my parents pulled for. Hopefully it's something that is coming to fruition. We're both excited about it. I think we both want to embrace it and have fun with it."
And for Yan Stastny, that's the thing. He'll be No. 37 in camp, working hard and having fun. He's not ready to start rhyming.