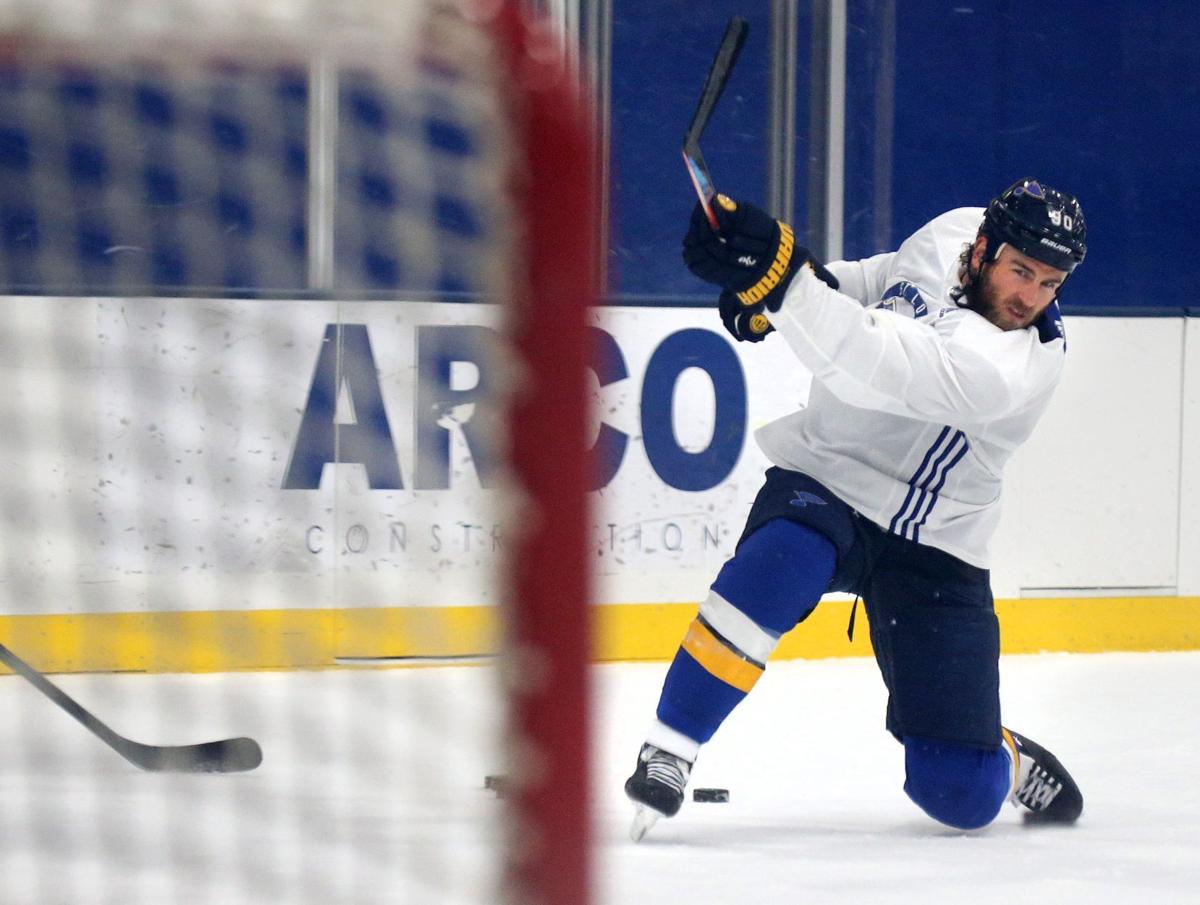 The NHL postseason begins on Saturday with five games, and the Blues figure to be watching as intensely as any other hockey fan in North America.
"Fans are definitely going to be inundated with a lot of sports, basketball and golf and hockey," defenseman Robert Bortuzzo said, "and I think some guys have mentioned before, it's going to be like the March Madness field where there's (hockey) games on from when you wake up to when you go to bed, which is great for the game. And I'm sure we'll probably walk over to the rink and poke our head in and watch a period here or there. Looking forward to it. It should be a fun ride."
"Between the hockey and the WGC golf tournament that's on," goalie Jake Allen said, "I'm sure every hockey fan and all the players, we're all still fans of the game and we're all interested. We've been starved without sports for a while, especially hockey, so it will be interesting to watch. I think we're all looking forward to it."
In Edmonton, where the Blues are, the first game will come on television at 10 a.m., and the last game will end about 10 p.m., with three being played in Toronto and two in Edmonton. There will also be five games on Sunday (with three in Edmonton) and then as many as six per day for the rest of the play-in round.
The Blues didn't practice on Thursday, giving the players their first full day off in the bubble, which included a team dinner at the Chop Steakhouse, one of the restaurants inside the secured area.
"Hung out, had some breakfast," Allen said. "I read some of my book, hung out with the guys, played some cards in the afternoon, then we had a team dinner last night. Just more relaxing and taking a little break and enjoying the company."
"Couple extra hours of sleep," Bortuzzo said. "(Ryan) O'Reilly picked up the tab for the boys, so we had everyone out and had a nice fun dinner."
Tarasenko sits out practiceVladimir Tarasenko didn't take part in practice on Friday at the Terwillegar Community Recreation Centre, with what coach Craig Berube termed a maintenance day.
The Blues game on Wednesday was Tarasenko's first in more than nine months, since he got hurt on Oct. 24 and had surgery five days later. Against the Blackhawks, Tarasenko played 15:07 and had four shots on goal. Like the rest of the team, he was held scoreless as the Blues lost 4-0 to Chicago.
"I don't think the first exhibition game was much of a test, to be honest with you," Berube said. "But going forward, here in the round robin, he's gonna have to really get after it and, and trust his shoulder and trust himself and really push himself so he's at a very high level when it's over and we're starting the playoff round. So that's what I'd like to see him do and I haven't really sat down and talked to him about it, but I'm sure he's thinking the same thing."
Alexander Steen, who sat out Wednesday's game and has been battling with a minor injury through camp, was back on the ice, according to Berube, and Vince Dunn, who missed the bulk of the St. Louis portion of training camp, has joined the main group of players.
"Practice was fine," Berube said. "We did a lot of team stuff again. It's important in the playoffs how well you're playing as a team. We did a lot of five-man unit stuff, a little bit of controlled scrimmage stuff, but I just want to see us play the five-man unit hockey right now. We really focused on a lot of that stuff today.
"We watched video from that game and there's a lot of areas that we have to improve on and get better. You know, our guys know that they know what it takes to be successful in the playoffs."
BluenotesShortly before entering the bubble, Bortuzzo got engaged. "Happy to be engaged," he said. "I said I couldn't go another day without being engaged so I had to get it done before the bubble. It was a cool moment for me." … Asked how his first game action in a long time went on Wednesday, Allen said, "Quick." He played just the third period, so he had 20 minutes of ice time. "We don't really have a whole lot of time, so we have to find a way to jump right into it," he said. "It's the timing, finding bodies, finding pucks. I know it was only 20 minutes but hopefully I get a bit more ice time here." … Cap watch: While Bortuzzo wore a red Cardinals cap for his Zoom news conference, Allen wore a TravisMathew Golf hat. So far, three out of five Blues players in off-day media sessions have worn a Cardinals hat.