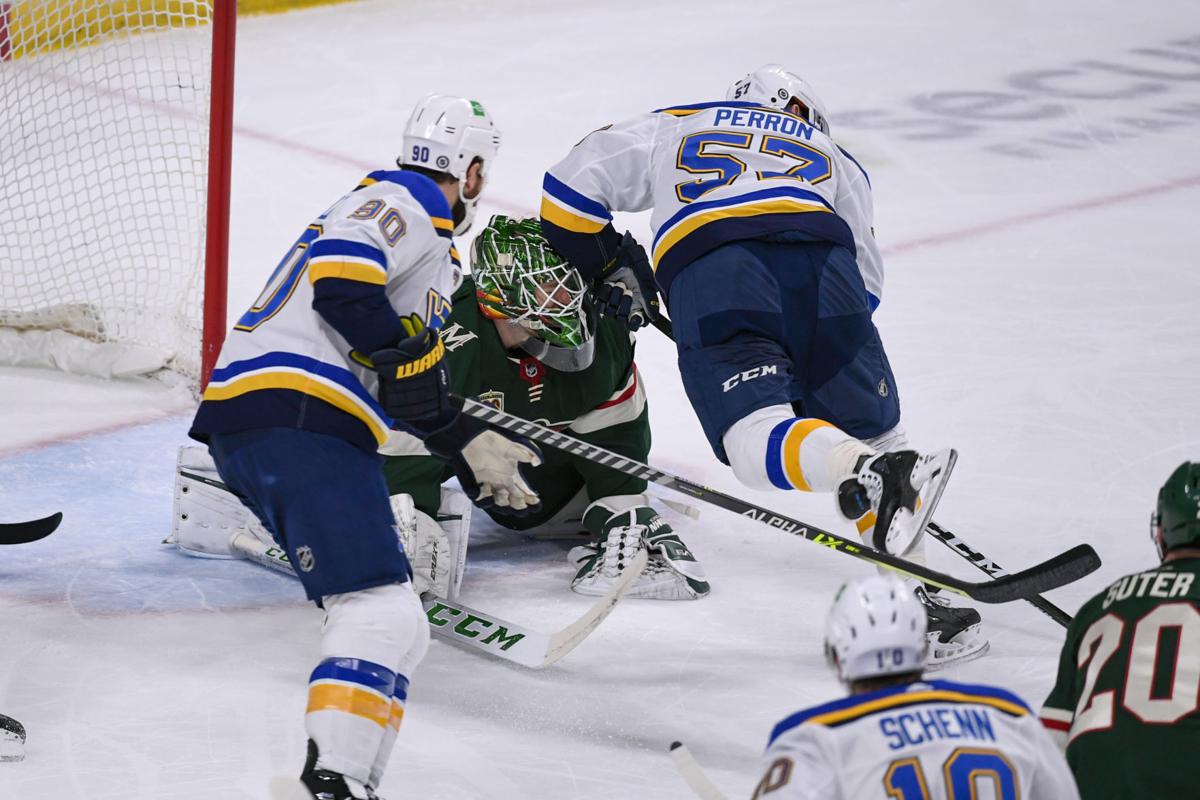 ST. PAUL, Minn. — During a three-game stay in the Twin Cities, the Blues tap-danced all over that fine line between winning and losing.
On Wednesday, they rallied from deficits of 2-0 and 3-1 to pull out a 4-3 win on Robert Thomas' game-winner with 23 seconds left.
On Thursday, they squandered leads of 3-0 and 4-2, with Kirill Kaprizov's goal with 52 seconds left in regulation sending it into overtime for Minnesota. But the captain, Ryan O'Reilly, scored in OT for a 5-4 Blues victory.
Which brings us to Saturday. More squandering.
For the second game in a row, the Blues took a 3-1 lead into the final period. For the second game in a row, Minnesota sent it into overtime with a last-minute goal. This time is was Jonas Brodin, with 59.1 seconds left.
Only this time, the Wild got the overtime winner, from Kevin Fiala, at the 2:16 mark. So it was a 4-3 overtime loss by the Blues, snapping their winning streak at four games, but thanks to the wonders of the overtime point, keeping their points streak alive at five games.
Getting five out of a maximum six points in three games against a Minnesota team (32-14-4) that has one of the NHL's best home records, certainly is something to be happy about. Especially when your lineup is down Vladimir Tarasenko, Torey Krug and Vince Dunn — all out with injuries.
"Definitely, it was a great road trip," coach Craig Berube said. "Guys played hard, did a great job."
"Grabbing points here against a good hockey team, three in a row on the road, it's not easy to do," alternate captain Brayden Schenn said. "Guys came together and bought in and grabbed points, obviously huge points.
"We'd like to have two tonight, we let one slip away. But at the end of the day, we'll take the point and move on."
At 23-19-7, for 53 points, the Blues could wrap up fourth place and the final playoff spot in the West Division in the next week.
Fifth-place Arizona lost to Vegas 3-2 in OT Saturday, so the Blues remain three points up on the Coyotes with three games in hand. 
One point gets them that much closer. But when you have a 3-1 lead entering the third period and can't finish the job, well, it's frustrating.
"We turned pucks over in the third period, didn't make very good decisions," he said. "Gave up, I think, 18 shots in the third period, something like that. We just didn't manage the third period properly."
Actually it was 19. The Wild had a 19-7 edge in shots on goal in the third. The Blues approached the final seven, eight minutes of regulation as if they were on one long penalty kill.
"We just sat back too much," Schenn said.
Why can't the Blues get more aggressive when it's time to close out games?
"There's no reason not to be," Berube said. "We played a solid two periods. Got a 3-1 lead, just go close it out. All you gotta do is just manage the game. You gotta just advance the puck, make sure you get it deep, get line changes, make hard plays."
The Blues didn't do enough of those things down the stretch.
"The second goal's just soft all around, and it goes in our net," Berube said. "Now it's 3-2. And then they got the goalie out. With the goalie out, we gotta do a better job of (getting in) shooting lanes and blocking shots. That shot's gotta be blocked in my opinion."
Minnesota's second goal, which made it a 3-2 game, came on a deflection by Nico Sturm with 5:51 left in regulation.
"The second goal is either a little bit lucky or very talented," said David Perron. "And probably a little bit of both. . . . Credit him for getting that, but it's going way wide and he tips it right back in.
"But obviously you gotta find a way to close out there."
They couldn't. Next came Brodin's tying goal, from distance and through traffic, with Wild goalie Kaapo Kahkonen pulled for an extra attacker.
"We probably block the shot, maybe it's over," Berube said. "We win the game."
Fiala's overtime game-winner came from the right circle. Justin Faulk had good coverage on Fiala, but then turned to see if he needed to help inside. Just in that instant, it gave Fiala a little more room to send a blast past goalie Jordan Binnington.
Binnington had some stellar saves, stopping breakaways by Zach Parise and Kaprizov in the second period. But the Blues had some prime chances themselves. Jake Walman ripped a shot from the point off the post — it was shot so hard the post may have said "ouch."
Just as the second period was ending, O'Reilly sent a perfect pass to Perron backside for what looked like a tap-in goal. But somehow Kahkonen — the same guy who allowed nine goals against the Blues on April 9 — got over to rob Perron.
"I think I got like tapped on the hands, so it wasn't like the perfect shot that I maybe could've done," Perron said. "But I still thought I was scoring there. He had a great save."
Perron scored the Blues' third goal of the night in the second period, after Jordan Kyrou and Sammy Blais had scored in the first. Perron thought he had a great look in overtime as well.
"I'm pretty disappointed in myself in the overtime one," Perron said. "I feel like I had a good look coming through the middle. I had the high blocker. I just (missed) the net. I put a lot of pucks on net tonight, and sure enough that's the one that I missed wide."