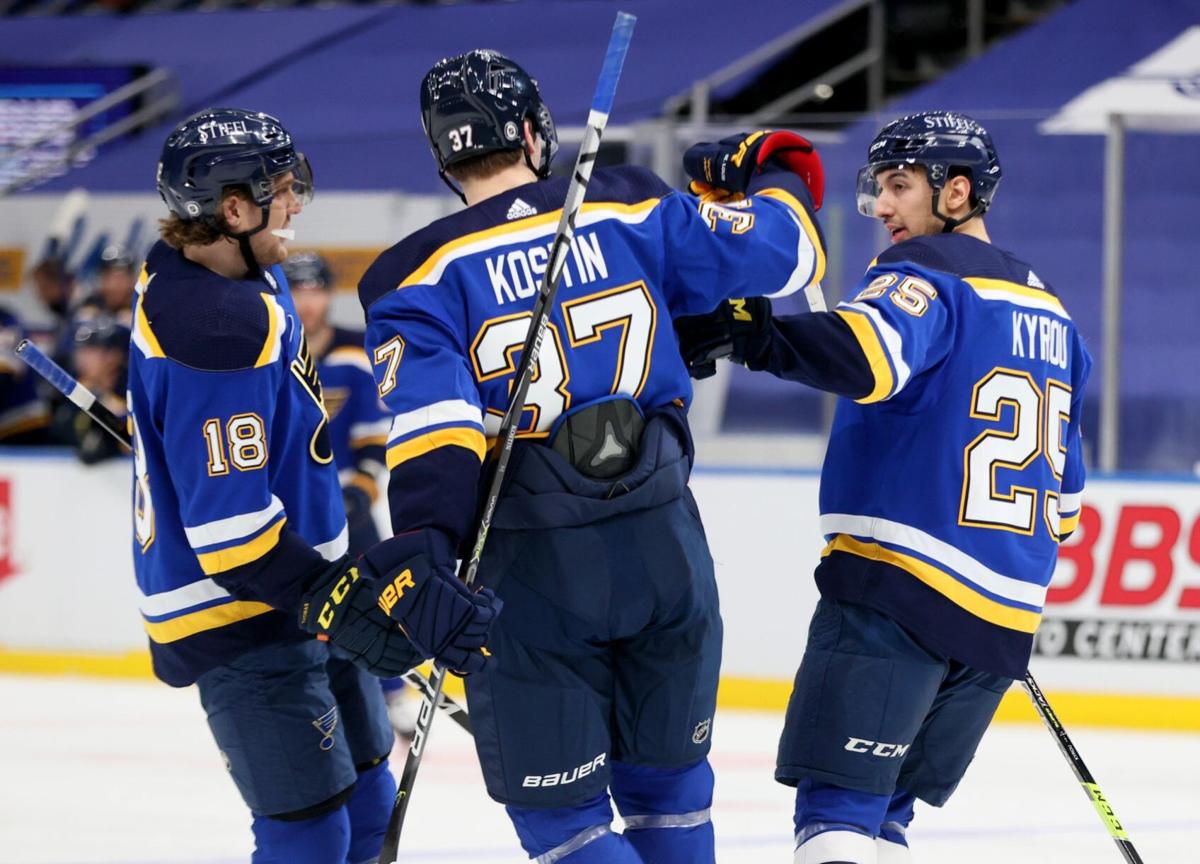 Blues beat reporters Jim Thomas and Tom Timmermann joined columnist Jeff Gordon to discuss the Blues hot finish and their troublesome playoff …
The Blues have made it to the finish line, all 56 games. And that certainly didn't seem likely back in January, February and even March, when all kinds of games were postponed for all sorts of reasons — mainly COVID-related.
But the regular season is history following Thursday's 7-3 victory over the Minnesota Wild at Enterprise Center. The Blues got two goals apiece from David Perron, Brayden Schenn and Jordan Kyrou to overcome a listless start and a 3-0 deficit.
Zach Sanford broke out of a prolonged slump to get the rally started. And Perron became the first Blue in nearly two decades to finish a season scoring more than a point a game.
Now the real race begins. Against Colorado in the first round of the playoffs. Game 1 is Monday at Ball Arena in Denver.
"We know that they have a lot of talent over there," captain Ryan O'Reilly said. "They work hard. But for us, it's an exciting challenge. We're gonna have some fun, and we're gonna beat them."
The Blues will have a running start into the postseason, having finished with a flourish despite a grueling closing stretch of 13 games in 22 days to end the regular season, with 10 of the 13 coming against playoff teams.
The Blues crushed it, going 8-2-3 over those final 13 contests.
"You look at it before — the schedule — and I think everyone was aware of the schedule and you're all a little bit — I don't know if scared's the right word," Perron said. "But just the amount of hockey, the amount of travel — going to LA, Vegas, all that stuff. Minnesota.
"And then all of a sudden, you show the record at the end of the year, we did the job. It was fun to go through that and we're gonna have big battles here."
That 13-in-22 stretch came on the heels of a 3-2 loss at Arizona on April 17, with the Blues squandering a 2-0 lead in what loomed as a showdown match at the time.
"It was a tough loss in Arizona," coach Craig Berube said. "It was a big game and we didn't really treat it like a big game. I'm not saying they didn't have that mindset going into that game, but we didn't play like it.
"And I think guys realized how well we had to play down the stretch here and come together and do things to get into the playoffs. Our backs were against the wall a little bit and the guys responded really well."
As he has done since the Blues clinched a playoff berth last Friday in Vegas, Berube tinkered with his lineup Thursday — in part because of injuries and in part to rest some veterans.
Tyler Bozak returned to action after resting Wednesday. Sammy Blais was back after missing five games with an upper-body injury. But Jaden Schwartz and Colton Parayko were out, with Schwartz resting and Parayko "banged up" and "day-to-day" according to Berube.
Minnesota (35-16-5), with its third-place playoff slot sealed Wednesday night, also rested several regulars: Jonas Brodin, Kevin Fiala, Kirill Kaprizov, Jared Spurgeon and Mats Zuccarello.
Which meant this one had the feel of a late-in-the preseason game where you play many of the regulars but still are looking at some fringe players. Unfortunately for the Blues (27-20-9), they started the game with preseason-like intensity. In other words, not much intensity at all.
Minnesota scored twice in the first four minutes, six seconds on goals by Nico Sturm and Ryan Suter. With the period winding down, Marcus Foligno batted in a rebound for his 11th goal of the season and it was 3-0 Wild. At that point the only question was how badly would the Blues lose?
"A little bit, not only embarrassed about the first period," Schenn said. "But the effort obviously wasn't there. Kind of pretty relaxed. Chief came in the first intermission and said: 'We're not playing like that tonight.'"
"It was pretty obvious what was going on in the first period," Perron said. "Like Hitch (Ken Hitchcock) used to say, we just threw our sticks on the ice and played."
So the intermission talk after the first period was about getting back to details, execution, respecting the game — and as important as anything — not hanging goalie Jordan Binnington out to dry.
"I think that matters," Perron said. "It doesn't matter if it's exhibition."
After their first-period slumber, the Blues hit the Wild with a four-goal barrage over 8:47 in the second period to take the lead.
The previously-slumping Sanford got it started with his 10th goal of the season, but his first since April 9 to get the Blues on the board at the 5:16 mark of the second.
"It was nice to see him get rewarded … and spark the team, and ultimately spark us to a win," Schenn said.
A couple of minutes later, Schenn made the Wild pay on the power play with his 15th goal of the season. Next up was Perron with a roof shot from the right circle to make it 3-3 with 8:27 left in the second. It gave Perron 56 points on 18 goals and 38 assists.
Since this was the Blues' 56th (and final) game of the regular season, it meant that Perron would be the team's first point-per-game scorer over a season since Pavol Demitra during the 2002-03 campaign. Demitra had 93 points in 78 games that season.
"It is nice for sure," Perron said. "It's been in the back of my head for a bit. After a certain amount of games you don't know how long you can sustain that."
He sustained it. Perron finished with 58 points in 56 games because he added an assist and another goal before the game ended.