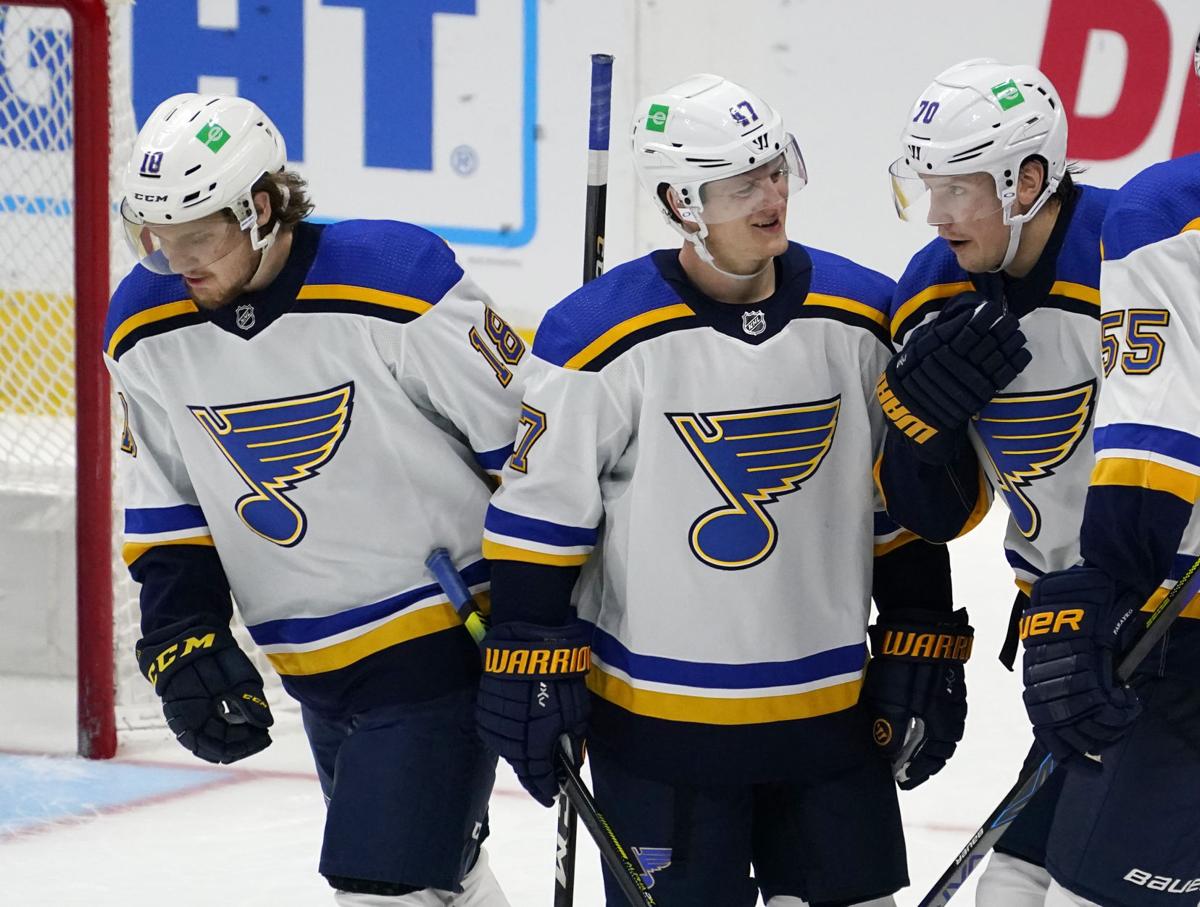 DENVER — More than three months later than usual, hockey season began Wednesday night for the Blues in the shadow of the snow-capped Rocky Mountains. So late in fact, that the 2020 part of "2020-21" season can be scrapped.
Unlike last season, no banners were unfurled to honor a Blues' Stanley Cup championship. There was no pomp and circumstance, not even any cardboard cutouts in a fan-free Ball Arena. That's right, the home of Stan Kroenke's Avalanche is no longer called Pepsi Center. Naming rights for the venue now belong to an aluminum packaging company. Pretty sexy, eh?
Be that as it may, the Blues began the season with a flourish, surviving a rough start for a 4-1 victory. It snapped a three-game losing streak to the Colorado hockey team, the odds-on favorite to win the newly-constituted West Division. For openers, there wasn't much to complain about for the visitors.
"We're ready to go, we're ready to prove to everyone that we're still a top team in this league and a Stanley Cup contender," said Robert Thomas, who assisted on the Blues' first and last goals. "That was our drive today, and I think we played a great team game and really showed everyone to not sleep on us."
Things couldn't have started worse for the Blues. The team was barely on the ice for pregame warmups when it was announced that Mike Hoffman was ineligible to play because of work visa issues. Yes, that Mike Hoffman, the sharp-shooting forward from Kitchener, Ontario.
"Sometimes visas just take time," general manager Doug Armstrong said via text after the game. "Usually, they are turned around in 24 hours but with COVID everything is slow."
Both Thomas and Oskar Sundqvist said they didn't know Hoffman would be unavailable until they showed up to the rink pregame.
And things got worse before they got better. If coach Craig Berube said once in recent days that the Blues had to stay out of the penalty box against the potent Avalanche power play. . . .Well, he said it several times.
Alas, the Blues were penalized four times in the first 33 ½ minutes, including a hooking penalty by Marco Scandella just 61 seconds into the game. The Blues killed that penalty with ease, but a couple of minutes after doing so, they were back in the box.
This time, Colorado struck just 12 seconds after Sammy Blais went off for elbowing. with an Andre Burakovsky goal from the right circle. Just 45 seconds after the goal, Matt Calvert hit the post for Colorado. The Blues were scrambling.
There are shared experiences with hockey, even if you can't be at the hockey game.
"Yeah, it's not what we want," Berube said. "A couple tough calls. We gotta make sure that we're a disciplined hockey team. I think over the last two years we've been in the top five in the league in (fewest) penalties. We'd like to keep that number down. You go in the box four times against this team, it's dangerous."
But the Blues regrouped with goals by Oskar Sundqvist and Jordan Kyrou to take a 2-1 lead after one period. And then, after surviving an onslaught of Colorado shots in a scoreless second period, they added goals by newcomer Kyle Clifford and Sundqvist in the third.
Sometimes, when you least expect it, Sundqvist will pop up and put his stamp on a game. Wednesday was one of those games. In Hoffman's absence, Sundqvist was bumped up to the second line from his usual fourth-line role _ and acted like he'd been skating with Thomas and Jaden Schwartz all camp long.
"He came up big tonight," Berube said. "I thought that just with the matchups it was a good move to put Sunny up there with Thomas and Schwartzy against the (Nathan) MacKinnon line and (Nazem) Kadri line, so they did a good job."
So did Blais, who was headed for a night in street clothes were it not for Hoffman's absence. He was slotted into Sundqvist's spot on the fourth line with Clifford and Ivan Barbashev and played well.
"It's the depth of our team if you think about it," Berube said. "The last three years, we've been beating teams, we got extra guys that are hungry to play and when they get an opportunity they go in and do the job. I think Doug does a great job in management of providing good players and making sure we're deep."
After outshooting the Avalanche 18-5 in the opening period, the Blues watched Colorado take control in the second _ outshooting St. Louis 15-6. A lot of those shots were from close range, with the Avs able to get inside frequently. But they got nothing by Binnington, who had yielded 11 goals over his last two starts here last season. He was pulled in both games.
Different night, new season.
Stillman: Armstrong has a record of strong decisions, strong moves, wins and a Cup
"I'm excited to play hockey again," Binnington said, after stopping 26 of 27 shots. "We came out strong as a team. A couple penalties, but we did a good job, the boys stepped up and we found a way to get it done. . . .It's good to get in that win column again for sure."
Binnington and the Blues were able to survive a couple of more penalties in the second period, both infractions by Robert Bortuzzo who otherwise played a strong game.
"We were finding ways to block shots, and be predictable for each other on loose pucks," Binnington said of the PK work. "They got some weapons over there, so it's overall a pretty good night."
For the most part, the Blues locked it down in the third period, keeping the Avalanche outside and denying them much in the way of open ice. During the second period intermission, Berube said he talked to the team about better breakouts, and getting the puck behind the Avalanche and going to work.
"And that's what we did," Berube said. "We had about a four-minute span there where we just controlled the puck in the offensive zone. . . .So that was huge. I thought that took the wind out of them."