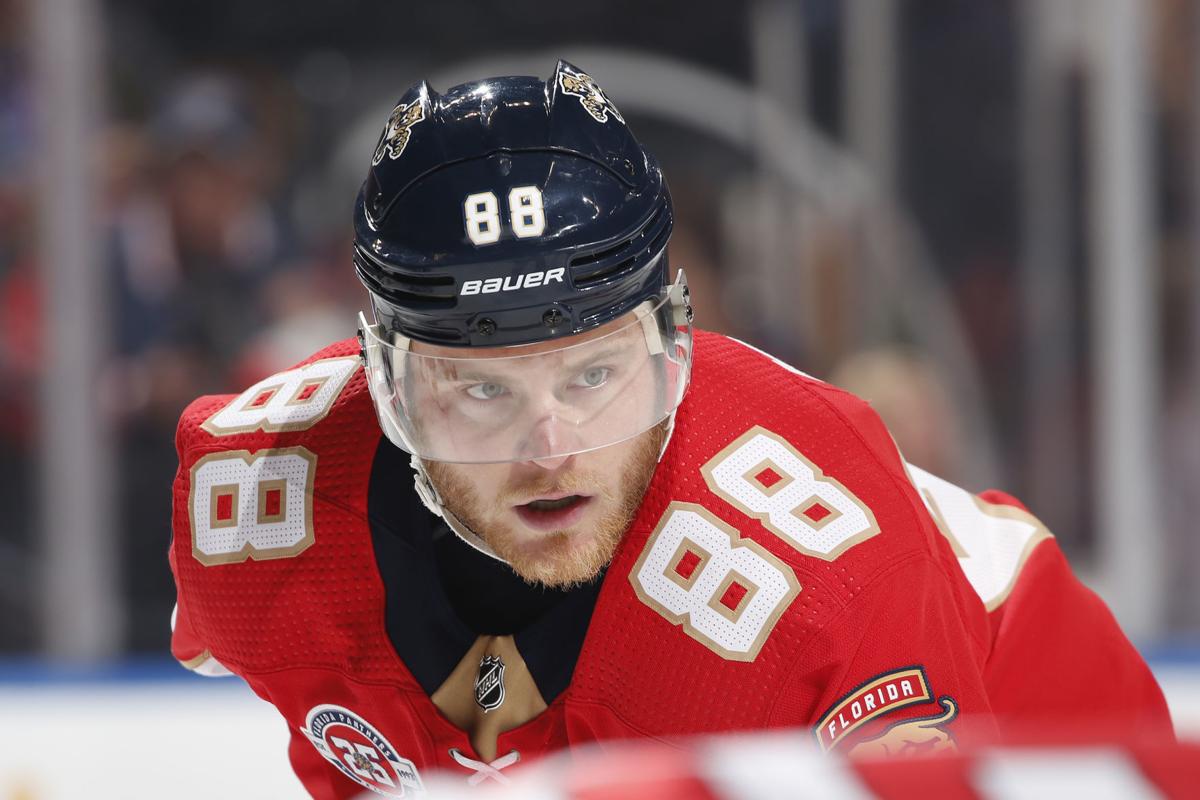 The NHL is, increasingly, a young man's league, as evidenced by the Blues not re-signing 31-year-old Pat Maroon after last season and by Jamie McGinn, also 31 and a veteran of 617 NHL games with six teams, not having a job at the start of this season.
But there comes a point where a team can be too young, and that's where the Blues find themselves at the moment. That's why the team has brought in McGinn and fan favorite Troy Brouwer, who's 34 and also out of work, for tryouts. McGinn skated with the team in practice on Monday at Centene Community Ice Center and Brouwer will join the team for practice on Tuesday. Both are with the Blues on professional tryout offers, which essentially gives the team 10 days to decide whether to sign the players to contracts.
The Blues, in the span of about two weeks, have lost two of their more experienced forwards. Vladimir Tarasenko isn't expected back until April after shoulder surgery and Alexander Steen is out for a month with a high ankle sprain. General manager Doug Armstrong said the team does have players at their San Antonio farm team who are doing well, but they're all plagued by the same problem: They would make the team even younger.
"If you lose a Steen and a Tarasenko and you put in guys with no experience, there's a difference," Armstrong said Monday. "It's a man's league. We want to respect the league and see if there's veteran players who can help us. If they can't and if the young guys are better, they're better. But I've seen teams that have gone totally young and there's growing pains with that and I think we've stated all along that we want to try and be competitive with the upper echelon teams and most of those teams are experienced also.
"In our game in Calgary, I think we had eight players on our roster with less than 200 NHL games. We played five guys with less than 100 at the start of the season. It's an experienced league and we want to see if there were any experienced players that can help us. ... We don't want to get in a situation where we have 11 or 12 players without experience. There's no guarantees for Jamie or for Troy, but we're going to bring them in and take a look at them."
The Blues will go into their game with Arizona on Tuesday with just 12 forwards on their roster – there are no plans to call anyone up and if something happens in the morning they'll play seven defensemen – and the team has two open roster spots. So while Jordan Kyrou and Klim Kostin, the two hottest commodities at San Antonio, are both very much in the Blues' plans, and another forward, Nathan Walker, is doing well, they aren't part of the team's plans at this moment. If neither McGinn nor Brouwer works out, the team can part company with them and look at the prospects.
"I think they're competing with themselves, or with everyone, to see where they fit on an NHL roster," he said. "Right now, we have 12 healthy guys that are here. We'll see where they fit in. It's not a competition for one job. It could be zero jobs. We'll see how they play or it could be two."
McGinn wasn't in an NHL training camp this season and played two games with the AHL's Charlotte Checkers, but said "it didn't work out there and I had the itch to play." He played last season in Florida, as did Brouwer. It was his most recent stop in an 11-year career that started in San Jose and went to Colorado, Buffalo, Anaheim and Arizona before Florida. (He had four goals and three assists in 19 games last season.) At two of those stops, Colorado and Buffalo, he was a teammate of Ryan O'Reilly and the two were traded together to Buffalo in the summer of 2015. The two have remained close; O'Reilly was in McGinn's wedding over the summer.
"At 31 years old, I'm considered an old guy in this league," said McGinn, who had been keeping in shape in Toronto. "That's pretty crazy to think, but I still love the game of hockey, still want to play and think I can bring an element to any team and I want do that right now."
"I think he fits in well with our style," O'Reilly said. "He's a guy that can play on any line, he's physical, he goes to the net, he makes little plays. … He's awesome inside the room too, once he gets comfortable. He's a great voice and says the right things at the right times and helps us out that way being more vocal, especially with guys like Steener going down. It's a good opportunity here and I hope everything goes well and he can join our club."
"I thought he skated well (Monday)," coach Craig Berube said. "He worked hard. He's a hard-nosed player. He gets on pucks, goes to the net, he does things like that. He bangs bodies. That's the kind of player he is. He looks fine to me out there."
Brouwer, 34, played with the Blues in the 2015-16, highlighted by him scoring what had been, until Maroon's goal vs. Dallas, possibly the biggest goal in Blues history: a third-period game-winner in Game 7 against Chicago in the first round of the playoffs. The Blues let him leave as a free agent after that season and he made stops in Calgary and Florida. Last season, he had 12 goals and nine assists in 75 games for the Panthers. He has been skating with a junior team in Calgary, where he lives.
"The way we're built right now, we have certain young guys inserted in our lineup, which is a good thing, and they're doing very well," Berube said. "Guys down there (in San Antonio), they're playing well down there and I think bringing in a couple veteran players that have played in the league for some time now and had success already, know how to play, is not a bad thing."
McGinn is hoping that both he and Brouwer can make it.
"He's a good hockey player, he's a good guy, a good locker room guy," he said. "We talked yesterday and we both want to stick around so we're not going to treat it like we're trying to kick each other out. We're going to help each other and hopefully we can both bring something to the team."