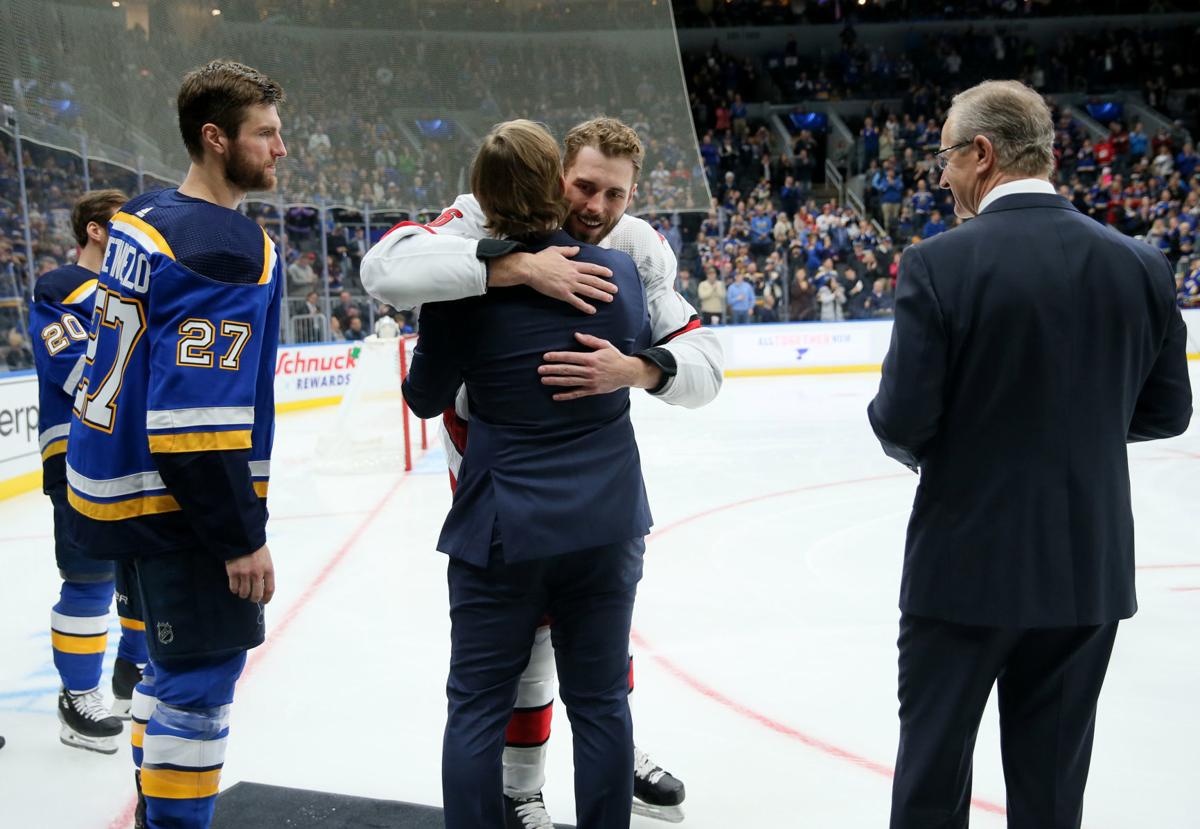 In discussing the Marco Scandella trade last week, Blues general manager Doug Armstrong hinted strongly but stopped just short of saying that Vladimir Tarasenko would be back before the playoffs started.
As the trade deadline came and went without a Blues move Monday, Armstrong said it.
"It was a situation where we're getting Vladi back," Armstrong said via Blues social media.
"We think he should be back within the next few weeks. That's a huge addition to us."
Although he's not taking part in most team drills and is doing nothing resembling contact work, Tarasenko has begun skating with the team on a regular basis. All told, he has taken part in six team skates — either of the morning skate or optional skate variety — including the last five.
He accompanied the team on its weekend trip to Dallas and Minnesota.
Asked Sunday night about Tarasenko's presence on the trip, coach Craig Berube replied: "Well, we can skate him. He came on the ice twice with us on this trip, so it was good."
So the fact that the Blues made no moves on trade deadline day was not surprising given the team's salary cap constraints, Armstrong's confidence in the current roster, and the expected return of Tarasenko before the end of the regular season.
"The sooner we can get Vladi back, the better," Armstrong said. "I'd like to see him get as many games in as possible, to get his timing back before the postseason.
"He's working very hard. I know he's excited. ... We weren't going to find a Vladimir Tarasenko at the trade deadline."
Coming out of the all-star break, Armstrong told the Post-Dispatch that he would look into trading for a top-six forward only if it became clear that Tarasenko would not be back from his left shoulder surgery until the playoffs started.
The fact that young talents such as Zach Sanford and Jordan Kyrou have turned up their games recently has helped ease Armstrong's mind. So has the fact that the Blues snapped out of a 2-7-3 funk by winning their last four games — and by a combined score of 13-2.
"Yeah, they certainly made it where we weren't going to subtract from the team," Armstrong said. "They've earned the right to stay together."
In the postgame locker room following the Blues' 4-1 victory over the Wild, players expressed hope that Armstrong would indeed keep the team intact.
"I don't feel like we need any changes," Oskar Sundqvist said. "We're starting to find our game and we're a tight group in here, especially in the D-zone. We're finding our roles, and that's important now and during the whole season ...
"We had a tough period there, but we started turning things around. I think it's starting to look good."
And from Brayden Schenn: "We're in first place. We went in a (bad) stretch there where we're still in first place. We're fighting for first place. I'm sure they feel in that (front) office that we have a chance to do it again. It's not easy, but we're a veteran team that's finding ways to win."
Armstrong was not made available to the local media Monday but will hold a media session Tuesday.
The latest STL Blues hockey news, NHL headlines, scores, standings and rosters.