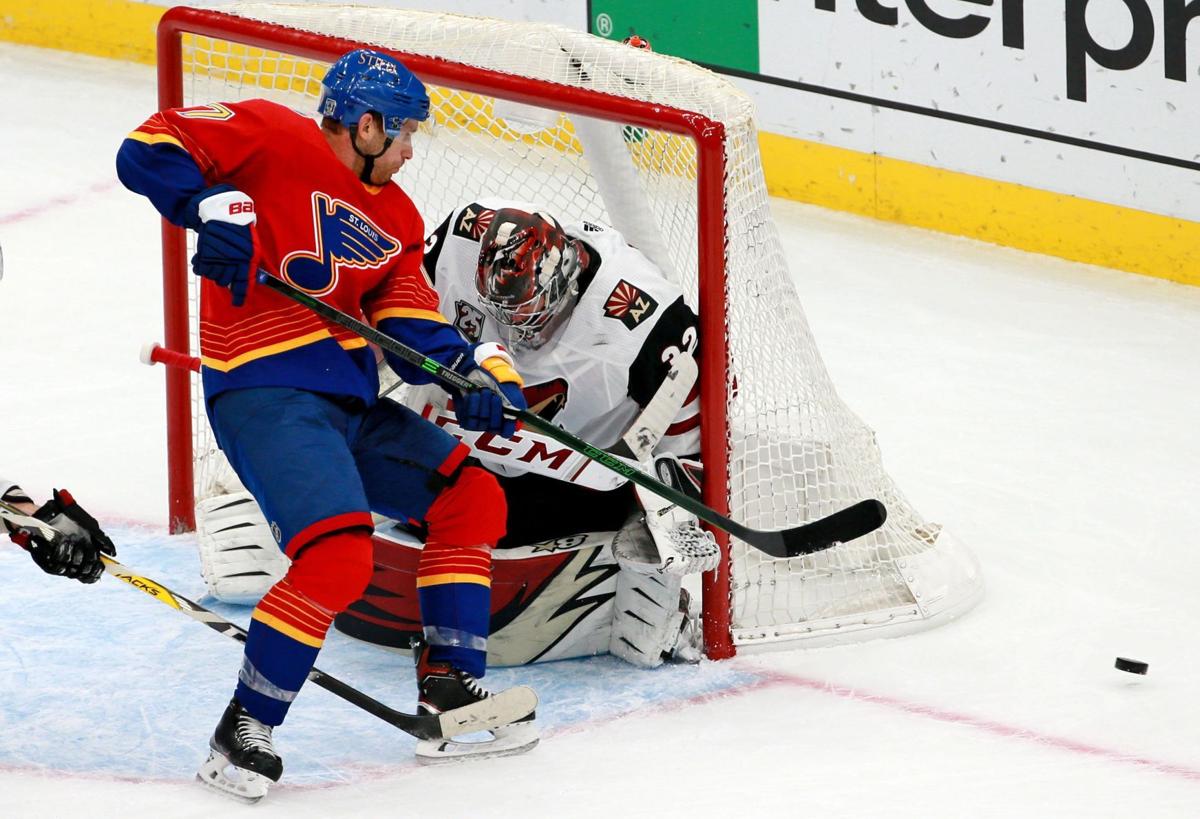 GLENDALE, Ariz. — This whole NHL season, let's face it, is going to feature teams hopscotching from one adventure to another. Sometimes one calamity to another.
The Blues' game on Monday against Arizona — Game 7 in a series like none of the NHL has ever seen but which may well not make the top five unconventional events by the time everything is done — was supposed to be the end of a hectic stretch of 14 games in 24 days, a whirlwind of games that could set the tone for the Blues season in a matter of a few weeks.
Instead, because of COVID-19 postponements, the Blues will end up playing just 12 games in those 24 days and they twice had three days off between games. Other than any schedule-caused uncertainty or Coyotes-caused anxiety, it's been almost relaxing. Now, the Blues have a new problem: Do they have enough players?
The Blues already had injuries to centers Tyler Bozak (upper body, likely concussion) and Robert Thomas (broken hand) and on Saturday, they were joined by left wing Jaden Schwartz (lower body), whose status was described as day to day. (The Blues didn't practice on Sunday.) Add in an injury that has kept Sammy Blais out of the past three games and that's four of the Blues' 12 forwards from opening night (Blais stepped in when Mike Hoffman didn't get his visa in time) that were missing on Saturday. And then there's Oskar Sundqvist, who seems to play as though getting drilled by a puck is fun and has taken a beating but stayed on the ice.
What figures to be tested in the weeks ahead will be the Blues forward depth. Where once there was a question of how the Blues would play everybody, now all of a sudden the question is if the Blues can put 12 on the ice. Had Sundqvist not been able to go on Saturday, the Blues, based on warmups, would have had to go with 11 forwards and seven defensemen.
The lineup for Game 6 with Arizona on Saturday featured Mackenzie MacEachern (his fourth game of the season), Jacob de la Rose (his third game) and Austin Poganski (his first game). All three have been on the taxi squad this season — though often it's a paper move for the Blues to save some money against the salary cap — and all have been out far more than they've been in.
On Saturday, in their 5-4 overtime win over Arizona, the Blues got goals from fourth-liner Kyle Clifford, who has been in double digits in minutes just three times this season, Zach Sanford, whose scoring troubles cost him his spot on Ryan O'Reilly's line and Ivan Barbashev, who took Sanford's spot on that line even though coach Craig Berube called his play "uninspired."
It was an unlikely trio of goal scorers but getting contributions from them will be essential if the Blues are to contend in the West Division. When you add in Jordan Kyrou's goal, it meant that each line accounted for one of the Blues' four goals in regulation, the first time this season that's happened.
"I think every single every line is going," Barbashev said, "even like the guys that didn't play for a long time like Rosie, Mac, Poganski. Those guys are going in, they're doing a really good job for us up there."
Absent from Barbashev's list of players who are upping their game was himself. He had the clinching empty-net goal on Friday and had a goal and an assist on Saturday. In two days he matched his point total for his first 13 games. Playing with O'Reilly and David Perron is a good spot to be in and Barbashev has taken advantage of it. Though that's not what he's on that line for; his job description is to be strong on the forecheck and make things happen for his linemates. He's reaped the benefits.
"Those guys are our top players and really skilled," Barbashev said, "but what really makes it easier for me is that they're not asking me just to make some good plays for them. They just play simple and together we play a really super simple game. We work hard and if we have the opportunity to do something we're going to do it and try to score some goals."
"I think he relishes the opportunity there," Berube said. "Understands if he forechecks hard, gets in there and creates loose pucks, there's opportunities for him to score goals. And he's done that. (Saturday) he got one. So the line has pretty good chemistry right now which is nice to see. That's probably one of the reasons (for his success). You get excited when you move up like that, playing with a couple players like O'Reilly and Perron. He's doing a good job."
When the season began, the fourth line was Clifford, Barbashev and Sundqvist, a real luxury for the Blues. Sundqvist was always the wild card, a player who could move up to a higher line or even go on the power play, both of which have happened. That's the real depth that's benefitting the Blues right now. (The new fourth line will be a more traditional group.) Sundqvist wasn't definite for the lineup until after the pregame warmups, and ended up with the assist on Hoffman's overtime game-winner. 
"Sunny's a warrior," Hoffman said. "He took a tough hit (Friday), you know he probably wasn't feeling the greatest but he went out there and did what he had to do. But obviously you know, the contributions throughout the lineup is this why this team is as strong as it is. Some guys aren't going one night and other guys will pick up their slack and that's what we saw tonight, goals throughout the lineup, and it's what makes us a good team."
It will be essential to the team's success until they start getting players back.