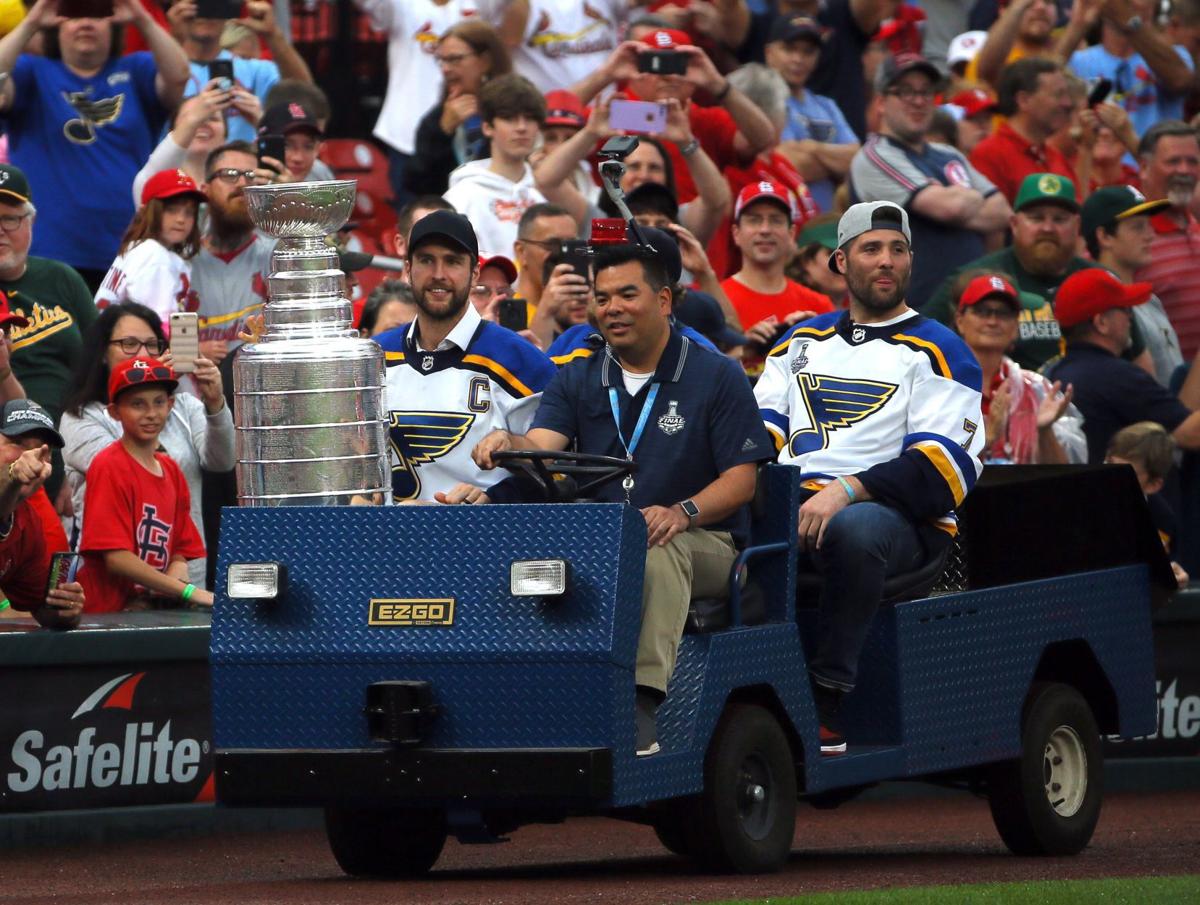 MONTREAL • Shortly after the Blues arrived in Ottawa on Wednesday afternoon for a game the next day against the Senators, Sammy Blais was taking a nap at the team hotel. He woke up to a text.
"I got a message from (David) Perron, who was saying it was 10-0," Blais said. "I was like, 'Oh-ee!' "
As in 10-0 Cardinals in the first inning of the National League Division Series against Atlanta. The Cardinals, of course, went on to win the decisive Game 5 in a 13-1 rout.
Yes, even in the midst of a 10-day road trip, St. Louis' professional hockey team has a little bit of baseball fever.
"The Cardinals have been winning a couple championships and we did last year, so if they can do it again this year it would be nice," Blais said.
Well, actually 11 World Series titles, but who's counting? Blais, by the way, played a little baseball himself growing up in Quebec and had a pretty good batting eye.
"Not too bad," Blais said. "I was just playing for fun."
So there was a little bit of Redbirds buzz in the hotel lobby and on the bus to practice Thursday morning about the Blues' baseball cousins.
Even coach Craig Berube caught a bit of Game 5 Wednesday after the team arrived in Ottawa.
"Yeah I did," he said. "Very happy to see the Cards do well and move on. It's great to see. They're a good ball team. Mike Shildt's done a great job coming in and it looks like they're a real close team, solid team. Work together really well."
Berube heard about the profanity-laced postgame speech by his Cardinals counterpart. In terms of expletives, Shildt's speech to the team had some, uh, Berube-like tendencies.
"I didn't see it," Berube said with a chuckle. "But I'm sure I will at some point."
Could it be that in breaking a half-century long Stanley Cup drought that the Blues have changed the sports karma in St. Louis?
"No, they've had good karma for a while," Blues captain Alex Pietrangelo said, speaking of the Cardinals. "They're a good team. I've watched a lot of baseball. It's pretty fun. Especially when you get a relationship with the guys over there. I'm so happy for 'em. It's awesome."
Now that Pietrangelo is the father of triplets, he doesn't get over to Busch Stadium as much as he once did.
"A little harder with kids, right?" Pietrangelo said. "Used to go down a lot. ... It doesn't matter, we usually have it on at the house. Especially if Waino's pitching I like to watch.
"It's a great story, isn't it? Kind of similar paths to get to that point."
There are similarities between the teams. Berube and Shildt both originally took over on an interim basis. Both teams are tenacious and relentless. And both teams were way back in the standings midway through the regular season but had great second halves.
"They did it in a little grander fashion, I guess, winning 13-1," Pietrangelo said.
Perhaps. But the Blues reached a similar point in the playoffs – the conference finals – with a Game 7 double-overtime goal by local product Pat Maroon against Dallas. That's pretty grand as well.
As fate would have it, the Blues will be in Washington for their White House visit Tuesday afternoon. The Cardinals play the Nationals in Game 4 of the NLCS that day in D.C.
"Really?" Pietrangelo said. "Gonna have to take an extra day to watch. I might have to miss the flight by accident."