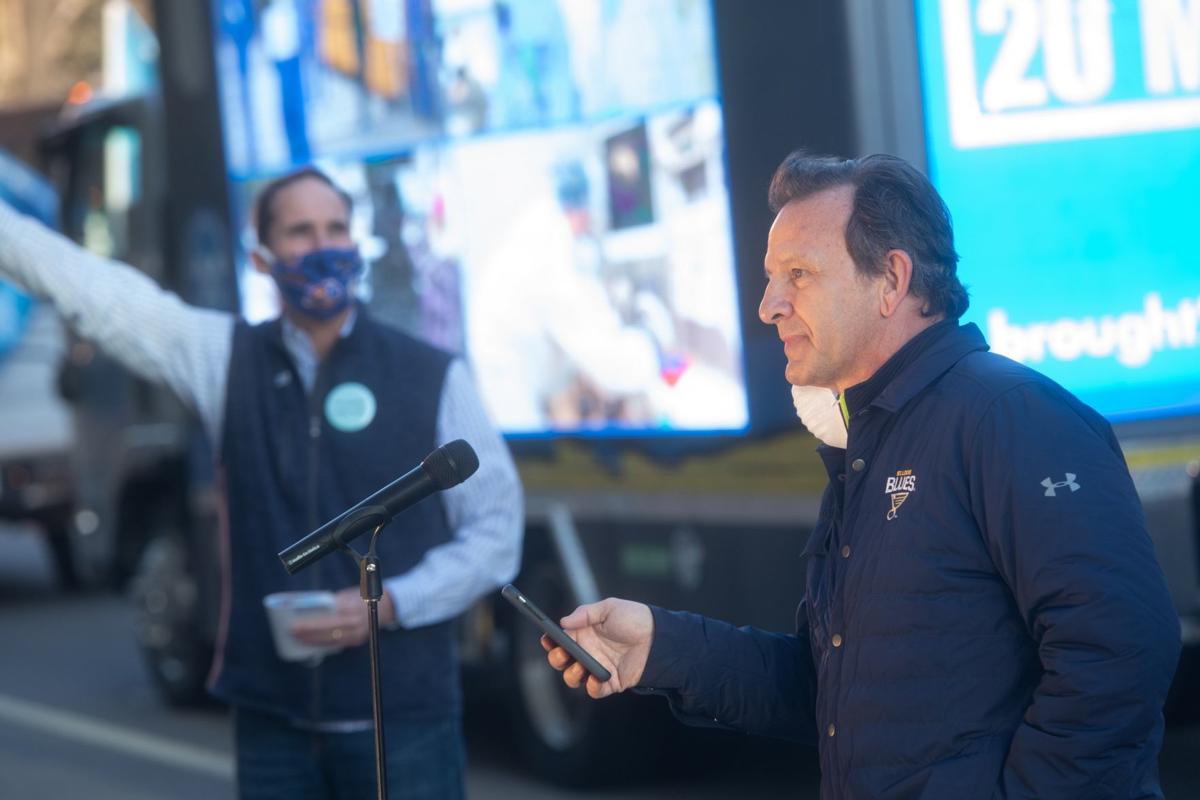 Like everybody else, Chris Zimmerman doesn't know exactly how it will happen. But he thinks the NHL will get there.
"I do believe we are going to complete the 2019-20 season," Zimmerman, the Blues' president and CEO of business operations, told the Post-Dispatch. "As the commissioner (Gary Bettman) has said, first and foremost is we have to have a plan that is a safe plan for the players, for the staff, for anybody who is going to support us getting back on the ice."
Those plans in the age of the coronavirus pandemic, in hockey and other sports, revolve around games without fans in the stands, a limited number of support personnel in the building, and guidelines on any contact with the players. It assumes a continuation of social distancing, and a safe environment for practicing, playing games, and lodging. And testing. Of course, the devil is in the details.
"There are lots of issues for each sport to resolve in the short term with the players association to create a plan that's going to work," Zimmerman said. "But again, I feel confident that not only will we complete the season, but that we'll get the opportunity to defend the Stanley Cup."
Zimmerman would like nothing better than for St. Louis to play a leading role in the return to hockey, as a pod or host city.
"St. Louis, I can guarantee you, is always interested in hosting as much hockey as is humanly possible," he said. "Meaning, of course, we're greatly interested. Obviously, so are many other markets.
"There will be some (markets) that would be more difficult to play in based on the level of the virus. So yes, we have shown interest and have provided the league with different scenarios and insights around our buildings and how and why we think we'd be a fantastic hub city in the event that that happens."
A couple of weeks ago, a scenario of establishing four pod cities with seven or eight teams situated in each city seemed to be gaining traction.
"We would welcome it," Zimmerman said. "We love being on the stage of the NHL and helping them create the best possible environment for players. And certainly in what would be a very unique situation of potentially having seven other teams in our marketplace. Under any circumstance, even without fans, that's a really exciting opportunity for us to host."
From the Winter Classic, to last season's Stanley Cup run, to this season's All-Star weekend, St. Louis has shown it can handle big NHL events.
"Yeah, we have a good track record," Zimmerman said. "But understandably, this one is different in many ways. In addition to being really proud of our facilities, both Enterprise Center and certainly the Centene Community Ice Center ... I think one of the other key things is our medical community.
"The partnerships we have with BJC (Barnes-Jewish Heathcare), our partnership out at Centene with Mercy (Hospital), we're quite sure that those relationships would be really a valuable asset for the part of the event that will be about the safety of the players and staff."
Some NHL players have since voiced objections to the possibility of being away from their families, in pod cities, for weeks or maybe even a few months. So it's not clear if that plan remains front-burner. But it's possible that any alternate scenarios could still include pod cities.
ENTERPRISE PLANS
Regardless of the scenario, if hockey resumes and games are played at Enterprise, many questions must be answered. Not the least of which is how many support workers need to be in the building, be it janitors, technicians, security personnel, stat crews? And how will the building be kept sanitized to minimize the risk of contracting COVID-19?
In terms of staffing, Zimmerman said: "We're still working that out. I don't think it's probably helpful to provide a number because there are different plans. Those types of scenarios are things that we started working on a couple of months ago.
"You have to remain fluid in terms of your planning. What we thought might be happening two months ago is not the case today. Some might say things that we thought might happen two weeks ago is not the case today."
Similarly, Zimmerman said the Blues are looking at ways to keep Enterprise as healthy and free from bacteria and additional virus as possible. And this planning goes beyond empty stands, to more long-term scenarios where some fans are allowed in the building and beyond.
"It's about all the different points of contact that people have, similar to going to your Schnucks," he said. "You know, what will happen when you check out at retail? Will there be new panels of plexiglass put in?
"There are plans and ideas coming forward about people entering and exiting the building in a more controlled (fashion) as far as times ... so that you're creating a different and just a safer environment."
HARD TIMES
Even if play is resumed, the absence of fans in the stands would be a financial burden for the Blues and the rest of the league — almost certainly millions of dollars of lost revenue per team.
"We'll be OK," Zimmerman said. "We've worked hard really since Tom (Stillman) and his group took over to move the business forward. To create a sense of stability and sustainability that really hadn't existed before.
"So we've made a lot of progress but at the same time, every dollar that has been earned has been re-invested in the business. Or in the staff. Or in the building."
Like other businessess, the pandemic has resulted in a sudden turn off of the revenue stream — not just in hockey but in other events scheduled for Enterprise.
"We'd be about a month out to hosting the U.S. Gymnastics Olympic Trials," Zimmerman said. "So it's a significant hit. Like other businesses, cash and liquidity and all of those things will matter over time. For sure."
The Blues recently announced that an unnamed number of the organization's employees would be placed on furlough or continue working on reduced pay.
"It's exceptionally hard," Zimmerman said. "These are your teammates, they're your friends. We worked hard to manage the impact to all of our staff — both hockey and business — since the shutdown mid-March.
"The sooner we get back (to hockey), the sooner we can bring back our staff and will return to a more normal situation."
TICKET GUIDELINES
This week, the Blues rolled out their ticket policy for games postponed because of the pandemic. Season-ticket holders and single-game ticket purchasers now have the option of getting refunds on the six postponed regular-season home games. Or transferring that money to next season and getting credits for those "lost" games.
"And that can take place effective immediately and impact any future payments," Zimmerman said.