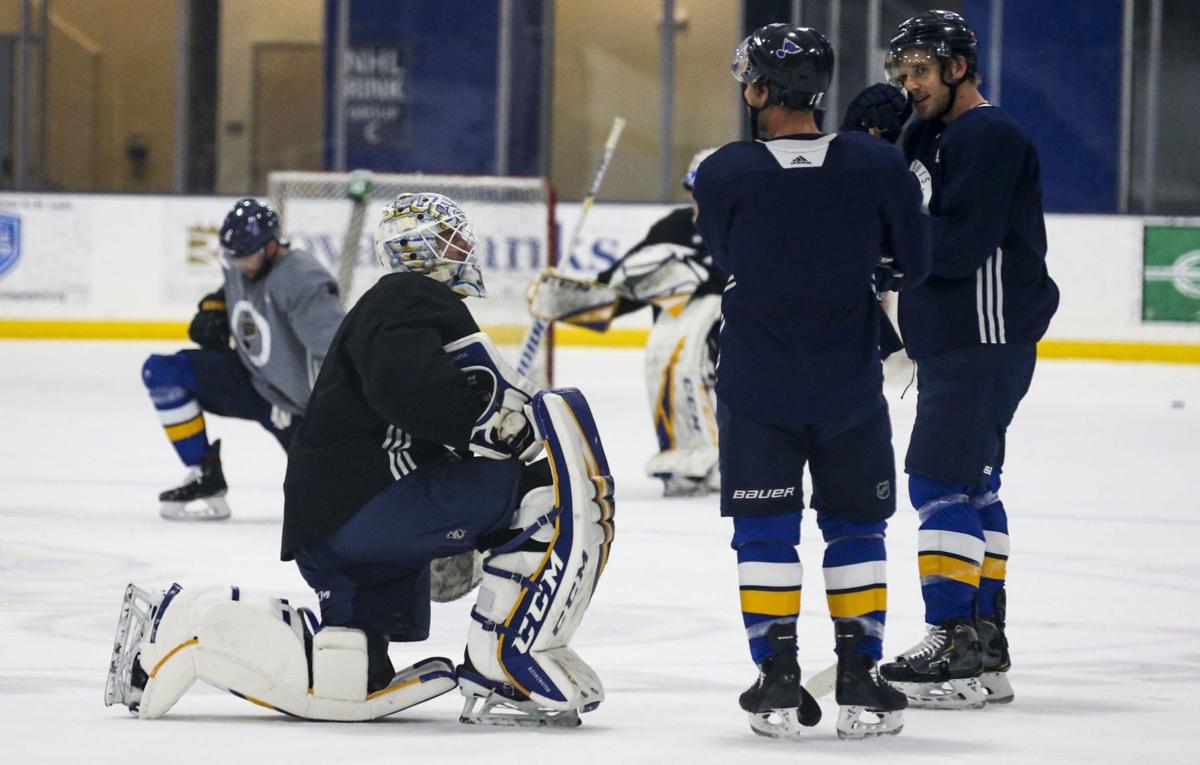 It's only an exhibition game, its net value is zero, but when the Blues play the Blackhawks on Wednesday, it will be something special.
For the Blues, it will be their first game since March 11, when they beat the Ducks in Anaheim, Calif., with the dark clouds of an uncertain athletic future building up all around. The NHL would press pause on March 12. On Tuesday, there were games again and on Wednesday, the Blues will get their first chance.
"That's going to be exciting," defenseman Colton Parayko said from Edmonton, Alberta, where the Blues are in their NHL bubble. "We've kind of been without hockey for four months and we've been scrimmaging against each other as a team. Getting the chance to play someone in a different sweater will be nice, and it's always fun to go into battle and do it. We're looking forward to just get things rolling here and get into the round-robin games and then the playoffs."
"It's a unique experience and probably a once-in-a-lifetime opportunity," said center Brayden Schenn.
"I think it's going to be an experience that everyone's kind of looking forward to," said forward Troy Brouwer.
Coach Craig Berube is approaching the game with all the seriousness he can muster.
"We need to play good hockey," he said. "We need to play the right way. It's our only exhibition game before the real thing starts. We need to get our structure down and get after it tomorrow. That's what I'm looking forward to.
"I'm not really sure what to expect. I think it's important that we play within our structure, that we play the right way. I'd like to see the pace up high and I'd like to see the intensity up. It's our only game before we play meaningful games starting Aug. 2."
Berube said he would use both goalies, Jordan Binnington for two periods and Jake Allen for one. Defenseman Vince Dunn, who returned to practice on Monday after missing most of the team's St. Louis camp after a positive COVID-19 test, appears unlikely to play. Berube said Dunn skated in the second group at practice and the first group was made up of the game group.
Teams are allowed to dress 20 skaters, rather than the usual 18, in the exhibition game, so Berube can slip in a seventh defenseman and a 13th forward.
Game time is 5:30 St. Louis time at Rogers Place in Edmonton. One of the last games the Blues played was a 2-0 win at Chicago on March 8.
"The NHL did their job to pick the rivalries and make the games as intense as they can right off the bat," Schenn said. "This is one game for us to get ready for our qualifying games. It's obviously not a lot of time."
Welcome to Edmonton
When the Blues hit their rooms in Edmonton on Sunday night, they found welcome notes, pictures and mementos sent up in advance from family members in their rooms. The plan was organized by Brouwer's wife, Carmen, who worked with other Blues spouses to make it happen.
"It was just really nice when you get into your room to have a nice little surprise like that," said Troy Brouwer, who had a framed photo of his family plus drawings from his 7-year-old daughter Kylie and 4-year-old son Cade waiting for him. "Honestly, I didn't know that she did it for everybody until the next day. It's coordination between all the girls, getting pictures and just trying to make it as comfortable as possible in the bubble here. It's hard for us to leave the family and we know how difficult it is to leave our families, wives, girlfriends, whatever it may be, but for them to make that little bit of extra effort, so that we can feel more comfortable in an unknown situation, it's a very nice gesture by the girls."
Berube did not have anything waiting for him. "I'm okay," he said. "I've got my coaching staff."
Two out of three
Parayko, Schenn and Brouwer showed up for their media session all wearing caps. Parayko and Brouwer both wore blue St. Louis Cardinals caps. Schenn didn't get the memo.
"I guess not," he said. "I'm wearing my Saskatchewan 3D Bullriding hat from a guy back home's company. I didn't get the memo, I didn't get the team-issued hats."
The latest STL Blues hockey news, NHL headlines, scores, standings and rosters.