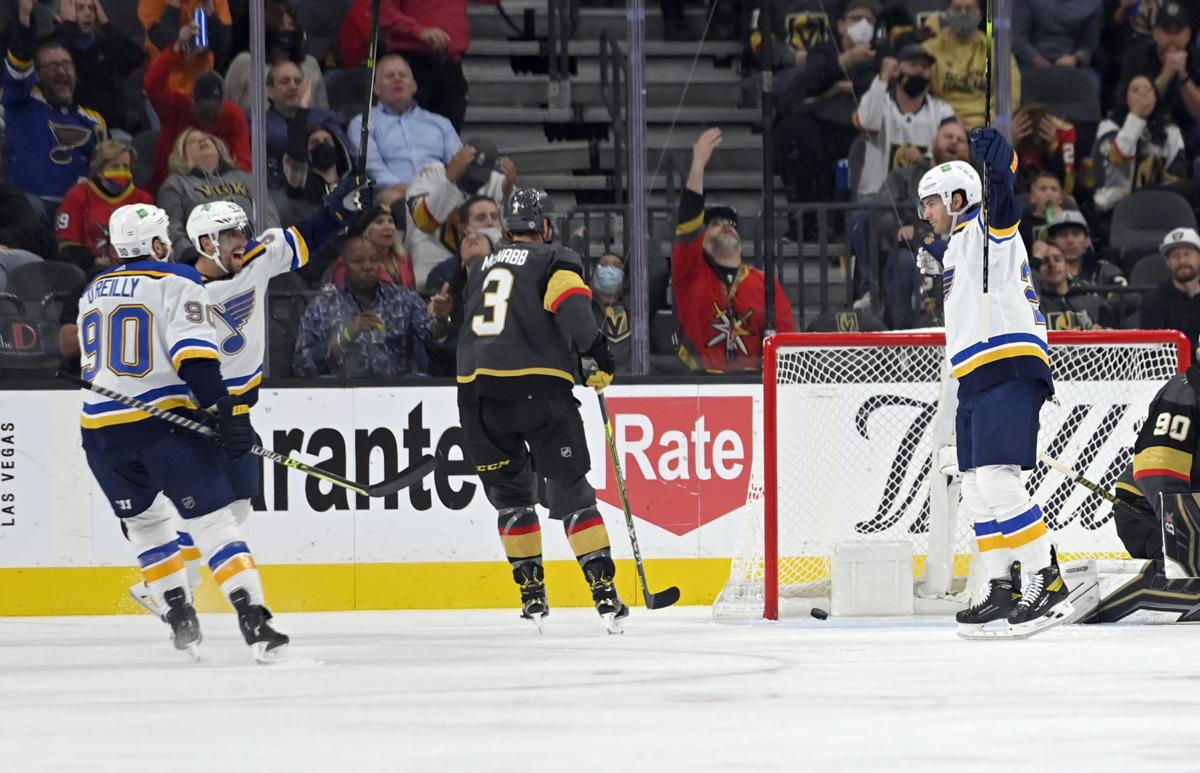 LOS ANGELES – At roughly 9 p.m. Central time tonight, Brandon Saad will hold the distinction of becoming the first of several Blues this season to return from the COVID list.
Saad will be back in action, playing left wing on a line with center Tyler Bozak and right wing Pavel Buchnevich against the Los Angeles Kings at Staples Center.
"I'm really excited," Saad said. "Any time you're away from your team for an extended period of time, you're always looking to get back and play hockey again."
Saad, signed in free-agency this offseason from Colorado, missed three games while on the COVID list –- including both earlier games against the Kings. Once off the COVID list, he missed a fourth game -- Saturday against Chicago, as he needed a few practices to get up to speed.
"It's a new experience for me, so just getting practices in, some workouts, seeing where your fitness level's at," Saad said. "Obviously you want to help the team win, so it's something you just take day-by-day, see how you're feeling and make sure you're ready to go."
For coach Craig Berube, watching Saad skate well during Tuesday's full practice back in St. Louis was a key.
"He felt fine," Berube said. "He looked good in practice. His speed looked really good, so I felt comfortable with it, and he said he was good to go."
Nonetheless, Berube said he will keep an eye on Saad tonight and monitor his minutes.
"I think that'll be a big part of it for sure," Berube said. "And I'll go off how he looks, too. If I see him not having a lot of energy and things like that. So I'll look for it."
Players are tested for COVID every 72 hours; and Saad said he was surprised to see a positive test result.
"It's something that I probably wouldn't have thought anything of it, if it wasn't the times we're living in," he said. "But you have a few symptoms, you might think it's a cold, things like that. And then you see a positive test, so it's a little bit shocking at the time. It's nice to be through it now."
Saad said his symptoms were "similar to a cold. I could go through the list. But you feel a little off, a little bit different. Nothing too extreme for me."
With Saad in the lineup, rookie Jake Neighbours will be inactive for his second straight game. In another lineup change, Robert Bortuzzo returns to the lineup on defense with Niko Mikkola a healthy scratch
Kings, again
Hello again, and at the same time farewell to the Los Angeles Kings with tonight's game.
This marks the third and final time the Blues will play LA this season. That's right, just eight games into the season, the Blues will be done with the Kings for the season, having defeated them 7-3 (Oct. 23) and 3-0 (Oct. 25) in St. Louis.
"Yeah, it is a little bit (strange) for sure," Berube said after the Blues' morning skate Wednesday at Staples. "It's just been quick this year with back-to-back games at home. And coming out West here again and playing."
If you're scoring at home, this marks the 11th time the Blues have played the Kings over their last 62 regular-season games.
The Blues went 2-1-1 in four games at Staples last season, playing under the COVID-induced scheduling format in which they played all seven opponents in what was called the Pacific Division eight times apiece. Nothing came easy in those four games in LA; three were decided in overtime, and one was a 4-1 Blues defeat.
Torey Krug fought LA's Andreas Athanasiou in that 4-1 loss, his first fight as a Blue and the ninth of his career.
Vladimir Tarasenko made his season debut in a 4-3 OT loss here on March 6, returning from his third shoulder surgery.
The Blues had one game postponed when the Kings got stuck in a blizzard in Denver and couldn't get to LA in time. That won't be an issue this time around because the Kings are in the midst of a five-game homestand.
All told, the Blues went 9-1-2 last season in California, and wouldn't have squeaked into the playoffs without that success in the Golden State.
"It's the vitamin D," Bortuzzo said of the Blues' recent success in California.
One of the main reasons the Blues banked those two wins against LA in October was their play against Kings star Anze Kopitar, who has seven goals and six assists against the rest of the NHL this season, but nothing against the Blues.
"We did a good job," Berube said. "It takes everybody, too. I used different combinations against him on lines. I'm gonna have to tonight. He's a big guy and he's strong. He's hard to get the puck off of."
Streaking Tarasenko
Tarasenko enters Wednesday's game with a six-game point streak, which ties Ivan Barbashev for the longest point streak of the young season. It's still a long way from Tarasenko's career best of 12 straight games with at least one point, set from Jan. 19 through Feb. 17 of 2019, the Blues' Stanley Cup year
Tarasenko's next point will give him 452 for his career, tying Hall of Famer Al MacInnis for eighth-best in franchise history.
Kaspick suspended
Blues prospect Tanner Kaspick has been suspended one game by the American Hockey League for what the league termed "a consequence of an interference incident" in the Springfield Thunderbirds' Oct. 30 game against Wilkes-Barre/Scranton.
Kaspick appeared in one preseason game for the Blues, getting an assist and getting into a fight Oct. 1 at Chicago. A fourth-round draft pick in 2016, Kaspick has one goal in six games this season for the Thunderbirds.
Blue notes
• Four of David Perron's six goals this season have come against the Kings. He will play in his 614th Blues game tonight, tying Barclay Plager for 11th in franchise history.
• The Blues have allowed just two power-play goals in their first seven contests; last season they allowed 11 power-play goals in their first seven games.
• Colton Parayko is averaging 25 minutes 29 seconds of ice time per game, the 11th-highest total in the NHL this season and 3:42 higher than his career average of 21:47.
Projected Blues lineup
Barbashev-Thomas-Tarasenko