Remember those shooting, scoring Blues of October? You know the guys who jumped to a 5-0-0 start and averaged five goals a game in the process?
Well, they returned to Enterprise Center on Thursday night with a 4-1 victory over the San Jose Sharks. Whether this was a one-night stand or the start of a long-running engagement remains to be seen. But the return of these Blues was widely appreciated by the 16,953 in attendance.
Not to mention the head coach. Craig Berube wanted a more direct game, a team game, a return to Blues-style hockey. And his players responded. There are no guarantees, but it just reinforces the point that when the Blues play a certain way, good things can happen.
"Yeah, for sure," Berube said. "I thought it was a really good team game. The line changes were really good. I thought that guys competed to block shots and things like. If you watch faceoffs, we dictated on wins and losses — like jumping in and being right on pucks right away.
"Those things tell me that we're ready to play. That's team stuff for me. All that stuff. All those little things."
As a result, the Blues ended a four-game winless streak (0-3-1), their longest since an 0-6-1 skid from March 22 through April 5 of last season. And they did it with Ville Husso in net, back from COVID, and with two goals from Brandon Saad.
(The other Blues goals game from Robert Thomas and Jordan Kyrou, extending his career-high point streak to six games.)
After all but "outlawing" the drop-pass by his players in comments to the media Wednesday, Berube underscored his point about direct play by sending out the Saad-Oskar Sundqvist-Ivan Barbashev line to start Thursday's game.
Berube has dubbed them the "Identity Line" because in his mind, they represent the way he wants the Blues to play. Intense, direct, "north" hockey.
"Get it in deep and go to work," Berube said. "Be physical right away. That's what those guys do. I thought they had a big impact on the game."
And suffice it to say there were very few drop passes Thursday — you know, those passes that go behind the passer, which is the antithesis of direct, north hockey.
"No, I didn't see any drop passes tonight, which is good," Berube said, flashing what had to be his biggest smile of the still young season.
Berube also sent out the third D-pairing of Marco Scandella-Robert Bortuzzo for the start of the game. And there was a method to Berube's madness there as well. Because three seconds into the contest, Bortuzzo dropped gloves with San Jose defender Jacob Middleton.
"The scrap was Borts and the other guy," Berube insisted. "I don't know how it started."
It was a brief scuffle, and Middleton quickly got Bortuzzo on the ice. Little matter. The tone was set. There was much more energy and intensity by the Blues, qualities that were glaring in their absence in Tuesday's embarrassing loss to the lowly Arizona Coyotes.
"I think it's a bit of a wakeup call," Saad said, referring to that 3-2 setback. "Sometimes you just look at the result. But I think for us, it's something we just want to focus on how we can play every night.
"Regardless of how the result ends, it's something that we had to be better as a team and it's something we talked about— getting better every night playing a full 60 minutes, that kind of thing. It definitely felt good getting a win tonight."
The Blues were more direct on offense. They made it a habit of keeping the puck in and maintaining possession. There were a couple of hiccups on defense, but overall, they were much sounder on that end as well.
"We moved the puck really well," Berube said. "I thought our D moved the puck well in transition. The forwards made good decisions for the most part and that's important. We're a puck possession team. We got a lot of guys, they want to hang onto pucks and make plays, and we're all for it. But it's about managing it."
And the Blues were on it from the start. They peppered James Reimer with 16 shots on goal in the opening period and 48 for the night. That's a season-high in shots allowed by San Jose, and the most shots on goal for the Blues in a regulation game since March 19, 2016, at Vancouver, when they had 50 in a 3-0 win.
Saad's first goal came at the 10:25 mark of the opening period, on a clinic of a power play, with the Blues whipping the puck around with ease and sending six shots on net. His second goal of the night and sixth of the season came midway through the second period and made it a 3-1 game.
Apparently, there's something about seeing teal that gets Saad going. He has four goals against the Sharks in two games this season and 27 points (14 goals, 13 assists) in 28 career games against San Jose.
"I didn't know that stat, but obviously I've had some success against them so it feels good," Saad said. "I didn't know I had that much to be honest."
Husso, whose only other appearance this season was a 3-0 win over the Los Angeles Kings on Oct. 25, had his shutout streak — which dated back to late last season — end at 163 minutes 2 seconds, and 86 consecutive saves, when Sharks rookie Jonathan Dahlen scored at the 8:16 mark of the second.
"It was a big win for us and guys played pretty well," Husso said. "And after the first period, there was not much going on in my end."
But Husso was tested early, stopping Erik Karlsson on a breakaway, and then successive net front shots by Marc-Edouard Vlasic and Nick Bonino.
That led to the long, drawn chant of "Huuuuss," which is starting to become a thing at Enterprise. And yes, Husso has noticed.
"It's fun," Husso said. "It's nice to get some of those 'yellings' from the stands, and fans are a big part of us, too. They give us a lot of confidence and it's nice to see so many people out there."
Photos: Blues reel in a 4-1 win against the Sharks
Blues face off against Sharks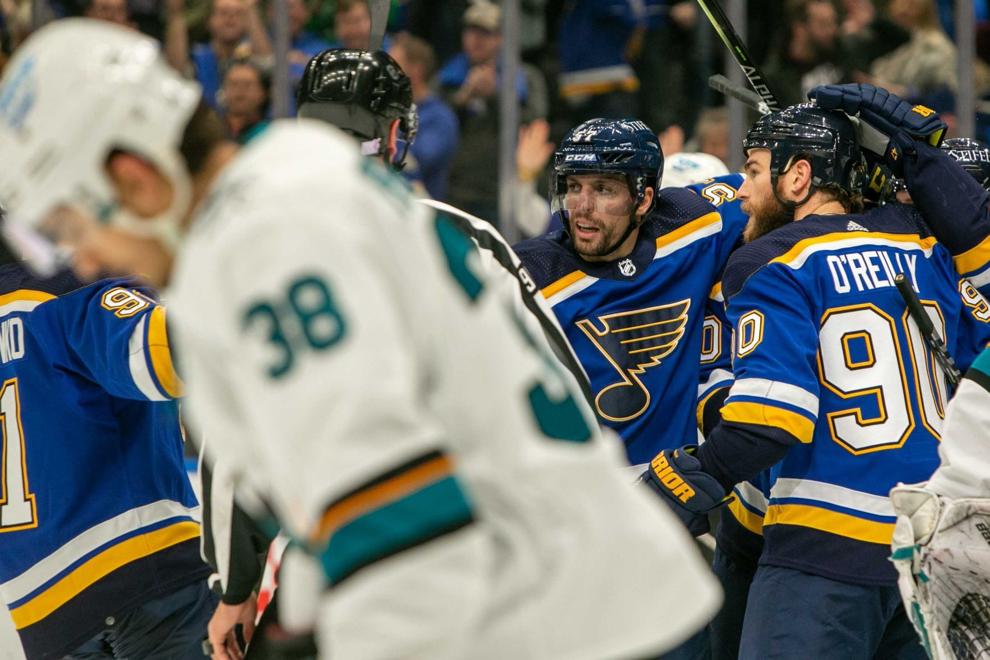 Blues face off against Sharks
Blues face off against Sharks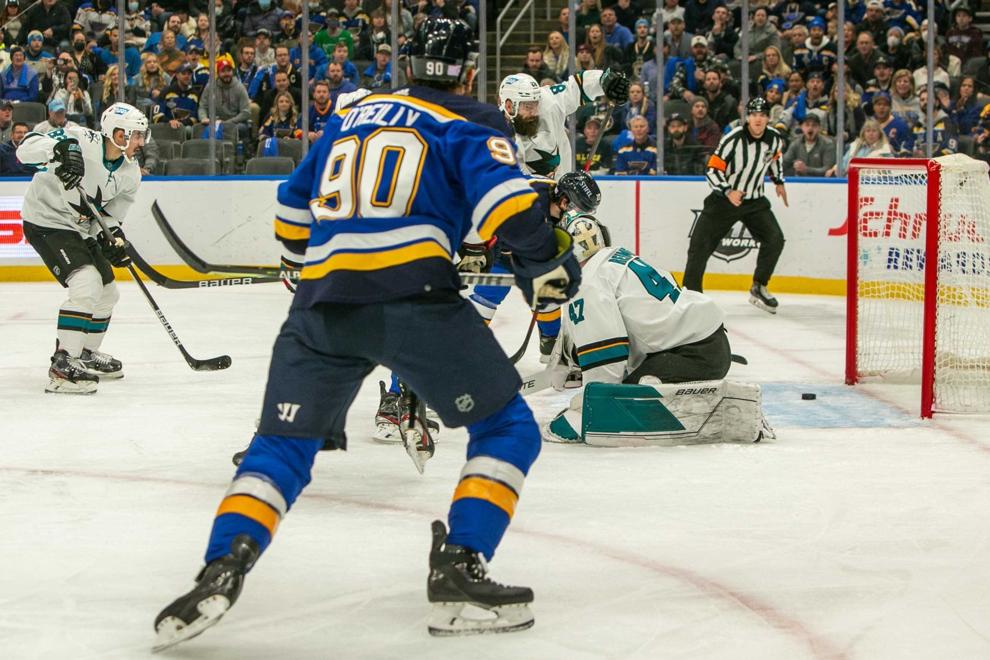 Blues face off against Sharks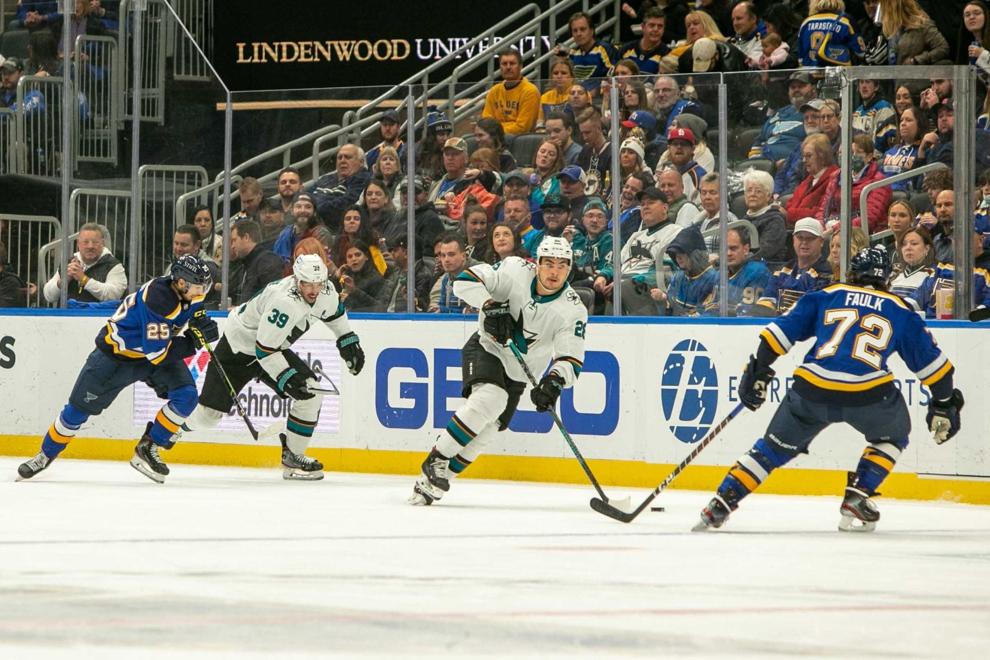 Blues face off against Sharks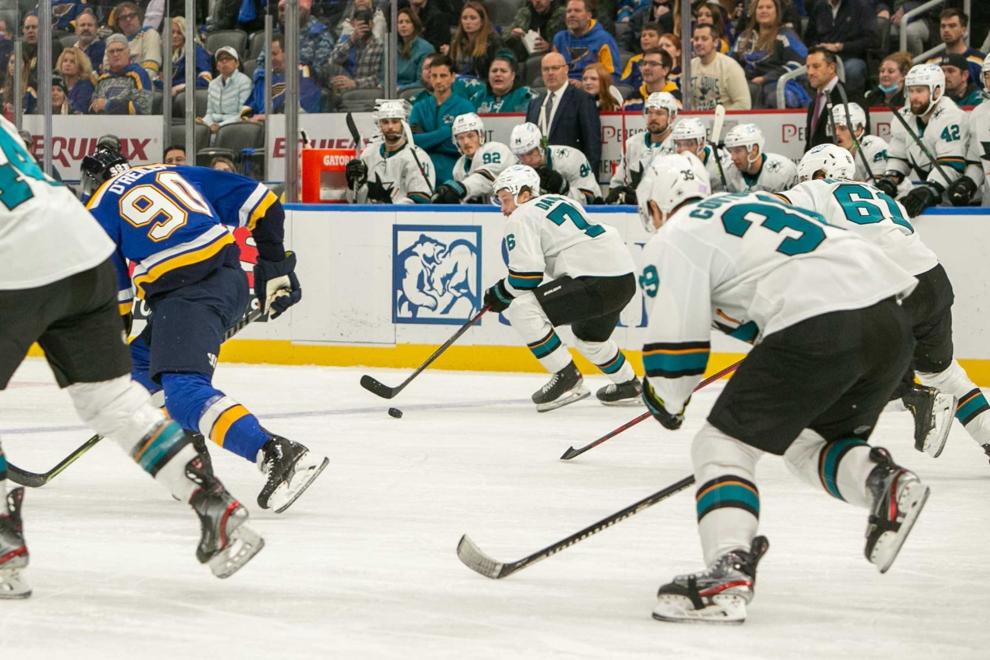 Blues face off against Sharks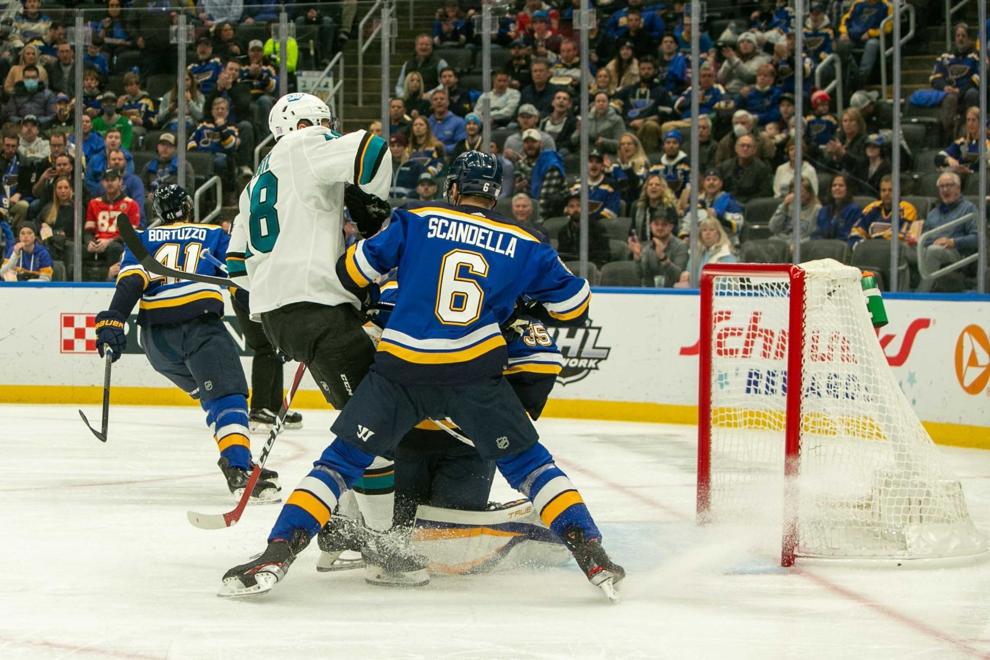 Blues face off against Sharks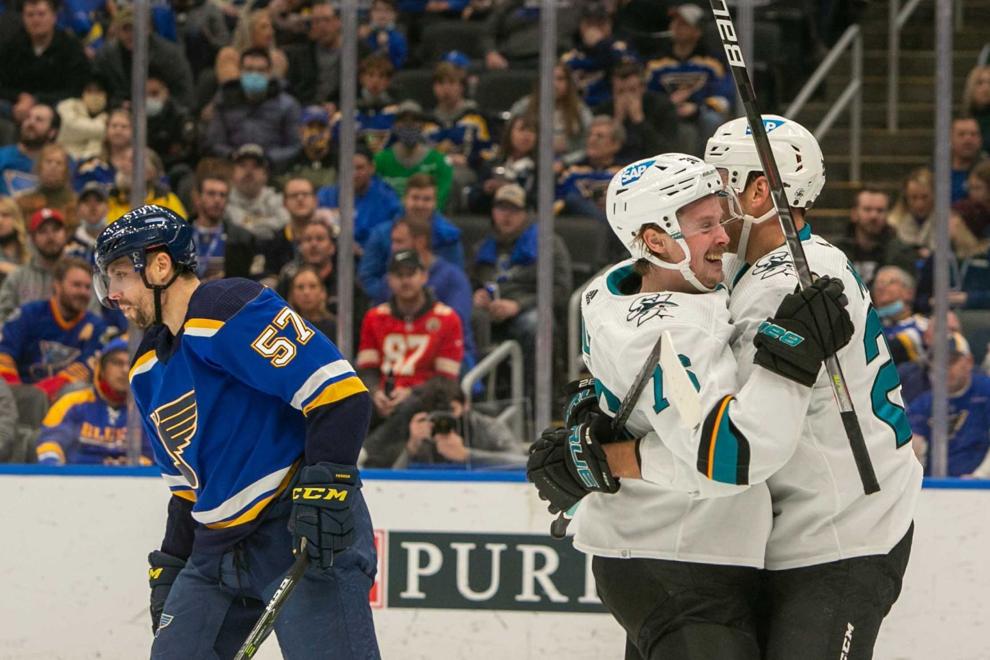 Blues face off against Sharks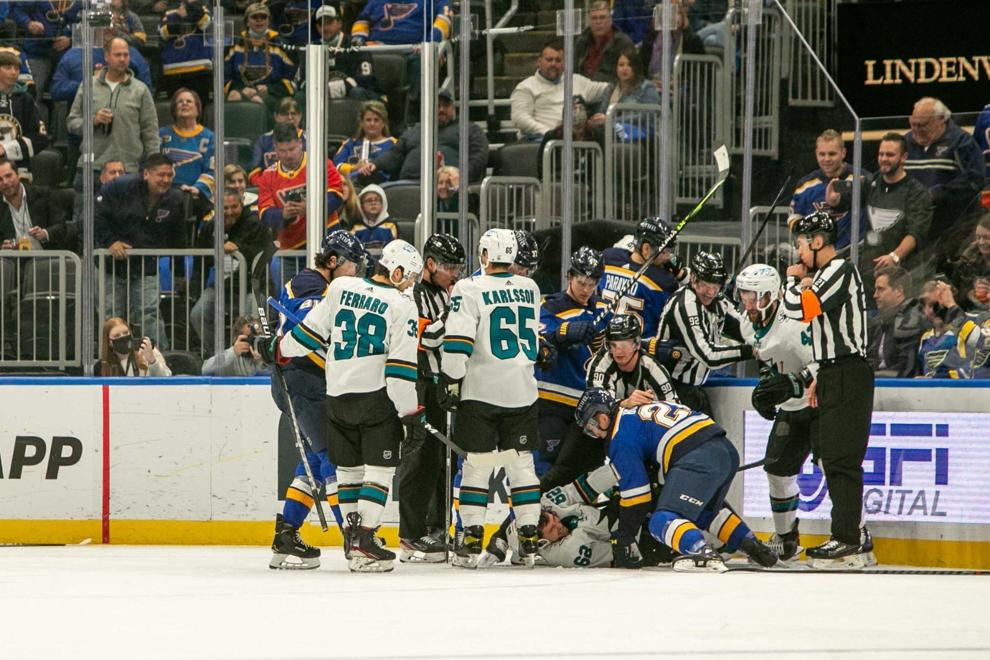 Blues face off against Sharks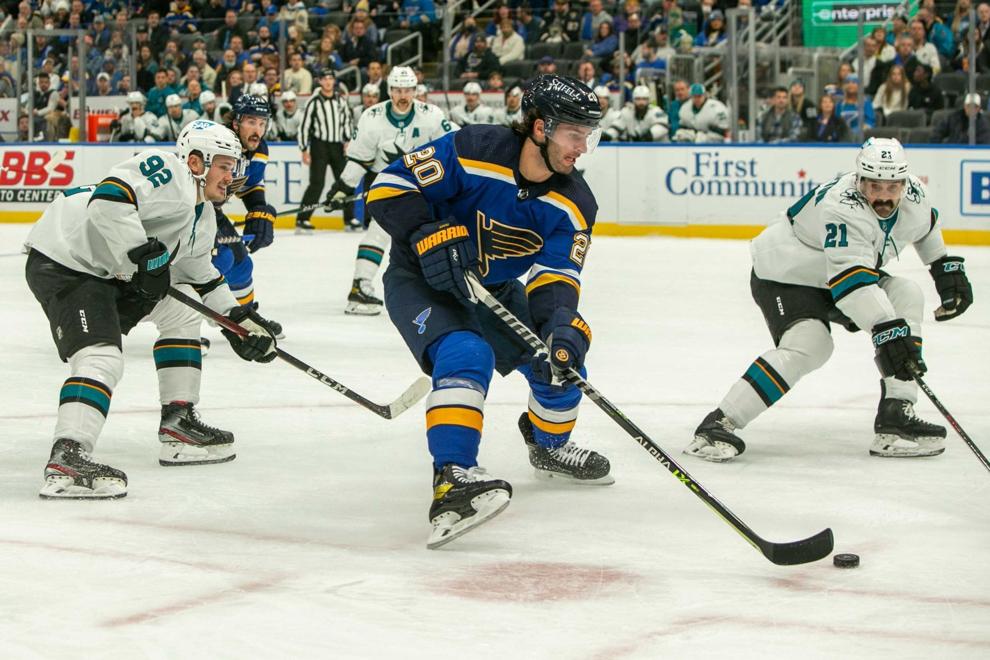 Blues face off against Sharks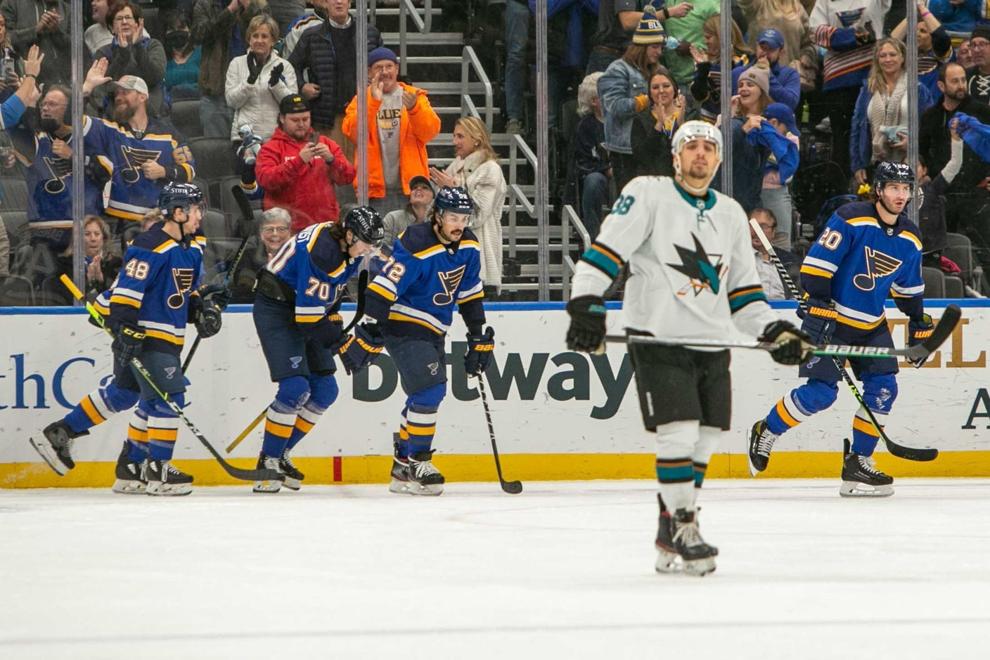 Blues face off against Sharks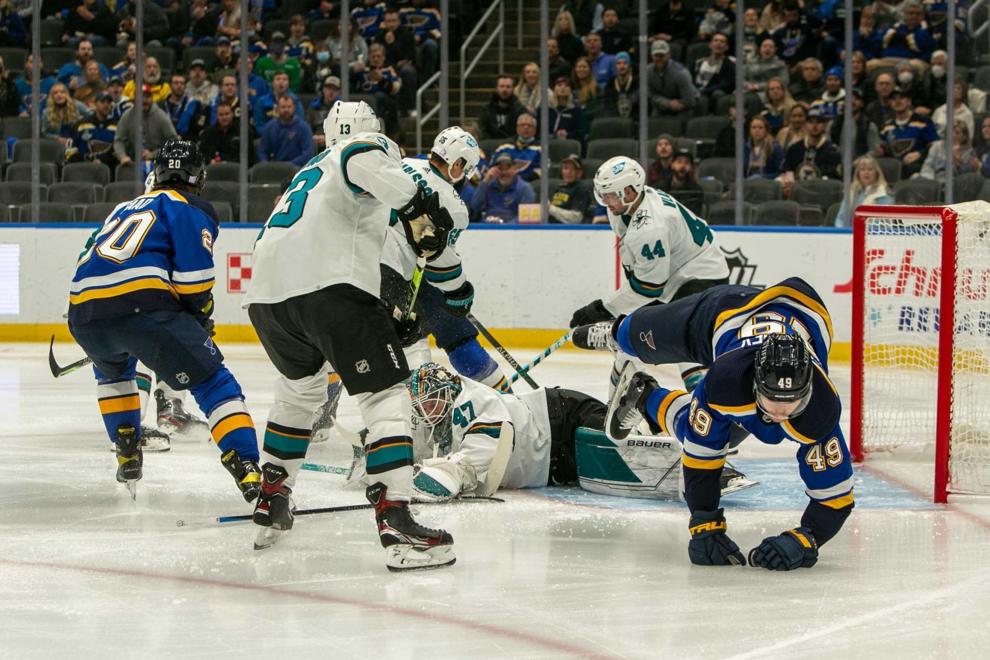 Blues face off against Sharks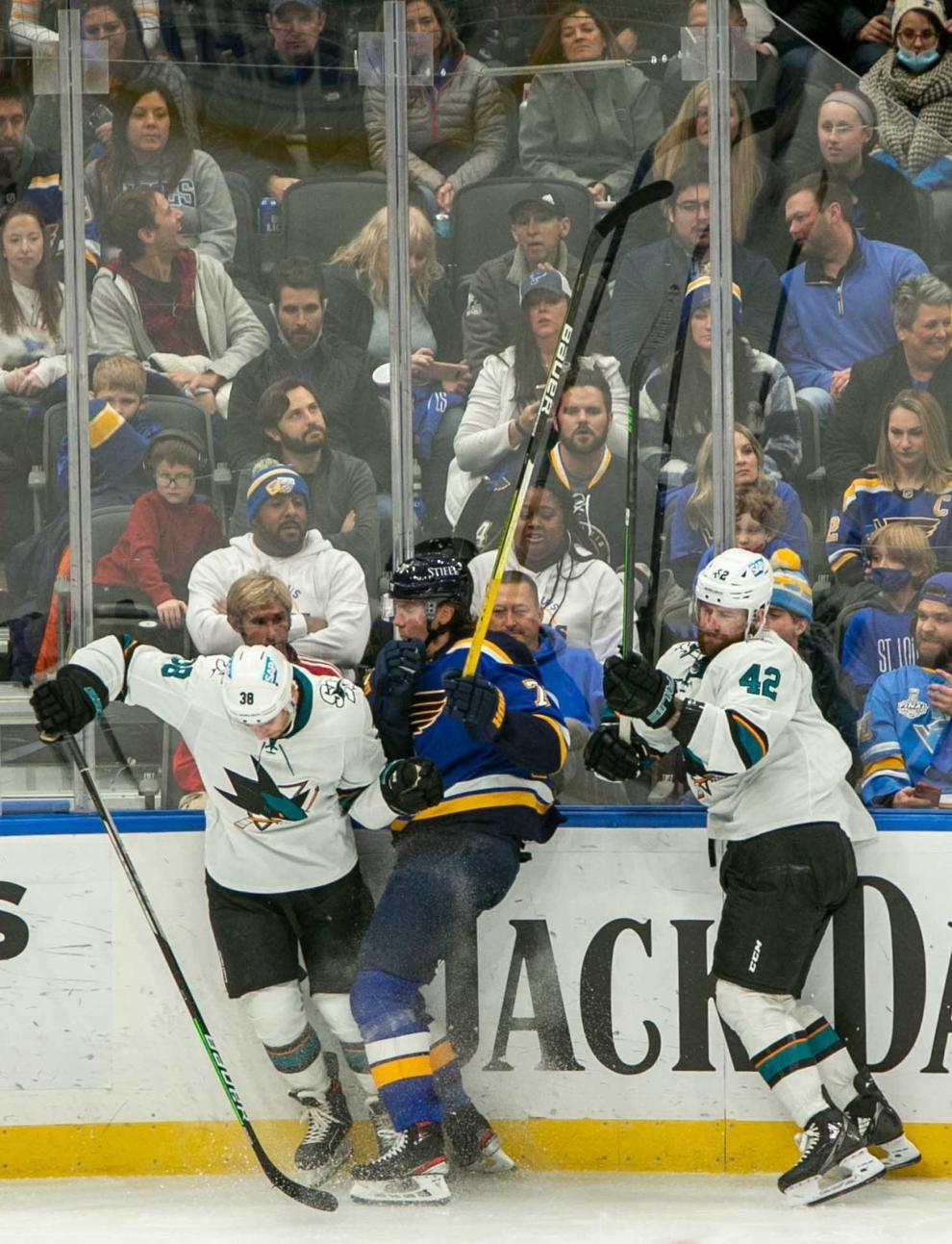 Blues face off against Sharks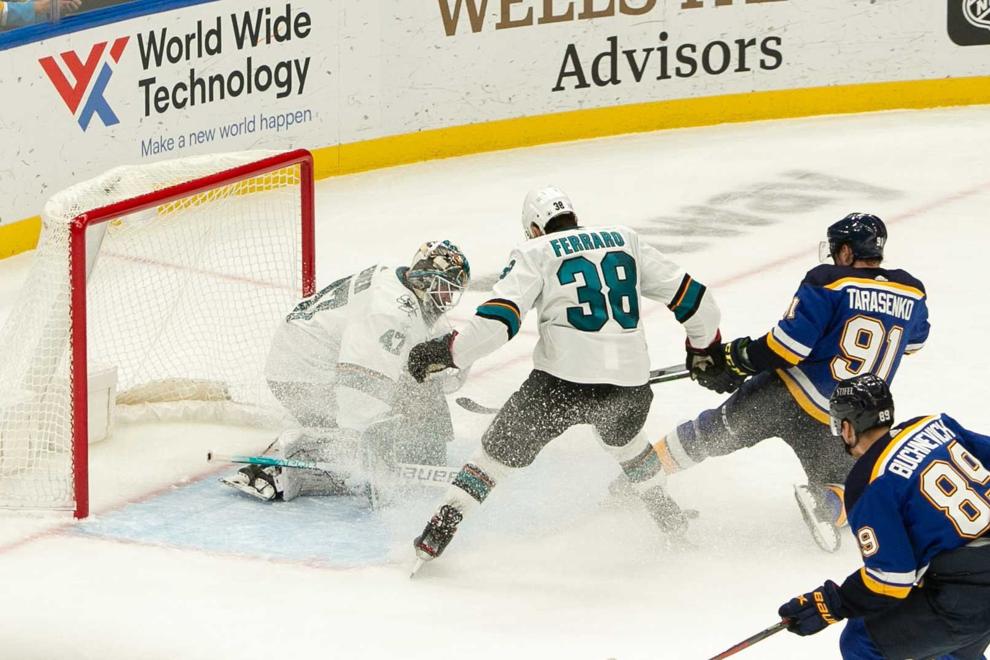 Blues face off against Sharks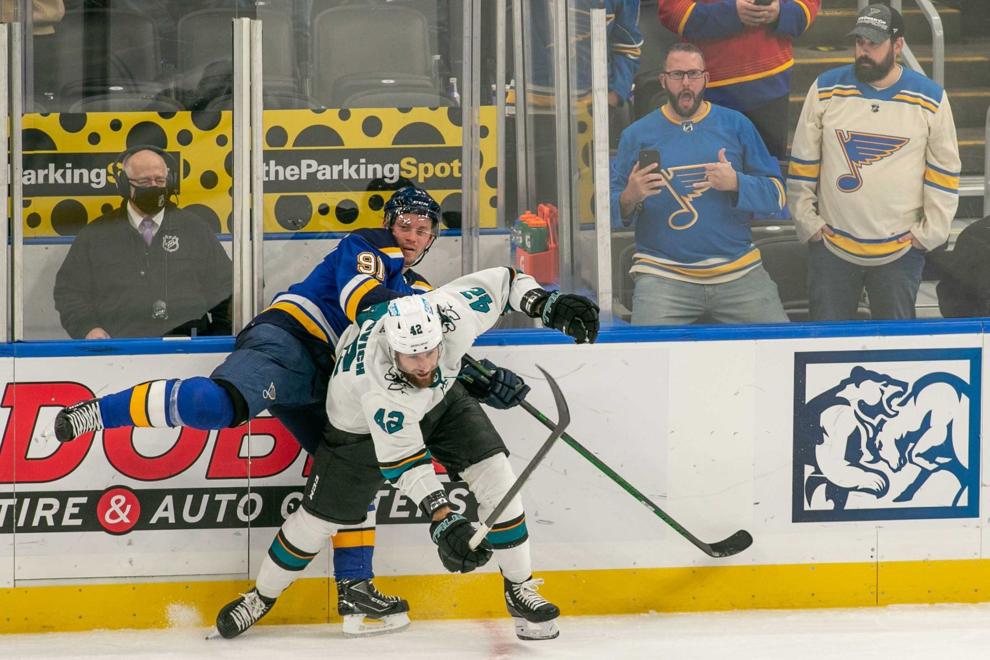 Blues face off against Sharks