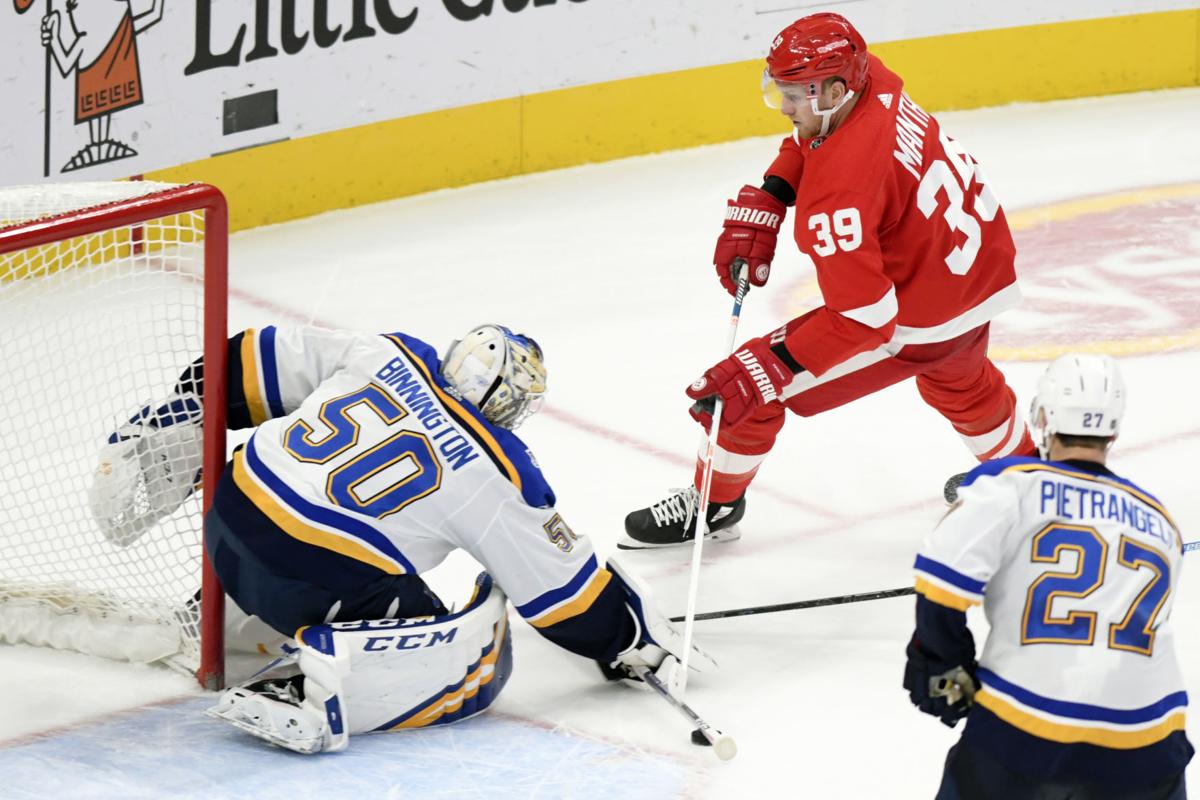 En route to the Stanley Cup, goalie Jordan Binnington had a season for the ages. As for this season?
"He's been OK," Blues general manager Doug Armstrong said. "He's been OK.
"I was very happy about in Detroit that we were able to outscore a team and sort of give him the benefit of a bad night and coming out the other side."
The Blues prevailed 5-4 in overtime Sunday against the Red Wings, but only after squandering a 3-1 lead after three successive third-period goals gave Detroit a 4-3 lead. During the game, there were a couple of goals that Binnington undoubtedly would like back.
"That's a real shot in the arm for our organization to know that when your goaltender's not at his best, you're able to find ways to win games," Armstrong said. "But (Binnington's) been good. But we need to get our goals-against into the top five or six in the league. And I think he can do that."
Entering Tuesday's games, the Blues ranked 18th in team defense, allowing 3.17 goals per game. In 10 starts, Binnington's goals-against average of 2.67 ranked 20th among goalies with five or more starts.
ALLEN BACK
Goalie Jake Allen was due to start Sunday in Detroit, but was sidelined by a virus, although he returned to practice Tuesday.
"He lost about 15 pounds I was told," Armstrong said. "So we need to get him up and healthy."
Allen said: "I don't know if it was quite (15 pounds), but I lost a lot of weight. It was definitely a rough four or five days for me. So I feel back to my old self again today, which is nice.
"I just had some sort of virus. No one else on the team was sick or anything. My family was fine. I just somehow unfortunately contracted something."
Last Thursday against the Los Angeles Kings, Allen was available if needed, but he stayed in the locker room during the game.
"I never sat on the bench," Allen said. "I wasn't feeling too hot."
So Allen was in the locker room when Vladimir Tarasenko came off the ice following his shoulder injury against the Kings.
"He didn't look very comfortable," Allen said. "I sort of let him have his space. Obviously we got the news about his surgery. You can't replace him unfortunately. You can't replace a guy like that.
"But we have a lot of guys here that this is an opportunity for them. Especially some young players — that they can step up and play. We pick each other up. We always have, and we always will. I don't think anyone here's too concerned to be honest."
BLAIS, STEEN UPDATES
Based on Tuesday's practice lines at Centene Community Ice Center, Sammy Blais will get first crack at Tarasenko's spot on the Brayden Schenn line.
But first, Blais must make sure his left thumb is right. He was struck by a puck there on Oct. 21 against Colorado. He sat out the Kings game three days later, then returned Saturday in Boston.
But the thumb remained an issue against the Bruins, as evidenced by the fact that Blais had zero hits, and he was scratched Sunday in Detroit.
"I wanted to play that (Boston) game really bad though," Blais said. "I talked with Chief (Craig Berube) before the game. I was not really myself. I was not playing the way I'm supposed to play, so we decided for Detroit that I would take a day off."
Monday was no-practice day for the team, so the down time has helped.
"A little bit," Blais said. "Every day it's getting better. Today was a good day though and I was happy to get back on the ice."
Veteran Alexander Steen did not practice Tuesday after leaving the Detroit game with a lower-body injury in the second period. Berube said Steen was day-to-day.
"It's more of a maintenance thing," Berube said. "We kept him off today and we'll see how he is tomorrow."