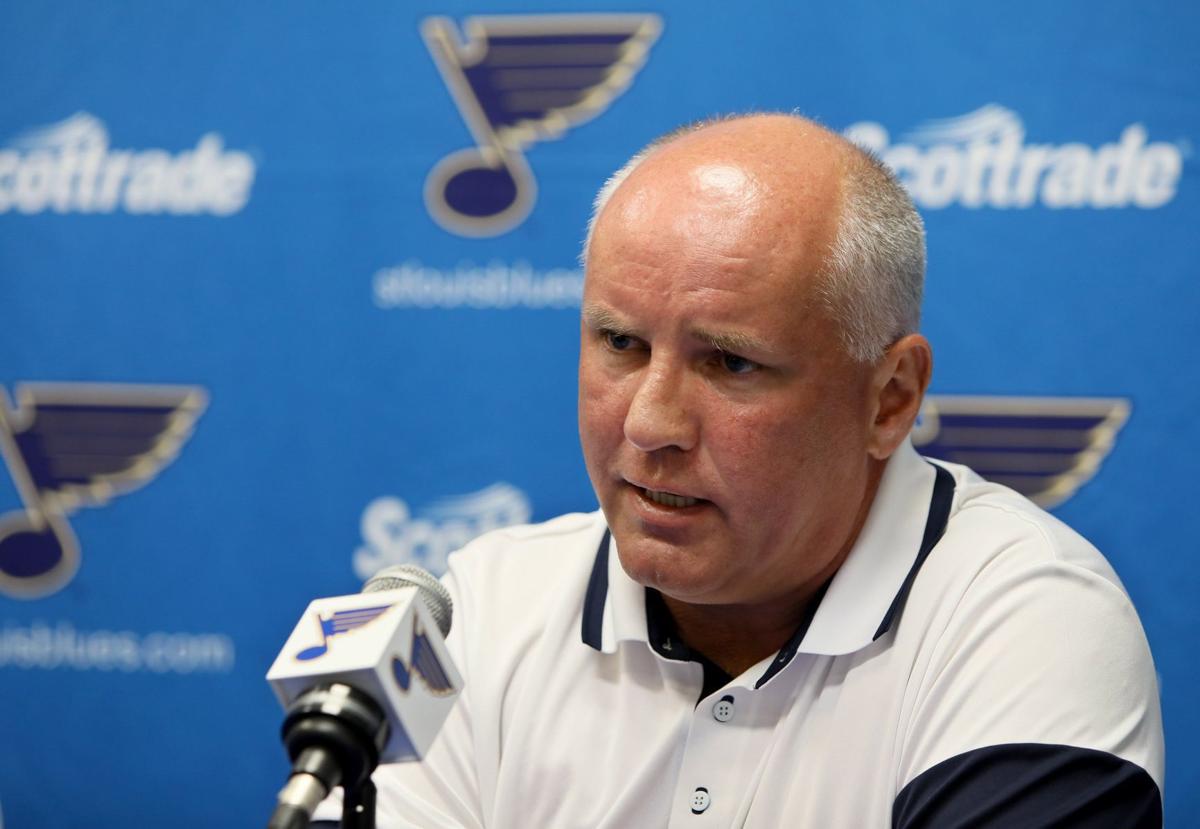 On any given night this season, the Blues have shown that they not only can compete with any teams in the league but beat them. But can they do it consistently enough to be considered a true Stanley Cup contender this year?
The specific results there are mixed. There are eight teams in the National Hockey League that have more points than St. Louis. The Blues are 6-7-3 against those eight, going a combined 5-1-1 against Toronto, Vegas and Winnipeg, 1-1 vs. Pittsburgh but 0-5-2 against Boston, Nashville, Tampa Bay and Washington.
All of that factors into how general manager Doug Armstrong views the fast-approaching trade deadline — now just a week away. He has been nothing if not consistent in how he views this year's team and this year's deadline.
With that in mind it seems safe to assume that nothing that happens good or bad in the three games remaining — against San Jose, Winnipeg, and Nashville — before the Feb. 26 trade deadline is likely to change that.
In early January, Armstrong told the Post-Dispatch that he didn't think the team's championship window was open yet — that it might be a year or two away. He added that as the trade deadline approached, the idea was to protect as many of the team's "good young pieces" as possible.
In an interview Saturday with Post-Dispatch columnist Jose de Jesus Ortiz, the message hadn't changed. Armstrong views the Blues as a top 10 team this season, but not a leading contender that's a player, or even two, away from the Stanley Cup.
And that continues to guide his approach. Armstrong doesn't want to go all-in to obtain a "rental" — a player scheduled for unrestricted free agency after this season. That doesn't mean he won't pursue one if the price is right, and there are some interesting rentals thought to be on the market .
Among them are Buffalo's Evander Kane, Edmonton's Patrick Maroon and Rick Nash and Michael Grabner of the New York Rangers — all forwards.
Kane, 26, has been a productive scorer with 28 goals last season and 18 so far this season. But he's had some off-the-ice issues, and if the Blues were to acquire him it would take a lot to re-sign him after this season given his $5.25 million salary-cap hit this season.
Keeping Nash beyond the Blues' remaining 22 regular-season games and any playoff contests this season wouldn't figure to be cheap, either, given his $7.8 million cap hit this campaign. In addition, Nash has a modified no-trade clause, and the Blues would have to be on his list of 12 teams that would be acceptable to him in a trade.
Nash has scored 30-plus goals eight times during his career, but while still productive at age 33, his goal-scoring numbers are declining. He has 18 goals this season and had 23 last season.
Nash's Rangers teammate, Grabner, is three years younger at age 30 and has scored 50 goals since the start of the 2016-17 season. Keeping him beyond the remainder of this season figures to be much cheaper given his $1.65 million cap hit this year.
Last but not least is Maroon, a St. Louisan who once played club hockey for Oakville High. He's 29, has a cap figure of $1.5 million and has a big body that can provide a presence in front of the net. After scoring a career-high 27 times last season, Maroon has 14 goals this season.
But again, like Grabner, Nash and Kane, the Blues would be trading for a player in Maroon who will be a unrestricted free agent after this season. In the case of any of those players, would it be worth parting with top prospects Tage Thompson, Robert Thomas, Jordan Kyrou or Klim Kostin — and perhaps more — as part of a deal?
As for players who have time left on their contract after this season, the one name that has come up for a while and linked to the Blues is Ottawa winger Mike Hoffman.
Hoffman, known for a quick release, averaged 27 goals in his previous three seasons. Although not quite on that pace, he has scored 16 goals this season . At age 28, he's under contract for two additional seasons, at $5.19 million per year.
One of Hoffman's Ottawa teammates, center Derick Bressard, also has been mentioned as a possible trade candidate. He's under contract through the 2018-19 season, at $5 million.
Armstrong has a reputation for keeping such matters close to the vest. So there's no telling who he's had discussions on, or in whom he's most interested. It seems just as likely that it's a name (or names) that has not come up in media speculation.
As for who the Blues might send out in any pre-deadline trades? Besides the organization's top prospects, there has been speculation surrounding the likes of Robby Fabbri, Patrik Berglund and Vladimir Sobotka. Whether there's any fire behind that smoke remains to be seen.
Otherwise, the Blues don't have a ton of salary-cap room, even to squeeze somebody in for the final quarter of the season. CapFriendly.com projects the Blues to have $339,879 in cap room by season's end. And keep in mind, the Blues have limited resources in terms of draft picks to deal . Their first-rounder in the upcoming draft goes to Philadelphia as the final piece of last year's trade for Brayden Schenn.
What once seemed like a surplus on defense is no more, what with Joel Edmundson out until very late in the regular season because of a broken forearm and Jay Bouwmeester missing most practices to finesse a lower-body injury through the remainder of the campaign.
So with a projected $14.4 million of salary-cap space for 2018-19, the best time to strike might be this coming offseason, not this coming trade deadline.