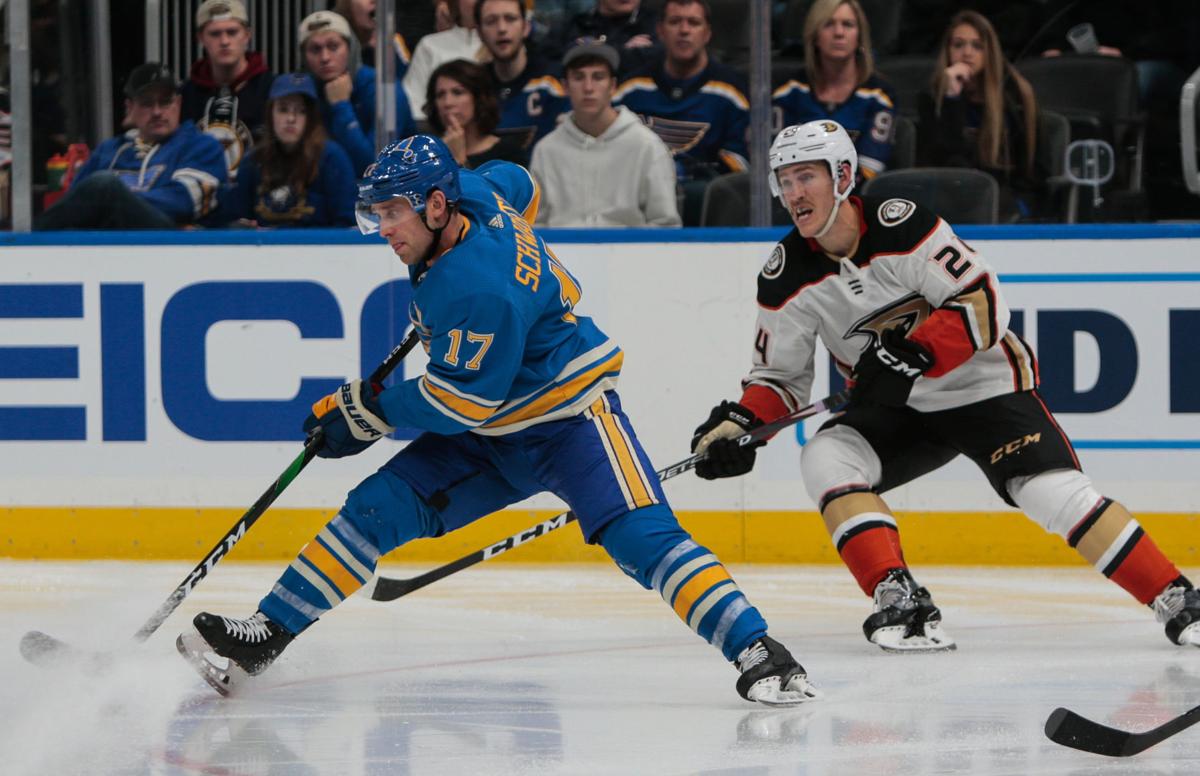 ANAHEIM, Calif. • There are five teams in the NHL currently below .500 in regulation games this season. The Blues are 7-1 so far this season against those clubs, with the only loss against ... Anaheim, tonight's opponent at the Honda Center in a 9 p.m. start Central time.
Currently in 13th place in the Western Conference, the Ducks (23-26-7) are alive in name only when it comes to earning a playoff berth. But they've been playing well lately: 6-2-2 in their last 10 games They are working young, hungry players into the lineup and appear to be playing relaxed, energetic hockey.
And they know they can beat the Blues, having done so by a 4-1 score on Nov. 16 at Enterprise Center on the strength of Derek Grant's first career NHL hat trick.
"They're a team right now, you kind of see this towards the end of the year, teams that are just playing loose and having fun, and working hard," forward Brayden Schenn said. "I think that's what they're doing right now. They're winning hockey games.
"So we gotta be ready for a solid challenge tonight. They're a good team with a ton of good players, good goalie. So you can look at the standings and say it's gonna be an easy one, but it's definitely not. You can't take 'em lightly and you gotta be ready."
At this stretch of the season, with a 2-5-2 record over their past nine games, the Blues can't afford to take anyone lightly.
"They got a lot of young guys they're using," coach Craig Berube said of the Ducks. "I find that they're giving them the ball a little bit, their young players. They got a lot to prove -- young guys trying to prove themselves as individuals and prove that they belong here.
"So it's gonna be a hard game. Our guys gotta be prepared for that. We gotta make sure we're doing the right things right from the get-go and play a 60-minute hockey game."
To that end, Berube wants the Blues to dictate their style of play, and do so from the opening puck drop.
Take away the empty-net goals and every regulation (and, of course, overtime) loss during the 2-5-2 lull has been a one-goal game. So the Blues simply need to get a little bit of their edge back.
"That's what we gotta get back to," Zach Sanford said. "Last year we were always winning those one-goal games. This year, this last stretch a little bit, it's kinda been the opposite."
More than anything, Berube thinks it boils down to defense.
"We're letting too many goals in lately, for sure," Berube said. "And that's on everybody, not just the goaltender. That's the whole team. So we gotta tighten that up for sure.
"We play good defense and we try to keep the goals-against down. If we can get back to that mindset, I think we'll be OK. We're gonna score enough goals."
In the middle of his media session following the team's morning skate, Berube got a question from a new member of the media corps:
"I know Tyler Bozak's really been playing well lately, I'm just wondering if there's any chance of increased ice time for him?"
Somehow (wink, wink) Mitch Bozak, the father of the Blues veteran forward, had commandeered a microphone as well as the Blues' social media camera. In any event, Berube didn't miss a beat.
"Well, I got his minutes up last game and I still didn't get any results," Berube said, laughing. "I was looking back at his goals this year and his stats. Like 12 to 13 minutes, that's when he scores all the time."
MacEachern-Barbashev-Kyrou
Second-year forward Robert Thomas was under the weather and left early from Honda Center, where the Blues were holding their morning skate. But he's expected to play tonight. Thomas has a career-best six-game point streak (one goal, five assists) going.
Oscar Sundqvist hasn't played since Jan. 27 because of a lower-body injury -- and will miss his seventh consecutive game tonight. But he did accompany the team on this trip, and was among 16 players participating in an optional skate Tuesday. Berube said he's not yet ready for game action.
• Alex Pietgrangelo will play in his 745th regular-season game for the Blues tonight, moving him past Brett Hull and into fifth place on the team's career list. Pietrangelo leads the Blues in overall ice time (24:14 per game) and power play time (3:12) this season.
• The Blues have won their last three in Anaheim, outscoring the Ducks 14-7 in those games.
• The Ducks rank second in the league with 10 shorthanded goals, which ties a franchise record. They have scored four shorties in their last 10 games.
• Defenseman Justin Faulk had no shot attempts Saturday against Dallas, only the third time that's happened this season.
• Ryan Getzlaf has 39 points (10 goals, 29 assists) in 43 career games against St. Louis.
The latest STL Blues hockey news, NHL headlines, scores, standings and rosters.