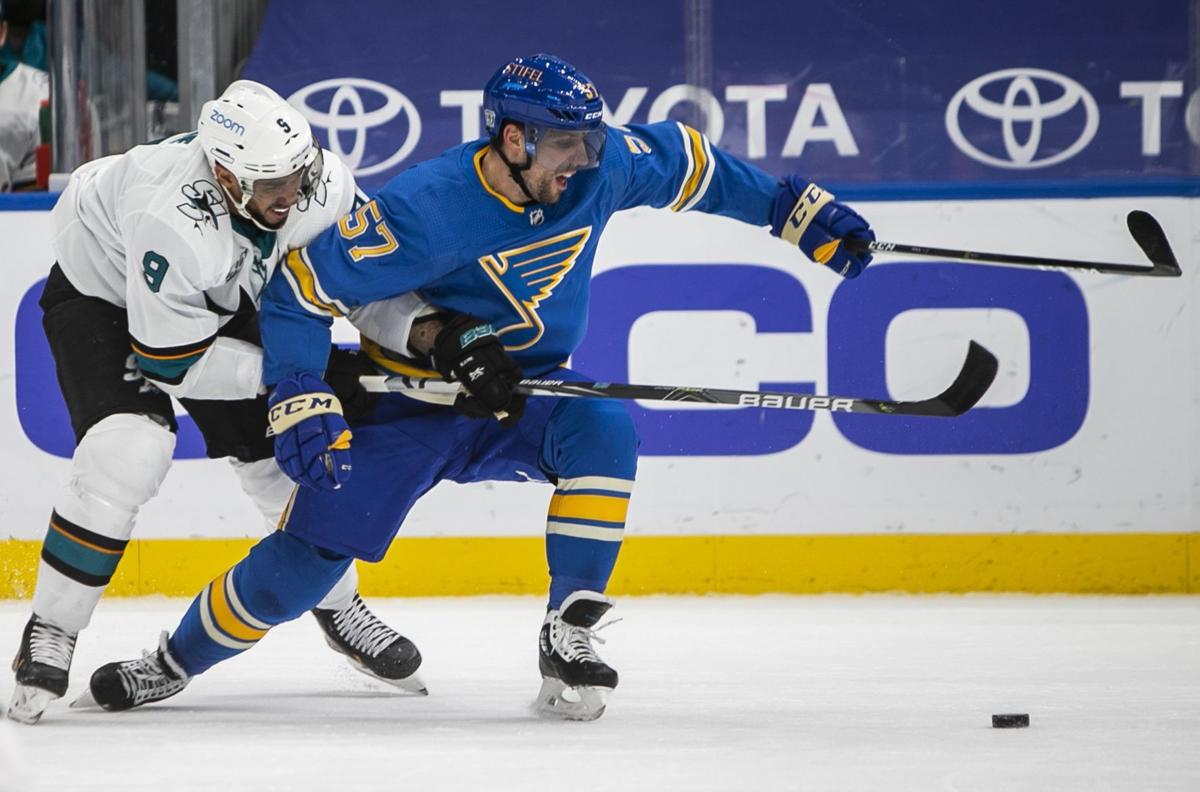 Even before training camp started, Blues general manager Doug Armstrong said he expected a lot of close games in the condensed season, a lot of "3-point" games that went to overtime or shootout.
From the earliest days of training camp seven weeks ago, coach Craig Berube prepared for such a season. Team scrimmages featured 3-on-3 overtime segments. There were some drills that simulated shootout situations.
Roughly one-third of the way through the 56-game schedule, it looks like Armstrong and Berube were right. There have been tons of tight games.
Take away empty-net goals, and nine consecutive Blues games have been decided by one goal, with Saturday's 5-4 loss to San Jose the latest. Thirteen of the Blues' 18 games overall this season have been one-goal affairs — again minus empty-net scores.
"That's the league this year," defensemen Torey Krug said. "That's how things go. It's been a parity league for years now, but it's more important than ever now, and more prevalent anyway.
"There's no easy games, no nights off. And we understand that every time you got out and lace up the skates, it's a tough battle for two points. So we recognize that, and every team's going through it."
The close games were expected in large part because teams are playing each other so often in a schedule designed to limit the impact of COVID-19 on the sport. By playing only teams in a realigned West Division, the Blues are playing only seven opponents in the regular season — and playing them eight times each.
Not only does familiarity breed contempt, it breeds … well, familiarity. Particularly, when you're playing a team in a two-game mini-series. Or in the case of the Blues and the Arizona Coyotes, playing each other seven games in a row.
"Playing these same teams back-to-back, I think allows both staffs to make adjustments and to tweak things a little bit," San Jose coach Bob Boughner said prior to his team's victory over St. Louis Saturday.
As much as the Blues and other teams say the focus is on themselves and their game, they're making game-to-game adjustments like Boughner said as they get a better feel for opponents' tendencies, strengths and weaknesses.
"We've personally been in a lot of these (tight) games as well," Boughner said. "I paid attention to the Arizona series against St. Louis — all close games. The more you look around the league, it's almost in the East you see the big scores every night. And sometimes in the Central.
"But in the West they are tight games. You gotta be prepared (in order) to win some of those games and your fair share of those games."
In four Blues-Sharks games this season, all played in St. Louis, each team has won by a score of 5-4. Each team has also won a game in extra time: the Blues won 3-2 in overtime on Thursday and the Sharks won 2-1 in a shootout on Jan. 20.
The Blues already have played five overtime/shootout contests, meaning more than a quarter of their games have needed more than regulation to decide. The Blues are 2-0 in OT games so far this season, and 1-2 in shootouts.
In the 13 one-goal games (minus empty-net goals), the Blues are 7-4-2.
And with an overall record of 10-6-2, the Blues have trailed at some point in the game in seven of their 10 wins. So nothing has come easy.
"The way I look at it so far, and I'm only talking about our division — I could care less about any other division — is there's a lot of tight hockey games all the time," Berube said. "Every night. They're tight. Every game's tight. Every team's good. You gotta compete hard every night. It's gonna be a battle. … That's gotta be your mindset."
Everything about the West seems to be tight. Just look at the standings. Only seven points separate point leader St. Louis (22) from last-place Anaheim (15).
The first-to-worst gap was 10 points in the East, 12 points in the Central, and 21 points in the North entering Sunday's games.
The Blues have yet to have a winning streak of more than four games and have swept only one two-game set this season (Jan. 30 and Jan. 31 in Anaheim).
"Yeah, it's tough having consistency," captain Ryan O'Reilly said. "It is tough to generate a lot of momentum when you see the team back-to-back games. Everyone is so good in this league, the adjustments are made and you have to find a way to keep that intensity game after game."
The fact that the Blues currently are down seven players due to injury or COVID-19, representing $27.2 million in salary cap money, further levels the playing field between them and the rest of the West.
Until some injured players start returning to the lineup, the Blues might have to rely even more on their top players — at least those still in the lineup — to get them through these trying times.
"Absolutely," O'Reilly said. "I think the big guys in the lineup, for sure, we have to be the difference, have to create, have to put the puck in the net and find a way to outperform or outwork the team we're playing."
But Berube can't afford to think that way.
"I don't do that," Berube said. "I rely on everybody. Everybody that's gonna play … has gotta do the job. That's the way you gotta look at it."