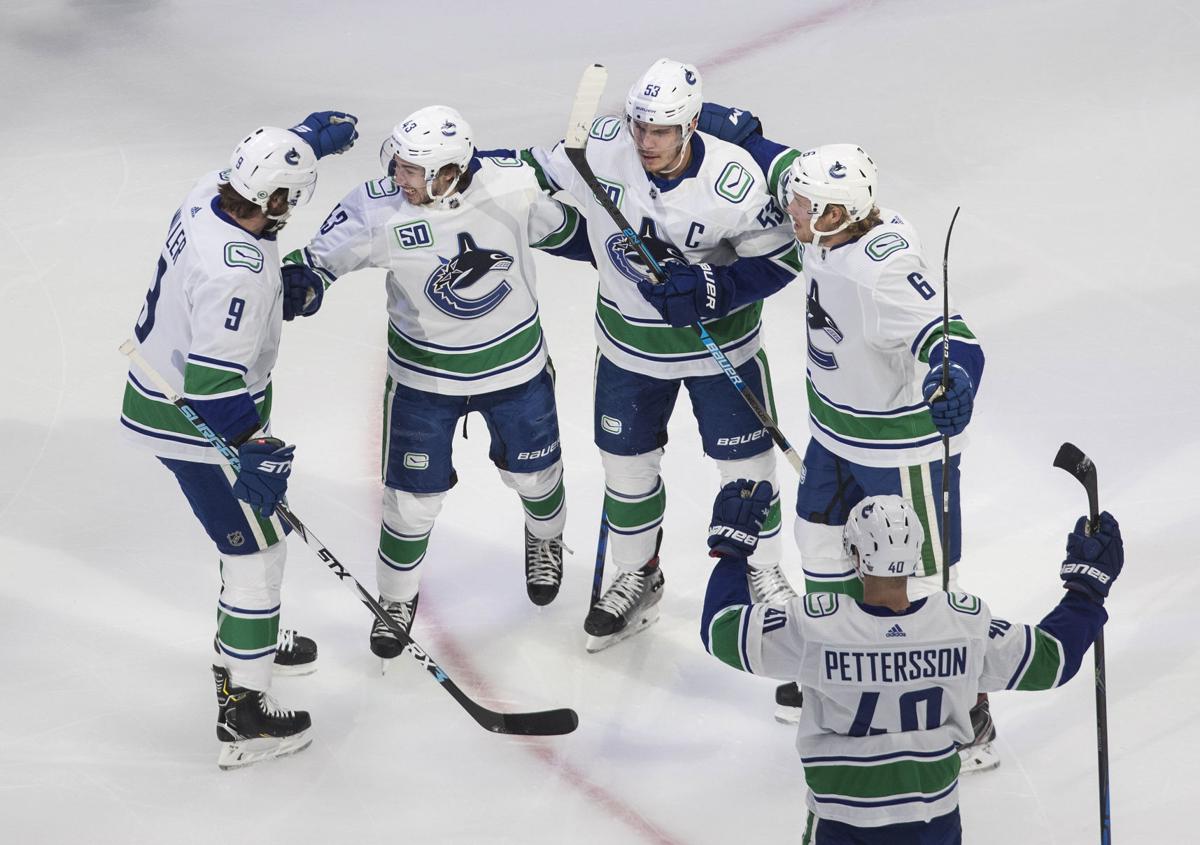 EDMONTON, Alberta — Higher stakes. Same result.
The Edmonton funk continues for the Blues, losing for the fifth time in five tries in their hub city, this time 5-2 to the Vancouver Canucks.
Memo to the Blues: There's no time like the present to get going. The four prior losses, one in overtime, came in an exhibition game and three relatively meaningless round-robin contests. But Wednesday at Rogers Place, the playoffs started for the Blues — Game 1 of the best-of-7 Western Conference quarterfinals. And the result was the same.
True, they were much more focused, much more intense, and had the overall edge in play through two periods-plus of what was then a 2-2 contest.
But, oh, those third periods. The Blues wilted once again in the final 20 minutes, with Vancouver scoring three times on just five shots on goal.
A Blues team known for closing out games has been outscored 9-0 in the third periods of their three round-robin contests and the Vancouver series opener. Kind of mind-boggling, isn't it?
"We had some good chances in the third, they just didn't go in," coach Craig Berube said. "Listen, the game's right there. We didn't get the next goal. But we gotta do a better job of not allowing what happened to happen. Then, penalties are a problem, too."
What happened was, the Blues came out with purpose in the third. They got a lot of early zone time, were winning most of the puck battles along the walls and behind the net. It looked like they were on the verge of taking over the game.
But the Canucks didn't blink.
Vladimir Tarasenko couldn't clear the puck, Canucks defenseman Troy Stecher found himself uncovered behind the right faceoff circle and sent what looked like a routine shot underneath the blocker of Jordan Binnington to break the 2-2 tie 5½ minutes into the third period.
"Just careless with the puck," Berube said of the sequence preceding the goal. "We could've moved it quicker. We could've did something different than we did with it — and it's in our net.
"Obviously, Binner, he probably wants that one back for sure. But it is what it is. Listen, we'll fix it. We'll get better next game, and it's a long series."
Stecher has played in 286 regular-season games, and has scored 11 goals. But he had the game-winner Wednesday.
Less than 2 ½ minutes later, Bo Horvat blasted past Vince Dunn just inside the blueline and then blasted a shot past Binnington for his second goal of the night. The Blues weren't quite the same after that, surrendering their final goal of the night on yet another Vancouver power play goal — this one by J.T. Miller — with 39 seconds to play.
It will be a short series, contrary to Berube's comments, if the Blues keep establishing residency in the penalty box.
"It's not only us, it's everyone right now," said Brayden Schenn, whose second-period tripping penalty led to a Vancouver goal. "I think if you went back to Vancouver's playoff series against Minnesota, they had 28 power plays in four games.
"So they're calling a lot of penalties, and that's on us to keep your stick to yourself and move your legs, and check with your legs rather than your stick. Penalties are gonna happen. ... They're gonna get power plays and we're gonna have to kill off some penalties. It's gonna be like that all series."
While it's true that there are a ton of penalties being called throughout this postseason, the Blues are getting more than most. Normally one of the league's least-penalized teams, they were the sixth-most penalized squad in the original 24-team field during the round-robin/qualifying portion of the tournament.
On Wednesday, Vancouver had six power play opportunities to just three for the Blues. The Canucks, with the league's fourth-ranked power play during the regular season, converted three of those six. The Blues, ranked No. 3 in the regular season, converted one of three on a David Perron goal.
"We gotta be careful with our sticks," Berube said of the Blues' penalty outbreak. "They are not great calls but they're obviously calling them so we gotta do a better job."
As bad as the final score looked, this was easily the Blues' best outing in Edmonton. For two-plus periods, they looked like the Blues in terms of forechecking, cycling, and compete level. Furthermore, they outshot the Canucks in each period and had good chances throughout.
Jaden Schwartz had a highlight-reel goal on a breakaway to tie the game at 2-all in the second, using some fancy stickwork to send a backhand between the legs of Vancouver goalie Jacob Markstrom.
"I liked our game," Berube said. "I don't like the mistakes in the third period — the two goals (by Stecher and Horvat). They're gimmes in my opinion. That's gotta be better. But I thought we did a good job controlling the tempo and the play. We had a lot of good looks.
"We're gonna have to do a better job of getting more traffic in front of the goalie and getting some greasy goals."
So the silver lining could be that the Blues are getting back to their game. Or it could be a scary thought, because even with that progress they still lost by three goals.
When it was suggested that maybe the Blues needed an actual playoff game like Wednesday's to get some pace back in their game — as opposed to the round-robins — Schenn would have none of it.
"I think we had three games to try and get our pace," he said. "And we just weren't good enough. I don't think we were good enough as a team right from our exhibition game. It's obviously not the result we wanted.
"We're going to continue to build here, get better, and try and wear 'em down. That's what the playoff series is all about. We've been in this situation before. Even all last year, we were down in some series. They're a good team over there. And we're gonna have to find a way to be better."
The latest STL Blues hockey news, NHL headlines, scores, standings and rosters.