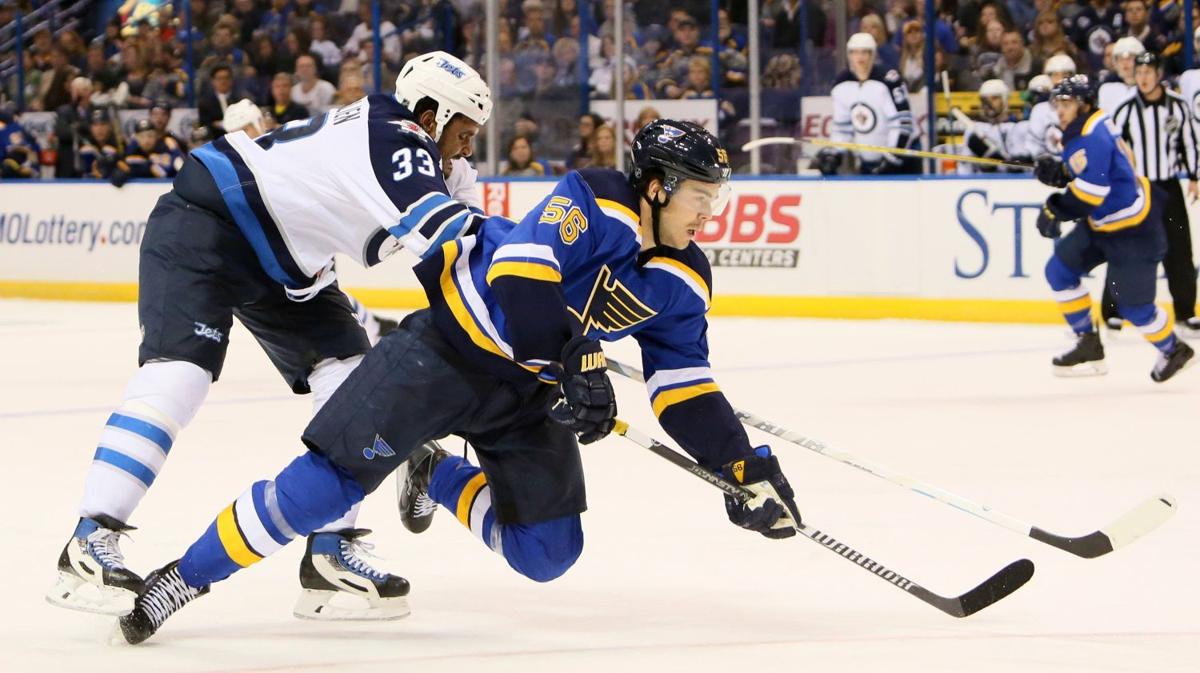 The Blues have played few duds this season, but their 3-1 loss to Columbus Nov. 17 at Nationwide Arena was one of them.
The Blues Jackets had a lot to do with it, executing well. The Blues' schedule had something to do with it, being the fifth game in eight days and the second of back-to-back nights. Regardless, it was not good.
"They outplayed us substantially in the last game in their building," Blues coach Ken Hitchcock said. "They won a lot of the puck battles, they won a lot of the puck fights that ended up allowing them to have possession. We were on our heels for most of that game. Hopefully we've got a little bit more energy to play tonight."
Well, the schedule often times offers a chance for redemption and it will do so tonight when the Blues host Columbus just 11 days later. And this time, it will be the Blue Jackets coming in perhaps a little fatigued, playing their third game in four nights and the second of back to backs.
"We need to really get into the game early," Blues forward Magnus Paajarvi said. "It's easy to get into the game after back to back, but obviously the fatigue level for them is a little bit more than us, so we've got to try to utilize that and be heavy on them."
The Blues will have a different lineup tonight than the one that dressed in Columbus.
Paul Stastny missed that game with a broken foot, but he'll be back in the lineup for his third game since returning.
Forwards Scott Gomez and Dmitrij Jaskin and defenseman Robert Bortuzzo all played against the Blue Jackets, but they will be healthy scratches tonight. After sitting out in Pittsburgh, Scottie Upshall is replacing Jaskin tonight, and after sitting out in Buffalo and Pittsburgh, Joel Edmundson will step in for Bortuzzo.
Goaltender Brian Elliott had the start in Columbus and allowed two goals on 37 shots. Jake Allen will be in net tonight.  
TONIGHT'S PROJECTED LINEUP
Alexander Steen-Paul Stastny-Vladimir Tarasenko
Robby Fabbri-David Backes-Troy Brouwer
Magnus Paajarvi-Jori Lehtera-Scottie Upshall
Steve Ott-Kyle Brodziak-Ryan Reaves
Jay Bouwmeester-Alex Pietrangelo
Joel Edmundson-Kevin Shattenkirk
Carl Gunnarsson-Colton Parayko
BLUE JACKETS' PROJECTED LINEUP
Boone Jenner-Ryan Johansen-Nick Foligno
Scott Hartnell-William Karlsson-Brandon Saad
Cam Atkinson-Gregory Campbell-Matt Calvert
Kerby Rychel-Alexander Wennberg-Markus Hannikainen
Jack Johnson-David Savard
Ryan Murray-Kevin Connauton
Andrew Bodnarchuk-Justin Falk
Blues defenseman Carl Gunnarsson will be paired with Colton Parayko tonight against Columbus.
He is coming off a game in which he committed a turnover that led to a goal by Pittsburgh's Sidney Crosby, tying the score 1-1 late in the first period.
"That's in the back of your head, giving up a goal like that," Gunnarsson said. "That's when the group comes together, everyone is backing you up. You try to forget it, but it's tough. That's what you've got to deal with every time you make a mistake — boom, you're back on the ice and you can't make it again. (Stuff) is going to happen, and no matter who it is, you've just got to pick that guy up, bring him back on the team and make sure he feels comfortable again."
Hitchcock said the Blues are moving past the mistake by Gunnarsson, who was a minus-1 in 22 minutes, 20 seconds of ice time.
"That's where the players and the leaders have to take over," Hitchcock said. "They really worked with him on the bench. They rallied around him a bit. The veteran player handles it better. He's able to move forward.
"I think a veteran player making that type of mistake, you're able to move on quickly and I think your teammates have to help you a little bit along the way."
There will be more on Gunnarsson in Sunday's Post-Dispatch and on STLtoday.com
Columbus center Brandon Dubinsky missed the last meeting between the Blues and Blue Jackets due to an infection. He will miss tonight's game due to a suspension.
The NHL's department of player safety decided on a one-game suspension for Dubinsky for crosschecking Pittsburgh's Sidney Crosby in the back of the neck in Friday's 2-1 overtime win over the Penguins.
"There's no secret, I try to play him as hard as I can," Dubinsky said before the suspension was announced. "That being said, I don't try and do anything dirty. I felt like my stick ride up his back a little bit. He's kind of bent over there in front. But again, that's not the type of player I am. I'm going to play hard, but try and play fair and play in between the whistle."
• With a goal and assist Wednesday in Pittsburgh, Paul Stastny has seven points (seven goals, five assists) in seven games this season.
• The Blues are one of eight teams in the NHL that has yet to score a shorthanded goal this season.
• Defenseman Kevin Shattenkirk enters tonight's game with a seven-game point streak. He has two goals and nine points in those seven games.