Defenseman Robert Bortuzzo was the last player who had been with the Blues the whole season who didn't have a goal, and don't think he and his teammates weren't aware of that.
"Guys tell me probably before every game that they feel like I got one tonight," Bortuzzo said several days ago. "They keep telling me that and hopefully, eventually, someone will feel like a genius or something."
Bortuzzo might not score many goals, but when he scores them, he picks his spot well. On Monday, with the Blues stuck in a 1-1 swamp with Anaheim, a team that was 30th in a 31-team NHL in points, Bortuzzo took a shot on goal that was blocked and, like all great goalscorers do, followed it up by driving to the net. That's where he waited just a few moments for a feed from Jordan Kyrou from behind the goal line that he drove into the net to give the Blues the lead and send them on their way to a 3-1 win at Enterprise Center that moved them to the brink of a playoff berth.
So who ended up looking like the genius?
"No one made a prediction tonight," Bortuzzo said. "Maybe that was the secret sauce."
The Blues can, with the right combination of results, secure on Wednesday a playoff spot that everyone expected before the season began and that no one was quite too sure of April 17 when the Blues lost to Arizona and dropped into fifth place. A Blues win and a loss by the Kings in regulation would send the Blues back into the postseason and render the final week of the season essentially meaningless. Neither of those events is inherently unlikely, though getting them to line up on one night can be difficult.
"Big goal tonight," Blues coach Craig Berube said. "He's been playing good hockey for us. Doing a lot of different things. It was nice to see him get a goal."
"Guys love when he scores," said forward Brayden Schenn, whose power-play goal in the second period gave the Blues a 1-0 lead for 25 seconds before the Ducks tied it. "Obviously (game-winning) big goal tonight, and obviously scoring goals is one thing, but I think we all know what he does for our team. He's a team-first guy, brings a ton to our locker room and does the little things on the ice to make our team win. So when you see him get rewarded, guys couldn't be happier for him."
"Happy to contribute," said Bortuzzo. "It's a big game for us coming off a road trip; those games are tough sometimes. A lot of guys stepped up tonight and it's a big win for us."
It was just the 14th goal of Bortuzzo's long NHL career, which now covers 411 games. (He also had two goals during the team's Stanley Cup run in 2019.) He had predicted that when he did score a goal a good celebration would ensue, and he was right on that: a fist pump and a huge smile before he was swallowed up in a sea of teammates.
"I think the guys on the bench think it was the right amount," Bortuzzo said, "which I'm happy with. It's nice to show a little emotion there, especially this time of year. Games and points are huge for us."
"I haven't watched the replay yet," assessed goalie Jordan Binnington, who faced only 20 shots on goal but still had a hectic night in the nets. "But you can feel the passion behind it."
The goal reveals a truism about Bortuzzo: For a guy who doesn't score many goals, he knows a lot about scoring goals. He read the situation perfectly to get to where he needed to be.
"I knew we had numbers just off the rush so I could hang in a little longer," he said, "and then high-end guys like (Robert Thomas) and (Kyrou) are able to spin off guys and make those really in-tight plays. I was expecting the puck to come below the goal line and we score a lot of goals in that way. Just lingered a little longer than usual. Fortunately it was able to go in and find a hole there."
The win wasn't sealed until Ryan O'Reilly scored into an empty net with 8.6 seconds to play. David Perron had an assist on the goal, giving him 600 points in his NHL career and 400 points with the Blues.
The Blues needed the Bortuzzo goal in the worst way because they had been playing, if not in the worst way, in a way that was keeping the Ducks in the game. Their defense, consistently tested by offensive turnovers, kept the game in check. The Blues blocked nine shots in the first period when Anaheim could have opened up a multi-goal lead and instead ended up with just three shots on goal.
"It didn't seem like we had a lot of jump or juice," Berube said. "But early on in the game I thought that we did what we had to do to defend our net, blocking shots and things like that. It wasn't a pretty first period. . . . And then I thought our game got better as the game went along. It was one of those games where it wasn't a free-flowing game, just a lot of grinding out there and things like that. But on the other side, we found a way to win and guys did a good job I thought."
It was a step up from the last time the Blues played the Ducks, when they blew a 2-0 lead and lost in overtime in a lost weekend where they took just one out of four possible points from the Ducks, one of several times during the season it looked as if the Blues were ill-suited for the playoffs.
"I don't think we were as good as we needed to be tonight," Schenn said. "I think we maybe turned over some pucks and maybe gave them some odd-man rushes, but at the end of the day we got two points. Those are important points."
Photos: St. Louis Blues beat Anaheim Ducks 3-1
Anaheim Ducks vs St. Louis Blues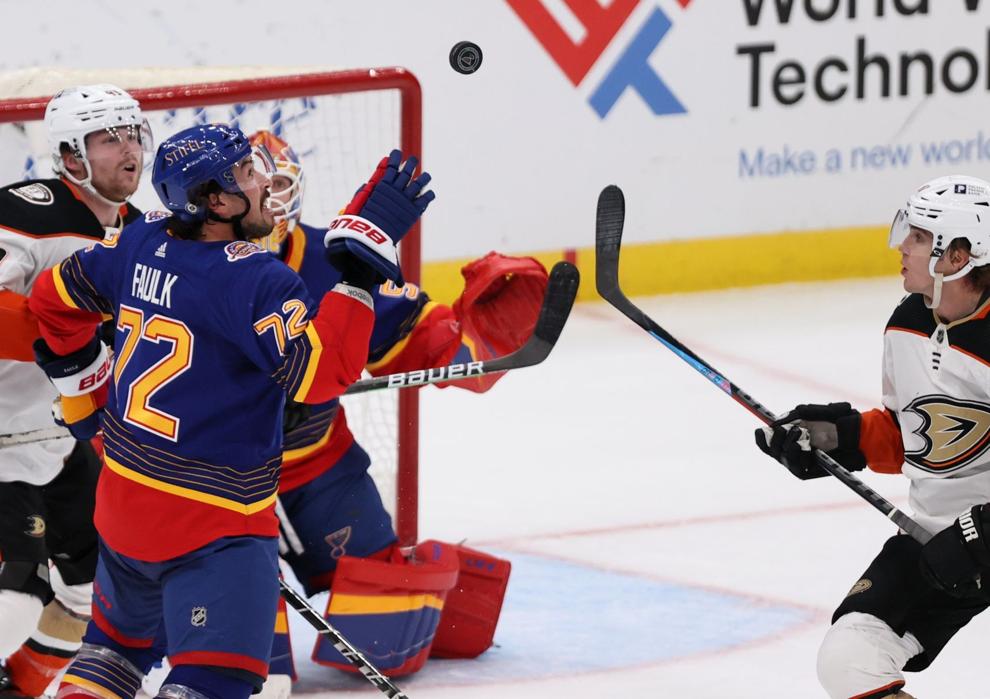 Anaheim Ducks vs St. Louis Blues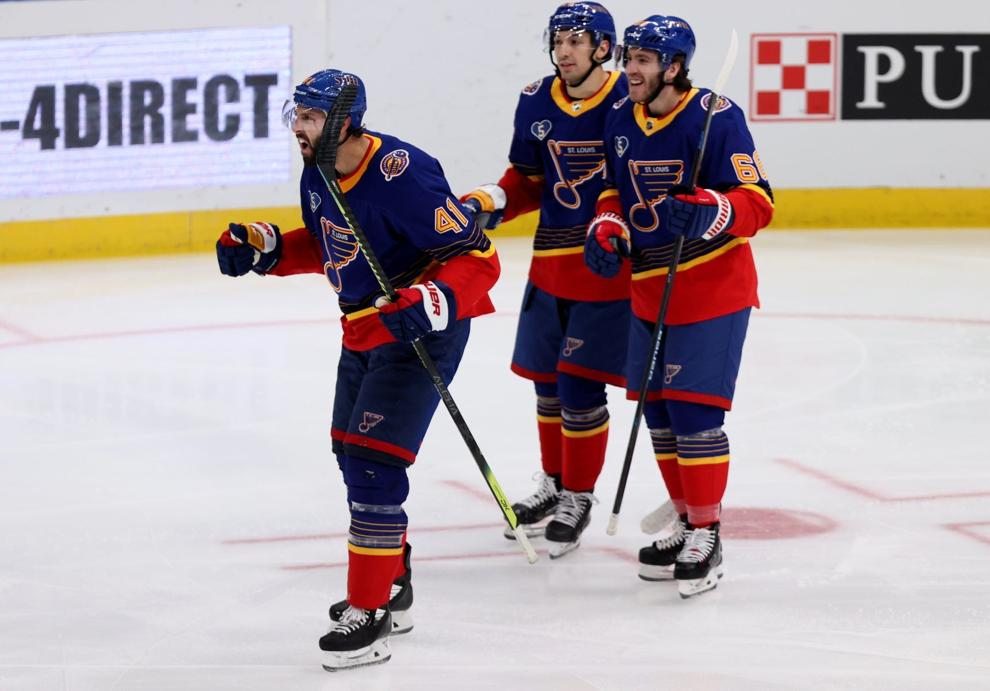 Anaheim Ducks vs St. Louis Blues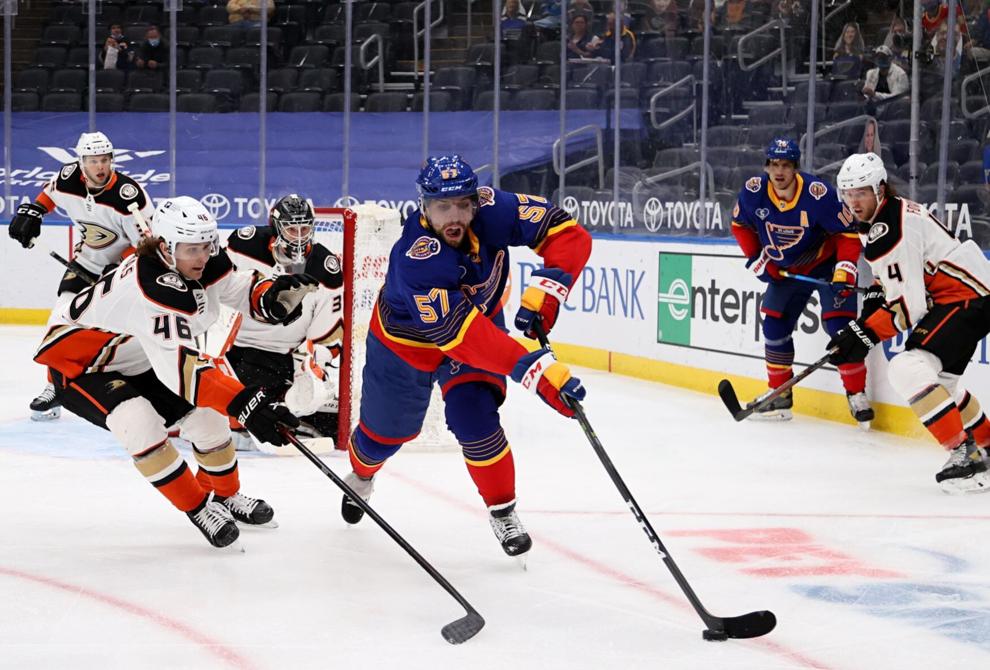 Anaheim Ducks vs St. Louis Blues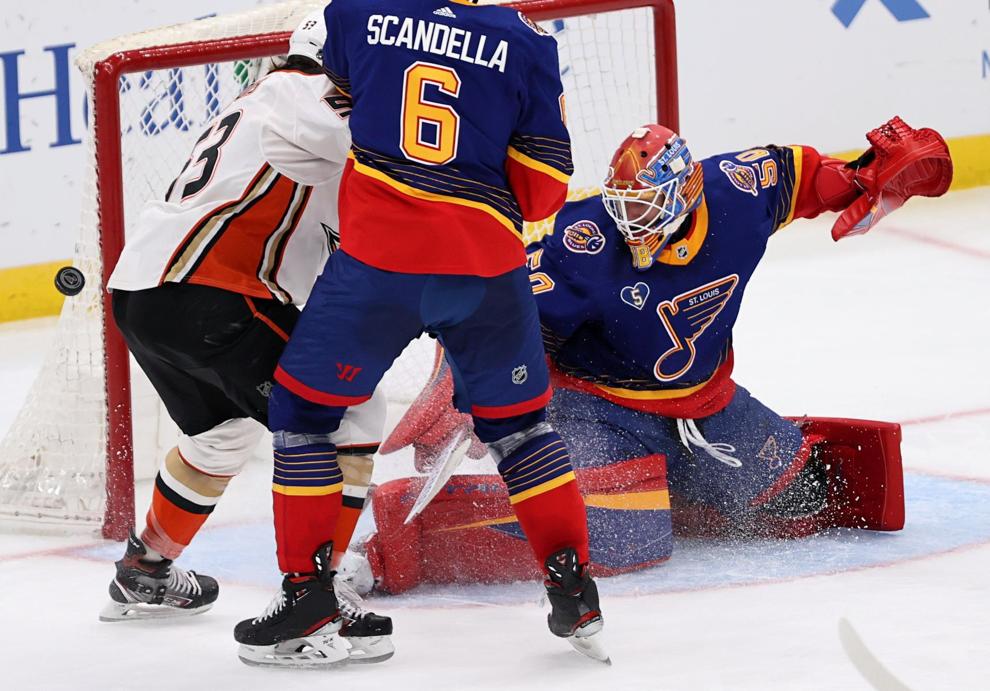 Anaheim Ducks vs St. Louis Blues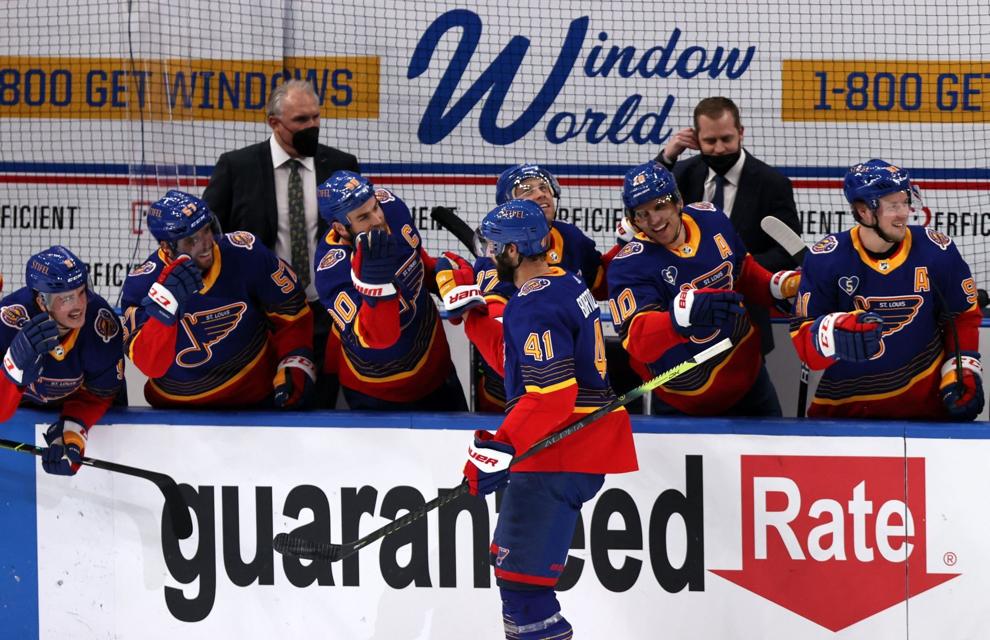 Anaheim Ducks vs St. Louis Blues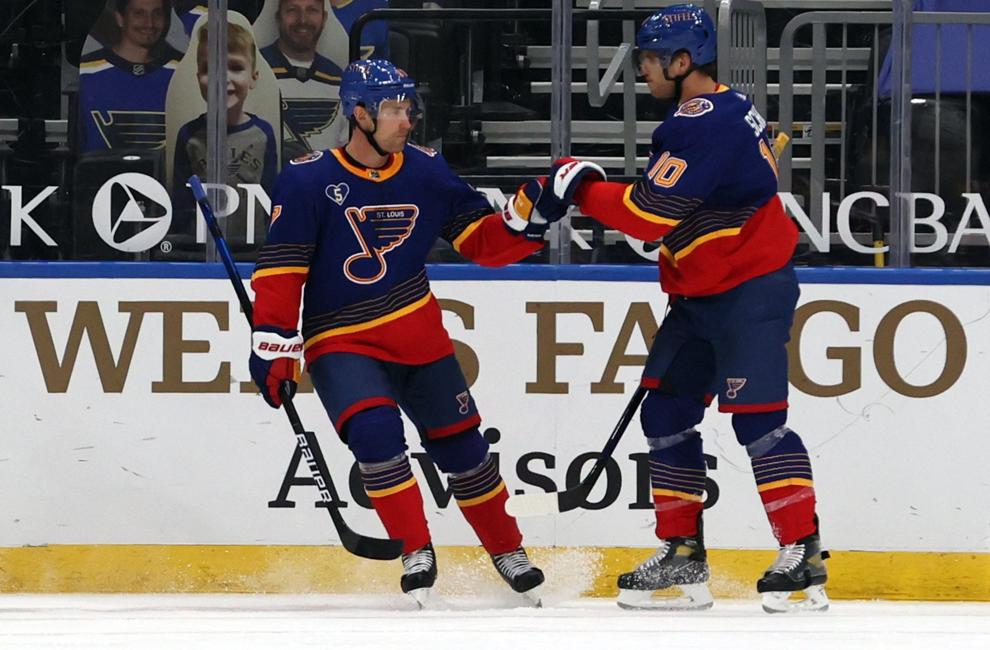 Anaheim Ducks vs St. Louis Blues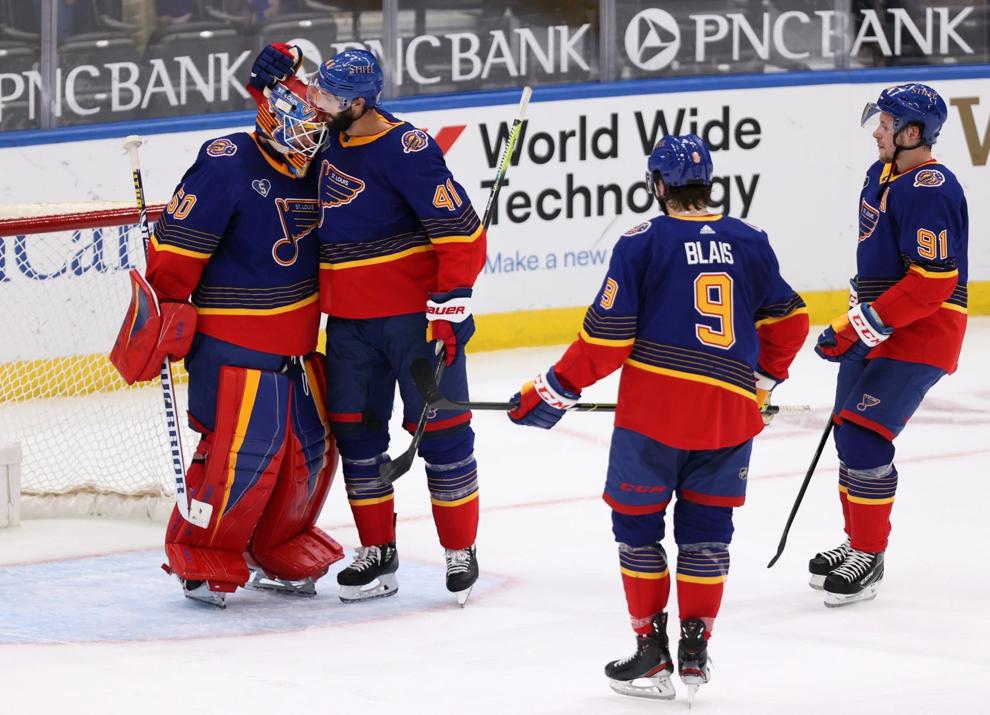 Anaheim Ducks vs St. Louis Blues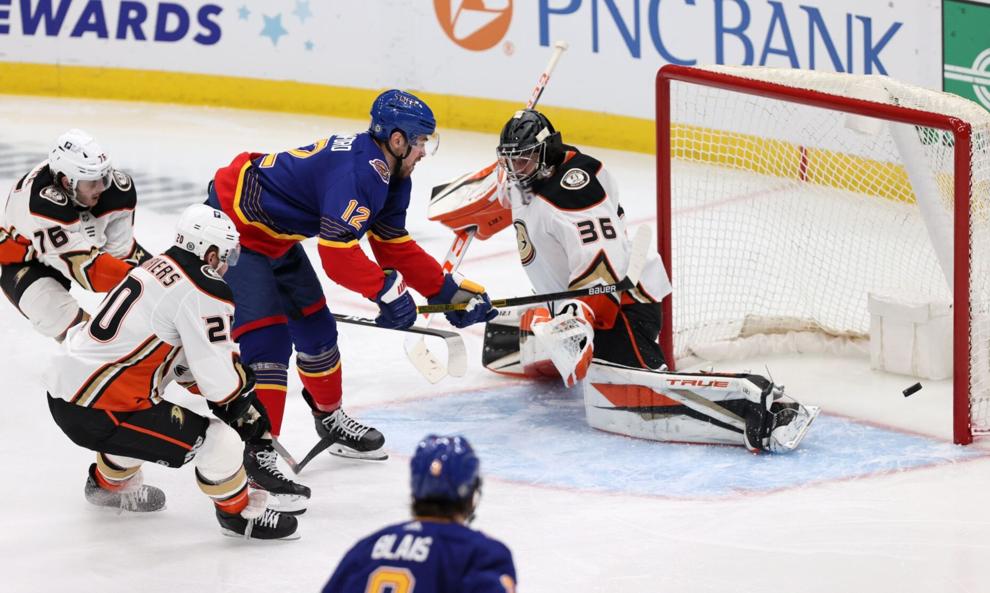 Anaheim Ducks vs St. Louis Blues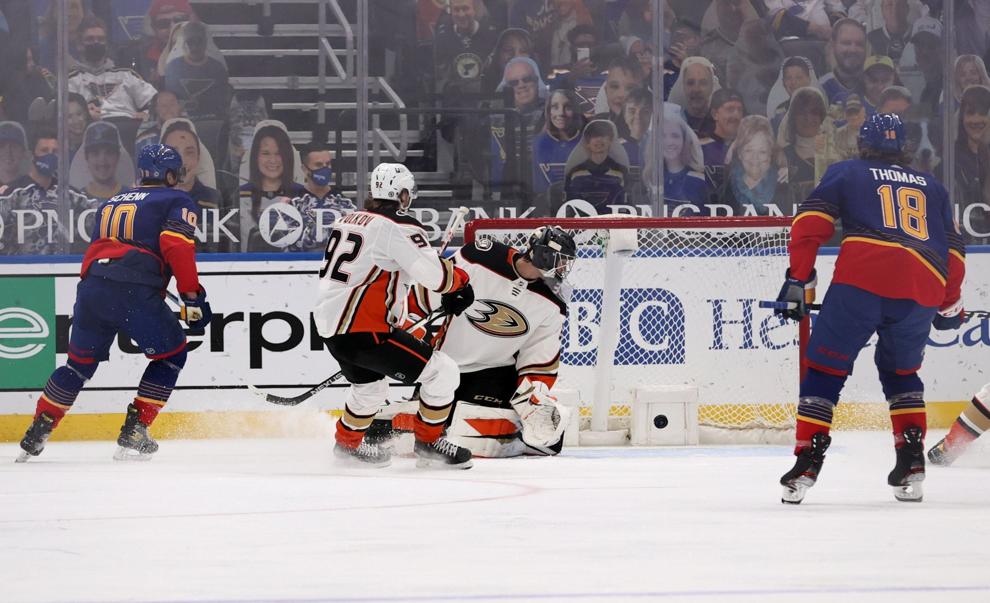 Anaheim Ducks vs St. Louis Blues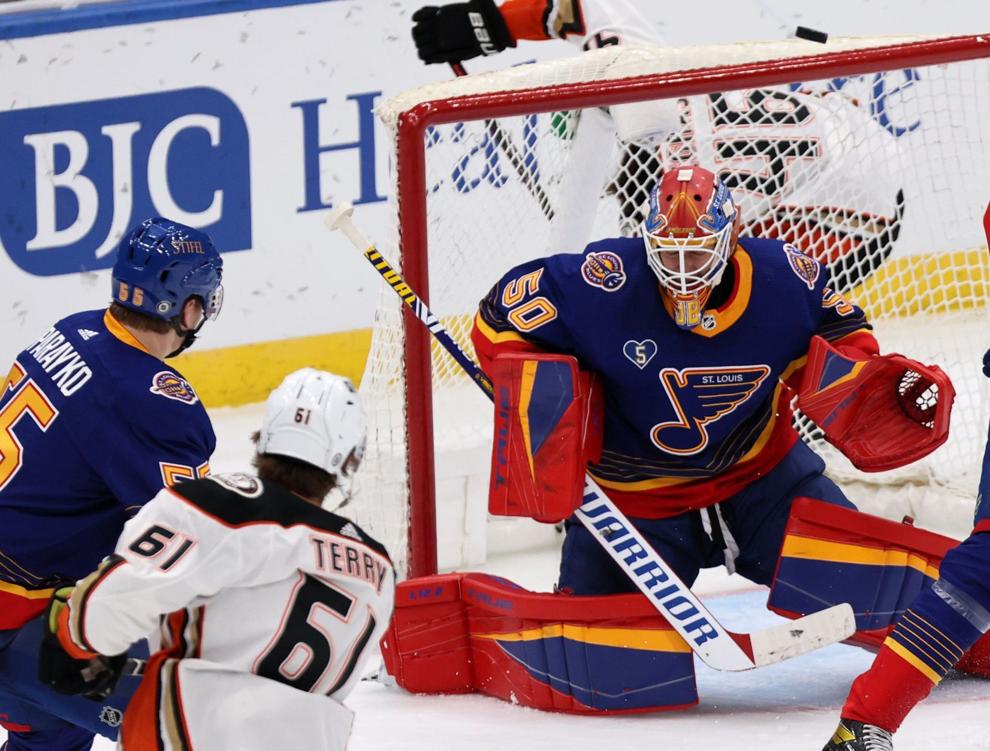 Anaheim Ducks vs St. Louis Blues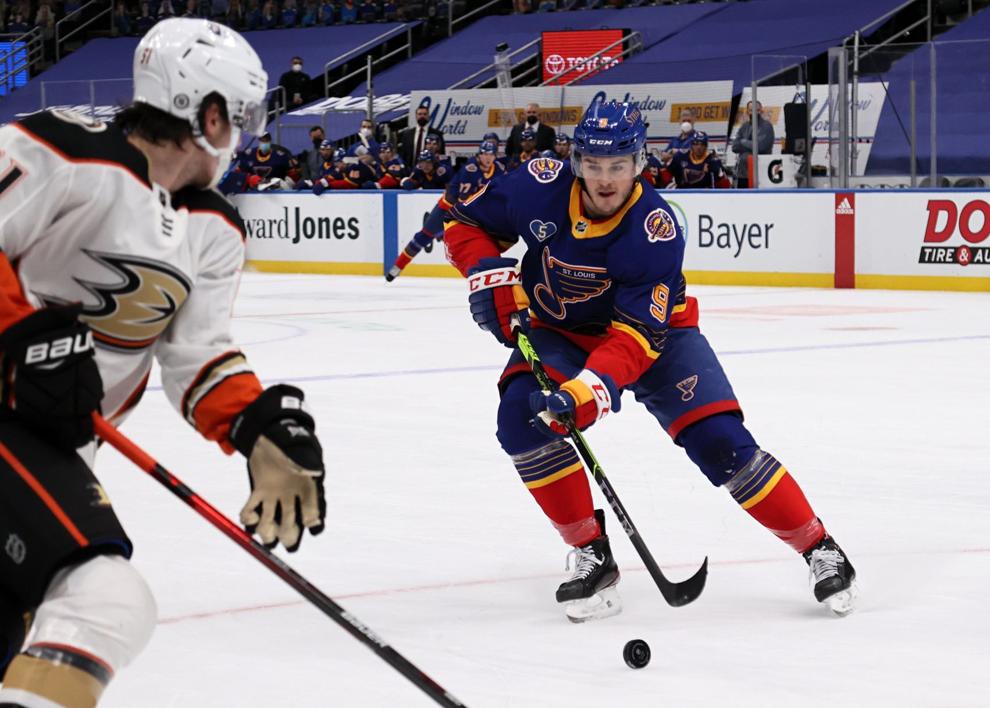 Anaheim Ducks vs St. Louis Blues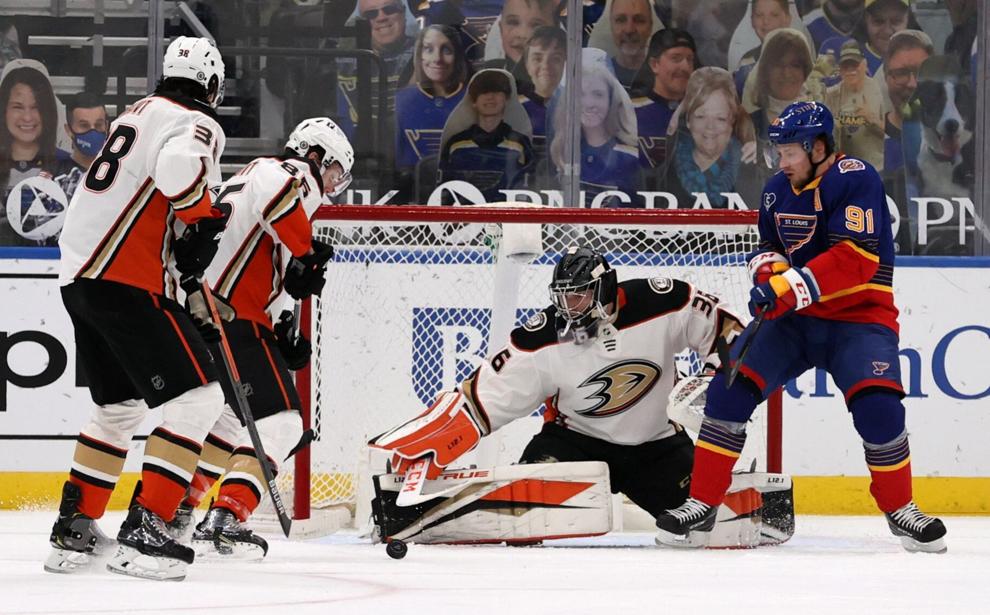 Anaheim Ducks vs St. Louis Blues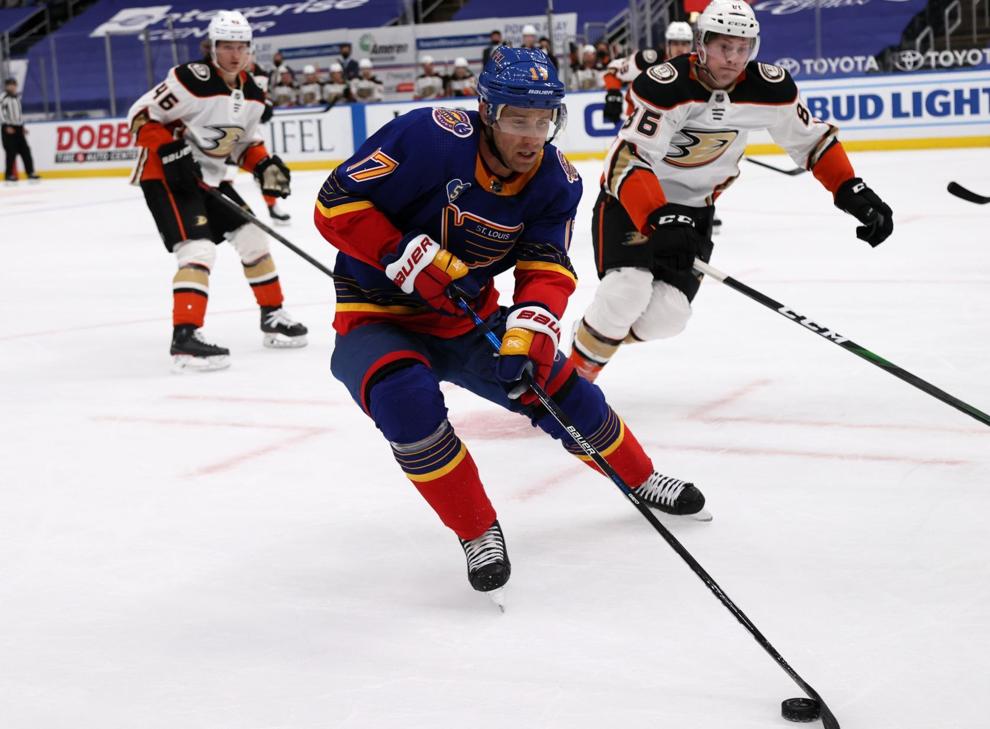 Anaheim Ducks vs St. Louis Blues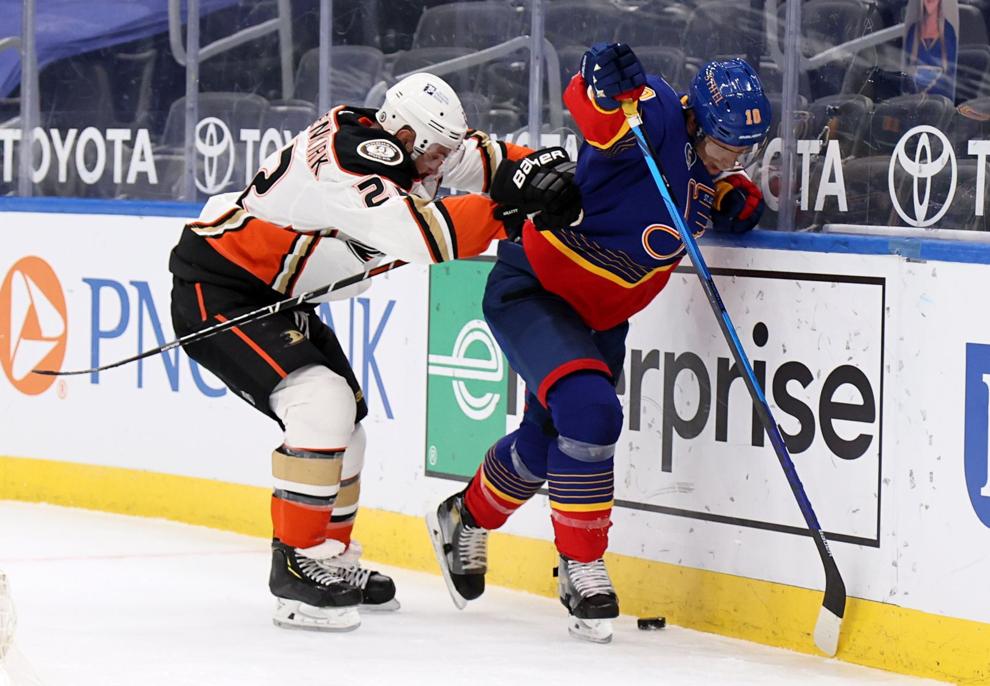 Anaheim Ducks vs St. Louis Blues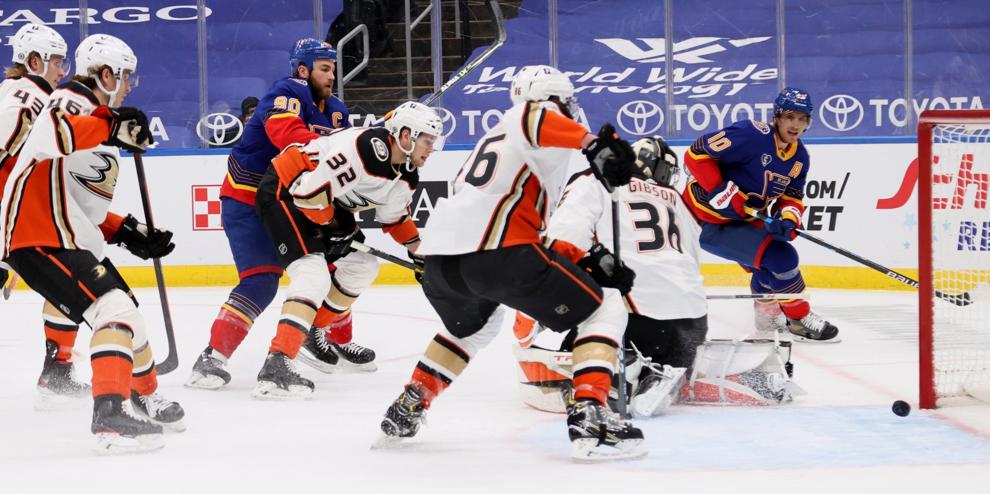 Anaheim Ducks vs St. Louis Blues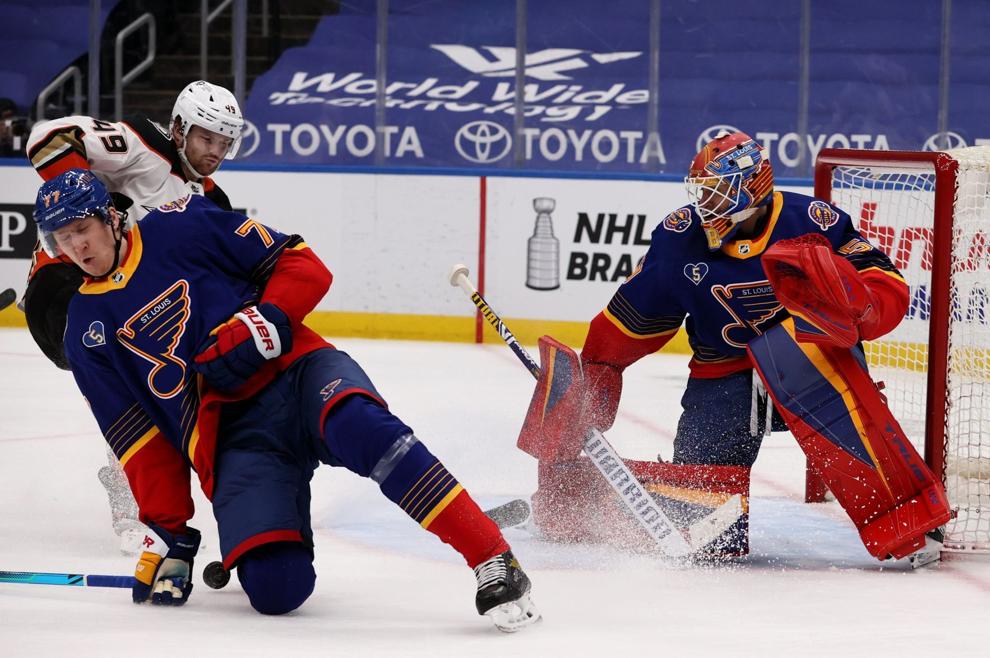 Anaheim Ducks vs St. Louis Blues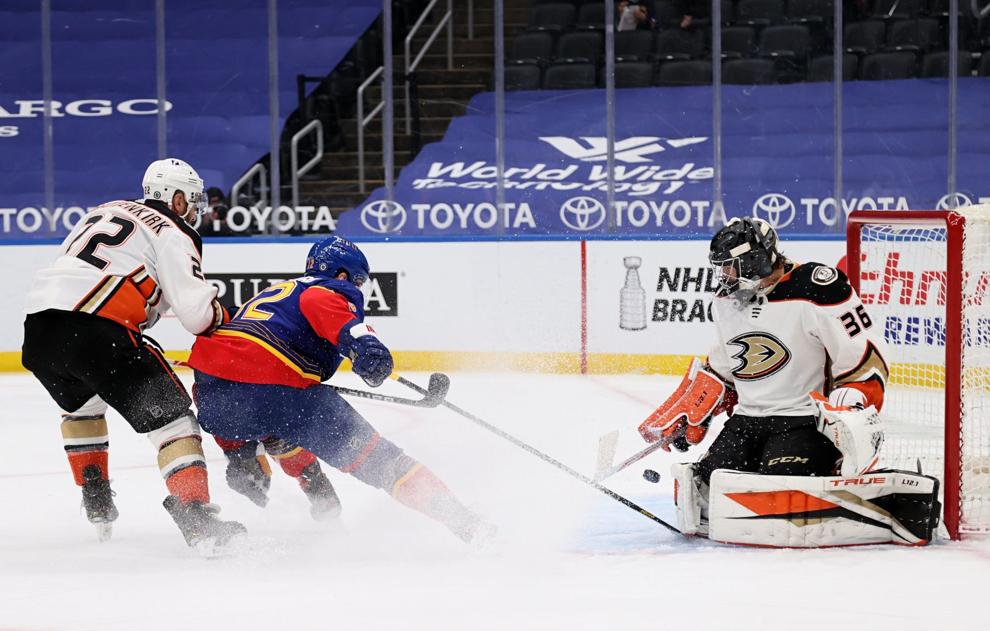 Anaheim Ducks vs St. Louis Blues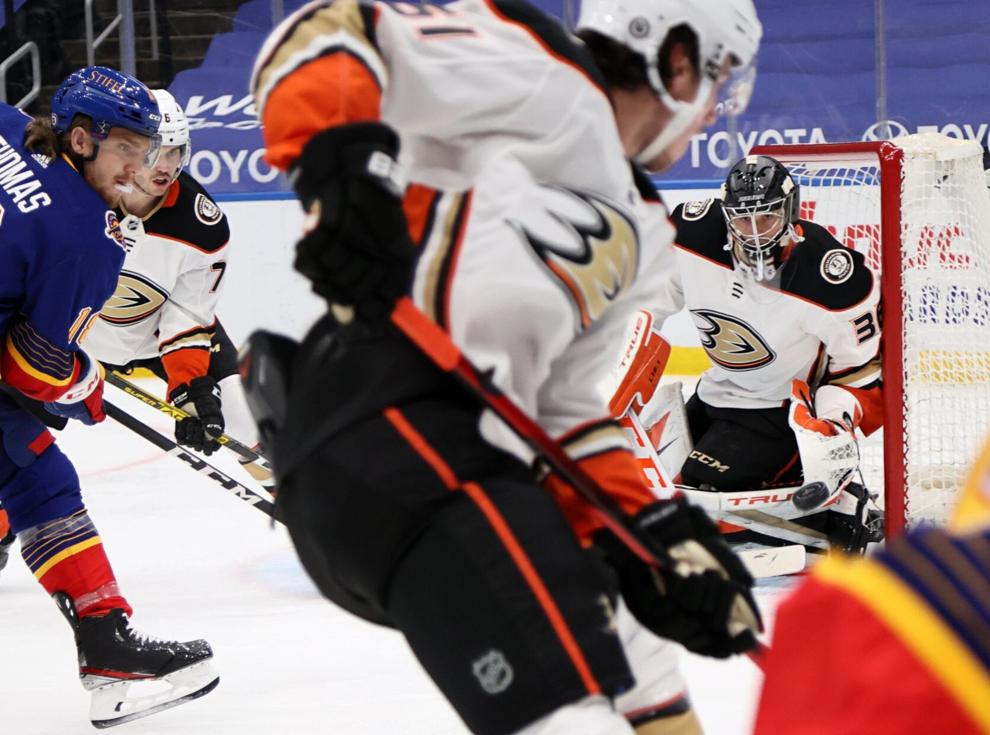 Anaheim Ducks vs St. Louis Blues
Anaheim Ducks vs St. Louis Blues