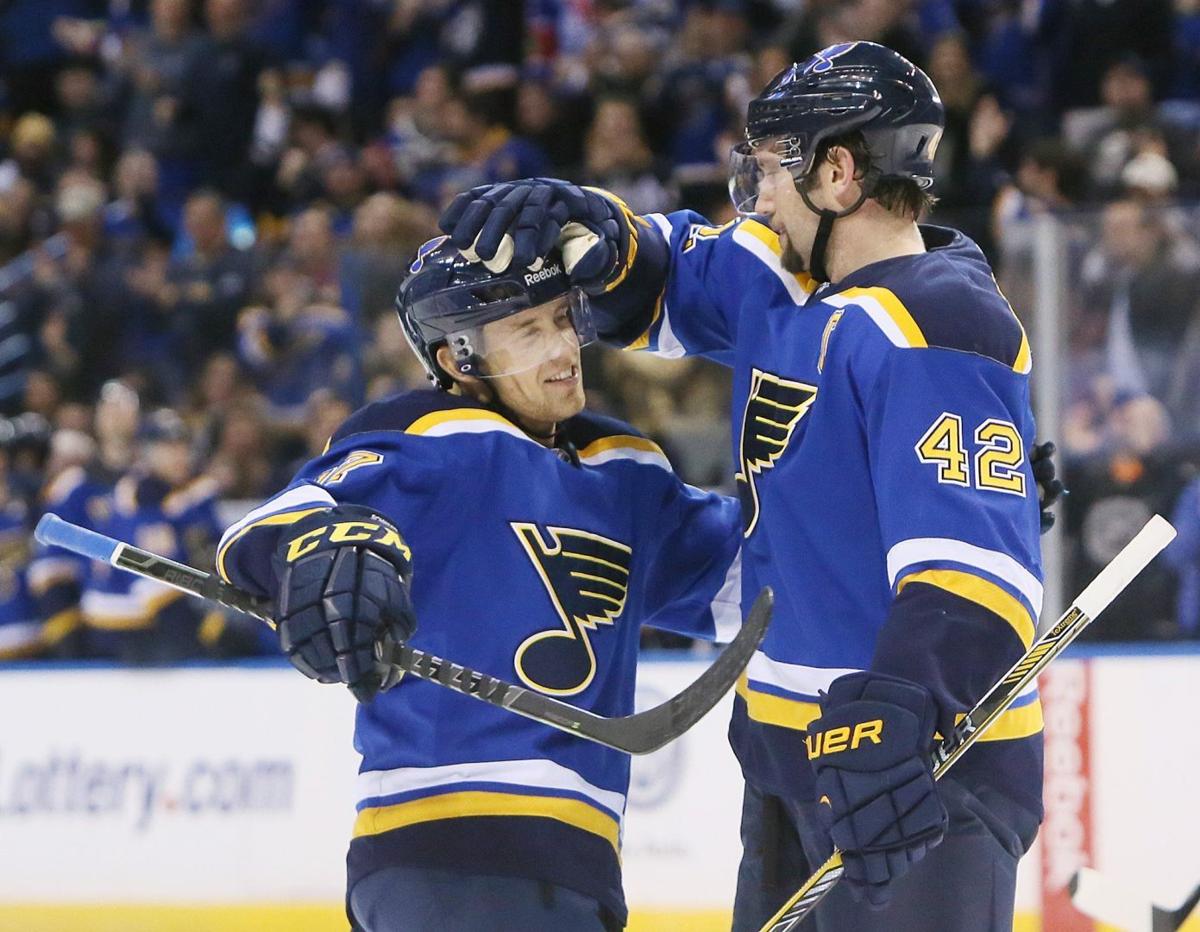 The NHL's No. 1 power-play unit isn't showing any signs of slowing down.
The Blues added two more power-play goals in Thursday's 7-2 win over San Jose, running their league-best mark to 26.4 percent.
The group has at least one goal on the man-advantage in each of its last four games and is seven for 13 overall in the the last three games.
"I'd have to say it's a pretty good run," said Blues assistant coach Kirk Muller, who specializes with the team's unit. "But you know, we've had some breaks. We have to make sure we balance it properly in terms of giving them the freedom to try things, but not get a little too outside the box. So far, they've been good. We've just got to keep ticking away."
The club now has 38 power-play goals, which is more than the Blues' season-long totals in both 1967-68 and '72-73.
Several players said that Muller, as a former player, has been instrumental in the success of the power play this season. I will have much more from them in Saturday's Post-Dispatch and on STLtoday.com.
Brian Elliott will back in net for the Blues on Saturday against Carolina.
It will be Elliott's fifth start since returning from a knee injury on Dec. 30. He is 3-1 in his last four starts with a .940 save-percentage. 
"All I'm focused on is Saturday night and then it's re-evaluation time (for goalie assignments)," Hitchcock said. "There's two days off between games, not one. Brian hasn't played very much. We need him to get up to speed.
"There were some times (Thursday) where having not played showed up in some of his mannerisms in the net, and we need him to be smoother for us. So we've got a real gap between games, lots of rest at home and we'll take advantage of it. We'll re-evaluate when we're going to get one of the other guys in." 
The NHL will announce the rosters for the 2015 All-Star game on Saturday.
The Blues are believed to have two players — Vladimir Tarasenko and Kevin Shattenkirk — with a shot to play in the game Jan. 25 in Columbus.
"(Tarasenko) is somone I've talked to about it," Shattenkirk said. "I don't see how he won't be there. Not only give his success, but given some of the highlight-reel plays he's made this year. He's an exciting player. 
"The whole thing is a weekend to showcase the talent in the league and show the fans a lighter side to the game. He is someone we all know being around him enjoys hockey, has fun with it and it would be a perfect weekend for him."
As far his own chances, Shattenkirk said it's only natural to hope.
"Yeah, only natural," he said. "There are similarities to last year, worrying about (making the Olympic team). The Olympic is obviously a much higher level, but it's a similar feeling just sitting around and waiting. I just want the decision over whether it's good or bad."
The NHL announced the two coaches for this year's All-Star game on Friday. Nashville's Peter Laviolette, as a result of having the team with the highest points-percentage currently in the league, and LA's Darryl Sutter, as coach of the defending Stanley Cup champs will be on the two benches.
• Hitchcock confirmed Friday that Chris Butler will remain in the lineup Saturday against Carolina and Ian Cole will be a healthy scratch. Butler was a plus-1 in 17:44 of ice time Thursday against San Jose.