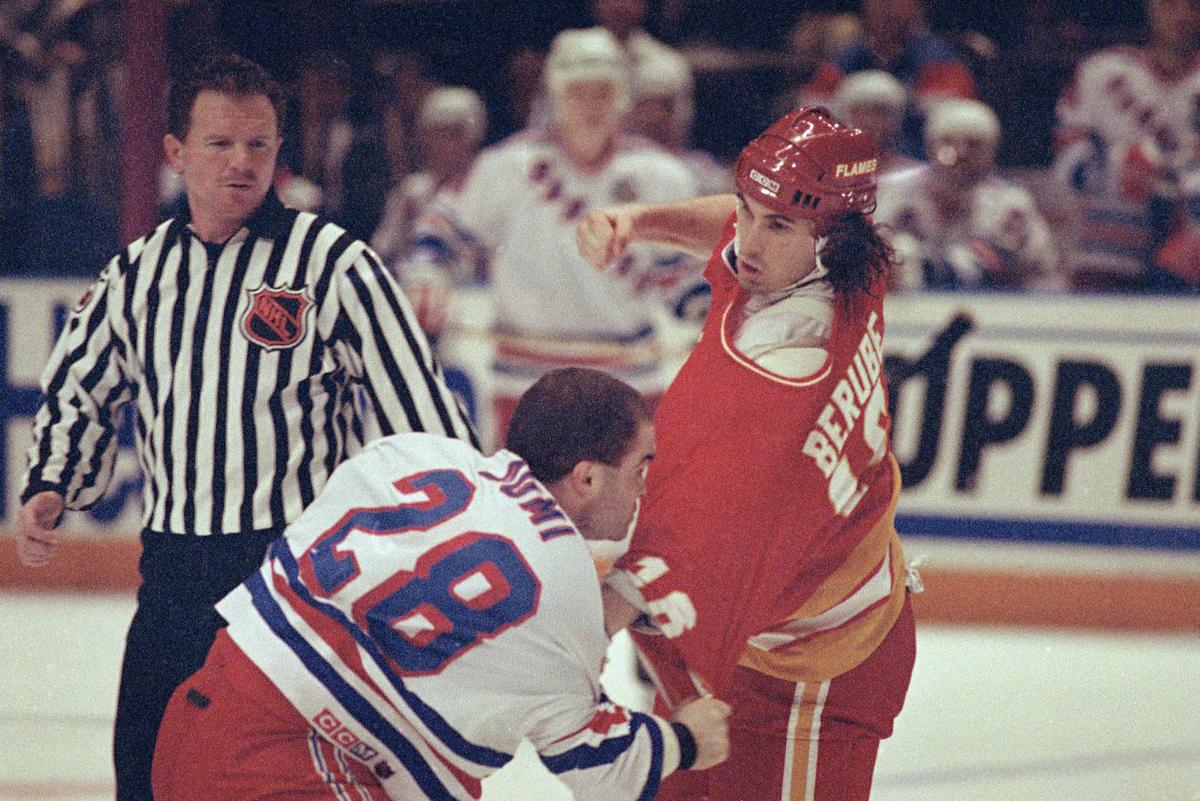 CALGARY, Alberta — In a long, meandering career as a player, Craig Berube played 17 years, encompassing 1,054 regular-season games with five teams. The rough and tumble forward was around long enough to make two stops in Calgary, playing a combined 234 games with the Flames.
"Good hockey town," Berube said Saturday after the Blues' morning skate. "It was a lot of fun. I enjoyed my time here. One was fairly early on in my career. … When I came back I was pretty much done as a player but got a couple more years out of it."
Berube spent 1½ seasons in Calgary during the 1991-92 and '92-93 seasons. A decade later, he played two full seasons with the Flames (2001-03) to close out his career.
"The first time, we had a good team here," Berube said. "It was fun to play with Al MacInnis, Gary Roberts, (Joe) Nieuwendyk, (Theoren) Fleury. Mike Vernon was the goalie. That was a good team. I was a pretty young guy. Just playing with some of those good players and veterans was pretty special."
He was pretty much on fumes for the return engagement.
"I probably shouldn't have been in the league," he said. Then he joked: "I was good in the locker room, I just wouldn't stay in there."
That goal
Flames forward and St. Louisan Matthew Tkachuk is still hearing about that amazing goal he scored with 2 seconds left in overtime to beat Nashville 6-5 on Halloween.
"I get asked about it a fair bit," he said. "(But) it's starting to die down a little."
With time winding down and still about 20 feet from the net, Tkachuk shot the puck through his own legs and past Predators goalie Pekka Rinne to snap a 5-5 tie.
"Every now and then I'll screw around and do something like that," Tkachuk said. "That's not something I practice or whatever. I mainly just do it like in games when I probably shouldn't do it. But it worked, and I was happy it worked out there."
Advice for de la Rose
Berube talked to Jacob de la Rose twice Friday morning before his first practice as a member of the Blues. But it had nothing to do with the specifics of the Blues' system. It was all about how Berube wanted him to play.
"We're a heavy team," Berube told him. "You've got to be physical and aggressive. We get in the way of people. We're a forecheck team and control pucks in the offensive zone."
Can de la Rose play that style?
"He's a big guy. So he can play (heavy)," Berube said.
High-ankle sprains
Saturday's game was the Blues' first since alternate captain Alexander Steen suffered a high-ankle sprain. He will be sidelined for at least four weeks. But as Tyler Bozak can attest, nothing's for certain with such an injury.
"The first couple years in the league I had one," Bozak said. "They're kind of weird injuries — tiny little things can just mess it up. You've got to be really careful."
Bozak said the ankle can feel strong and healthy … "and then one little thing and you're back on the shelf. So you've got to be patient. He's a smart guy. He's been through injuries, so he'll know what to do to take care of himself. We're hoping he's back sooner than later."
De la Rose took Steen's spot on the Bozak line Saturday night and also handled some of Steen's penalty kill duties.
But as Bozak said of Steen: "Not a guy you can replace on or off the ice. A big-time leader in here and does all the little things right on the ice. The things that might go unnoticed by some people … but we notice them each and every day in this room."