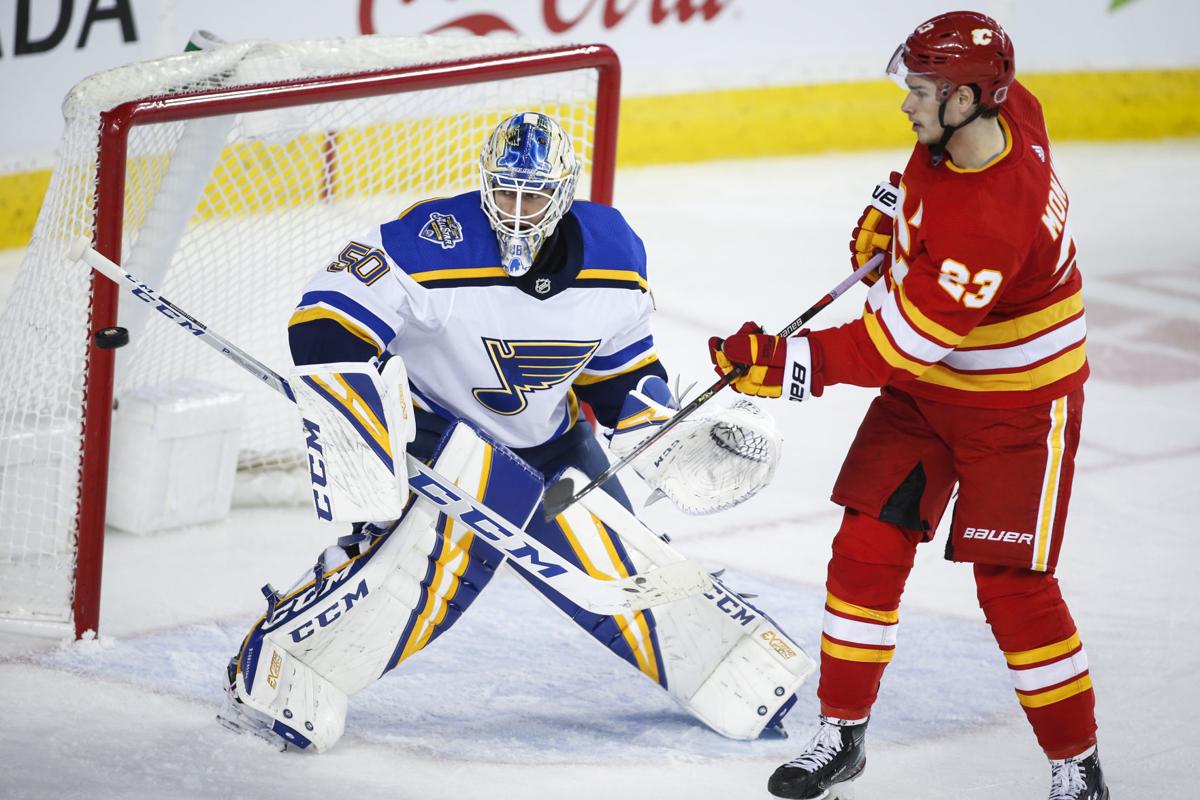 Eight of the Blues' 18 games this season, or 44 percent, have needed extra time to decide a winner. After losing their first three contests in overtime or shootout, the Blues have won their next five — with all five coming during the current seven-game winning streak.
That made Saturday's 3-2 OT win in Calgary just another day at the office.
"That's what it feels like right now," captain Alex Pietrangelo said. "But then again, we've given up some leads that we don't want to give up. So I think we can find a way to cut those down."
One reason the Blues are going to OT so often is their difficulty protecting third-period leads. In five of their eight overtime/shootout games, the Blues have squandered either a two-goal lead (three times) or a one-goal lead (twice) in the third.
Against the Flames, the Blues controlled most of the game, and then lost a 2-0 lead in the final nine minutes.
"We just kinda sat back a little too much," Ryan O'Reilly said. "We gave them a little momentum and I think they got a good bounce on that second goal. But that happens."
Against Calgary, St. Louisan Matthew Tkachuk got loose in the slot to score the Flames' first goal with 9:01 left.
"I think we could defend that first goal (better)," coach Craig Berube said. "We gotta do a better job on that one."
On the second Calgary goal, scored by Travis Hamonic with 3:56 left in regulation, Colton Paryako had the puck batted away before he could control it deep in the St. Louis end. It bounced in front of the net, where Jordan Binnington tried but couldn't swat it away.
"Their guy reacted well and shot it on low-glove right away," David Perron said. "So I think it's a good reaction by their player more than a breakdown by us. It's just an unlucky bounce there. If that doesn't get there, who knows, maybe we just close it like that."
Meaning a 2-1 regulation win.
"But again, we found a way regardless of the situation to win it," said Perron, who scored the game-winner in OT.
Binnington watch
Asked what he thought of Binnington's work against Calgary, Berube kept it simple.
"As good as usual," he said. "He does his job and gives us a chance to win."
That's especially true over the past three weeks. Starting with the Colorado game Oct. 21, Binnington is 7-1, with a 1.98 goals-against average and a save percentage of .933.
Berube hits 50
The victory in Calgary was No. 50 for Berube since taking over for Mike Yeo on Nov. 19 of last season, and he did it in just 81 games. Only one other coach in Blues history has reached 50 wins quicker.
Surprise! It was Yeo. He won his 50th in 80 games, not that it did him much good when things went south a year ago at this time.
Kyrou, Kostin score in San Antonio
Jordan Kyrou scored for the second game in row for San Antonio in Sunday's American Hockey League contest against the Milwaukee Admirals. He has two goals and two assists in three games since returning from kneecap surgery.
Klim Kostin scored his third goal of the season for the Rampage, who fell to 6-3-4 with a 4-3 shootout loss to the Admirals.
Blue notes
With Alexander Steen out for at least a month with a high-ankle sprain, Brayden Schenn wore the "A" on his jersey — for alternate captain — against the Flames.
In his Blues debut, forward Jacob de la Rose skated with the Tyler Bozak line, playing 10:18. As expected, he logged some penalty kill time (1:06). He took no shots and delivered two hits.
The Blues are 7-1 since Vladimir Tarasenko suffered his left shoulder injury Oct. 24 against the Los Angeles Kings and are averaging 3.13 goals per game.
Even with their winning ways, the Blues are averaging only 28.3 shots on goal per game, which ranks 30th in the NHL.
Starting with Tuesday's game against the Arizona Coyotes, the Blues play five of their next six at home.