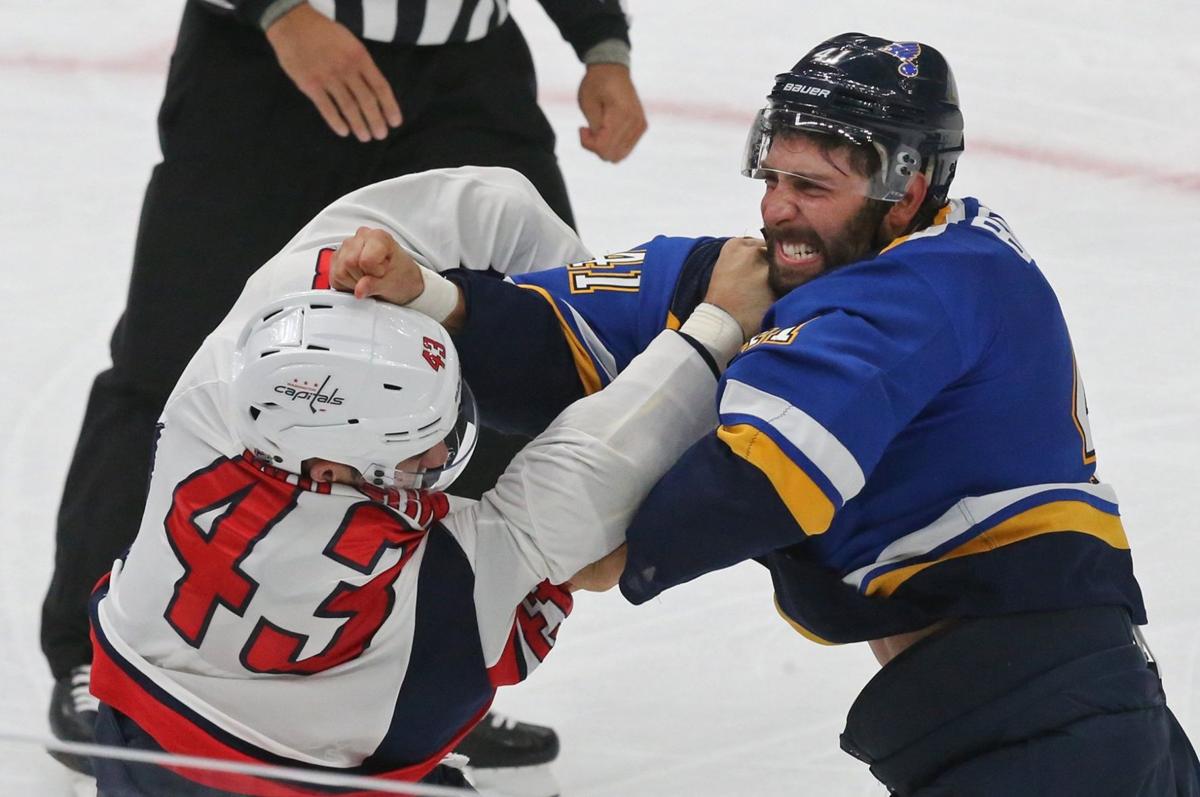 Defenseman Robert Bortuzzo was suspended for three games by the NHL on Thursday for elbowing Washington's Michal Kempny in Tuesday's preseason game at Enterprise Center.
That means Bortuzzo will miss the Blues' final two preseason games, plus the regular season opener Oct. 4 against Winnipeg. He will also forfeit $6,182.80, based on his annual average salary.
After playing a career-high 72 games last season, Bortuzzo is again slated to play on the Blues' third defensive pairing. With Carl Gunnarsson still not cleared for contact as he completes his rehab/recovery from knee and hip surgeries, Jordan Schmaltz probably takes Bortuzzo's place against the Jets.
O'REILLY SCHOOL
In Buffalo, Ryan O'Reilly frequently stayed after practice to work on details of his game. He's brought that habit with him to St. Louis.
At times, Blues veterans have joined in after practice during training camp. Frequently, it's the youngsters who stay late. And so it was Thursday. O'Reilly School was in full session with Blues prospects Sammy Blais, Jordan Kyrou and Robert Thomas sticking around for easily a half hour following practice.
"Ryan's working all the time after practice with the young guys," Blais said. "He shows us some drills. It's good for young guys like us to work with a guy like that, that's been in the league for a long time."
On Tuesday, O'Reilly did some drills around the net, working on getting quick releases.
"Just different stuff that you usually wouldn't be practicing," Thomas said. "Sometimes it happens in a game, so it's good to practice those little things.
"He's always doing stuff, so I like to try and hop in. Obviously, he's a great guy to learn from. So any time you can get that little extra one-on-one time with him it's good for you."
O'Reilly said he feeds off the energy of the younger players, and learns about them and from them as well.
"It's a good relationship. You kind of feed off each other," O'Reilly said. "These guys are all elite hockey players, you can see. You watch in the preseason what they can do.
"So we're out there just finding new drills, new ways to challenge ourselves to make each other better. And I think as you get up to this (NHL) level, it's more the nuances of the game you have to practice the most."
SAMMY & OVIE
So there was Blais, fighting for a Blues roster spot, standing on the edge of the faceoff circle for the start the Washington game. About 18 inches to his right was none other than the "Great 8," the Capitals' Alex Ovechkin.
"When I was young he was starting playing in the NHL," Blais said. "And now I was facing off against him. I was kind of a little bit nervous besides him. But when the game went on I forgot about that and just played my game.
"But he's like got 600 goals in the NHL and he's a superstar. One of the best players that ever played the game. So it was good to play against him."
Blais said Ovechkin didn't talk to him. Who knows, some day a young prospect might be a little starstruck standing next to Blais before a game.
"I might talk to him a little bit," Blais said, laughing.
MISSING IN ACTION
The Blues were missing Alexander Steen, Vince Dunn and Jaden Schwartz in practice Thursday.
Coach Mike Yeo said Steen and Dunn both have upper-body injuries and are day-to-day. Meanwhile, Schwartz was given a "maintenance day," which in football parlance would be a veteran's day off.
"We'd expect (Schwartz) to be on the ice tomorrow," Yeo said.
Meanwhile, forward Robby Fabbri, who most recently has been slowed by a groin injury, participated in about a half hour of the morning practice before leaving the ice.
"Didn't reinjure it," Yeo said. "But just didn't feel up to the level he needed to, to continue to practice so we pulled him off."
Zach Sanford was back on the ice Thursday for the first time since the death of his father, Michael, last Thursday. Sanford missed three preseason games while mourning with his family.