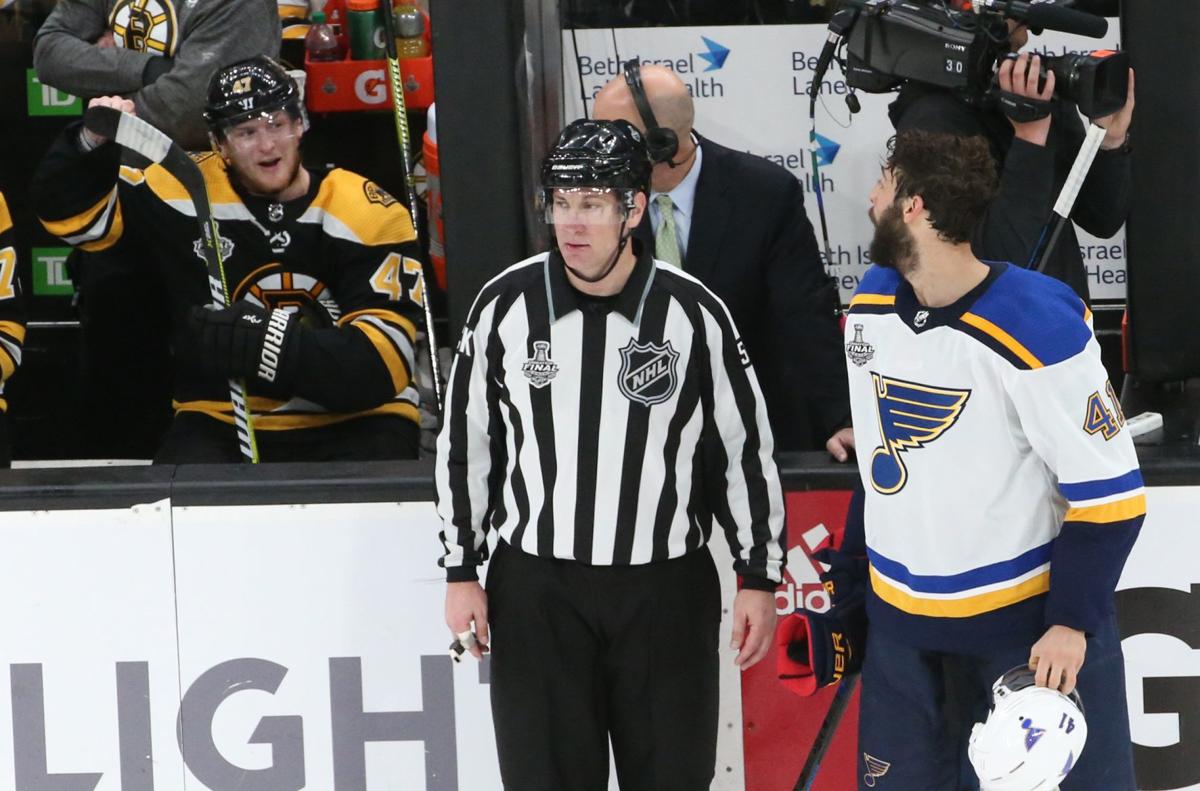 BOSTON — It looks as if the Blues will make one lineup change for Game 5 of the Stanley Cup Final, on defense, with Robert Bortuzzo going into the lineup and Joel Edmundson coming out.
Edmundson played a season-low 7 minutes, 24 seconds in Game 4 and was charged with two giveaways. He has six giveaways total in four games.
It will be the third time in the postseason Edmundson has been a healthy scratch. He was also held out for Games 3 and 4 of the Dallas series. Bortuzzo has been in and out of the lineup several times in the postseason. He didn't suit up for Game 4 of the Final, when Vince Dunn returned to the lineup.
Edmundson, Bortuzzo and Carl Gunnarsson have effectively rotated through two spots on the blueline for much of the season. When the Blues have been healthy, they've had the luxury of seven experienced defensemen to fit into six spots. In the Blues' 23 playoff games, Edmundson has played in 21, Gunnarsson 16 and Bortuzzo 15.
"It's been very good, the competition," Blues coach Craig Berube said. "We've used everybody, that's what you need to do in the playoffs. It's a good competition. I think all the guys realize it. They care about each other and if somebody goes in, somebody comes out, they're on the same page and they're good about it and that's important. You don't have to be happy about it but you still have to be a good teammate and they have been very good that way. It's great to have the depth."
Other than that, the Blues' lineup Thursday night figures to remain the same as it was for Game 4, with center Robert Thomas still out because of a wrist injury. He was the only player not to take part in in the Blues' practice Wednesday at TD Garden.
REST TIME
Games 5, 6 and 7 of the Stanley Cup Final are well spread out, with two off days between each game. At this time of year, the extra break time is welcomed by players, especially ones such as Alex Pietrangelo, who played 29:37 in Game 4.
"I think it's always nice to get the extra day," he said. "I'm not getting any younger. We've played every other day so we've been used to going back and forth. It's not exactly around the corner to get here, so it's nice to get that extra day and use it for travel."
DUNN STARTS
One of the things the Blues did to ease Vince Dunn into action in Game 4 was to put him on the ice predominantly for offensive-zone starts.
"The 'O-zone' is where I excel, so as much as I can be involved there, the better I find myself putting other guys in good spots," Dunn said. "I just wanted to get into the game. I didn't really know where my first shift was going to be. I didn't want to do too much, just try to settle myself into the game and get my legs under me."
"Starting him in the offensive zone, he's a dynamic player so a lot of times we'll give him the start there and he does good things with the puck," Berube said. "He can make something out of nothing a lot of times, he's very good at that. He's elusive and even coming out of our own end, you feel like there are times when the puck is going to get stopped up and he'll do something and make a move and a quick play with the puck that breaks a guy out and it's a great play that we're going up the ice now. In the offensive zone, he just reads things really well. He's pretty high end in the offensive zone."
SOSHNIKOV DEPARTS
Forward Nikita Soshnikov, who was out because of injuries more than he played during his season and a half with the Blues, is going home to Russia, having signed a two-year contract with Salavat Yulaev Ufa of the KHL.
The Blues acquired him in a trade with Toronto in February 2018 for a fourth-round pick in the 2019 draft. But Soshnikov was plagued by concussions and got into only 17 games in that time, with one goal and one assist. He spent most of this season at San Antonio, where he got in just 11 games, with three goals and three assists, because of injuries. Soshnikov is a restricted free agent.
Meanwhile, reports out of Russia say that one-time Blue Jori Lehtera is signing with SKA St. Petersburg of the KHL. The Blues packaged Lehtera and draft picks to acquire Brayden Schenn in 2017. Lehtera played just 27 games with the Flyers this season and finished the season in the AHL.
NOTES
The Blues have scored in the first minute of a game six times this season, three in the regular season and three in the playoffs. Of those six, three have been by Ryan O'Reilly, which among other things means he's been out for the opening faceoff a lot this season. … Ivan Barbashev is one for 14 on faceoffs in the past two games. … Sammy Blais went 0 for two on faceoffs in Game 4. In 32 games in the regular season, he took two faceoffs, splitting them. … Jaden Schwartz and Oskar Sundqvist lead the Blues in plus-minus in the playoffs, at plus-8. Jay Bouwmeester and Colton Parayko are plus-7.