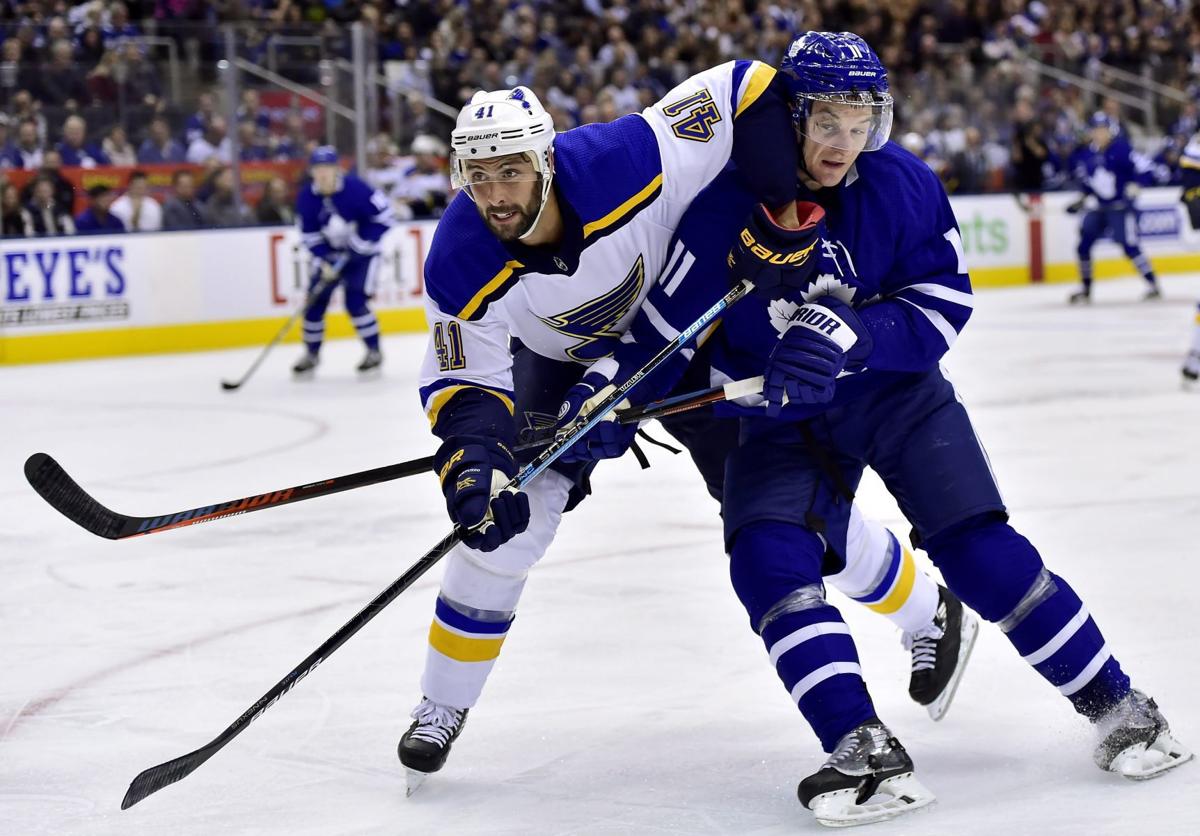 The Blues put defenseman Robert Bortuzzo on injured reserve on Thursday and said he would be re-examined in two weeks, which coach Mike Yeo chose to look at as good news since it sounded like there was the potential for it to be worse.
"I would say the (doctor's) appointment was fairly encouraging," Yeo said. "We'll give him a couple weeks here and hopefully things flare down a little bit. He's feeling better so we'll re-evaluate after that."
Yeo said Bortuzzo played through "a lot of pain" on Saturday in Toronto, the only one of the past four games Bortuzzo has played in. "The information I've got right now is he won't need surgery," Yeo said.
If Bortuzzo misses two weeks, he would be out at least five games and potentially be back in the lineup for the game Nov. 9 against San Jose.
Not all that long ago, Bortuzzo was an oft-scratched seventh defenseman. Now, he's a regular – though in a third pairing role – whose absence from the lineup is notable.
The Blues sent Carl Gunnarsson out on a rehabilitation assignment on Thursday, with the unstated intention of having him back next week. If that's the case, he could be in the lineup as early as Thursday against Vegas, leaving only a two-game gap between Bortuzzo's injury and Gunnarsson's return. In that interim, Jay Bouwmeester and Jordan Schmaltz are likely to fill the third defensive pairing.
SUNNY'S BACK
On the same day that NHL Commissioner Gary Bettman upheld Tom Wilson's 20-game suspension for his hit on Oskar Sundqvist in the Blues' final preseason game, Sundqvist made his return to the Blues' lineup.
Sundqvist suffered both a shoulder injury and a concussion, his third concussion over the course of his career, from the hit on Sept. 30. He's back in the lineup before all the marks on his face – he's got one under his right eye, another alongside his nose – have healed.
"I had concussions before," Sundqvist said, "but I never got hit like that before. … I'm happy that my head is fine. The shoulder, it doesn't matter. You can hit it any time, but you don't want to have a headache and stuff like that for the rest of your life. I'm just glad the head is fine."
Sundqvist centered a fourth line with Ivan Barbashev and Jordan Kyrou that may have taken on a more defensive feel than the Blues' early-season fourth lines.
"He's a real responsible player, really good playing against any player defensively," Yeo said. "I believe he's a guy that can help you close games but he does have more jump, more pace to his game and I think there's another step to his offensive game, too."
NOTES
Sundqvist's return meant Robert Thomas was a healthy scratch for the fourth consecutive game. "We want to get him back in but we just felt today wasn't the day," Yeo said. This would have been Game No. 9 for Thomas, the one after which the team needed to make a decision on where he played this season, but the scratches have pushed the pause button on that. … Robby Fabbri's line from his first game back in the AHL in his rehab assignment: one goal (shorthanded), five shots on goal, minus-2 (in a 5-2 loss), one penalty (holding). "Not going to jump to too many conclusions after one game," Yeo said. "We want to make sure he gets the reps, but getting five shots, scoring a short-handed goal, that's a good sign." … San Antonio's next two games are Friday and Sunday.
The latest STL Blues hockey news, NHL headlines, scores, standings and rosters.