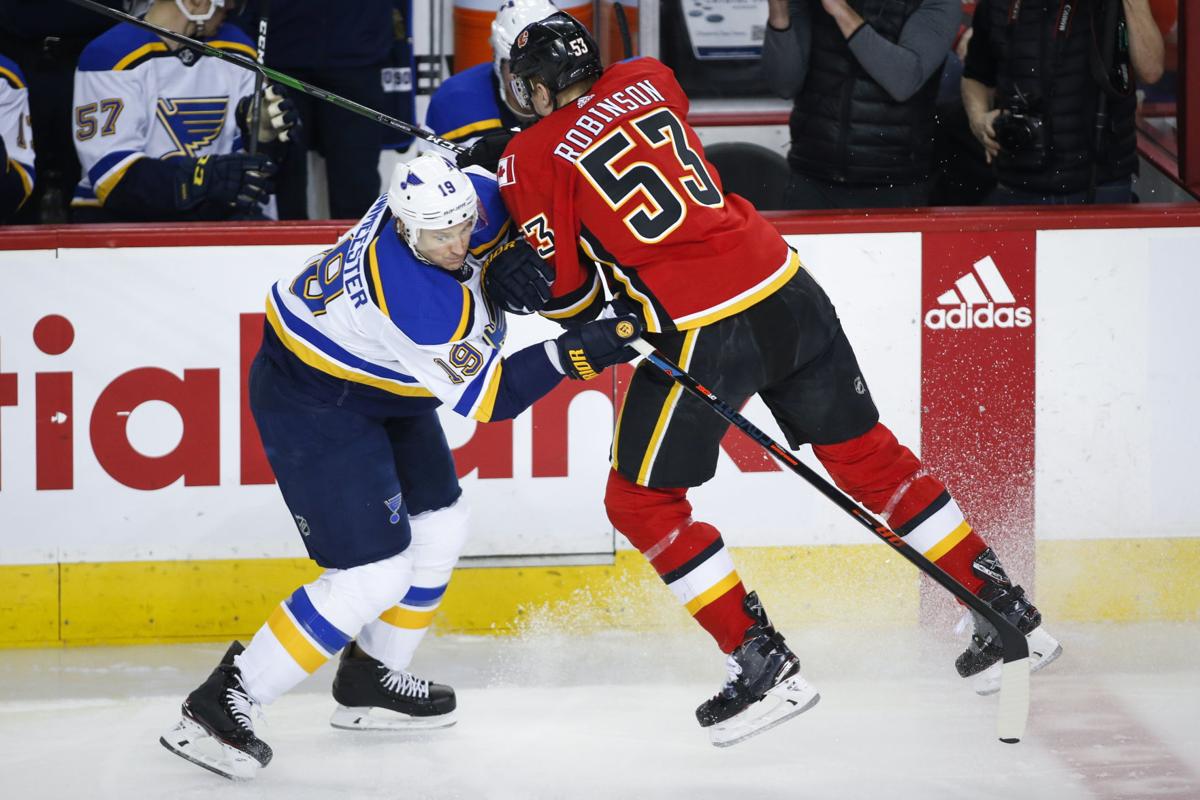 Jay Bouwmeester had an implantable cardioverter defibrillator placed in his chest to monitor and control his heartbeat, the Blues announced Friday.
The procedure was done at the UC Irvine Medical Center in Orange County, Calif.. Bouwmeester had a cardiac episode on the bench during the Blues' game Tuesday at Honda Center against the Anaheim Ducks. He collapsed and had to be revived with a defibrillator.
An ICD is a small, battery-powered device that monitors heart rhythm and detects irregular heartbeats. If an abnormal rhythm is detected, it can deliver electric shocks to the heart.
It is, according to the Mayo Clinic's website, usually placed under the left collarbone and is different from a pacemaker. According to Mayo, people who need ICDs have sustained ventricular tachycardia (an abnormal heartbeat), survived a cardiac arrest or fainted from a ventricular arrhythmia.
The procedure was performed by the cardiology department at UC Irvine.
When Bouwmeester is released, he will fly back to St. Louis and be monitored by Barnes-Jewish Hospital and Washington University physicians.
The Blues said the next update on Bouwmeester will come early next week.
Blues general manager Doug Armstrong told the Post-Dispatch on Wednesday that Blues players undergo fitness testing and medical testing at the start of each season.
"Yeah, they get their heart checked, they get everything checked," Armstrong said.
In terms of Bouwmeester's fitness, Armstrong said, "he's at the top of that group, too. So it's shocking when it happens to anyone, but (especially) someone that seems to be at that level of fitness."
Fans attending Saturday's 2 p.m. game against the Nashville Predators at Enterprise Center can show their support for Bouwmeester by signing or writing a message on a banner that will be in the arena concourse — at Portal 15 — until the end of the second intermission.
Sanford makes historyThe Blues have had players score twice in a game on 15 occasions this season, led by Brayden Schenn, who's done it three times: Oct. 24 against the Los Angeles Kings; Dec. 23 at the Los Angeles Kings; and Feb. 4 against Carolina.
The team's only hat trick of the season was by David Perron on Dec. 16 against Colorado.
But when it comes to Zach Sanford, he became only the eighth player in Blues history to score four goals in a game, and the first since David Backes on Jan. 6, 2015 against Arizona. This season, he's the fifth player in the NHL to score four times in one game.
"It's a pretty cool thing," Sanford said. "I owe it to my teammates and stuff.
"It's always good to get one early. Right off the bat. I just shoot one and it goes through everyone and finds its way in. When you can get one early, or even get a couple good shifts in, it helps build your confidence and gets you into it a little bit more."
Sanford's first goal came just 25 seconds into Thursday's 6-5 overtime loss to the Vegas Golden Knights.
Blue notesThe Blues have only two sets of back-to-backs remaining this season, and they both come over the next seven days. They play Nashville on Saturday in St. Louis and then on Sunday in Nashville. On Thursday, they play Arizona at home and then play at Dallas the next day.
So far this season, the Blues are 3-3-1 on the front end and 5-2-0 on the back end of back-to-backs. The Nashville contests marks the only back-to-back this season against the same team.
• Sanford's four-goal night gives him a career-high 12 goals for the season. He's among eight Blues who have either set or matched their career-high in goals scored already this season. The Blues still have 25 games left to play.
• The Vegas contest marked the second time in six days and the sixth time this season that the Blues have blown a two-goal lead and lost a game. All six of those losses have come in overtime or a shootout.
The latest STL Blues hockey news, NHL headlines, scores, standings and rosters.