St. Louis Blues coach Craig Berube was one of many who enjoyed the team's recently completed Hall of Fame weekend.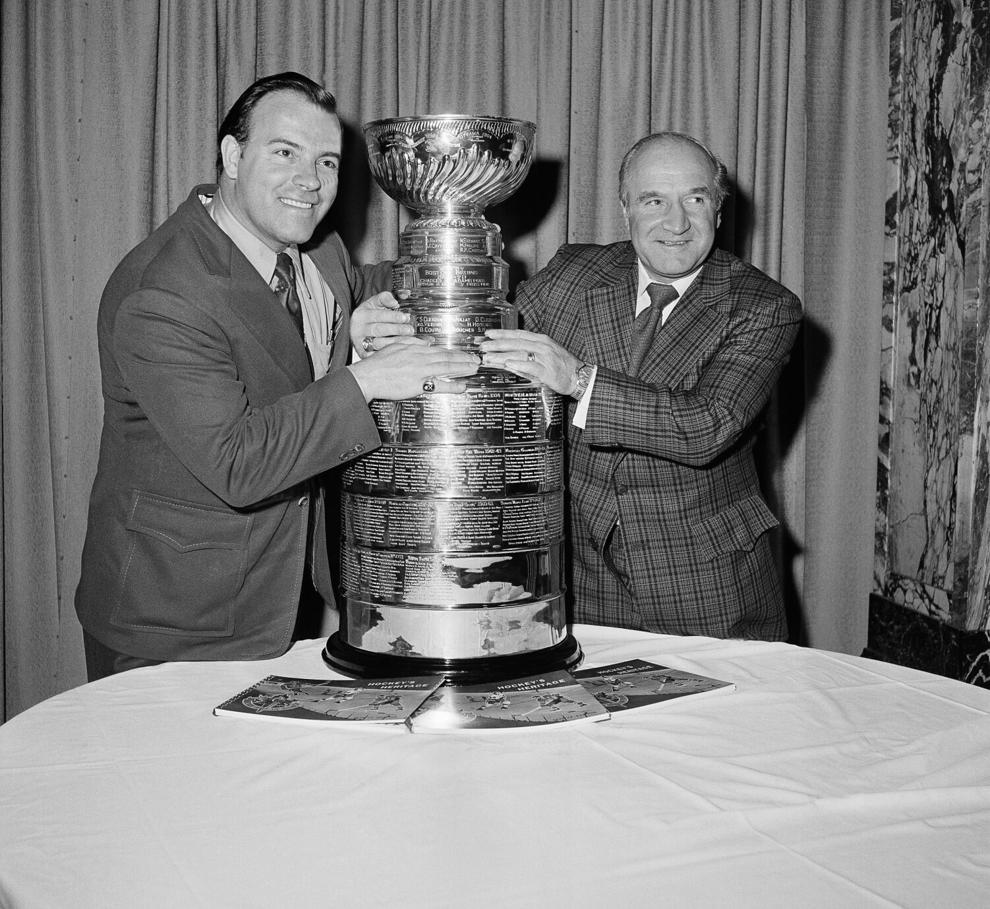 On Friday night, the team inducted its inaugural Hall of Fame class before a sold-out crowd at the Missouri Athletic Club downtown. Included in that class were some of the best the NHL has seen, including Scotty Bowman, Red Berenson, Garry Unger, Bernie Federko, Bob Gassoff, Glenn Hall, Brett Hull, Dan Kelly, Al MacInnis, Barclay Plager, Bob Plager, Chris Pronger, Sid Salomon Jr., Sid Salomon III and Brian Sutter.
And then the seven Blues' Hall of Famers in attendance — Bowman, Berenson, Unger, Federko, Hull, MacInnis and Pronger — took part in a ceremonial puck drop before Saturday night's game against the Tampa Bay Lightning.
"It was great, a lot of fun," Berube said when asked about Friday's induction ceremony. "Just to see those guys and listen to all the stories, it was great stuff."
Berube played 17 seasons of NHL hockey and is in his seventh as a head coach. He played with MacInnis in Calgary, coached Pronger in Philadelphia and played against several of the Blues' Hall of Famers. But he got a special thrill in getting a chance to talk with the 89-year-old Bowman.
Widely regarded as the greatest coach in NHL history, Bowman holds the record for wins in league history with 1,244 in the regular season and 223 in the Stanley Cup playoffs. He's won a record nine Stanley Cup championships, including five with the Montreal Canadiens (1973, 1976-79), one with the Pittsburgh Penguins (1992) and three with the Detroit Red Wings (1997-98 and 2002). He's the only coach to lead three teams to Stanley Cup titles.
Bowman, who coached 30 NHL seasons, was the charter coach of the Blues, working here from 1969 through 1971.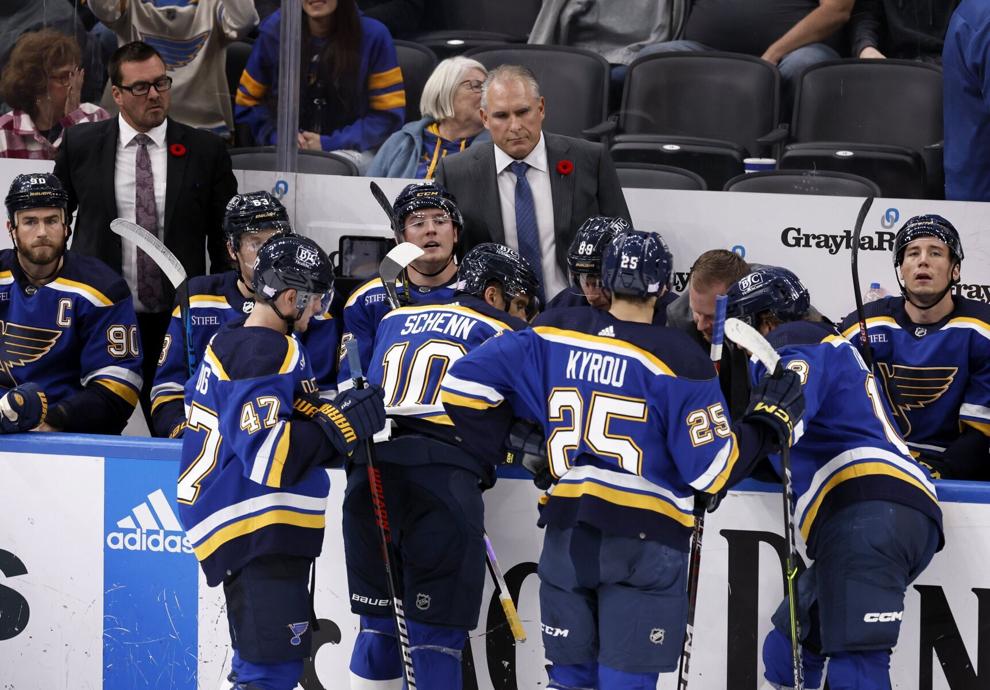 "He's an interesting guy, a great guy," Berube said. I got "a lot of good stuff from him. I talked to him Friday night at the Hall of Fame (induction) for a while, but then he came down here on the day of the game in the locker room before practice and we went and watched the pregame skate a little bit. He's got a lot of knowledge, obviously, and a great memory. We were talking about a lot of different things. I loved it. I like all the stories about his days when he coached and the different eras and the things he did and what he didn't do. We were talking about different things, the Russian players and the Czech players, this and that and how he did things with those type of players. It was great. I loved it. I like all that stuff, and I like the history of the game."
He coached "a long time. Obviously, you've got to love it and you've got to love being around the game to last that long," Berube continued. "He still loves the game. He goes to all the games in Tampa. He lives down there and loves the game of hockey and enjoys watching it now."
Lineup shuffling
In preparation for Monday's game against the Ottawa Senators, the Blues shifted Nick Leddy to a defensive pairing with Colton Parayko. That puts Niko Mikkola with Justin Faulk and Calle Rosen with rookie Tyler Tucker.
"It'll give us a puck-mover in each group," Berube said. "That was my thought process on that."
For the second consecutive day, Vladimir Tarasenko (hand) was on the ice for practice. It looks like he has a chance to return to the lineup sometime during this homestand, which continues with games this week against Nashville Predators on Thursday and against Chicago Blackhawks on Saturday and wraps up on Tuesday, Feb. 24, against the Buffalo Sabres.
"He looked good, skating well and shooting a little bit, which is a good sign," Berube said after Sunday's workout. "He's going to keep practicing with us, and he'll let us know when he's ready."
Defenseman Marco Scandella (hip), who hasn't played at all this season, was also on the ice for the morning skate Monday.
The team's scratches for Monday's game were forward Nikita Alexandrov, dealing with an upper-body injury, and defenseman Steven Santini.
Springfield drops fourth straight game
With a number of prospects, including Josh Leivo, Jake Neighbours, Nikita Alexandrov, Tyler Tucker and Steven Santini with the Blues, the Springfield (Massachusetts) Thunderbirds dropped their fourth straight AHL game on Monday afternoon, losing 6-2 to the visiting Bridgeport Islanders.
Springfield is 15-16-1-4 this season.
Springfield's Will Bitten, who had an assist during a four-game stay with the Blues in December, opened the scoring with his 12th goal of the season less than two minutes into the contest, but the visitors went on from there, scoring twice in the first period before exploding for four second-period goals.
Late in the game, Springfield's Matthew Highmore scored on the power play for the 6-2 final. Highmore leads the Thunderbirds in scoring this season with 34 points on eight goals and 26 assists.
Six different players scored for the Bridgeport, a farm team of the New York Islanders. The winning goalie was ex-NHLer Cory Schneider, who turned aside 41 of 43 shots.