Jordan Kyrou had a goal and two assists while linemates Robert Thomas and Pavel Buchnevich each chipped in with a goal and an assist. Thomas notched the game-winner 28 seconds into OT, converting a pass from Kyrou to finish off a two-on-one break.
Since then, however, the Blues' top two lines have produced just one goal. Rookie Jake Neighbours had the lone Blues' tally in a 4-1 loss to Calgary on Jan. 12, Tyler Pitlick and Buchnevich scored in a 4-2 loss to Tampa Bay on Saturday and Josh Leivo and Neighbours had the goals to go along with Jordan Binnington's strong play in goal to beat Ottawa 2-1 on Monday.
So it's no surprise that the Blues have shuffled the lines heading into Thursday's game against Central Division rival Nashville. They'll have Brandon Saad with Thomas and Kyrou, Buchnevich with Brayden Schenn and Neighbours and Ivan Barbashev with Noel Acciari and Leivo.
The fourth line, which has been one of the team's most effective recently, remains Alexey Toropchenko, Nikita Alexandrov and Pitlick.
"I just wasn't seeing enough from either line," Blues coach Craig Berube said of the shuffle. "I think with Saader, he's more direct, and I think that when Buchy was there, there was just too much outside hockey. I need a guy who's going to get in there more on the forecheck and around the net, drive pucks deep, simplify the game a little bit."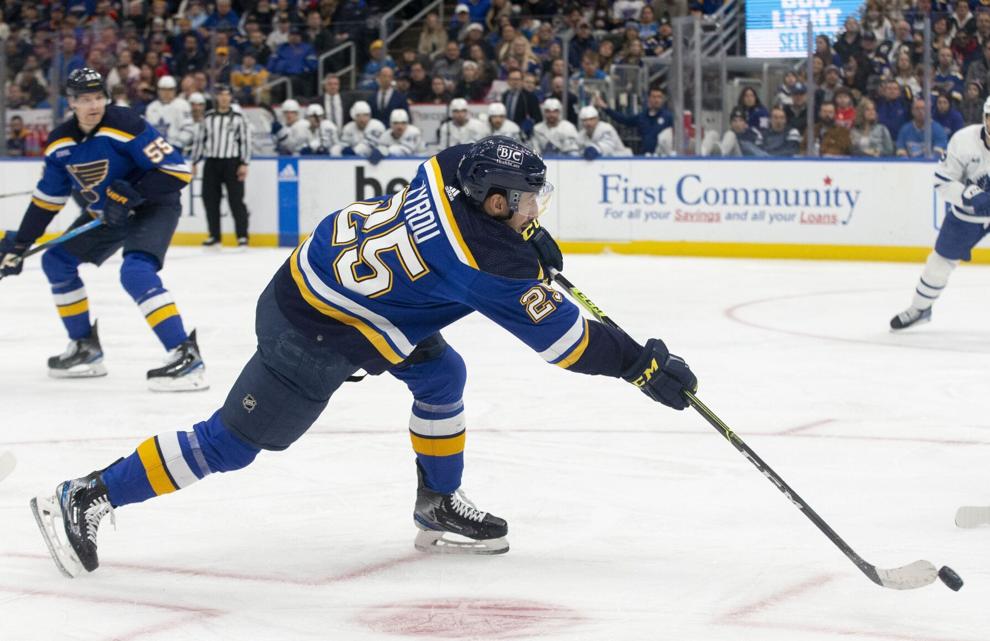 The coach continued: "Putting Buchy with Schenner, they're both pretty good rush players, and Buchy's going to have the puck more playing with those guys."
Saad actually saw some time with Thomas and Kyrou in the win over Ottawa.
"It gives us a different look," Thomas said. "He's a hard, physical, fast guy who plays the right way and who makes the right decisions. I think it can be good for us. He's a guy with talent, a guy who plays smart and who plays with control."
Schenn is also excited about the new look.
"The past three or four games, my line and Thommer's line haven't been consistent enough, so by shaking things up, hopefully it gives all of us a chance to get it going a little bit," Schenn said. "It's a chance for myself to get it going and hopefully develop a little chemistry with Jake and Buchy.
"Our offensive zone possession time is down a little, so hopefully we can force things a little bit. You gotta win your battles, be patient for opportunities and possess more. Off the rush, it's always been there, but I think we can do a better job of hounding teams down low, possessing pucks, and find ways to score like that."
Blues welcome division rival NashvilleThe Blues host Central Division foe Nashville on Thursday at Enterprise Center in a battle of teams battling to get into playoff position.
The Predators (21-17-6) are coming off a pair of 2-1 home-ice wins earlier this week over Calgary and Columbus. Nashville is 10-10-3 on the road this season and has gone 6-3-1 over its last 10 contests.
The Preds are paced offensively by Filip Forsberg (18 goals, 21 assists), defenseman and captain Roman Josi (12G, 24A), Matt Duchene (11G, 23A), Mikael Granlund (4G, 21 A), Nino Niederreiter (13G, 10A) and Ryan Johansen (10G, 12A).
In goal, there's 27-year-old Juuse Saros (16-12-5, 2.68 goals-against, .921 save percentage) and backup Kevin Lankinen (5-4-1, 2.64, .924).
Nashville enters Thursday's action just one point ahead of the Blues (22-20-3), who are 9-10-2 this season at home and 6-4 over their last 10 games.
The teams have split in their games this season with Nashville winning 6-2 at home on Oct. 27 and host St. Louis earning a 1-0 OT decision in a tight-checking affair Dec. 12 as Schenn knocked in a rebound at 2:23 of overtime. It was the 100th NHL win for the Blues' Binnington.
The division rivals will meet again in Nashville on Saturday, April 1.
"They're a big, heavy team. They have some good skill, obviously, too, led by Josi," Berube said. "We know we have to do a good job against him. Their last game here was a tight game, a big, heavy game and we're going to see the same thing."
Schenn added: "At this point, we're still digging and clawing back from the eight-game losing streak — there's no easy way back from that — but we've been playing better, working hard and climbing back. Facing a team that's just ahead of us in the standings, this is a big game and an important two points."