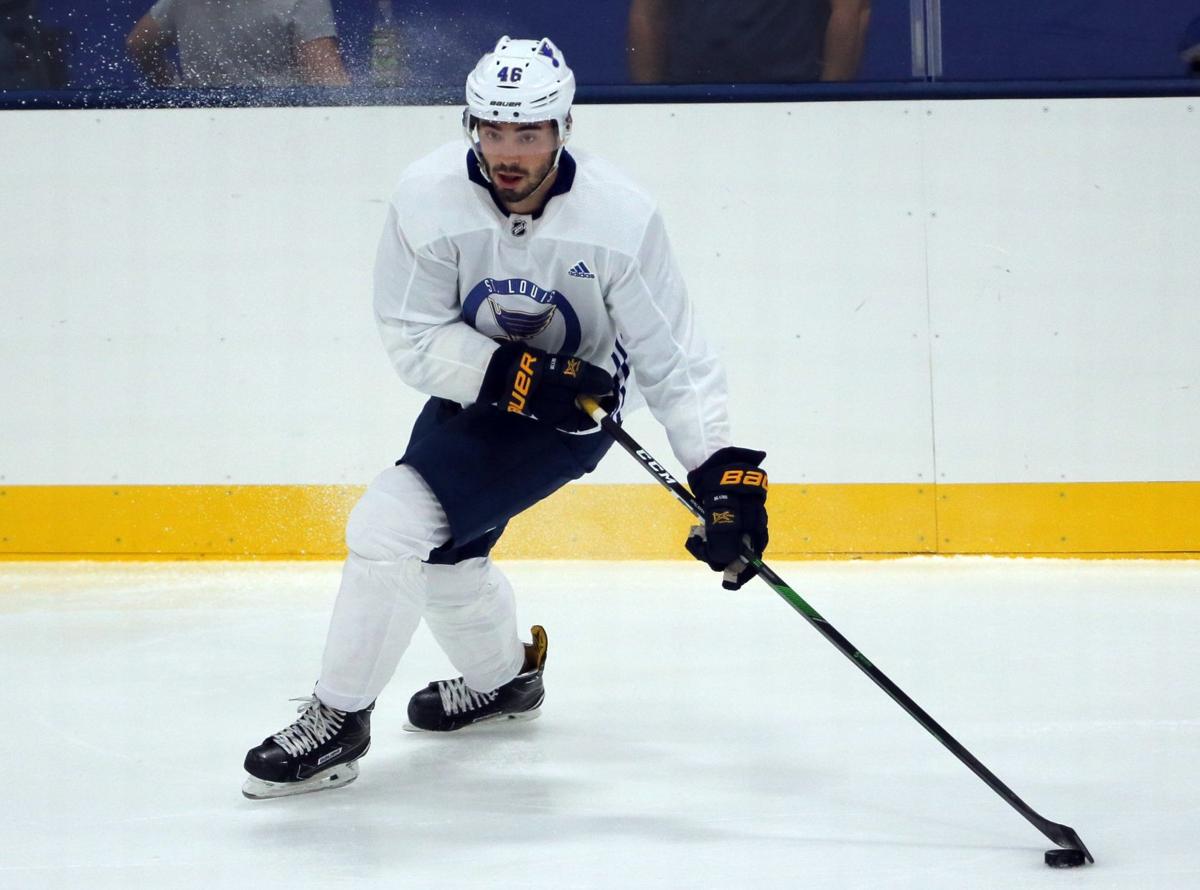 WINNIPEG — Once considered one of the Blues' top defensive prospects, Jake Walman must have felt the parade had passed him by at the start of this season.
A third-round draft pick in 2014, he once again participated in Blues training camp and preseason this September. And once again was sent back to the American Hockey League.
But Walman has been playing well for the San Antonio Rampage this season, and those efforts were rewarded with a call-up by the Blues.
He flew up with the team Friday morning from St. Louis and was a healthy scratch for the Blues' contest against the Winnipeg Jets at Bell MTS Place.
More than likely, Walman will stay with the Blues for a few games as a healthy scratch as a seventh defenseman, then return to San Antonio to get some games in and stay sharp.
Veteran Carl Gunnarsson (arm) remains on injured reserve, and a return to action does not appear imminent, coach Craig Berube said.
At the very least, the call-up is a recognition that the Blues have noticed Walman's improved play in San Antonio.
"It's good," Walman said. "If I get that opportunity, I'll take advantage of it. I have all the confidence down there (in San Antonio), so hopefully I can bring it here."
Walman, 23, has yet to play in an NHL regular-season game. He was called up once previously by the Blues in his first year of professional hockey and was a healthy scratch for two games before being sent back to the AHL.
In 32 games with San Antonio this season, Walman has four goals and 14 assists.
"He's had a good year so far," Berube said. "His production has gone up back there on the blueline. He's got great feet and a great shot. It's just about learning the game for him and defending better and things like that. But he's doing a much better job of it."
Asked a couple of times Friday about his improved play, Walman instead spoke of his teammates, the coaching staff and his support group in San Antonio. He was taking no credit.
"I'm my biggest critic," Walman said. "I put pressure on myself, so I don't need to talk about myself too much."
Walman turned pro in 2017, following three seasons at Providence College, where he played with Nick Saracino, son of St. Louis restaurateur Chris Saracino (Chris' Pancake and Dining, Chris' at the Docket).
Issued jersey No. 46 with the Blues, Walman will benefit — if nothing else — from practicing with and watching one of the NHL's best defense corps while he's here.
"It's a good group of guys to learn from, that's for sure," Walman said. "Even in practice, I just use every opportunity to learn from them. Especially the guys that have been in the league for a long time. The guys like Petro (Alex Pietrangelo) and (Jay) Bouwmeester, guys like that that have a lot of knowledge to share."
Holiday breakSome Blues, such as Tyler Bozak, stayed in St. Louis during the NHL's three-day Christmas break.
"My parents came down and my brother, like we always do for Christmas," said Bozak, who is from Saskatchewan. "I just find it pretty tough with the short amount of time we do have — a day or two — to worry about flying somewhere and getting back.
"So I usually just stay in the city where I'm at and my parents make it easy on me and come out my way."
Others, such as Robert Thomas, went back home. In Thomas' case, that's Toronto.
"It's a really cool time for all of us," Thomas said. "You get to see your family, which you don't get to see too often and having everyone together."
At age 20, Thomas says he still gets his share of Christmas presents.
"Oh yeah," he said. "My mom still treats me well. So it's good. I think I got a couple more years left in me."
Of prime gift-receiving, that is.
The latest STL Blues hockey news, NHL headlines, scores, standings and rosters.